Welcome To The Next Incarnation of the Bernie Sanders Campaign
Our Revolution has big ambitions, but is still figuring out its role within the movement.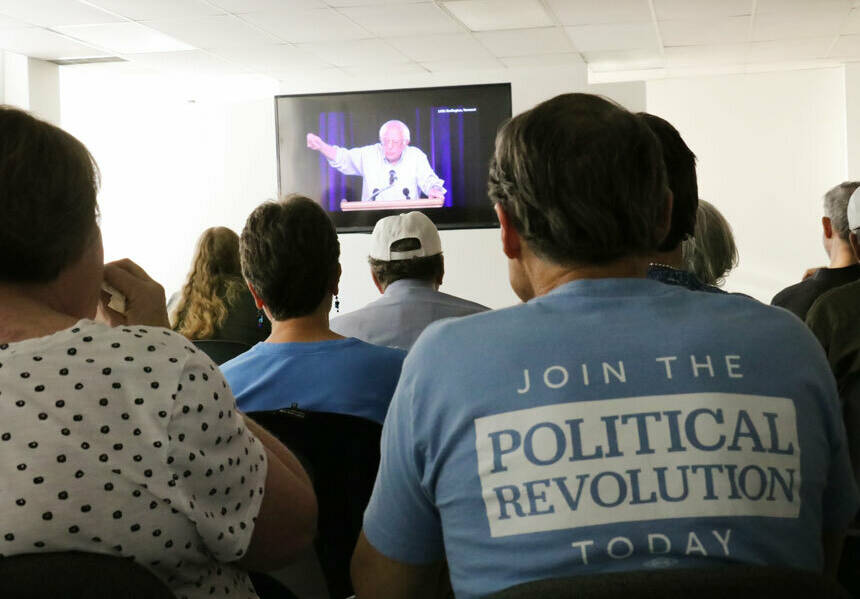 At more than 2,600 watch parties across the country, some 40,000 supporters — joined by hundreds of thousands more on social media — watched Bernie Sanders launch Our Revolution on August 24, an offshoot of his campaign dedicated to carrying the political revolution through November and beyond.
In the days leading up to the launch parties, eight of Our Revolution's staffers—out of 15—resigned in protest when former Sanders campaign manager Jeff Weaver was brought on to run the team.
The group has already trained its sights on a number of progressive objectives, but also spurred debate on what the future of the broader movement might look like: Who can claim it, how is it organized and should Sanders' own inner circle play a role?
As Sanders said, ​"I think the question on the minds of a whole lot of people is, ​'Okay, we ran a great campaign. We woke up the American people. But where do we go from here?' "
Our Revolution hopes to channel the enthusiasm of Sanders' base into concrete political victories, from the school board to the Senate. It joins a complex and hardly coherent ecosystem of organizations, individuals and campaigns looking to tap into the momentum generated by the Sanders campaign — and the donors and volunteers that fed it. Among its allies are some of the biggest organizations to back the Sanders campaign, including People for Bernie, National Nurses United and the Communications Workers of America (CWA).
Our Revolution Board Chair and former CWA President Larry Cohen emphasizes that Our Revolution plans to contribute to this ecosystem, hoping to be as ​"collaborative as imaginable" and work with existing organizations. ​"The goal is not to replace anything," he says. ​"It's to expand the movement base, and help elect Democratic Party leadership and candidates who reflect those values."
Some former Sanders campaign organizers, however, have bristled at what they see as a top-down effort that's out of touch with the experience and concerns of the grassroots. ​"I think it's really important that the people on the ground have the power and the say, that they're not just following the directions of the people above them who are manipulating that work for their own benefit," says Tascha Van Auken, co-founder of the New York City-based volunteer network Team Bernie NY. ​"We didn't have a lot of leadership from the Bernie campaign for most of the time we existed, until the last four weeks [before the New York primary], which were arguably the most confusing four weeks of the entire campaign."
Considering its small, centralized staff, Our Revolution will need to figure out quickly how to relate to autonomous organizers like Van Auken. A series of local chapters and individuals will coordinate with statewide councils to pick candidates and issues, aiming to attune themselves to local concerns.
This year, Our Revolution is backing seven ballot initiatives (from campaign finance reform in Maryland to single payer healthcare in Colorado), mobilizing to stop the Trans-Pacific Partnership and supporting several dozen candidates (mainly for state House and Senate seats). Beyond 2016, Our Revolution hopes to build a base of activists and elected officials who can translate the Democratic Party platform — which includes the expansion of Social Security, debt-free college and a public option for Obamacare — into policy.
According to Cohen, Our Revolution campaigners will endorse and fundraise for candidates only ​"where we can make a difference in the outcome, rather than just anyone who's progressive." The group has endorsed prominent Sanders delegates like Tulsi Gabbard (D-Hawaii) and Pramila Jayapal (D-Wash.), each up for congressional elections this fall.
Van Auken supports those organizations who choose to collaborate with Our Revolution, but remains skeptical. ​"I do not trust that they'll learn from the mistakes of the campaign, that they'll give the grassroots the space and support they need to grow," she says. ​"Empowering people doesn't mean giving them an order. … [It] means listening to them and really taking their experience on the ground seriously — and changing what you're doing in relation to what you're hearing."
Other grassroots groups have been more interested in working with Our Revolution, including one of the largest, People for Bernie. ​"We are aligned with Bernie when it comes to policy and we're very excited about the possibilities and ways in which we can transform local politics in a large-scale way," says Winnie Wong, group co-founder. That said, she was careful to point out that orders won't be coming from the top.
"The People For Bernie do not need [Our Revolution's] permission to do anything," Wong said over email. ​"It would be like an occupier asking Bill DeBlasio for permission to set up a sleeping bag on a public sidewalk."
A Revolution Divided
There has also been tension over Our Revolution's internal structure. In the days leading up to the launch parties, eight of Our Revolution's staffers — out of 15—resigned in protest when former Sanders campaign manager Jeff Weaver was brought on to run the team. A ninth resigned shortly after the launch. Many of those who resigned criticized Weaver's aversion to more decentralized, less traditional forms of campaigning throughout the primary. They disagreed with Weaver's plan to solicit funds from certain big-money donors for television ads.
Asked about the staffers' departure, Cohen says that prior to the official launch, the staff and board had not been finalized. "[Weaver] was always there," Cohen adds, referencing Weaver's position in the group and Sanders' primary campaign. ​"The question [was] what his role would be."
Claire Sandberg, former digital organizing director for the Sanders campaign and Our Revolution, says Weaver's decision to register Our Revolution as a 501(c)(4) was a key point where she and other campaign staffers diverged. A tax designation used by advocacy groups and non-profits, 501(c)(4)s can support candidates — but are legally forbidden from coordinating directly with them. As Sandberg points out, this creates a challenge for an organization whose mission is to support people running for office.
Tim Canova, for instance — who had Our Revolution's backing against former party chair Debbie Wasserman Schultz in Florida — claimed he was ​"left hanging" after receiving the Sanders camp's enthusiastic endorsement in May. Sandberg explained that, due to legal constraints, Our Revolution was unable to return Canova's phone calls, and is legally prevented from meeting privately with any candidate to discuss things like campaign strategy or voter turnout. On August 30, Canova lost his primary.
Sandberg also notes that it would be difficult, if not impossible, for Sanders himself to serve as a spokesperson for the group, given his position as a sitting member of Congress.
"I wouldn't be able to do my job in Our Revolution as it is currently constituted," Sandberg says. ​"Weaver has admitted that the reason he chose a 501(c)(4) structure was for the express purpose of accepting big checks from billionaires," a strategy she called ​"antithetical" to the values Sanders outlined through the course of his campaign. Instead, she suggested Our Revolution might have been incorporated as a federal (not Super) PAC, which can take in contributions of up to $5,000 and coordinate directly with candidates.
The split over Weaver is about more than Our Revolution's tax status, however. ​"All the things that were the most successful about the campaign — besides Bernie himself and his message— were the small dollar fundraising operation, social media and grassroots organizing," Sandberg says. ​"And those of us who ran those programs had to fight Jeff tooth and nail, every day, to get the most basic resources." The Sanders campaign spent more on advertising than any other primary campaign — Democrat or Republican.
Sandberg also says those who resigned had expressed frustration with the lack of diversity in Our Revolution's leadership. At that point, the board had been comprised entirely of white men, but on August 29 it was expanded to include activists and community leaders of a variety of genders and races. Sandberg calls this a ​"hopeful sign." (Her previous comments in this piece had been made before the new board members were announced.)
But behind the disagreements lies a shared commitment to furthering the principles that drove Sanders' candidacy. ​"Turning the Bernie campaign into a lasting political movement is still the best opportunity we have to empower working-class people in this country, and to win on the issues that matter," Sandberg says. ​"The movement will go on. The people who participated in the primary campaign want a political revolution — and nothing less."
Be one of the first
Help kick off the new era of In These Times! Without a media that brings people together and creates a written record of the struggles of workers, their voices will be fragmented and forgotten.
The mission of In These Times is to be that written record, and to guide and grow those movements.
We have a lot of work ahead of us, and that work starts today. Early support is the most valuable support, and that's why we're asking you to pitch in now. If you are excited for this new era of In These Times, please make a donation today.
Kate Aronoff
is a writing fellow at
In These Times
covering the
2016
election and the politics of climate change. Follow her on Twitter
@katearonoff
.
Ethan Corey
is a New York-based reporter writing about politics, social movements and inequality. Follow him on Twitter at
@ethanscorey
.