Why Black People Running From the Police Makes Perfect Sense
Sociologist Alice Goffman explains why the decision of so many young black men like Freddie Gray to run from the police is completely rational.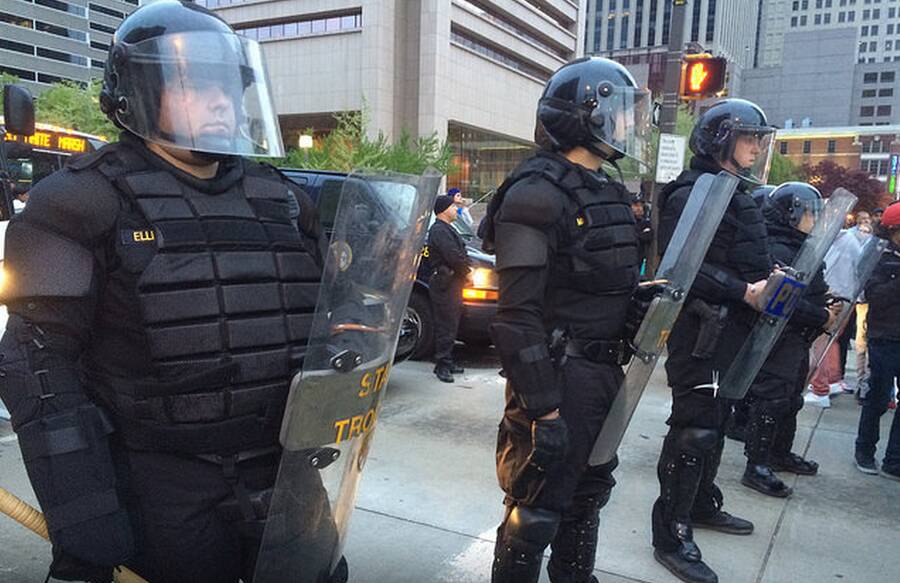 This post first appeared at Alternet.
Running from the police is going to continue so long as the police act like an occupying force in these neighborhoods.
Michael Brown. Wal­ter Scott. Eric Har­ris. Fred­die Gray.
As the list of vic­tims of police vio­lence grows longer, the pub­lic out­cry is get­ting loud­er. Not because this is a new phe­nom­e­non, but because so many com­mu­ni­ties have seen the police act as an occu­py­ing force for so long.
Nowhere is this more appar­ent than in On the Run: Fugi­tive Life in an Amer­i­can City by Alice Goff­mann, chron­i­cling the six years she spent immersed in the Philadel­phia neigh­bor­hood of ​"6th Street." Doc­u­ment­ing inter­ac­tions between the police and her room­mates, friends and neigh­bors, Goff­mann shows us a com­mu­ni­ty liv­ing under the shad­ow of mass incar­cer­a­tions and police vio­lence, trapped by the vagaries and tech­ni­cal­i­ties of the crim­i­nal jus­tice sys­tem, where minor infrac­tions can result in a life­time on the run. In the ​"fugi­tive world," run­ning not only becomes a way of life; it's the sci­ence and art of survival.
I had a con­ver­sa­tion with Goff­mann, speak­ing from her office at the soci­ol­o­gy depart­ment at the Uni­ver­si­ty of Wis­con­sin in Madi­son, ear­li­er this week. The fol­low­ing is edit­ed for clarity.
6th Street isn't poor­est, or most crime-rid­den neigh­bor­hood in Philadel­phia — it's a mixed income neigh­bor­hood, with some mid­dle class fam­i­lies. Yet, accord­ing to your book, you saw the police detain­ing or arrest­ing some­one with­in that four block radius, with a few excep­tions, every sin­gle day.
It's a fact in Amer­i­ca that in these poor­er com­mu­ni­ties — and in large­ly African-Amer­i­can neigh­bor­hoods like the one I was in — you're much more like­ly to encounter a police offi­cer. The lev­el of police pres­ence is just off the charts com­pared to sim­i­lar white neigh­bor­hoods. So you have the increased like­li­hood of inter­ac­tion, and the high prob­a­bil­i­ty that that inter­ac­tion will not be good. Even if there's no arrest, there can still be a deten­tion, a search, what­ev­er, and who knows how long that's going to last? It means you won't be home to din­ner tonight. Maybe not even tomor­row. It makes you not only fear­ful of police con­tact, but also of the places where the police might go to find you — your girlfriend's house, your kid's school, your place of employment.
You not­ed that your assump­tions behind the project changed very quick­ly, from the idea that only felony offend­ers were mar­gin­al­ized, to the idea of a ​"fugi­tive" sub­class that's far more complex.
Def­i­nite­ly. When we began, we were focus­ing on the impact of mass incar­cer­a­tion on a com­mu­ni­ty. It was based on a lot of quan­ti­ta­tive research, and the image that we had from this research was that first you were free, then you were charged with a felony and hauled off to jail, and after you got out came all the finan­cial, emo­tion­al, polit­i­cal pres­sures of being a felon. That was the mod­el: free, prison, felon. But that just wasn't what I was see­ing. I was see­ing a lot of non-felons — peo­ple with low-lev­el war­rants, on pro­ba­tion or parole, with traf­fic fines or cus­tody sup­port issues, in halfway hous­es or rehab — liv­ing like fugi­tives, under the radar.
These low-lev­el war­rants in par­tic­u­lar are a huge issue with police interactions.
When I was writ­ing this book, we didn't know how many peo­ple had low-lev­el war­rants; we just weren't col­lect­ing that data nation­al­ly. We now know that there's about 2 mil­lion war­rants that have been report­ed vol­un­tar­i­ly to the data­base, and leav­ing a huge num­ber that haven't been report­ed. About 60% of these war­rants are not for new crimes, but for tech­ni­cal vio­la­tions of parole, unpaid court fees, unpaid child sup­port, traf­fic fines, cur­few vio­la­tions, court fees. And it's this group of peo­ple that are ter­ri­fied. If they're stopped by the cops, any of these rea­sons is enough to bring them in, to get them trapped into the sys­tem again.
It goes well beyond being guilty, or even just run­ning from the cops. There's this sto­ry in your book where this young man wants to get a state I.D. dur­ing the time he's clean (i.e. free of war­rants). But he just sits there — this big tough guy — and he can't bring him­self to go in.
If you're part of this class, it means you don't go to the hos­pi­tal when you're sick. You're wary of vis­it­ing friends in the hos­pi­tal or attend­ing their funer­als. Dri­ving your kid to school can be daunt­ing. You don't have a driver's license or ID. Most of the time, you can't seek legal employ­ment. You can't get help from the gov­ern­ment. It comes from, part­ly, grow­ing up in a neigh­bor­hood where you've watched your uncles and broth­ers go to jail, and your aunts and mom entan­gled in the court sys­tem with­out ever get­ting free.
You note that women in par­tic­u­lar face a great deal of police pres­sure to inform or coop­er­ate in some fash­ion.
In a poll I did of the women [liv­ing in the four block radius of 6th Street], 67% said that they'd been pres­sured by the police to pro­vide infor­ma­tion on a male fam­i­ly mem­ber or part­ner in the last three years. If you've got a low-lev­el war­rant or some pro­ba­tion issue, you can be vio­lat­ed by author­i­ties if you don't inform when asked. So you're real­ly talk­ing about a polic­ing sys­tem that hinges on turn­ing fam­i­lies against each oth­er and sow­ing a lot of sus­pi­cion and dis­trust. It's very iron­ic that peo­ple blame the break­down of black fam­i­ly life on the num­ber of black men behind bars when the polic­ing strate­gies that put them there are exact­ly about break­ing those fam­i­ly bonds.
It seems like once you have a fam­i­ly mem­ber in trou­ble, you could be in trou­ble by association.
In terms of pub­lic pol­i­cy, we're hav­ing the oppo­site effect that we want to see. We should be encour­ag­ing peo­ple to go work, to go to the hos­pi­tal when they're sick, to get a prop­er ID. We should be mak­ing those paths stronger and eas­i­er to fol­low. Now we have a sys­tem where, to avoid stay­ing out of jail, you have to avoid your friends, your fam­i­ly, your job. All of those are pres­sure points that can be used by the police to get to you.
And as long as we have a polic­ing mod­el that's based on arrest counts and con­vic­tions, as long as there's a legal right to bring in peo­ple for things like court fees or traf­fic fines or tech­ni­cal vio­la­tions of parole, your're cre­at­ing a class of peo­ple who are arrestable on sight — a fugi­tive class. And then the peo­ple who don't have these legal entan­gle­ments but are still wor­ried that some­thing might come up, are this sec­ondary ​"maybe" fugi­tive class.
What's amaz­ing is how this sub­cul­ture is almost com­plete­ly based around the crim­i­nal jus­tice sys­tem. Almost all social inter­ac­tions have adapt­ed to it.
Once you have so many young men in a neigh­bor­hood com­ing of age not at school or work, but in court, in pro­ba­tion hear­ings, in jail, then the whole round of social life — dat­ing, friend­ship, fam­i­ly — it actu­al­ly all gets moved into those insti­tu­tions. So your first time vis­it­ing your boyfriend in jail is a big day. Sup­port­ing your hus­band on his court date is how you show your devo­tion to him. Stand­ing in front of your house while it's being raid­ed by police look­ing for your son is what a good moth­er does. It's not about check­ing tests, going to soc­cer prac­tice or par­ent-teacher con­fer­ences. It's going to fight for the free­dom of your children.
And run­ning — from the police, from the legal sys­tem — is cen­tral to all this, from a very ear­ly age.
I know this guy dri­ving his 11-year-old broth­er to school in his girlfriend's car when he got stopped. Turns out that the car was stolen, so the cops charged the guy with receiv­ing stolen prop­er­ty. And then they charged the 11 year old with acces­so­ry to receiv­ing stolen prop­er­ty, and gave him 3 years of pro­ba­tion. So from now on this 11 year old is in legal jeop­ardy. Any less-than-pos­i­tive encounter with the police could mean a vio­la­tion of his pro­ba­tion, and send him straight to juve­nile hall for the entire three years. He could be out past cur­few, or sit­ting on the stoop with his brother's friends, or asked to inform — any­thing could lead to a violation.
So now his old­er broth­er sits him down and teach­es him the basics of run­ning. How to spot under­cov­er offi­cers and cars. How to nego­ti­ate a stop with­out esca­lat­ing it. How to find a hid­ing place. Teach­ing his lit­tle broth­er to do this becomes what being a big broth­er is all about.
There's a lot of vio­lence in your book, but what's sur­pris­ing is how much for­give­ness and rec­on­cil­i­a­tion there is. You would think that some of the trans­gres­sions, like inform­ing on some­one and send­ing them to jail, would dam­age a rela­tion­ship beyond repair, but your book had numer­ous exam­ples of rebuild­ing and re-bonding.
There's clear­ly a lot of love for fam­i­ly. But it's also about resis­tance — against a sys­tem that is incred­i­bly destruc­tive. It's amaz­ing how peo­ple fight to pre­serve fam­i­ly or for­give friends who have informed or tes­ti­fied against them. In this neigh­bor­hood, it's under­stood that you can be placed in a posi­tion where you'll have to choose your free­dom over some­one else's. Any one of us likes to think that in that posi­tion we'd be hon­or­able or self­less, but we don't know. For most of us that's a hypo­thet­i­cal. But there are fam­i­lies mak­ing this choice over and over and then try­ing to come back together.
It sounds like it becomes a sur­vival instinct to run from the police, even after see­ing some­thing like the Wal­ter Scott shoot­ing in South Carolina.
It's going to con­tin­ue so long as the police act like an occu­py­ing force in some of these neigh­bor­hoods. When the police see and treat young black men with low-lev­els of school­ing as the ene­my, and when being a good police offi­cer means putting as many of these men behind bars as pos­si­ble, it becomes pos­si­ble to jus­ti­fy any amount of vio­lence and psy­cho­log­i­cal pressure.
Now, this was def­i­nite­ly not my expe­ri­ence grow­ing up in a large­ly white, mid­dle-class neigh­bor­hood. And in col­lege — we had cam­pus police whose sole role was to pre­vent us from being arrest­ed by the city police. They'd break up fights, help peo­ple home when they're drunk, or to the hos­pi­tal when they're too drunk. But they're not raid­ing par­ties or doing stop and frisks or look­ing to make as many busts as pos­si­ble. If they were, a good per­cent­age of the kids I went to school with would have records. And almost no one does.
But the lev­el of scruti­ny on the police has increased dra­mat­i­cal­ly since your book came out last year.
What's been great about that is that we are now, final­ly, get­ting the data about what's hap­pen­ing — not just the Jus­tice Reports, but first-hand obser­va­tions and jour­nal­ists active­ly inves­ti­gat­ing these inci­dents. We're final­ly get­ting the num­bers on the unau­tho­rized use of force by the police in Philadel­phia and oth­er cities, which we nev­er tracked before. It's real­ly important.
It makes a huge dif­fer­ence when you're watch­ing a video of the interaction.
Well, now peo­ple are active­ly record­ing their lives, and this is what it's show­ing. But it's been a change that's a long time in com­ing. The pub­lic debate had been about fed­er­al sen­tenc­ing reform, mar­i­jua­na law reform, cur­tail­ing stop-and-frisks — real­ly try­ing to reform sen­tenc­ing and end the drug war. But polic­ing wasn't real­ly part of the con­ver­sa­tion until Fer­gu­son hap­pened. Now there's this incred­i­ble, African Amer­i­can led protest move­ment, most­ly work­ing class peo­ple, that's telling the pub­lic — show­ing the pub­lic — what's been hap­pen­ing. It's an amaz­ing moment to be involved.
Do you think the protests around police vio­lence will lead to real change?
The ques­tion is: how much are we going to make of this moment? You see the right and left com­ing togeth­er on these issues and ask­ing for bipar­ti­san reform. But are we real­ly going to see an over­haul of the crim­i­nal jus­tice sys­tem? Or will we see mod­er­ate reforms that still leave a lot of racial dis­par­i­ty, police vio­lence and the high­est per capi­ta incar­cer­at­ed pop­u­la­tion in the world?
After my time on 6th street, see­ing how hard peo­ple tried to find and keep jobs, see­ing how many kids have records for the same things that go unchecked on col­lege cam­pus­es, it makes it hard­er to believe in the U.S. as a place of oppor­tu­ni­ty that doesn't dis­crim­i­nate, no mat­ter what col­or you are. So this reform and protest move­ment is real­ly try­ing to hold us account­able to these ideals and meet them bet­ter than we have been. And that's pret­ty exciting.
Read ​"The Art of Run­ning," excerpt­ed from On the Run: Fugi­tive Life in an Amer­i­can City, below:
Learn­ing the Art of Run­ning in ​"On the Run: Fugi­tive Life in an Amer­i­can City"
by Alice Goffmann
A young man con­cerned that the police will take him into cus­tody comes to see dan­ger and risk in the mun­dane doings of every­day life. To sur­vive out­side prison, he learns to hes­i­tate when oth­ers walk casu­al­ly for­ward, to see what oth­ers fail to notice, to fear what oth­ers trust or take for granted.
One of the first things that such a man devel­ops is a height­ened aware­ness of police offi­cers — what they look like, how they move, where and when they are like­ly to appear. He learns the mod­els of their under­cov­er cars, the ways they hold their bod­ies and the cut of their hair, the tim­ing and loca­tion of their typ­i­cal routes. His aware­ness of the police nev­er seems to leave him; he sees them sit­ting in plain clothes at the mall food court with their chil­dren; he spots them in his rearview mir­ror com­ing up behind him on the high­way, from ten cars and three lanes away. Some­times he finds that his body antic­i­pates their arrival with sweat and a quick­ened heart­beat before his mind con­scious­ly reg­is­ters any sign of their appearance.
When I first met Mike, I thought his aware­ness of the police was a spe­cial gift, unique to him. Then I real­ized Chuck also seemed to know when the police were com­ing. So did Alex. When they sensed the police were near, they did what oth­er young men in the neigh­bor­hood did: they ran and hid.
Chuck put the strat­e­gy con­cise­ly to his twelve-year-old broth­er, Tim:
If you hear the law com­ing, you merk on [run away from] them nig­gas. You don't be hav­ing time to think okay, what do I got on me, what they going to want from me. No, you hear them com­ing, that's it, you gone. Peri­od. ​'Cause who­ev­er they look­ing for, even if it's not you, nine times out of ten they'll prob­a­bly book you.
Tim was still learn­ing how to run from the police, and his begin­ner mis­steps fur­nished a good deal of amuse­ment for his old­er broth­ers and their friends.
Late one night, a white friend of mine from school dropped off Reg­gie and a friend of his at my apart­ment. Chuck and Mike phoned me to announce that Tim, who was eleven at the time, had spot­ted my friend's car and tak­en off down the street, yelling, ​"It's a under­cov­er! It's a undercover!"
"Nig­ga, that's Alice's girl­friend." Mike laughed. ​"She was drink­ing with us last night."
If a suc­cess­ful escape means learn­ing how to iden­ti­fy the police, it also requires learn­ing how to run. Chuck, Mike, and their friends spent many evenings hon­ing this skill by run­ning after each oth­er and chas­ing each oth­er in cars. The stat­ed rea­son would be that one had tak­en some­thing from the oth­er: a CD, a five-dol­lar bill from a pock­et, a small bag of weed. Reg­gie and his friends also ran away from their girl­friends on foot or by car.
One night, I was stand­ing out­side Ronny's house with Reg­gie and Reggie's friend, an eigh­teen-year-old young man who lived across the street. In the mid­dle of the con­ver­sa­tion, Reggie's friend jumped in his car and took off. Reg­gie explained that he was on the run from his girl­friend, who we then saw get­ting into anoth­er car after him. Reg­gie explained that she want­ed him to be in the house with her, but that he was refus­ing, want­i­ng instead to go out to the bar. This pur­suit last­ed the entire evening, with the man's girl­friend enlist­ing her friends and rel­a­tives to pro­vide infor­ma­tion about his where­abouts, and the man doing the same. Around one in the morn­ing, I heard that she'd caught him going into the beer store and dragged him back home.
It wasn't always clear to me whether these chas­es were games or more seri­ous pur­suits, and some appeared more seri­ous than oth­ers. Regard­less of the mean­ing that peo­ple ascribed to them at the time or after­ward, these chas­es improved young men's skill and speed at get­ting away. In run­ning from each oth­er, from their girl­friends, and in a few cas­es their moth­ers, Reg­gie and his friends learned how to nav­i­gate the alley­ways, weave through traf­fic, and iden­ti­fy local res­i­dents will­ing to hide them for a lit­tle while.
Dur­ing the first year and a half I spent on 6th Street, I watched young men run­ning and hid­ing from the police on 111 occa­sions, an aver­age of more than once every five days.
Those who inter­act rarely with the police may assume that run­ning away after a police stop is futile. Worse, it could lead to increased charges or to vio­lence. While the sec­ond part is true, the first is not. In my first eigh­teen months on 6th Street, I observed a young man run­ning after he had been stopped on 41 dif­fer­ent occa­sions. Of these, 8 involved men flee­ing their hous­es dur­ing raids; 23 involved men run­ning after being stopped while on foot (includ­ing run­ning after the police had approached a group of peo­ple of whom the man was a part); 6 involved car chas­es; and 2 involved a com­bi­na­tion of car and foot chas­es, where the chase began by car and con­tin­ued with the man get­ting out and running.
In 24 of these cas­es, the man got away. In 17 of the 24, the police didn't appear to know who the man was and couldn't bring any charges against him after he had fled. Even in cas­es where the police sub­se­quent­ly charged him with flee­ing or oth­er crimes, the suc­cess­ful get­away allowed the man to stay out of jail longer than he might have if he'd sim­ply per­mit­ted the police to cuff him and take him in.
A suc­cess­ful escape can be a soli­tary act, but often­times it is a col­lec­tive accom­plish­ment. A young man relies on his friends, rel­a­tives, and neigh­bors to alert him when they see the police com­ing, and to pass along infor­ma­tion about where the police have been or where and when they might appear next. When the police make inquiries, these friends and neigh­bors feign igno­rance or feed the police mis­in­for­ma­tion. They may also help to con­ceal incrim­i­nat­ing objects and pro­vide safe hous­es where a young man can hide.
***
Run­ning wasn't always the smartest thing to do when the cops came, but the urge to run was so ingrained that some­times it was hard to stand still.
When the police came for Reg­gie, they blocked off the alley­way on both ends simul­ta­ne­ous­ly, using at least five cars that I could count from where I was stand­ing, and then ran into Reggie's mother's house. Chuck, Antho­ny, and two oth­er guys were out­side, trapped. Chuck and these two young men were clean, but Antho­ny had the war­rant for fail­ure to appear. As the police dragged Reg­gie out of his house, laid him on the ground, and searched him, one guy whis­pered to Antho­ny to be calm and stay still. Antho­ny kept qui­et as Reg­gie was cuffed and placed in the squad car, but then he start­ed whis­per­ing that he thought Reg­gie was look­ing at him fun­ny, and might say some­thing to the police. Antho­ny start­ed sweat­ing and twitch­ing his hands; the two young men and I whis­pered again to him to chill. One said, ​"Be easy. He's not look­ing at you."
We stood there, and time dragged on. When the police start­ed search­ing the ground for what­ev­er Reg­gie may have tossed before get­ting into the squad car, Antho­ny couldn't seem to take it any­more. He start­ed mum­bling his con­cerns, and then he took off up the alley. One of the offi­cers went after him, caus­ing the oth­er young man stand­ing next to him to shake his head in frus­trat­ed disappointment.
Anthony's run­ning caused the oth­er offi­cer to put the two young men still stand­ing there up against the car, search them, and run their names; luck­i­ly, they came back clean. Then two more cop cars came up the alley, sirens on. About five min­utes after they fin­ished search­ing the young men, one of the guys got a text from a friend up the street. He silent­ly hand­ed me the phone so I could read it:
Antho­ny just got booked. They beat the shit out of him.
At the time of this inci­dent, Chuck had recent­ly begun allow­ing Antho­ny to sleep in the base­ment of his mother's house, on the floor next to his bed. So it was Chuck's house that Antho­ny phoned first from the police sta­tion. Miss Lin­da picked up and began yelling at him immediately.
​"You fuck­ing stu­pid, Antho­ny! Nobody both­er­ing you, nobody look­ing at you. What the fuck did you run for? You a nut. You a fuck­ing nut. You deserve to get locked up. Dumb-ass nig­ga. Call your sis­ter, don't call my phone. And when you come home, you can find some­where else to stay."
Excerpt from On the Run by Alice Goff­mann. On the Run copy­right © 2014 by The Uni­ver­si­ty of Chica­go. Orig­i­nal­ly pub­lished in hard­cov­er by The Uni­ver­si­ty of Chica­go Press. First trade paper­back edi­tion pub­lished April 7, 2014, by Picador/​Farrar, Straus and Giroux. All rights reserved.