Why Brazil's World Cup Protesters Are So Furious
Four devastating effects of La Copa that will be felt long after the games.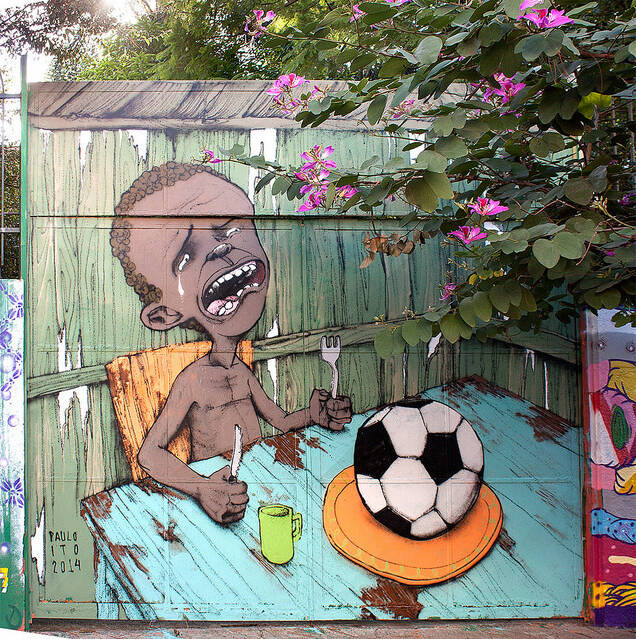 Excerpt­ed from Dave Zirin's Brazil's Dance With the Dev­il: The World Cup, The Olympics and the Fight for Democ­ra­cy (May 2014, Hay­mar­ket Books).
In the efforts to build a "FIFA-quality stadium" in the middle of the Amazon rainforest, Brazil spent $295 million, about 25 percent more than the original estimates, while uprooting acres of the most ecologically delicate region on the planet.
When Brazil won its bid to host the 2016 Olympics, the coun­try was her­ald­ed as a cap­i­tal­ist suc­cess sto­ry, with the Finan­cial Times, the Wall Street Jour­nal, and oth­er organs of the 1% engorged over a nation whose stock mar­ket, Boves­pa, had grown at a rate of 523 per­cent over the pre­vi­ous decade. For so many in Brazil, this was long over­due. Host­ing these sport­ing events was about inter­na­tion­al recog­ni­tion that Brazil's day had come.
Yet those heady days seem like sev­er­al life­times ago; Brazil, whose 7.5‑percent growth rate — even in the wake of the 2008 Great Reces­sion — had made The Econ­o­mist swoon, saw its econ­o­my sput­ter in 2012 toward a growth rate of just 0.9 percent.
Despite the near-absence of eco­nom­ic expan­sion, spend­ing on sta­di­ums and infra­struc­ture projects intend­ed for the 2016 Olympics in Rio and for the 2014 World Cup in 12 cities across the nation has not skipped a beat. The facts on the ground in Brazil have changed, yet, rav­en­ous and remorse­less, the World Cup and Olympic golems con­tin­ue to feed.
1. Work­er Deaths
When I was in Brazil, I spoke with work­ers who were deeply con­cerned about the rush to build 12 new ​"FIFA-qual­i­ty" World Cup sta­di­ums. Their con­cern did not stem only from the fact that this coun­try already has no short­age of well-equipped fields. They were also con­cerned about the round-the-clock hours, the exhaus­tion of those oper­at­ing heavy machin­ery, and the unsafe work­ing con­di­tions. Then, in Novem­ber 2013, a crane col­lapsed into Are­na Corinthi­ans (Corinthi­ans Sta­di­um) in São Paulo, send­ing an avalanche of new­ly cement­ed con­crete to the earth below. This tragedy, which took the lives of two men, Fabio Luiz Pereira and Ronal­do Oliveira dos San­tos, could have been far worse. One of their cowork­ers, José Mario da Sil­va, said, ​"I walked right under­neath the crane on the way to lunch. If it hadn't col­lapsed at lunchtime, a lot more peo­ple would have died."
Sepp Blat­ter, the rep­til­ian chief of FIFA, said that he was ​"deeply sad­dened" by the deaths, and FIFA issued its own state­ment that the ​"safe­ty of work­ers is a top pri­or­i­ty." It is worth not­ing that Blat­ter voiced these com­ments just as FIFA faced inter­na­tion­al scruti­ny about rev­e­la­tions of slave labor and mul­ti­ple deaths dur­ing sta­di­um con­struc­tions in Qatar, where the 2022 World Cup will take place. Weeks after the acci­dent, we also learned that the crane oper­a­tor had been work­ing for 18 straight days, just anoth­er cog in Brazil's 24⁄7 sprint to com­plete sta­di­um con­struc­tion. Brazil's sports min­is­ter, Aldo Rebe­lo, said noth­ing after the tragedy about con­fronting fatigue or labor abus­es on work sites. Instead, he assured the media that ​"the sta­di­ums shall be built on time." As for the dead, Rebe­lo sent a tweet express­ing ​"sol­i­dar­i­ty with the fam­i­lies of the vic­tims." The only true sol­i­dar­i­ty that the gov­ern­ment has shown, how­ev­er, has been with FIFA — to get the sta­di­ums done, no mat­ter the cost.
2. Dis­place­ment
Brazil­ians are out­raged that ser­vices like trans­porta­tion, edu­ca­tion, and health­care are inef­fi­cient­ly run or woe­ful­ly under­fund­ed, yet spend­ing for the World Cup alone reached the 11-bil­lion-dol­lar mark. In Rio, the leg­endary Mara­canã Sta­di­um has received a five-hun­dred-mil­lion-dol­lar facelift, with con­struc­tion crews work­ing around the clock to make the site of the 1950 World Cup final a twen­ty-first-cen­tu­ry, ​"FIFA-qual­i­ty" sta­di­um. The con­struc­tion com­pa­nies, which are the largest polit­i­cal donors in the coun­try, want to see this hap­pen by any means nec­es­sary. Secu­ri­ty firms have been hired to keep unsight­ly pover­ty out of view of the com­ing inter­na­tion­al audi­ence. This means that new high-ris­es are going up, new high-tech secu­ri­ty sys­tems are being installed, new roads are being paved, and dozens of fave­las have been demol­ished because they were built in areas deemed ​"high-risk" or ​"des­ig­nat­ed for pub­lic use." Evict­ing peo­ple from spaces ​"des­ig­nat­ed for pub­lic use" is par­tic­u­lar­ly iron­ic when you con­sid­er that raz­ing a favela will even­tu­al­ly lead to the pri­vate devel­op­ment and own­er­ship of high­ly val­ued hill­side real estate.
This process is more than immoral: It is actu­al­ly uncon­sti­tu­tion­al. Brazil has some of the tough­est squat­ters' rights laws in the world. Any­one who built a house more than five years ago is sup­posed to be pro­tect­ed, accord­ing to both the Brazil­ian Con­sti­tu­tion and local leg­is­la­tion, known as the Organ­ic Munic­i­pal Law. If a res­i­dent accepts com­pen­sa­tion, then, at least in the­o­ry, it is sup­posed to allow them to get com­pa­ra­ble hous­ing of at least equal val­ue else­where. But that is not what is hap­pen­ing. As one Rio hous­ing activist, João, said to me,
Mon­ey is hand­ed to you and you take it or leave it. Peo­ple have to live in the fave­las because of the prox­im­i­ty to wealth. They need to be close to where their jobs are and they can­not afford trans­porta­tion. For the wealthy, it's like your Mex­i­can immi­grants in the Unit­ed States: they hate the fave­las but they need the indi­vid­u­als in the fave­las to do all the work they do not want to do. The time they are serv­ing the rich peo­ple, they are good; the time they are liv­ing near­by, they are bad and it's the same people.
3. The Rainforest
The envi­ron­ment is an extreme­ly sen­si­tive sub­ject in Brazil, home to the ​"lungs of the earth." The World Cup — which is a nation­al oper­a­tion, as opposed to the Rio-cen­tric Olympics — means greater stress on this crit­i­cal ecosys­tem. This can be seen most sharply in the efforts to build a ​"FIFA-qual­i­ty sta­di­um" in the mid­dle of the Ama­zon rain­for­est. Brazil spent $295 mil­lion, about 25 per­cent more than the orig­i­nal esti­mates, while uproot­ing acres of the most eco­log­i­cal­ly del­i­cate region on the planet.
The gov­ern­ment is look­ing for options for the sta­di­um after the World Cup that seem fis­cal­ly sound. One idea being float­ed is to turn the entire sta­di­um into a mas­sive open-air prison — a use with a noto­ri­ous­ly bloody echo in Latin Amer­i­can his­to­ry, one not lost on those protest­ing the pri­or­i­ties of both FIFA and the Brazil­ian government.
4. A Police State
Then there is the ques­tion of secu­ri­ty, a word that means dif­fer­ent things to dif­fer­ent peo­ple. When the plan­ners of the World Cup and the Olympics dis­cuss secu­ri­ty, they are speak­ing about the secu­ri­ty of the wealthy to trav­el to Brazil and feel as safe as they would in a gat­ed community.
At a cost of $900 mil­lion, the 12 World Cup host cities will be equipped with sur­veil­lance and inte­grat­ed com­mand cen­ters staffed with police and mil­i­tary per­son­nel, in addi­tion to two large secu­ri­ty cen­ters in Rio and Brasília that will mon­i­tor secu­ri­ty nation­wide. More than a thou­sand sur­veil­lance cam­eras will be installed in Rio de Janeiro alone.
The police will be under the com­mand of the mil­i­tary, an idea that last had cur­ren­cy dur­ing the dictatorship.
Drone sur­veil­lance planes will be fly­ing over Rio, as they did for the Olympics in London.
The secu­ri­ty plan also includes cre­at­ing ​"exclu­sion zones" around the sta­di­ums, guard­ed by 1,400 armed troops, as well as ​"World Cup courts" aimed at fast-track­ing judi­cial pro­ceed­ings to charge, pros­e­cute, and con­vict crimes rang­ing from rob­beries and assault to ​"ambush mar­ket­ing in con­tra­ven­tion of FIFA's regulations."
Old­er Brazil­ians see in this new secu­ri­ty régime a jar­ring echo of the days of mil­i­tary dic­ta­tor­ship, yet with one crit­i­cal dif­fer­ence. This time, instead of crush­ing rev­o­lu­tion­ary move­ments, the author­i­ties are focus­ing their repres­sion on squelch­ing spon­ta­neous rage at the pri­or­i­ties of com­merce and on mak­ing sure the trains — and planes — run on time.
Yet no mat­ter the stat­ed goals of World Cup secu­ri­ty, the major con­cern is that the secu­ri­ty pro­to­cols will remain even after the par­ty ends and every­one has gone home. There are no exter­nal mil­i­tary threats against Brazil, and a stand­ing, aggres­sive mil­i­tary and nation­al police com­mand struc­ture can real­ly only be aimed in one direc­tion: inward.
Seiz­ing land and homes, run­ning roughshod over the rights of those of African and Indige­nous descent, open­ing the doors for for­eign plun­der, the buz­z­saw devel­op­ment of the Ama­zon, export­ing Brazil's cul­ture, declar­ing an end to pub­lic space, mil­i­ta­riz­ing the cities: all of these can be facil­i­tat­ed through laws described as ​"states of excep­tion," like those his­tor­i­cal­ly passed for the Olympic Games in which the usu­al rules (and con­sti­tu­tions) no longer apply. This is why may­ors like Michael Bloomberg in New York City and Richard Daley in Chica­go — both cities pin­na­cles of gen­tri­fi­ca­tion — want­ed the Olympics so des­per­ate­ly and why Lula fought so hard for them at the end of his pres­i­den­cy. In a rush of excite­ment, the land grab and the pri­va­ti­za­tion of pub­lic space could pro­ceed with abandon.
Dave Zirin
is
The Nation
​
'
s sports cor­re­spon­dent and the author, most recent­ly, of
Brazil's Dance with the Dev­il: The World Cup, the Olympics, and the Fight for Democ­ra­cy
(Hay­mar­ket Books). Named one of UTNE Reader's ​
"
50
Vision­ar­ies Who Are Chang­ing Our World," Zirin is a fre­quent guest on MSNBC, ESPN and Democ­ra­cy Now! He also hosts his own week­ly Sir­ius XM show, Edge of Sports Radio. His oth­er books include
Game Over: How Pol­i­tics Has Turned the Sports World Upside Down
(The New Press),
What's My Name Fool?
(Hay­mar­ket Books),
A Peo­ple's His­to­ry of Sports in the Unit­ed States
(the New Press),
Bad Sports: How Own­ers Are Ruin­ing the Games We Love
(Scrib­n­er) and, with John Wes­ley Car­los,
The John Car­los Sto­ry
. You can find all his work at
www​.edge​of​s​ports​.com
.