Why Did Ferguson and Baltimore Erupt? Look to the Government-Backed History of Housing Segregation
The recent African-American uprisings aren't just about police brutality.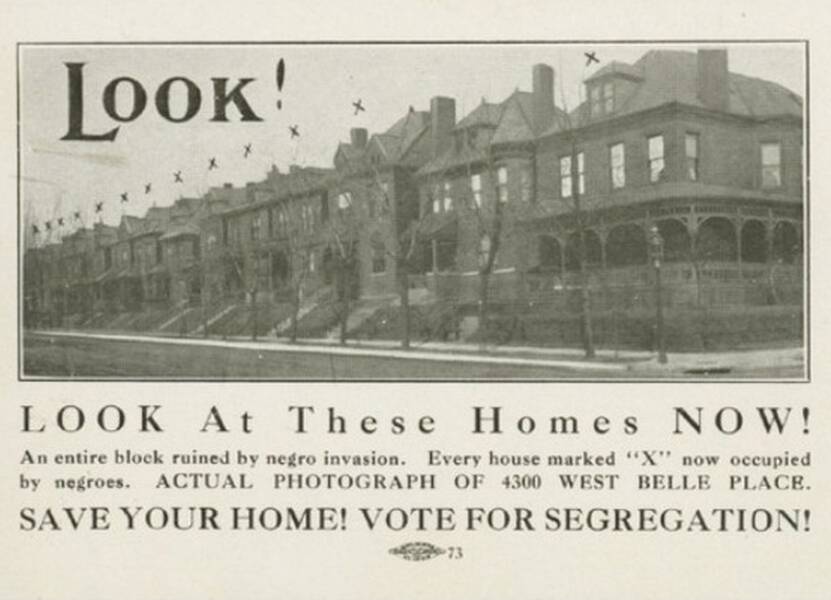 In Bal­ti­more in 1910, a black Yale law school grad­u­ate pur­chased a home in a pre­vi­ous­ly all-white neigh­bor­hood. The Bal­ti­more city gov­ern­ment react­ed by adopt­ing a res­i­den­tial seg­re­ga­tion ordi­nance, restrict­ing African Amer­i­cans to des­ig­nat­ed blocks. Explain­ing the pol­i­cy, Baltimore's may­or pro­claimed, ​"Blacks should be quar­an­tined in iso­lat­ed slums in order to reduce the inci­dence of civ­il dis­tur­bance, to pre­vent the spread of com­mu­ni­ca­ble dis­ease into the near­by White neigh­bor­hoods, and to pro­tect prop­er­ty val­ues among the White majority."
Whenever young black men riot in response to police brutality or murder, we're tempted to think we can address the problem through proposals to improve police quality. But such proposals ignore the obvious reality that the protests are not really (or primarily) about policing.
Thus began a cen­tu­ry of fed­er­al, state, and local poli­cies to quar­an­tine Baltimore's black pop­u­la­tion in iso­lat­ed slums — poli­cies that con­tin­ue to the present day, as fed­er­al hous­ing sub­sidy poli­cies still dis­pro­por­tion­ate­ly direct low-income black fam­i­lies to seg­re­gat­ed neigh­bor­hoods and away from mid­dle class suburbs.
When­ev­er young black men riot in response to police bru­tal­i­ty or mur­der, as they have done in Bal­ti­more this week, we're tempt­ed to think we can address the prob­lem by improv­ing police qual­i­ty — train­ing offi­cers not to use exces­sive force, imple­ment­ing com­mu­ni­ty polic­ing, encour­ag­ing police to be more sen­si­tive, pro­hibit­ing racial pro­fil­ing, and so on. These are all good, nec­es­sary and impor­tant things to do. But such pro­pos­als ignore the obvi­ous real­i­ty that the protests are not real­ly (or pri­mar­i­ly) about policing.
In 1968, fol­low­ing hun­dreds of sim­i­lar riots nation­wide, a com­mis­sion appoint­ed by Pres­i­dent Lyn­don John­son con­clud­ed that "[o]ur nation is mov­ing toward two soci­eties, one black, one white — sep­a­rate and unequal" and that "[s]egregation and pover­ty have cre­at­ed in the racial ghet­to a destruc­tive envi­ron­ment total­ly unknown to most white Amer­i­cans." The Kern­er Com­mis­sion (head­ed by Illi­nois Gov­er­nor Otto Kern­er) added that "[w]hat white Amer­i­cans have nev­er ful­ly under­stood — but what the Negro can nev­er for­get — is that white soci­ety is deeply impli­cat­ed in the ghet­to. White insti­tu­tions cre­at­ed it, white insti­tu­tions main­tain it, and white soci­ety con­dones it."
In the last 50 years, the two soci­eties have become even more unequal. Although a rel­a­tive­ly small black mid­dle class has been per­mit­ted to inte­grate itself into main­stream Amer­i­ca, those left behind are more seg­re­gat­ed now than they were in 1968.
When the Kern­er Com­mis­sion blamed ​"white soci­ety" and ​"white insti­tu­tions," it employed euphemisms to avoid nam­ing the cul­prits every­one knew at the time. It was not a vague white soci­ety that cre­at­ed ghet­tos but gov­ern­ment — fed­er­al, state, and local — that employed explic­it­ly racial laws, poli­cies, and reg­u­la­tions to ensure that black Amer­i­cans would live impov­er­ished, and sep­a­rate­ly from whites. Baltimore's ghet­to was not cre­at­ed by pri­vate dis­crim­i­na­tion, income dif­fer­ences, per­son­al pref­er­ences, or demo­graph­ic trends, but by pur­pose­ful action of gov­ern­ment in vio­la­tion of the Fifth, Thir­teenth, and Four­teenth Amend­ments. These con­sti­tu­tion­al vio­la­tions have nev­er been reme­died, and we are pay­ing the price in the vio­lence we saw this week.
Fol­low­ing the police killing of Michael Brown in Fer­gu­son, Mis­souri, last August, I wrote The Mak­ing of Fer­gu­son, a his­to­ry of the state-spon­sored seg­re­ga­tion in St. Louis Coun­ty that set the stage for police-com­mu­ni­ty hos­til­i­ty there. Vir­tu­al­ly every one of the racial­ly explic­it fed­er­al, state and local poli­cies of seg­re­ga­tion pur­sued in St. Louis has a par­al­lel in poli­cies pur­sued by gov­ern­ment in Baltimore.
In 1917, the U.S. Supreme Court found ordi­nances like Baltimore's 1910 seg­re­ga­tion rule uncon­sti­tu­tion­al, not because they abridged African Amer­i­cans' rights to live where they could afford, but because they restrict­ed the prop­er­ty rights of (white) home­own­ers to sell to whomev­er they wished. Baltimore's may­or respond­ed by instruct­ing city build­ing inspec­tors and health depart­ment inves­ti­ga­tors to cite for code vio­la­tions any­one who rent­ed or sold to blacks in pre­dom­i­nant­ly white neigh­bor­hoods. Five years lat­er, the next Bal­ti­more may­or for­mal­ized this approach by form­ing an offi­cial Com­mit­tee on Seg­re­ga­tion and appoint­ing the City Solic­i­tor to lead it. The com­mit­tee coor­di­nat­ed the efforts of the build­ing and health depart­ments with those of the real estate indus­try and white com­mu­ni­ty orga­ni­za­tions to apply pres­sure to any whites tempt­ed to sell or rent to blacks. Mem­bers of the city's real estate board, for exam­ple, accom­pa­nied build­ing and health inspec­tors to warn prop­er­ty own­ers not to vio­late the city's col­or line.
In 1925, 18 Bal­ti­more neigh­bor­hood asso­ci­a­tions came togeth­er to form the ​"Allied Civic and Pro­tec­tive Asso­ci­a­tion" for the pur­pose of urg­ing both new and exist­ing prop­er­ty own­ers to sign restric­tive covenants, which com­mit­ted own­ers nev­er to sell to an African Amer­i­can. Where neigh­bors joint­ly signed a covenant, any one of them could enforce it by ask­ing a court to evict an African Amer­i­can fam­i­ly who pur­chased prop­er­ty in vio­la­tion. Restric­tive covenants were not mere­ly pri­vate agree­ments between home­own­ers; they fre­quent­ly had gov­ern­ment sanc­tion. In Bal­ti­more, the city-spon­sored Com­mit­tee on Seg­re­ga­tion orga­nized neigh­bor­hood asso­ci­a­tions through­out the city that could cir­cu­late and enforce such covenants.
Sup­ple­ment­ing the covenants, African Amer­i­cans were pre­vent­ed from mov­ing to white neigh­bor­hoods by explic­it pol­i­cy of the Fed­er­al Hous­ing Admin­is­tra­tion (FHA), which barred sub­ur­ban sub­di­vi­sion devel­op­ers from qual­i­fy­ing for fed­er­al­ly sub­si­dized con­struc­tion loans unless the devel­op­ers com­mit­ted to exclude African Amer­i­cans from the com­mu­ni­ty. The FHA also barred African Amer­i­cans them­selves from obtain­ing bank mort­gages for house pur­chas­es even in sub­ur­ban sub­di­vi­sions which were pri­vate­ly financed with­out fed­er­al con­struc­tion loan guar­an­tees. The FHA not only refused to insure mort­gages for black fam­i­lies in white neigh­bor­hoods, it also refused to insure mort­gages in black neigh­bor­hoods — a pol­i­cy that came to be known as ​"redlin­ing," because neigh­bor­hoods were col­ored red on gov­ern­ment maps to indi­cate that these neigh­bor­hoods should be con­sid­ered poor cred­it risks as a con­se­quence of African Amer­i­cans liv­ing in (or even near) them.
Unable to get mort­gages, and restrict­ed to over­crowd­ed neigh­bor­hoods where hous­ing was in short sup­ply, African Amer­i­cans either rent­ed apart­ments at rents con­sid­er­ably high­er than those for sim­i­lar dwellings in white neigh­bor­hoods, or bought homes on install­ment plans. These arrange­ments, known as con­tract sales, dif­fered from mort­gages because month­ly pay­ments were not amor­tized, so a sin­gle missed pay­ment meant loss of a home, with no accu­mu­lat­ed equi­ty. In The Atlantic last year, Ta-Nehisi Coates described how this sys­tem worked in Chica­go. Rut­gers Uni­ver­si­ty his­to­ri­an Beryl Sat­ter described it this way:
Because black con­tract buy­ers knew how eas­i­ly they could lose their homes, they strug­gled to make their inflat­ed month­ly pay­ments. Hus­bands and wives both worked dou­ble shifts. They neglect­ed basic main­te­nance. They sub­di­vid­ed their apart­ments, crammed in extra ten­ants and, when pos­si­ble, charged their ten­ants hefty rents. …

White peo­ple observed that their new black neigh­bors over­crowd­ed and neglect­ed their prop­er­ties. Over­crowd­ed neigh­bor­hoods meant over­crowd­ed schools; in Chica­go, offi­cials respond­ed by ​"dou­ble-shift­ing" the stu­dents (half attend­ing in the morn­ing, half in the after­noon). Chil­dren were deprived of a full day of school­ing and left to fend for them­selves in the after-school hours. These con­di­tions helped fuel the rise of gangs, which in turn ter­ror­ized shop own­ers and res­i­dents alike.

In the end, whites fled these neigh­bor­hoods, not only because of the influx of black fam­i­lies, but also because they were upset about over­crowd­ing, decay­ing schools and crime. They also under­stood that the longer they stayed, the less their prop­er­ty would be worth. But black con­tract buy­ers did not have the option of leav­ing a declin­ing neigh­bor­hood before their prop­er­ties were paid for in full — if they did, they would lose every­thing they'd invest­ed in that prop­er­ty to date. Whites could leave — blacks had to stay.
The con­tract buy­ing sys­tem was com­mon­place in Bal­ti­more. Its exis­tence was sole­ly due to the fed­er­al government's pol­i­cy of deny­ing mort­gages to African Amer­i­cans, in either black or white neighborhoods.
Nation­wide, black fam­i­ly incomes are now about 60 per­cent of white fam­i­ly incomes, but black house­hold wealth is only about 5 per­cent of white house­hold wealth. In Bal­ti­more and else­where, the dis­tressed con­di­tion of African Amer­i­can work­ing- and low­er-mid­dle-class fam­i­lies is almost entire­ly attrib­ut­able to fed­er­al pol­i­cy that pro­hib­it­ed black fam­i­lies from accu­mu­lat­ing hous­ing equi­ty dur­ing the sub­ur­ban boom that moved white fam­i­lies into sin­gle-fam­i­ly homes from the mid-1930s to the mid-1960s — and thus from bequeath­ing that wealth to their chil­dren and grand­chil­dren, as white sub­ur­ban­ites have done.
As I described in the Mak­ing of Fer­gu­son, the fed­er­al gov­ern­ment main­tained a pol­i­cy of seg­re­ga­tion in pub­lic hous­ing nation­wide for decades. This was as true in north­east­ern cities like New York as it was in bor­der cities like Bal­ti­more and St. Louis. In 1994, civ­il rights groups sued the Depart­ment of Hous­ing and Urban Devel­op­ment (HUD), alleg­ing that HUD had seg­re­gat­ed its pub­lic hous­ing in Bal­ti­more and then, after it had con­cen­trat­ed the poor­est African Amer­i­can fam­i­lies in projects in the poor­est neigh­bor­hoods, HUD and the city of Bal­ti­more demol­ished the projects, and pur­pose­ly relo­cat­ed the for­mer res­i­dents into oth­er seg­re­gat­ed black neigh­bor­hoods. An even­tu­al set­tle­ment required the gov­ern­ment to pro­vide vouch­ers to for­mer pub­lic hous­ing res­i­dents for apart­ments in inte­grat­ed neigh­bor­hoods, and sup­port­ed this pro­vi­sion with coun­sel­ing and social ser­vices to ensure that fam­i­lies' moves to inte­grat­ed neigh­bor­hoods would have a high like­li­hood of suc­cess. Although the pro­gram is gen­er­al­ly con­sid­ered a mod­el, it affects only a small num­ber of fam­i­lies, and has not sub­stan­tial­ly dis­man­tled Baltimore's black ghetto.
In 1970, declar­ing that the fed­er­al gov­ern­ment had estab­lished a ​"white noose" around ghet­tos in Bal­ti­more and oth­er cities, HUD Sec­re­tary George Rom­ney pro­posed deny­ing fed­er­al funds for sew­ers, water projects, park­land, or rede­vel­op­ment to all-white sub­urbs that resist­ed inte­gra­tion by main­tain­ing exclu­sion­ary zon­ing ordi­nances (that pro­hib­it­ed mul­ti-unit con­struc­tion) or by refus­ing to accept sub­si­dized mod­er­ate-income or pub­lic low-income hous­ing. In the case of Bal­ti­more Coun­ty, he with­held a sew­er grant that had pre­vi­ous­ly been com­mit­ted, because of the county's poli­cies of res­i­den­tial seg­re­ga­tion. It was a very con­tro­ver­sial move, but Rom­ney got sup­port from Vice Pres­i­dent Spiro Agnew, who had been frus­trat­ed by unrea­son­able sub­ur­ban resis­tance to inte­gra­tion and mixed income devel­op­ments when he had been the Bal­ti­more Coun­ty Exec­u­tive and gov­er­nor of Mary­land. In a 1970 speech to the Nation­al Alliance of Busi­ness­men, Agnew attacked attempts to solve the country's racial prob­lems by pour­ing mon­ey into the inner city as had been done in the John­son admin­is­tra­tion. Agnew said that he flat­ly reject­ed the assump­tion that ​"because the pri­ma­ry prob­lems of race and pover­ty are found in the ghet­tos of urban Amer­i­ca, the solu­tions to these prob­lems must also be found there… Resources need­ed to solve the urban pover­ty prob­lem — land, mon­ey, and jobs — exist in sub­stan­tial sup­ply in sub­ur­ban areas, but are not being suf­fi­cient­ly uti­lized in solv­ing inner-city problems."
Pres­i­dent Richard Nixon even­tu­al­ly restrained Rom­ney, HUD's inte­gra­tion pro­grams were aban­doned, Rom­ney him­self was forced out as HUD Sec­re­tary, and lit­tle has been done since to solve the urban pover­ty prob­lem with the sub­stan­tial resources that exist in the suburbs.
Ten years ago, dur­ing the sub­prime lend­ing boom, banks and oth­er finan­cial insti­tu­tions tar­get­ed African Amer­i­cans for the mar­ket­ing of sub­prime loans. The loans had explod­ing inter­est rates and pro­hib­i­tive pre­pay­ment penal­ties, lead­ing to a wave of fore­clo­sures that forced black home­own­ers back into ghet­to apart­ments and dev­as­tat­ed the mid­dle class neigh­bor­hoods to which these fam­i­lies had moved. The City of Bal­ti­more sued Wells Far­go Bank, pre­sent­ing evi­dence that the bank had estab­lished a spe­cial unit staffed exclu­sive­ly by African Amer­i­can bank employ­ees who were instruct­ed to vis­it black church­es to mar­ket sub­prime loans. The bank had no sim­i­lar prac­tice of mar­ket­ing such loans through white insti­tu­tions. These poli­cies were com­mon­place nation­wide, but fed­er­al bank exam­in­ers respon­si­ble for super­vis­ing lend­ing prac­tices made no attempt to inter­vene. When a sim­i­lar suit was filed in Cleve­land, a fed­er­al judge observed that because mort­gage lend­ing is so heav­i­ly reg­u­lat­ed by the fed­er­al and state gov­ern­ments, ​"there is no ques­tion that the sub­prime lend­ing that occurred in Cleve­land was con­duct which ​'the law sanctions'."
Bal­ti­more, not at all unique­ly, has expe­ri­enced a cen­tu­ry of pub­lic pol­i­cy designed, con­scious­ly so, to seg­re­gate and impov­er­ish its black pop­u­la­tion. A lega­cy of these poli­cies is the riot­ing we have seen in Bal­ti­more. Whether after the 1967 wave of riots that led to the Kern­er Com­mis­sion report, after the 1992 Los Ange­les riot that fol­lowed the acquit­tal of police offi­cers who beat Rod­ney King, or after the recent wave of con­fronta­tions and van­dal­ism fol­low­ing police killings of black men, com­mu­ni­ty lead­ers typ­i­cal­ly say, prop­er­ly, that vio­lence isn't the answer and that after peace is restored, we can deal with the under­ly­ing prob­lems. We nev­er do so.
Cer­tain­ly, African Amer­i­can cit­i­zens of Bal­ti­more were pro­voked by aggres­sive, hos­tile, even mur­der­ous polic­ing, but Spiro Agnew had it right. With­out sub­ur­ban inte­gra­tion, some­thing bare­ly on today's pub­lic pol­i­cy agen­da, ghet­to con­di­tions will per­sist, giv­ing rise to aggres­sive polic­ing and the riots that inevitably ensue. Like Fer­gu­son before it, Bal­ti­more will not be the last such con­fla­gra­tion the nation need­less­ly experiences.
This post first appeared at the Eco­nom­ic Pol­i­cy Insti­tute blog.
Richard Roth­stein
is a research asso­ciate of the Eco­nom­ic Pol­i­cy Insti­tute and senior fel­low of the Chief Jus­tice Earl War­ren Insti­tute on Law and Social Pol­i­cy at the Uni­ver­si­ty of Cal­i­for­nia-Berke­ley School of Law. He is the author of
Grad­ing Edu­ca­tion: Get­ting Account­abil­i­ty Right
,
Class and Schools: Using Social, Eco­nom­ic and Edu­ca­tion­al Reform to Close the Black-White Achieve­ment Gap
,
The Way We Were? Myths and Real­i­ties of America's Stu­dent Achieve­ment
and oth­er books.