Why Labor and the Movement for Racial Justice Should Work Together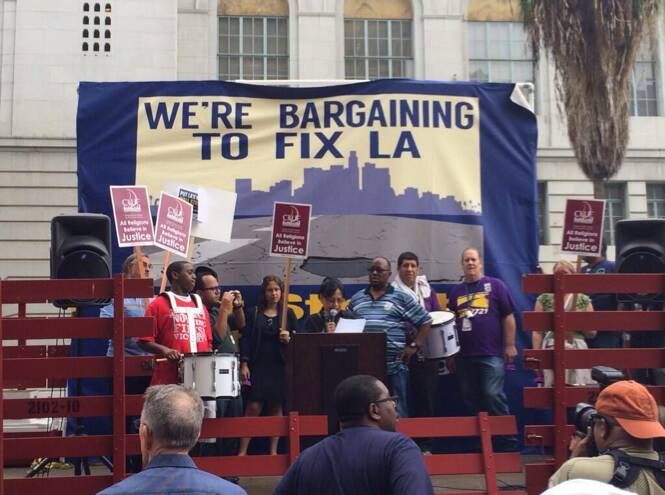 The Move­ment for Black Lives (M4BL) has made tremen­dous strides in expos­ing and chal­leng­ing racial injus­tice, and has won real pol­i­cy vic­to­ries. The poli­cies, while often imper­fect, are a tes­ta­ment to the strength of the orga­niz­ing and activism of the moment. Not coin­ci­den­tal­ly, this upris­ing comes at a time when income and wealth inequal­i­ty are at peak lev­els and the econ­o­my for most black peo­ple looks marked­ly dif­fer­ent than the econ­o­my for their white counterparts.
Just as we are in a crit­i­cal moment in the move­ment for racial jus­tice, we are in a crit­i­cal moment for the right to union­ize. Unions, which have been a major force for eco­nom­ic jus­tice for peo­ple of col­or in the past 50 years, have been dec­i­mat­ed to his­tor­i­cal­ly low levels.
Labor should work along­side the Move­ment for Black Lives, a coali­tion with more than 50 orga­ni­za­tions, to ush­er in a rad­i­cal­ly new eco­nom­ic and social order. The path won't be easy. But recent his­to­ry has shown that one of the ways to get at this new real­i­ty is through union bar­gain­ing. Con­sid­er the exam­ple of Fix L.A.
Fix L.A. is a com­mu­ni­ty-labor part­ner­ship that fought to fund city ser­vices and jobs alike, using city work­ers' bar­gain­ing as a flash­point to bring com­mon good demands to the table. The coali­tion start­ed after gov­ern­ment lead­ers in Los Ange­les dras­ti­cal­ly cut back on pub­lic ser­vices and infra­struc­ture main­te­nance dur­ing the Great Reces­sion. The city slashed near­ly 5,000 jobs, a large por­tion of which had been held by black and Lati­no work­ers. Not only did these cuts cre­ate infra­struc­ture prob­lems — like over­grown and dan­ger­ous trees and flood­ing — but they also cost thou­sands of black and Lati­no fam­i­lies their livelihoods.
Fix L.A. asked why the city was spend­ing more on bank fees than on street ser­vices, and demand­ed that it rene­go­ti­ate those fees and invest the sav­ings in under­served communities.
What was the result of this ground­break­ing campaign?
The cre­ation of 5,000 jobs, with a com­mit­ment to increase access to those jobs for black and Lati­no work­ers, the defeat of pro­posed con­ces­sions for city work­ers and a com­mit­ment from the city to review why it was pri­or­i­tiz­ing pay­ment of bank fees over fund­ing for crit­i­cal ser­vices in the first place!
Bar­gain­ing for the com­mon good
Fix L.A. may seem nov­el, but the con­text is no dif­fer­ent from many places. We have seen mas­sive dis­in­vest­ment from pub­lic ser­vices in a way that dis­pro­por­tion­ate­ly affects black peo­ple. This struc­tural­ly-racist dis­in­vest­ment is often dri­ven by the cor­po­rate inter­ests that bankroll elect­ed offi­cials' cam­paigns and by Wall Street actors that use their influ­ence over pub­lic finance to push an aus­ter­i­ty agen­da. Every­where you look, pub­lic offi­cials are mak­ing a choice between pay­ing fees and pro­vid­ing crit­i­cal services.
Chica­go Pub­lic Schools paid $502 mil­lion to banks in tox­ic swap fees at the same time that it was slash­ing spe­cial edu­ca­tion pro­grams and lay­ing off teach­ers to close a bud­get deficit. Detroit raised its water rates and paid $537 mil­lion in Wall Street penal­ties, set­ting the stage for mass water shut­offs when tens of thou­sands of poor res­i­dents of the over­whelm­ing­ly black city could not afford the high­er water bills.
Wall Street and oth­er cor­po­ra­tions don't hes­i­tate to prof­it off of and per­pet­u­ate dis­in­vest­ment in com­mu­ni­ties of col­or, and too often we for­get to look up the food chain to see that at the oth­er end of com­mu­ni­ty crises there are rich bankers and bil­lion­aires lin­ing their pock­ets. Cam­paigns, like Fix L.A., that involve direct actions tar­get­ing banks, hedge funds, cor­po­ra­tions and bil­lion­aires are effective.
This sort of orga­niz­ing can be hard. In order to iso­late work­ers from their broad­er com­mu­ni­ties, the oth­er side has done a ter­rif­ic job of nar­row­ly defin­ing the scope of bar­gain­ing as wages and ben­e­fits. In many states, labor laws pro­hib­it pub­lic sec­tor work­ers from bar­gain­ing over issues that con­cern the wel­fare of the broad­er com­mu­ni­ty or the qual­i­ty of the ser­vices they provide.
The the­o­ry of ​"bar­gain­ing for the com­mon good" seeks to chal­lenge this sta­tus quo. As artic­u­lat­ed by Joseph McCartin of George­town University's Kalmanovitz Ini­tia­tive for Labor and the Work­ing Poor, bar­gain­ing for the com­mon good has three main tenets: 1) tran­scend­ing the bar­gain­ing frame­works writ­ten in law and reject­ing them as tools for the cor­po­rate elite to remain in pow­er; 2) craft­ing demands between local com­mu­ni­ty groups and unions at the same time and in close coor­di­na­tion with each oth­er from the very begin­ning; and 3) embrac­ing col­lec­tive direct action as key to the suc­cess of orga­niz­ing campaigns.
These may seem like sim­ple ideas, but they stand in com­plete oppo­si­tion to the way the pow­er elite expects union bar­gain­ing to be done. There­in lies their power.
There­in also lies the oppor­tu­ni­ty for unions to part­ner with the Move­ment for Black Lives. For all of their com­pli­cat­ed racial his­to­ries, unions are some of the largest orga­ni­za­tions of black peo­ple in the coun­try. About 2.2 mil­lion black Amer­i­cans are union mem­bers — some 14 per­cent of the employed black workforce.
That's a huge num­ber of black peo­ple who are already mem­bers of orga­ni­za­tions with the capac­i­ty to orga­nize and mobi­lize. And these black work­ers, like all black peo­ple in Amer­i­ca, face real chal­lenges of struc­tur­al eco­nom­ic racism in almost all aspects of their lives. Their com­mu­ni­ties have been under­fund­ed; their schools are being dis­man­tled; they face mas­sive pover­ty and are under eco­nom­ic assault; and they reg­u­lar­ly encounter police violence.
Stronger togeth­er
Widen­ing the scope of bar­gain­ing in Los Ange­les led to real wins for the city's black and Lati­no com­mu­ni­ties. The rest of the labor move­ment should take note. Imag­ine the pow­er that could be added to the Move­ment for Black Lives if unions, rec­og­niz­ing the trau­ma that sys­tem­at­ic racism wreaks on their mem­ber­ship, brought solu­tions that have been ele­vat­ed by the Move­ment for Black Lives to the bar­gain­ing table in nego­ti­a­tions with employ­ers rang­ing from the City of Bal­ti­more to pri­vate equi­ty giant Blackstone.
But unions can­not do this uni­lat­er­al­ly and expect uncon­di­tion­al sup­port from the black community.
Unions must make the effort on the front end to build a real rela­tion­ship with Move­ment for Black Lives groups and mem­bers, and part­ner with them in devel­op­ing com­mon good bar­gain­ing demands that start to go on the offense against Wall Street and the struc­tural­ly-racist eco­nom­ic pow­er struc­ture. There are groups of peo­ple orga­niz­ing for racial jus­tice under the ban­ner of the Move­ment for Black Lives near every union local in the coun­try. The onus is on labor lead­ers and rank-and-file union mem­bers to reach out to those groups and start to build a strong rela­tion­ship where one does not exist. This process will not be easy, espe­cial­ly because of the his­to­ry of racism that plagues unions, espe­cial­ly police unions. But the truth remains that there is a real oppor­tu­ni­ty to lever­age the pow­er of both move­ments to win real gains for black peo­ple and oth­er peo­ple of col­or through a strong partnership.
It is excit­ing to imag­ine poten­tial bar­gain­ing demands major unions could under­take along­side racial jus­tice orga­ni­za­tions. For exam­ple, they could demand that their employ­ers make a com­mit­ment to job train­ing pro­grams to strength­en the pipeline for black work­ers; city and state work­ers could demand pro­gres­sive tax­a­tion mea­sures that raise funds from cor­po­rate actors to fund schools and ser­vices in black com­mu­ni­ties; teach­ers could demand school dis­tricts enact restora­tive jus­tice poli­cies to stem the school-to-prison pipeline; hos­pi­tal work­ers could bar­gain for tar­get­ed health care access pro­grams in com­mu­ni­ties of col­or; retail work­ers could demand that their employ­ers ​"ban the box" and let the for­mer­ly incar­cer­at­ed work. The list is almost infinite.
Bar­gain­ing for racial jus­tice is a rad­i­cal idea and will not be eas­i­ly won. It will require con­cert­ed direct action tar­get­ing the real deci­sion mak­ers in both the pub­lic and pri­vate sec­tors that have a vest­ed inter­est in keep­ing racial inequities in place. The Move­ment for Black Lives has proven that it can exe­cute effec­tive and cre­ative direct actions backed by sol­id demands. They are also inno­vat­ing cre­ative tac­tics that move beyond tra­di­tion­al march­es and pick­et lines to new types of dis­rup­tive actions that make pow­er hold­ers direct­ly con­front those they are harm­ing. By com­bin­ing the vision and mil­i­tant tac­tics of the Move­ment for Black Lives with the mem­ber­ship and resources of the labor move­ment, we can ush­er in a more just and equi­table society.
Mau­rice Weeks is the cam­paign coor­di­na­tor for Wall Street account­abil­i­ty at the Cen­ter for Pop­u­lar Democ­ra­cy. Mar­i­lyn Snei­der­man is the direc­tor of the Cen­ter for Inno­va­tion in Work­er Orga­ni­za­tion at Rut­gers University.