Why Labor Is Fighting to Save Veterans' Healthcare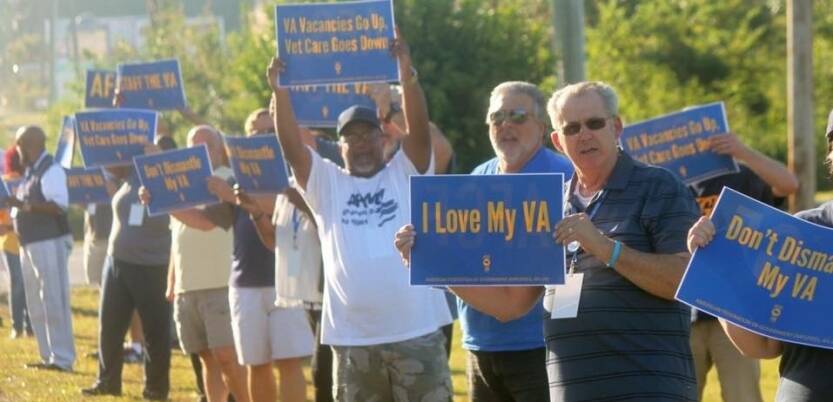 This post first appeared at Labor Notes.
In Jan­u­ary Pres­i­dent Trump deliv­ered on his promise to shrink the fed­er­al gov­ern­ment: he announced a hir­ing freeze, despite thou­sands of fed­er­al job vacancies.
As a can­di­date, Trump cam­paigned as a great friend of vet­er­ans. He pledged to make big improve­ments in the Vet­er­ans Health Admin­is­tra­tion (VHA), the arm of the Vet­er­ans Admin­is­tra­tion (VA) that oper­ates the largest health care sys­tem in the country.
But Trump's hir­ing freeze deep­ened an already exist­ing staffing cri­sis at VHA hos­pi­tals and clin­ics through­out the U.S., where there are 49,000 vacant positions.
Union activists believe the result­ing under­staffing is designed to gen­er­ate patient com­plaints and neg­a­tive pub­lic­i­ty that will cause vet­er­ans and their fam­i­lies to lose faith in VA-pro­vid­ed care.
"Some in Con­gress want to under­fund the VA so they can say that gov­ern­ment doesn't work," says Dusten Retch­er, a 29-year old Air Force vet­er­an, who process­es vet­er­ans' ben­e­fit claims in Min­neapo­lis. ​"Then they want to turn it over to the pri­vate market."
Social­ized Medicine
The VHA cov­ers nine mil­lion vet­er­ans who qual­i­fy based on their low income or, like Retch­er, have a ser­vice-relat­ed med­ical con­di­tion. Unlike Canada's sin­gle pay­er sys­tem or Medicare in the U.S., it does not func­tion pri­mar­i­ly as an insur­er, sim­ply reim­burs­ing pri­vate hos­pi­tals, doc­tors, or pharmacies.
Instead, like Britain's Nation­al Health Ser­vice, the VHA pro­vides direct care to vet­er­ans, via salaried per­son­nel who are not paid on a fee-for-ser­vice basis. As the nation's largest pub­licly fund­ed, ful­ly inte­grat­ed health care net­work, it's a mod­el of social­ized med­i­cine more far-reach­ing than the sin­gle-pay­er plans pro­posed by Con­gress­man John Cony­ers and Sen­a­tor Bernie Sanders (who is also a lead­ing defend­er of the VHA).
Over­all, the VHA employs 300,000 peo­ple, a third of whom are vet­er­ans them­selves. Because care­givers are salaried, they have lit­tle incen­tive to over-treat patients. And, as a large-scale pub­lic agency, the VHA can nego­ti­ate with phar­ma­ceu­ti­cal and med­ical equip­ment com­pa­nies to secure prices low­er than pri­vate hos­pi­tal chains get.
This com­bi­na­tion of ​"social­ized med­i­cine," nego­ti­at­ed prices, and a salaried work­force heav­i­ly rep­re­sent­ed by the Amer­i­can Fed­er­a­tion of Gov­ern­ment Employ­ees (AFGE) is not pop­u­lar in a Repub­li­can Con­gress or in the Trump White House.
Ear­li­er this sum­mer, both attacked the due process rights of AFGE mem­bers by pass­ing the ​"VA Account­abil­i­ty Act." As the AFL-CIO notes, this dra­con­ian mea­sure, backed by some Democ­rats, elim­i­nates ​"any guar­an­tee that employ­ees will feel safe speak­ing out against mis­man­age­ment or to pro­tect patient safe­ty." Accord­ing to the fed­er­a­tion, it ​"destroys griev­ance pro­ce­dures that have been suc­cess­ful­ly used through­out the fed­er­al gov­ern­ment to pro­vide pro­tec­tion against arbi­trary treatment."
Such union-bust­ing leg­is­la­tion — and more cur­rent­ly under con­sid­er­a­tion by Con­gress — has been a long­time objec­tive of right-wing Repub­li­cans and the ​"Con­cerned Vet­er­ans of Amer­i­ca." CVA is an astro-turf group, fund­ed by the Koch broth­ers, which has gained pol­i­cy-mak­ing influ­ence with­in the VA since Trump's elec­tion. While CVA has few actu­al mem­bers, it has been quite suc­cess­ful in pro­mot­ing neg­a­tive cov­er­age of the VHA in the media, includ­ing the New York Times and NPR.
Unlike tra­di­tion­al vet­er­ans orga­ni­za­tions (Amer­i­can Legion, VFW, Dis­abled Amer­i­can Vet­er­ans), CVA hates the VHA and would like to see it total­ly privatized.
Cam­paign to save the VA
To resist this out­sourc­ing threat, VHA union mem­bers and their allies have launched a mul­ti-front cam­paign. They have held dozens of town hall meet­ings, local ​"Save the VA" ral­lies, and protests with labor and vet­er­ans orga­ni­za­tions in Cal­i­for­nia, Arkansas, Indi­ana, Illi­nois, New Mex­i­co, Ten­nessee, Mon­tana, Ohio, and Col­orado. More protests are sched­uled in Octo­ber. Such activ­i­ty, through­out the fed­er­al gov­ern­ment, has helped AFGE sign up 5,000 new mem­bers since January.
Bay Area AFGE activists joined fel­low VHA staffers, their patients, and oth­er con­cerned vet­er­ans at a speak-out in San Fran­cis­co attend­ed by House minor­i­ty leader Nan­cy Pelosi. Michael Bleck­er, a leader of Swords to Plow­shares who served in Viet­nam, warned that local pro­grams to reduce home­less­ness among vet­er­ans were at risk of being curtailed.
Pelosi argued that GOP crit­ics care lit­tle about improv­ing VHA ser­vices or reduc­ing their cost. ​"The peo­ple who want to pri­va­tize the VA don't want to make it bet­ter," she said. ​"They want to make a buck."
In its cri­tique of pri­va­ti­za­tion, Fight­ing for Vet­er­ans Health­care, a San Fran­cis­co – based advo­ca­cy group, notes that VHA hos­pi­tal bud­gets are already stretched thin because of chron­ic under­fund­ing. As the finan­cial bur­den of pay­ing for more cost­ly pri­vate care increas­es, the group argues, in-house staff short­ages will wors­en, spe­cial­ized research and treat­ment pro­grams will be cut, demor­al­ized employ­ees will leave, and ​"the VA will become a shell of itself."
At the Den­ver VA med­ical cen­ter, where work­ers ral­lied against pri­va­ti­za­tion August 23, AFGE Local 2241 Pres­i­dent Bernard Hum­bles says employ­ee frus­tra­tion is mount­ing. ​"I've had some mem­bers that just say, ​'I'm done,' and leave because of the over­whelm­ing work­load," he said. ​"We need to fill these positions."
Bernie Sanders, for­mer chair of the Vet­er­ans Affairs Com­mit­tee in the Sen­ate and long­time defend­er of the VHA, has intro­duced leg­is­la­tion to reduce staff short­ages by allo­cat­ing $5 bil­lion to new hir­ing. But Sec­re­tary for Vet­er­ans Affairs Dr. David Shulkin, who served in the Oba­ma admin­is­tra­tion, is under White House and Con­gres­sion­al pres­sure to expand a pro­gram called ​"Choice" instead.
Cre­at­ed by Con­gress in 2014, Choice allows vet­er­ans who have to trav­el 40 miles or more to the near­est VHA facil­i­ty, or who face appoint­ment delays longer than 30 days, to use pri­vate providers instead. Fed­er­al reim­burse­ment of these pri­vate hos­pi­tals and doc­tors has already drained bil­lions from the VHA. A recent inter­nal report revealed a pat­tern of over-pay­ments to Tri­West and Health Net, two pri­vate insur­ers hired to set up out­side provider net­works and process the Choice pro­gram's reim­burse­ment claims.
Mean­while, as a Rand Cor­po­ra­tion study found in 2015, actu­al wait times at the VHA are short­er than in the pri­vate sec­tor, and the qual­i­ty of vet­er­ans' care is equal to or supe­ri­or than that received by pri­vate hos­pi­tal patients.
An out­sourc­ing gold mine
Nev­er­the­less, Repub­li­cans seek a whole­sale expan­sion of VHA out­sourc­ing, to cre­ate a gold mine for the health care indus­try. Their goal is to steer more vet­er­ans toward non-VHA providers, includ­ing for-prof­it firms that would fill pre­scrip­tions, han­dle rou­tine vis­its, or pro­vide out-patient ser­vices like audi­ol­o­gy and optometry.
The fight to defend qual­i­ty care for vet­er­ans is unit­ing care­givers on the VHA staff, their patients, oth­er vet­er­ans, and con­cerned com­mu­ni­ty mem­bers. The fight also helps expose the ever-widen­ing gap between Pres­i­dent Trump's pro-vet­er­an rhetoric and the actu­al impact of his poli­cies on work­ing class peo­ple who have served in the mil­i­tary and, in some cas­es, vot­ed for him last fall.
At a late Sep­tem­ber protest at the VA Med­ical Cen­ter in Min­neapo­lis, AFGE pick­eters were joined by oth­er union­ists, includ­ing Navy vet­er­an Tom Edwards, who car­ried a sign say­ing, ​"No Vet Should Wait in Line." A retired postal work­er, Edwards told Work­day Min­neso­ta that he hears plen­ty of rhetoric about ​"sup­port­ing our troops." But when they come home and need access to skilled, spe­cial­ized care like the VHA pro­vides, it's anoth­er sto­ry. ​"What's hap­pen­ing in this coun­try is a trav­es­ty," he declared.
Suzanne Gor­don is a CWA/​NewsGuild mem­ber and author of The Bat­tle for Vet­er­ans' Health­care: Dis­patch­es from the Front Lines of Pol­i­cy Mak­ing and Patient Care. Ian Hoff­mann is a leg­isla­tive and polit­i­cal orga­niz­er with AFGE, based in north­ern Cal­i­for­nia. For more on the fight against VHA pri­va­ti­za­tion, see ffvhc​.org.