Why Not Socialism?
The Right's red-baiting has been far too effective.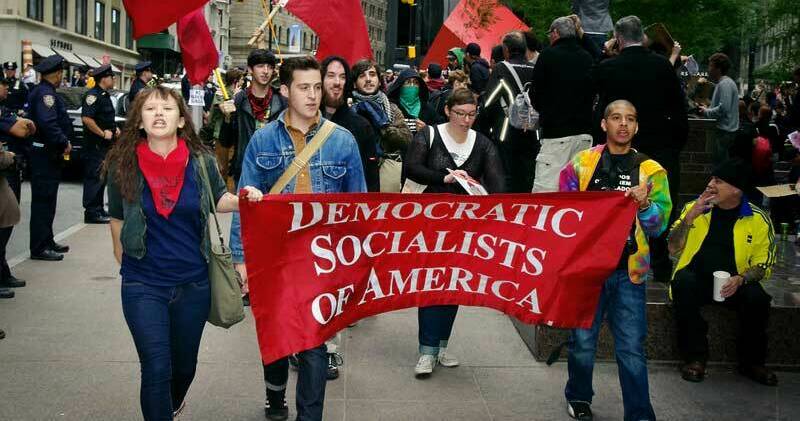 President Barack Obama owes his victory to the efforts of black, Latino, trade union, feminist and LGBTQ folks, who rallied to thwart a Romney campaign that relied on voter suppression and coded appeals to white nationalism. But unfortunately, the economy is still in the dumps, and Obama will not follow his reelection with an all-or-nothing progressive push. Rather, the exit polls and ballot initiative results will be read by the president's neoliberal advisors as a mandate for so-called ​"compromise" policies — i.e., further austerity, further cuts.
An ideological vacuum will be created on the Left when the president tacks back to the center and the GOP even more to the extreme Right, and democratic socialists are in a unique position to fill it.
An ideological vacuum will be created on the Left when the president tacks back to the center and the GOP even more to the extreme Right, and democratic socialists are in a unique position to fill it.
Democratic socialism provides a counterweight to the Tea Party agenda of reaction and division. We advocate for an expanded electoral and economic democracy along with deep citizen engagement. We know that many Americans share these values. People want a voice in decisions that affect their lives, and they know that the only way to cut the deficit is to put people back to work. We also know that 49 percent of people aged 18 – 29 have a positive view of socialism, according to a Pew poll released last year, and that class consciousness is on the rise.
Now is the time to continue building a political movement capable of challenging the neoliberal capitalist consensus. It is clear why we need a socialist organization in the United States. The Right has been too successful in its red-baiting, stymying even the most moderate reforms to rein in corporate power. We need a movement explaining and de-stigmatizing democratic socialism in order to create the rhetorical and political space for progressive, if not socialist, change.
Important policy fights will intensify this fall and winter, culminating in the inevitable year-end showdown over automatic cuts to anti-poverty programs. We cannot allow the cuts to go through, but neither can we allow the president to betray the most vulnerable among us by negotiating a ​"grand bargain" alternative that cuts critical programs like Social Security.
But the fiscal cliff is only the first struggle. We also need to continue anti-racist, values-based organizing in both blue states and red states, especially as the electorate becomes increasingly young, poor and brown. August 2013 is the 50th anniversary of the March on Washington for Jobs and Freedom. Now is the time to fight like hell to complete the unfinished war on poverty launched by Presidents John Kennedy and Lyndon Johnson. Democratic socialists such as Michael Harrington were there. Fifty years later, we are protesting in the streets to put economic justice and democracy back on the White House agenda. Join us.
Giving Tuesday: Support Progressive Journalism
Today is the single biggest day of the year for giving to nonprofits—last year, individual donors collectively gave more than $2.5 billion to nonprofit organizations in the U.S. alone on Giving Tuesday.
For In These Times, today also marks the kick-off of one of our most important fundraising drives ever.

Giving Tuesday began nearly a decade ago as a way to harness the power of collective giving and highlight the important work of nonprofit organizations. For In These Times, being a nonprofit is more than just a financial model. It is central to our very mission.
The traditional, for-profit news model was built on a foundation of corporate ad dollars. From the beginning, this has been a devil's bargain that limits what can be published by corporate media outlets and inevitably warps what they do print. In These Times is not beholden to any corporate interest.
Who are we beholden to? You—our community of readers. Support from readers allows In These Times to maintain our independence and speak truth to power. It is how we are able to continue publishing the stories readers—like you—want to read, and the voices that need to be heard in this political moment.

This Giving Tuesday, support independent, progressive journalism by making a tax-deductible donation to In These Times.
Giving Tuesday: Support Progressive Journalism