Why Rahm Emanuel's Community Investment Fund Would Be a Blank Check for Financiers
Progressives should oppose the "Chicago Community Catalyst Fund," which goes to a vote in City Council November 16.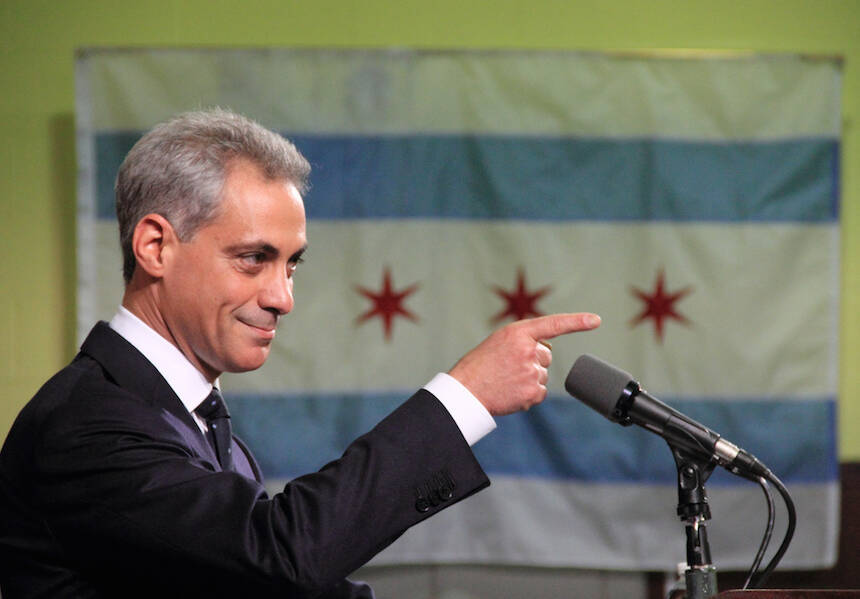 We wanted to make sure you didn't miss the announcement of our new Sustainer program. Once you've finished reading, take a moment to check out the new program, as well as all the benefits of becoming a Sustainer.

Mayor Rahm Emanuel and Treasurer Kurt Summers say they've heard the cries of neighborhoods hungry for investment, and they're responding by ​"launching the Chicago Community Catalyst Fund." This fund aims ​"to provide targeted investments in businesses and community projects in the City's neighborhoods most in need."
If as a city we decide that this $100 million should go towards private investment, we should ensure that it's not just a blank check handed over to financiers.
Specifically, the fund promises to invest 100 million public dollars, plus an uncertain amount ​"from private investors," in Chicago's neediest neighborhoods over the next three years. But a progressive analysis shows that the fund in fact amounts to a blank check from Chicago taxpayers to financiers. Here are five reasons why we should oppose the fund in its current form:
1. Chicago's poor and working class neighborhoods are desperate for investment, but the fund's $100 million can be invested in any Chicago community area, including the Loop, Lakeview and Lincoln Park. In October, Treasurer Summers ​"mentioned potential investments in the North Side's Lakeview," a neighborhood few would consider as one of our city's most in need.
2. Neighborhood small businesses need access to capital, and the fund is allegedly modeled after successful microloan programs, but the fund's current cap of $1.4 million per investment seems a better fit for big and established businesses than the mom-and-pop shop in your neighborhood. That $1.4 million that could be doled out by financiers is significantly more than the United States' average $7,000 microloan.
3. The fund will operate with little or no public accountability. Once the City Council approves the fund, a board of mayoral hires and appointees will set their own rules and then turn over the fund's millions to financiers. It is these financiers who will determine which businesses engaged in ​"real estate, infrastructure improvements, commercial developments or small business investments" benefit from the fund.
4. There are no caps on the fees financiers may collect, nor any stipulations on the salaries or number of staff the fund may employ. The board of mayoral hires and appointees can dole out contracts to law firms, accounting firms and investment firms with no public oversight.
5. Just four sentences of the eight-page document that establishes the fund deal with conflicts of interest, and the fund is under no obligation to engage in socially responsible investment; well-connected individuals and businesses with a record of labor and human rights abuses may benefit from your public dollars.
Like TIF dollars, this is public money that the City will turn over to private pockets. Could we not better spend a portion of the $100 million reopening mental health clinics, or funding our public schools? If as a city we decide that this $100 million should go towards private investment, we should ensure that it's not just a blank check handed over to financiers.
The Community Catalyst Fund asks Chicagoans to entrust their public dollars to the same people who have failed to invest in our neighborhoods for years. Chicagoans who have witnessed their City government's penchant to privilege the rich and well connected should be skeptical of the fund's ability to deliver the neighborhood investment we desperately need. The fund is headed to full Council passage on Wednesday, an outcome progressive Chicagoans should oppose.
Be a Sustainer
We surveyed thousands of readers and asked what they would like to see in a monthly giving program. Now, for the first time, we're offering three different levels of support, with rewards at each level, including a magazine subscription, books, tote bags, events and more—all starting at less than 17 cents a day. Check out the new Sustainer program.
35
th
Ward Alderman
Carlos Ramirez-Rosa
is a member of the Chicago City Council's Progressive Caucus. Elected in May
2015
, he represents the northwest side Chicago neighborhoods of Albany Park, Avondale, Hermosa, Irving Park, and Logan Square. Alderman Ramirez-Rosa is the only Democratic Socialist on the Chicago City Council.