Why, Really, Do We Love Steve Jobs?
It's the old appealing story of a man who pursued his inner passion and got rich.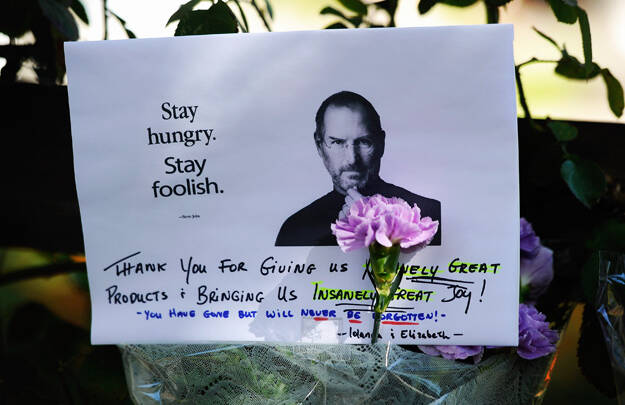 When Steve Jobs stepped down as head of Apple in August 2011, a stream of acco­lades began to flow that, upon his death, turned into a flood. Why is this? He invent­ed things, right? One news report claimed Steve Jobs ​"invent­ed the per­son­al com­put­er as a user-friend­ly device, invent­ed the notion that the mouse could be our real inter­face with that com­put­er, nev­er mind the fact that he invent­ed the cat­e­go­ry of iPod, iPad, and of course sell­ing music digitally."
Jobs' story gives us a chance to imagine that integrity and wealth can coincide. It's a good dream.
Uh, no. The Apple II was nei­ther invent­ed by Jobs nor was it the friend­liest com­put­er of its day (think Xerox Alto, or Com­modore PET). Cred­it for the mouse goes to Dou­glas Engel­bart, and the Xerox Star sold with a mouse as the pri­ma­ry inter­face two years before the Mac. There were dig­i­tal music play­ers, smart phones, and tablets long before the iPod, iPhone, and iPad. The dig­i­tal sale of music was tak­ing place at least by 1998 (google Rit​mote​ca​.com), years before iTunes fol­lowed suit. And Jobs was nev­er a pro­gram­mer or an engi­neer, any­way. Apple employ­ees did that stuff for him.
Even when it does not mis­read Jobs' con­tri­bu­tions, almost all the com­men­tary says that his ​"prod­ucts changed our lives." Real­ly? The Viet­nam war changed my life, going to grad­u­ate school changed my life, falling in love changed my life, hav­ing a child changed my life. Is an iPhone real­ly in the same cat­e­go­ry? If Jobs and Apple had nev­er exist­ed and instead I used a Black­ber­ry or a Nokia phone, or a Dell lap­top instead of a Mac­book, or if even we'd been stuck with Wordperfect's old func­tion keys instead of a mouse, how dif­fer­ent would our life be, real­ly? Sure, we're fond of the Apple giz­mos we've had over the years, but ​"life chang­ing" is a stretch.
So what is this all about? I think it's the sto­ry: the sto­ry of a rebel-hero who fol­lows his inner con­vic­tion instead of the well-trod­den path. From his jeans and sneak­ers to his flam­boy­ant rock-star arro­gance to the dis­tinc­tive­ness of Apple's prod­ucts to his orac­u­lar mar­ket­ing style, Steve Jobs' life offers a raft of details that flesh out a clas­sic tale, the tale of a guy who bucked con­ven­tion, fol­lowed his heart instead of the crowd, and in doing so, tri­umphed. Amer­i­cans are deeply in love with that sto­ry. Com­bined with the repeat­ed busi­ness suc­cess­es – Apple II, Mac­in­tosh, Pixar, iPhone, etc. – Steve Jobs' life gives us a chance to tell that sto­ry, to cel­e­brate it, again.
We've been lik­ing this sto­ry for a long time. Back in 1841, Ralph Wal­do Emer­son advised Amer­i­cans ​"Trust Thy­self… . Whoso would be a man, must be a non­con­formist… . " In 2005, Steve Jobs told a crowd of col­lege grad­u­ates basi­cal­ly the same thing: ​"There is no rea­son not to fol­low your heart… . Don't be trapped by dog­ma – which is liv­ing with the results of oth­er people's think­ing. Don't let the noise of oth­ers' opin­ions drown out your own inner voice. And most impor­tant, have the courage to fol­low your heart and intu­ition. They some­how already know what you tru­ly want to become. Every­thing else is sec­ondary." Trust the self, your inner voice, not oth­ers; go with your intu­ition, not some cal­cu­la­tion or com­mon wis­dom. Don't cal­cu­late: pur­sue your inner pas­sion. We are mad­ly in love with that sto­ry, and recount­ing the life of Steve Jobs lets us tell it again.
Sig­nif­i­cant­ly, the Steve Jobs ver­sion of the sto­ry is one that is par­tic­u­lar­ly easy to like: he pur­sued his inner pas­sion, AND he got rich. Sure, plen­ty of col­lege stu­dents get enam­ored with Hen­ry David Thore­au, who sac­ri­ficed mate­r­i­al wealth to live in his cab­in in the woods, and Apple itself (with char­ac­ter­is­tic hubris) includ­ed a pho­to of ascetic Mahat­ma Gand­hi in its Think Dif­fer­ent mar­ket­ing cam­paign. Mouse inven­tor Doug Engel­bart, who nev­er became par­tic­u­lar­ly wealthy, has books writ­ten about him. Afi­ciona­dos may know that Tim Bern­ers Lee, cre­ator of the orig­i­nal world wide web pro­to­col, has made a point of insist­ing that the best stan­dards are open non-prof­it ones.
But none of these eco­nom­i­cal­ly mod­est tech­nol­o­gy pio­neers has received any­thing like the atten­tion that Steve Jobs received dur­ing his life­time. The ver­sion of the sto­ry that real­ly catch­es fire for us is the one in which the hero has it both ways: he rejects the dom­i­nant soci­ety, and then wins by its own rules. The rock star is the clas­sic ver­sion of this tale; with­out all the record sales, we wouldn't care. Steve Jobs is a rock-star tech executive.
What does it say about us that we are so in love with the sto­ry of the hero who pur­sues his inner pas­sions and then makes it big? The Amer­i­can Found­ing Fathers had a rather more prin­ci­pled, ratio­nal ver­sion of the ide­al cap­i­tal­ist in mind. Ben­jamin Franklin, in both his life and works, advo­cat­ed fru­gal­i­ty, rea­son, hon­esty, sci­ence, and hard work. A cen­tu­ry lat­er, Thomas Edi­son attrib­uted a tiny 1 per­cent of genius to inspi­ra­tion, the rest to per­spi­ra­tion. Nei­ther would have thought it a good idea to do what Jobs did, take LSD and drop out of col­lege to wan­der the world on a quest for his true self. Emer­son, though, might very well have approved.
The stan­dard sto­ry cap­i­tal­ism offers us about our­selves is more like Ben Franklin's. We're sup­posed to be ratio­nal, cal­cu­lat­ing shop­keep­ers, max­i­miz­ing our prof­it and min­i­miz­ing our loss­es while com­pet­ing with our fel­lows in the open mar­ket­place. But that's so dry, so nar­row­ly cal­cu­lat­ing. It might get you through the next con­tract nego­ti­a­tion. But when Jobs recruit­ed Pep­si­Co pres­i­dent John Scul­ley to be CEO of Apple Com­put­er in the 1983, he famous­ly told Scul­ley, ​"do you want to sell sug­ar water for the rest of your life or do you want to come with me and change the world?" In strict mar­ket­place the­o­ry, entre­pre­neur­ial indi­vid­u­als do not care about chang­ing the world; the invis­i­ble hand is sup­posed to take care of that. Sell­ing sug­ar water at a prof­it is a per­fect­ly ratio­nal thing to do.
Yet often enough, we need some­thing more, some­thing enchant­i­ng, some­thing that puts some fire in the bel­ly. Ayn Rand made Howard Roark a bril­liant archi­tect, not a clever ball bear­ing man­u­fac­tur­er or stock bro­ker. The tale of the cre­ative rebel who fol­lows his or her inner pas­sion to suc­cess holds out the hope that our lives can have both mean­ing and well-being, a hope that we don't have to choose between integri­ty and wealth.
Jobs is a sig­nif­i­cant fig­ure. Future his­to­ri­ans might view him as a late twen­ti­eth cen­tu­ry ana­log to Wal­ter Gropius, impre­sario of the Bauhaus move­ment, which trans­formed indus­tri­al design in the 1920s. But for right now, with the head­lines full of finan­cial scan­dals, intractable glob­al debt prob­lems, and grow­ing inequal­i­ties of wealth, we view his life through the lim­it­ed lens of the rebel hero sto­ry. It is not coin­ci­den­tal that peo­ple are won­der­ing – and not just on the streets of Man­hat­tan – if there are bet­ter ways to orga­nize a soci­ety that enables a life with meaning.
Jobs' sto­ry gives us a chance to imag­ine that, if even for a brief moment, if even for one per­son, integri­ty and wealth can coin­cide. It's a good dream. But achiev­ing that dream on a wide­spread basis is more com­pli­cat­ed than the rebel hero sto­ry sug­gests. Let's hope that, once the tsuna­mi of trib­utes sub­sides, we can tack­le the prob­lem, in all its com­plex­i­ty, head on.
Thomas Streeter
is the author of
The Net Effect: Roman­ti­cism, Cap­i­tal­ism, and the Inter­net
(NYU Press,
2011
).