Why the Catholic Church Must Defend Workers' Rights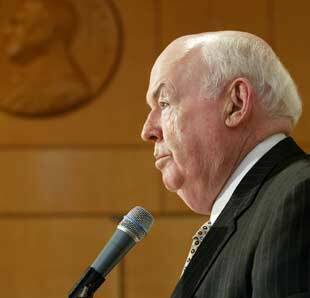 Ear­li­er this month, for­mer AFL-CIO Pres­i­dent John J. Sweeney deliv­ered a speech at Catholic Uni­ver­si­ty Amer­i­ca in cel­e­bra­tion of Rerum Novarum, the rev­o­lu­tion­ary pro-union encycli­cal issued by Pope Leo XIII 120 years ago. In it, he tells how Rerum Novarum impact­ed his fam­i­ly and the lives of mil­lions of immi­grant work­ers, and chal­lenges the Church to renew its unequiv­o­cal sup­port for the free­dom of work­ers to join and form unions. What fol­lows is an edit­ed ver­sion of the speech.
I grew up in The Bronx, had the cal­lous­es on my knees devel­oped at Car­di­nal Clem­mons High School, the edges on my soul sharp­ened by the Jesuit broth­ers at Iona Col­lege, and my brain wired into my heart by Frs. Philip Carey and John M. Cor­ri­dan at the old Xavier Labor School I Manhattan.
My par­ents were Irish immi­grants who came to this coun­try con­fi­dent that Amer­i­ca was the right place to start a fam­i­ly in the mid­dle of the great­est finan­cial col­lapse the world had ever known.

My moth­er was a domes­tic work­er. She worked at the plea­sure of her wealthy employ­ers with no health­care or pen­sion, no paid time off, no job secu­ri­ty. Her pay was nowhere near enough to sup­port a fam­i­ly. For­tu­nate­ly, my father got a job as a New York City bus dri­ver and he had a union, a ter­rif­ic union, Local 100 of the Trans­port Workers.
He could have been an iso­lat­ed immi­grant work­er, strug­gling alone against a demand­ing employ­er and dis­crim­i­na­tion. But he wasn't alone; he was part of a com­mu­ni­ty of work­ers who used the strength of their num­bers to fight for their rights and ben­e­fits. As a group, they were able to bar­gain suc­cess­ful­ly for a liv­able wage, health insur­ance and pen­sions. Work­ing togeth­er, my par­ents were able to help their chil­dren go to col­lege and into pro­duc­tive lives.
Sound famil­iar? The fate of my fam­i­ly was pro­scribed by Rerum Novarum, which was and is explic­it not only in insist­ing on the rights of work­ers to join and form unions, but in pro­claim­ing the val­ue of unions in guar­an­tee­ing a just and equi­table soci­ety.

No won­der that in my home we val­ued three things — our fam­i­ly, our church and my dad's union. We knew that with­out our fam­i­ly, there would be no love. With­out our faith, there would be no redemp­tion. And with­out Local 100, there would be no food on the table.

Rerum Novarum built the bridge con­nect­ing those val­ues and mold­ing them into what Car­di­nal Peter Turk­son recent­ly called ​"a bril­liant first chap­ter of the ongo­ing book called Catholic Social Teach­ing, which all of us are still engaged in writ­ing."

In the 20th cen­tu­ry, the Church shored up the bridge through a suc­ces­sion of papal encycli­cals and oth­er church teach­ings, includ­ing the impor­tant writ­ings of our two most recent popes, Bene­dict and John Paul II. Mil­lions of Catholic work­ers and their fam­i­lies crossed that bridge, and in doing so, took a mighty hand in build­ing pro­gres­sive democ­ra­cies and stronger and more equi­table economies through­out the world.

Unjust inequal­i­ties

So here we are at the dawn­ing of the 21st cen­tu­ry, and we are report­ed to have over­come the Social Dar­win­ism that dom­i­nat­ed the 19th cen­tu­ry and led Leo XIII to write his rev­o­lu­tion­ary encycli­cal.

If it is true that we've suc­ceed­ed, then Fr. Cle­tus Kiley must have been mis­tak­en or over­ly excit­ed when he addressed our Build­ing and Con­struc­tion Trades Depart­ment Leg­isla­tive Con­fer­ence last month.

In his invo­ca­tion, he con­demned the ​"Wall Street Gam­blers" who crip­pled our econ­o­my, took obscene bonus­es, tried to blame unions and the mid­dle class, blamed the immi­grants, then demo­nized our pub­lic sec­tor unions. His com­ments sug­gest we've failed in our mis­sion of fol­low­ing Rerum Novarum, and I quote direct­ly from his prayer to the build­ing trades:

​"Today they bal­ance their bud­gets on the backs of the work­ing class," Kiley said. ​"Tax breaks go to the ultra wealthy. Gen­er­al Elec­tric doesn't even pay a dime. They say our unions have too much voice in polit­i­cal life, but pre­tend that we don't see the hand of the Koch broth­ers and oth­er bil­lion­aires under­writ­ing their efforts."

I don't think Fr. Kiley was over­ly excit­ed when he made those remarks. I think he was under­stat­ed. The truth is even ugli­er and more repug­nant than he described.

Today, more than a cen­tu­ry after Rerum Novarum pat­terned a blue­print for a soci­ety in which the few would no longer be mas­ters of the many. Work­ers in our coun­try haven't had a raise in more than 30 years.

These patient men and women have respond­ed by putting in more hours and send­ing more and more fam­i­ly mem­bers into the work­force. Now their slim sav­ings are being deplet­ed by the uncon­trolled greed Fr. Kiley so pas­sion­ate­ly described.

Jobs are being destroyed, homes auc­tioned off on the steps of coun­ty cour­t­hous­es from Maine to New Mex­i­co.

When it comes to the mea­sur­ing sticks of a civ­i­lized soci­ety — infant mor­tal­i­ty and life expectan­cy, the qual­i­ty of our schools, pover­ty and health care — we fall near or at the bot­tom of the list among indus­tri­al­ized coun­tries.

Yet we're high up the lad­der when it comes to com­pen­sa­tion for the wealthy.

In late April, AFL-CIO Pres­i­dent Rich Trum­ka launched our 2011 Exec­u­tive Pay­Watch web­site, which showed that with mil­lions of work­ing Amer­i­cans still strug­gling to get back on their feet, chief exec­u­tives of our biggest com­pa­nies were paid, on aver­age, $11.4 mil­lion dol­lars — a 23 per­cent increase over the pre­vi­ous year.

Rich called it ​"stun­ning." I call it shame­ful.

What is per­haps even more shame­ful is that the con­di­tions I have just described are treat­ed by our soci­ety and our nation's opin­ion lead­ers as nor­mal.

In fact, work­ing fam­i­lies in our coun­try are in des­per­ate trou­ble, and labor unions, the ​"free asso­ci­a­tions" Rerum Novarum said should pro­tect them, are under attack as nev­er before.

The forces of what Pope Leo XIII prop­er­ly called ​"unre­strict­ed cap­i­tal­ism" have always opposed the for­ma­tion of labor unions, but in the first 70 years after he sent his his­toric let­ter to the Bish­ops, we made great strides.

Work­ing with the Catholic Church, many oth­er reli­gions and the pro­gres­sive polit­i­cal move­ment in our coun­try, we built a labor move­ment that pulled mil­lions of work­ing fam­i­lies up into the mid­dle class.

Pro­tect­ed by our gov­ern­ment as jus­ti­fied by Rerum Novarum and the encycli­cals that, to this day, echo and ampli­fy it, mil­lions of work­ers came togeth­er in unions.

With our com­bined strength and orga­ni­za­tion, we were able to suc­cess­ful­ly cham­pi­on laws that infused Catholic social teach­ing into the mar­row of our entire nation — among them old age and dis­abil­i­ty insur­ance, labor laws, wage and hour reg­u­la­tions, health care, the civ­il rights acts, fed­er­al aid to edu­ca­tion.

I sup­pose it should have been antic­i­pat­ed, but I think both the Church and our labor move­ment were sur­prised when employ­ers react­ed to those laws and declared war on work­ers and our unions in the ear­ly 1980s.

Some say they were embold­ened by Pres­i­dent Reagan's fir­ing of the air traf­fic con­trollers; oth­ers think we sim­ply dropped our guard, the Church as well as labor, and became com­pla­cent.

What mat­ters is that for the past 30 years, work­ers' wages have declined in con­cert with an his­toric decline in union mem­ber­ship and a decline in the atten­tion of our Church to eco­nom­ic jus­tice issues.

And today we live in a nation that looks more and more like a plu­toc­ra­cy and less and less like the democ­ra­cy that allowed your par­ents and my par­ents to work hard, play by the rules and prosper.
As Fr. Kiley said in his build­ing trades invo­ca­tion, ​"Today some­body has changed the rules."
The new union-crush­ing crusade
For many years, pri­vate sec­tor cor­po­rate employ­ers changed the rules sim­ply by ignor­ing them, break­ing our weak labor laws gov­ern­ing con­tract nego­ti­a­tions, and break­ing union orga­niz­ing dri­ves sim­ply by fir­ing union sup­port­ers.

Ear­li­er this year, politi­cians began tak­ing America's anti-union, anti-work­er cru­sade a step even fur­ther by tram­pling the rights of pub­lic employ­ees and bold­ly try­ing to elim­i­nate their unions alto­geth­er.

I'm sure most of you are famil­iar with what hap­pened in Wis­con­sin, where a new­ly elect­ed con­ser­v­a­tive gov­er­nor forced state as well as munic­i­pal unions to con­cede health care and pen­sion ben­e­fits, and then out­lawed col­lec­tive bar­gain­ing.

This wasn't a strug­gle over health care and pen­sion ben­e­fits — the work­ers and their unions agreed to those con­ces­sions. This was a strug­gle to pre­serve their right to come togeth­er in unions and col­lec­tive­ly bar­gain for a bet­ter life, and they are close to los­ing that right alto­geth­er.

Now the union-crush­ing move­ment has marched into two dozen oth­er states — Ohio, Indi­ana, Michi­gan, Flori­da, New Hamp­shire, Mis­souri, Penn­syl­va­nia, even Mass­a­chu­setts and more among them.

If unchecked, this assault on the very exis­tence of unions is sure to spread, and the impact on Catholic social teach­ings and, indeed, the moral and eco­nom­ic fiber of our nation, will be pro­found.

It is par­tic­u­lar­ly dis­tress­ing that many of the gov­er­nors and leg­is­la­tors involved are Catholics who are sim­ply ignor­ing the encycli­cal we cel­e­brate today.

And it sad­dens me to wit­ness the mar­gin­al­iza­tion of our social teach­ings in the Amer­i­can church.
Chal­leng­ing ​'the pow­ers that be'
Let us remind our entire Church that Rerum Novarum is not a cafe­te­ria of sug­ges­tions and ideas from which we are free to pick and choose, but the mod­ern expres­sion of an unbro­ken line that stretch­es from the Book of Gen­e­sis, through­out the Old Tes­ta­ment, to the teach­ings of our Lord Jesus Christ him­self.

Pope Leo XIII left no room for equiv­o­ca­tion when he wrote: ​"The State has for its office to pro­tect nat­ur­al rights, not to destroy them, and if it for­bid its cit­i­zens to form asso­ci­a­tions, it con­tra­dicts the very prin­ci­ple of its own exis­tence …."

And let us also remind our Catholic elect­ed offi­cials as well as Church lead­ers that an attack on work­ers' free­dom to come togeth­er for a bet­ter life is an attack on the fun­da­men­tal teach­ing of the Church about human dig­ni­ty, not some ancil­lary doc­trine that applied to our grand­par­ents but not to us.

​"Eco­nom­ic Jus­tice for All," issued by our U.S. Catholic Bish­ops in 1986, rein­forced Rerum Novarum as well as the teach­ings of a suc­ces­sion of popes. It instruct­ed us, and I quote:
No one can deny the right to orga­nize with­out attack­ing human dig­ni­ty itself. There­fore, we oppose orga­nized efforts such as those regret­tably now seen in this coun­try, to break exist­ing unions and pre­vent work­ers from organizing.
Broth­ers and sis­ters, our instruc­tions on these issues are clear and it falls to the Church and its lead­ers to renew them, not tomor­row, but today.

It will take more than words and admo­ni­tions to res­cue work­ing fam­i­lies from a soci­ety that insists they should have no say in the deci­sions affect­ing them.

It will take a gen­uine renew­al of the social teach­ing tra­di­tion in the Church and the will­ing­ness of the Lead­er­ship to chal­lenge the eco­nom­ic and polit­i­cal ​"pow­ers that be." It is that tra­di­tion and that will­ing­ness that togeth­er brought us so far towards the goal of dig­ni­ty for all work and dig­ni­ty for all work­ers.

We need the help of every Catholic leader as well as every Catholic parish­ioner, not just in mat­ters of pub­lic pol­i­cy, but in direct action that we, from time to time, must undertake.
What I am sug­gest­ing is that we must restore Catholic social teach­ing to the cen­ter of the Amer­i­can Church, a posi­tion it still holds in Church doc­trine, and renew the part­ner­ship between the Church and labor, if the labor move­ment is to sur­vive and per­pet­u­ate our mis­sion of being what amounts to an action arm of Catholic social teach­ing.

We need a loud­er, quick­er, more uni­ver­sal Catholic voice, so we can con­front the greed of the giant cor­po­ra­tions that have become our rul­ing class. We need to launch a new pro­gram of joint out­reach to the Lati­no and Asian immi­grants who are tomorrow's Amer­i­cans and who need our help just as immi­grants like my father and moth­er need­ed it.

We should imple­ment a new and thor­ough edu­ca­tion pro­gram based on Rerum Novarum, one that reach­es into every sem­i­nary, every dio­cese and every parish in Amer­i­ca.

And we should chal­lenge every priest to be a labor priest, every bish­op to be a labor bish­op, every car­di­nal to be a labor car­di­nal, just as every pope since Leo XIII has been a labor pope.

Thank you all so much.
This speech first appeared online on Ray Abernathy's blog, From the Left Bank of Potomac.
John J. Sweeney
is pres­i­dent emer­i­tus of the AFL-CIO, Amer­i­ca's largest fed­er­a­tion of labor unions.