Why the U.S. Is a Bigger Threat Than North Korea
Decades of military adventurism have done more to destabilize the world than any of the "rogue states" the U.S. targets.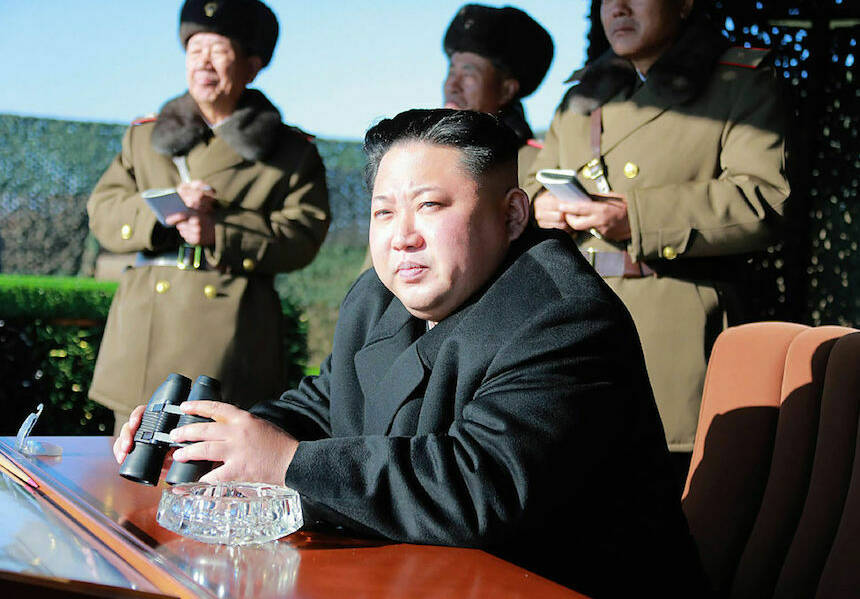 This piece first appeared at Alternet.
The idea that the Bad is always bad and that the Good is always good resurfaces with predictable regularity.
A few years ago, I asked a retired Iraqi Air Force offi­cer what it felt like to be bombed peri­od­i­cal­ly by the Unit­ed States in the 1990s. When­ev­er U.S. Pres­i­dent Bill Clin­ton felt irri­tat­ed, I joked, he seemed to bomb Iraq. The offi­cer, a dis­tin­guished man with a long career serv­ing a mil­i­tary whose polit­i­cal lead­er­ship he despised, smiled. He said with great light­ness — ​"When our lead­er­ship said some­thing threat­en­ing those words itself were tak­en to be ter­ror­ism; when the Unit­ed States bombs, the world does not even blush."
To me this is an intu­itive statement.
I was think­ing about it as I watched the parade in Pyongyang (North Korea) to cel­e­brate the birth of Kim Il-sung. The imagery from North Kore­an tele­vi­sion was grand — the vast Kim Il-sung Square packed with sol­diers as the mas­sive arse­nal of North Korea was parad­ed past its lead­er­ship. On Twit­ter, ama­teur arms experts gave a run-down of this under­sea mis­sile and that trans-con­ti­nen­tal one. It was breath­tak­ing to watch the per­for­mance and feel the anx­i­ety in the West­ern media that North Kore­an would launch an attack on some­one, some­where. North Korea watch­ers poured over the sights, build­ing fan­ci­ful the­o­ries based on what was being pre­sent­ed. Bel­liger­ence, it seemed, was on dis­play here.
It is always the ​"rogue state" that is the threat to the world order — Iraq here, North Korea there. And in that ​"rogue state" it is always the dic­ta­tor who com­mands the entire mon­stros­i­ty. Mock­ery is the guise with Kim Jong-Un as it was with Sad­dam Hus­sein. These men have no taste: Sad­dam with his gar­ish dis­co mus­tache and anachro­nis­tic mil­i­tary uni­form and Kim with his New Wave hair­cut and his strange­ly out of pro­por­tion laugh­ter. Threats are made to emanate from them — they itch to attack and are only held back by the demo­c­ra­t­ic role of the Unit­ed States, who sanc­tions the coun­tries till they starve or patrols their waters with mas­sive war ships to intim­i­date them into sur­ren­der. But the Unit­ed States is not a threat. It is mere­ly there to ensure that the real threats — Iraq then, North Korea now — are kept in check.
The author, in oth­er words, is always the East­ern Despot.
Amne­sia is the mode of thought in the Unit­ed States. Clue­less­ness about its bel­liger­ent his­to­ry is now gen­er­al. It would sound strange to ask why the North Kore­ans feel such pal­pa­ble threat from the Unit­ed States. Odd to raise the fact that it was the Unit­ed States that bru­tal­ly bombed North Korea in the 1950s, tar­get­ing its towns and cities as well as farms and dams. The data is inescapable. The Unit­ed States dropped 635,000 tons of bombs on North Korea. This includes 32,557 tons of napalm — essen­tial­ly a chem­i­cal weapon. As a com­par­i­son, it is fit­ting to see that in all of the Pacif­ic sec­tor of World War II, the Unit­ed States dropped a mere 503,000 tons of bombs. The Unit­ed States, in oth­er words, dropped more bombs on North Korea dur­ing the ill-named ​"lim­it­ed war" than it dropped dur­ing the entire engage­ment against Japan dur­ing World War II. Three mil­lion Kore­ans died in that war, the major­i­ty in the North.
North Korea has nev­er attacked the Unit­ed States.
Pro­fes­sor Charles Arm­strong of Colum­bia Uni­ver­si­ty, one of the lead­ing experts on the Kore­an War and on North Korea, writes that the U.S. bomb­ing cam­paign against North Korea ​"more than any oth­er sin­gle fac­tor, gave North Kore­ans a col­lec­tive sense of anx­i­ety and fear of out­side threats, that would con­tin­ue long after the war's end." In fact, this anx­i­ety and fear lasts into the present. It is easy to dis­miss the North Kore­an atti­tude as one of brain­wash­ing by the gov­ern­ment. But if one looks seri­ous­ly at the con­tem­po­rary his­to­ry of the North and the dev­as­ta­tion caused by the U.S. bomb­ing of the 1950s, then one would ask not of the brain­wash­ing inside North Korea but of the brain­wash­ing inside the Unit­ed States.
Imag­ine what it must have been like in North Korea to hear that anoth­er U.S. bat­tle group — the USS Carl Vin­son and its allied ships – was mov­ing to ren­dezvous in the Sea of Japan with Japan­ese naval ves­sels? It must have been chill­ing to hear U.S. Pres­i­dent Don­ald Trump say­ing that Kim Jong-un ​"got­ta behave," the full mean­ing of the ver­nac­u­lar only avail­able in the audio where Trump's spe­cial men­ace is reserved for the word ​"got­ta." If they don't behave, he sug­gests with the snarl, then the cruise mis­siles on the USS Carl Vin­son and the MOAB bombs are ready.
Lit­tle won­der that North Korea's Vice-For­eign Min­is­ter Han Song-ryol told the BBC that if the U.S. vio­lat­ed North Kore­an sov­er­eign­ty, then ​"all-out war" would result. More chill­ing­ly, he said, ​"If the U.S. is plan­ning a mil­i­tary attack against us, we will react with a nuclear pre-emp­tive strike by our own style and method." These state­ments — in light of North Korea's his­to­ry — sound less like threats of war and more like threats of preser­va­tion. The North Kore­ans are not fool­ish. They look towards North Africa and see Libya, which had giv­en up its nuclear pro­gram to its per­il. It is the nuclear shield that pro­tects them and it is one that they will hold up to the light as often as pos­si­ble. In any actu­al mil­i­tary exchange, North Korea would be pul­ver­ized. This they know. But they also know that this is their only armor.
The idea that the Bad is always bad and that the Good is always good resur­faces with pre­dictable reg­u­lar­i­ty. The ​"rogue states" are always bad. That is self-evi­dent. When they ​"kill their own peo­ple," then it is worse. That has been the stan­dard with Syria's Bashar al-Assad. What makes him worse, say the pun­dits in the U.S. media and polit­i­cal class, is that he ​"kills his own peo­ple." The chem­i­cal attack south of Idlib is the lat­est exam­ple of his men­dac­i­ty. Inves­ti­ga­tions are irrel­e­vant. It was evi­dent to the media and to the polit­i­cal class in the West that only Assad could have autho­rized such an attack. This was a sce­nario that did not need expla­na­tions. A chain of asso­ci­a­tions was enough: chem­i­cal attack, chil­dren and Assad. No more detail was necessary.
It was more com­plex when the ​"rebels" bombed a con­voy leav­ing the besieged towns of al-Foua and Kfraya, out­side Alep­po, killing at least 126 peo­ple — includ­ing about 80 chil­dren. It was not Assad who did this attack, but the ​"rebels" which makes out­rage sud­den­ly unavail­able. There was no out­rage, indeed, when U.S. air­craft killed 30 civil­ians on Mon­day in a bomb­ing run on the vil­lage of al-Buka­mal near Deir az-Zor in east­ern Syr­ia. Three homes were flat­tened by the U.S. air­craft and civil­ians — includ­ing chil­dren — from six fam­i­lies were killed. There was no hue and cry, no denun­ci­a­tions in the Unit­ed Nations Secu­ri­ty Coun­cil, no hash­tag, no media cam­paign for the Unit­ed States to take action against the per­pe­tra­tors. Ivan­ka Trump did not rush to her father with pic­tures of the dead chil­dren, awak­en­ing in him a con­science few knew exist­ed. In at least one of the cas­es, the Unit­ed States was the one that did the killing. Silence met these tragedies.
I have been trav­el­ing around the Unit­ed States these past few weeks, talk­ing about my book—The Death of the Nation and the Future of the Arab Rev­o­lu­tion. At each event, some­one asks the hon­est and heart­felt ques­tion, ​"What can we do about Syr­ia?" What this ques­tion implies, it seems to me, is that the Unit­ed States is not doing any­thing about Syr­ia and that the Unit­ed States is capa­ble of act­ing in a help­ful way in these con­flicts. There is no sense in this ques­tion that the Unit­ed States is already an actor here, and is often the author of these tragedies with threats from Wash­ing­ton pro­duc­ing anx­i­ety from North Korea to Iran. There is lit­tle sense here that it is the Unit­ed States that has been sell­ing — to great prof­it — arms to all sides of these con­flicts, inflam­ing ani­mosi­ties with greater weapon­ry. There is even less con­cern here that the Unit­ed States has bombed Syr­ia almost eight thou­sand times, with numer­ous of civil­ian casu­al­ties in its ledger. Inno­cence is the mode of self-regard. To change that atti­tude is per­haps the great­est step for­ward towards world peace. A lit­tle more out­rage at U.S. actions, not U.S. inac­tiv­i­ty, might help push an anti-war move­ment forward.
The Iraqi offi­cers state­ment should say a lot to an Amer­i­can nation­al. Or at least it begs the ques­tion of who is the real threat and why its bel­liger­ent actions are not con­sid­ered to be the most dan­ger­ous prob­lem fac­ing the plan­et. It is easy to see ​"them" as the prob­lem — the ​"rogue states" that are almost seen to be genet­i­cal­ly pre­dis­posed to be errat­ic and dan­ger­ous. Far more dif­fi­cult to accept that the his­to­ry of U.S. vio­lence against North Korea or the mal­ice unfold­ing in West Asia is not the source of the great dev­as­ta­tion that tears across the planet.
Vijay Prashad is pro­fes­sor of inter­na­tion­al stud­ies at Trin­i­ty Col­lege in Hart­ford, Con­necti­cut. He is the author of
18
books, includ­ing
Arab Spring, Libyan Win­ter
(AK Press,
2012
),
The Poor­er Nations: A Pos­si­ble His­to­ry of the Glob­al South
(Ver­so,
2013
) and the forth­com­ing
The Death of a Nation and the Future of the Arab Rev­o­lu­tion
(Uni­ver­si­ty of Cal­i­for­nia Press,
2016
). His columns appear at Alter­Net every Wednesday.