Why White Working Class Americans Are Dying "Deaths of Despair"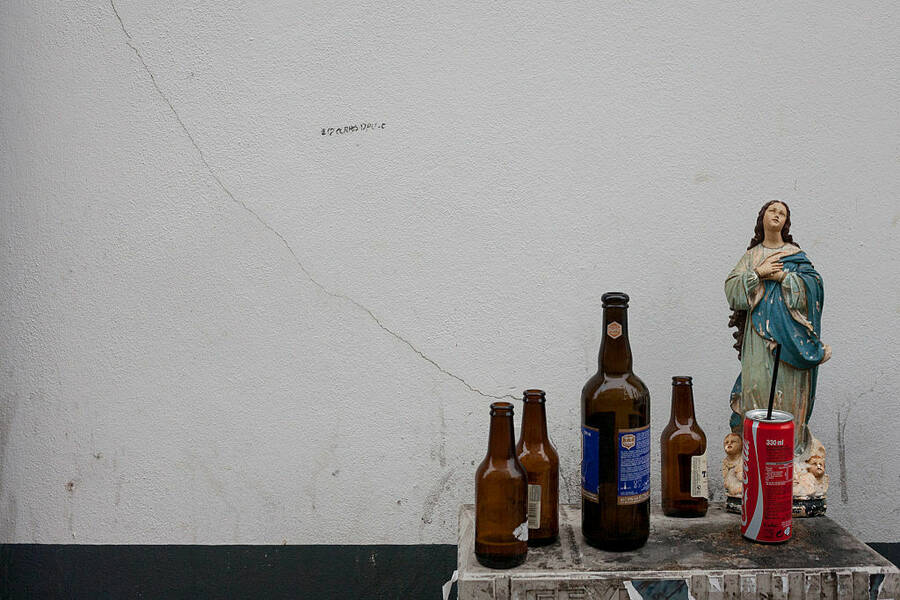 He was alone and mis­er­able, clean­ing up a strike sta­tion in Peo­ria, Illi­nois, where mem­bers of the Unit­ed Auto Work­ers (UAW) had lived in the heat and the cold.
The UAW had just fold­ed its stand­off against Cater­pil­lar after years of strikes and was return­ing to work large­ly on the terms the com­pa­ny had first laid down.
"We were losers when we came back from Viet­nam," the mus­cu­lar, mid­dle-aged work­er told me near­ly two decades ago. ​"We were losers when we put up this bat­tle and now we've lost the Amer­i­can dream."
Work­ers like him have been los­ing more than their Amer­i­can dream. They've been los­ing their lives.
In 2015, Prince­ton Uni­ver­si­ty econ­o­mists Anne Case and Angus Deaton point­ed out that the death rate of mid­dle-aged white Amer­i­cans had changed direc­tion and spurt­ed upward, revers­ing years of steady decline. The ​"turn­around" was most­ly dri­ven by the deaths of those with a high school degree or less.
Delv­ing into ques­tions raised by that study, the econ­o­mists' lat­est analy­sis finds that the grim real­i­ty has con­tin­ued to touch work­ing class white Amer­i­cans with lim­it­ed edu­ca­tions. And they pre­dict that these mid­dle-aged Amer­i­cans are like­ly ​"to do much worse in old age than those cur­rent­ly old­er than 65."
Behind the death spi­ral are grow­ing rates of sui­cide, drug and alco­hol poi­son­ing, liv­er dis­eases and cir­rho­sis, the econ­o­mists say. They liken the trend to the sud­den emer­gence of an ice­berg ris­ing up out the water.
Why?
What makes these mid­dle-aged white work­ers dif­fer­ent from black or Lati­no work­ers in the Unit­ed States in the same eco­nom­ic straits, or from work­ers in sim­i­lar­ly rich nations — all of whom show declin­ing death rates?
Indeed, as Deaton explained in a recent NPR inter­view, these white Amer­i­cans' death rate now exceeds the rate for black Amer­i­cans ​"as a whole."
"It's as if poor­ly edu­cat­ed whites have now tak­en over from blacks as the low­est rung in terms of mor­tal­i­ty rates," he said in the interview.
With­out pin­point­ing a spe­cif­ic rea­son, Deaton and Case sug­gest that the cycle of ​"deaths of despair" comes from the col­lapse of jobs and ben­e­fits for these work­ers who then tum­ble into heart-break­ing prob­lems of phys­i­cal and emo­tion­al health, fam­i­ly dif­fi­cul­ties, drugs and just plain sur­vival. It is a por­trait of cas­cad­ing hope­less­ness, where work­ers go from stag­nat­ing wages to job­less­ness to drop­ping out of the job market.
If you've spent any time lis­ten­ing to work­ers' heart­break for the last few decades as I have, how­ev­er, it is sad­den­ing to hear the shock and con­tro­ver­sy among experts over the econ­o­mists' last two reports.
They could have heard the cries for help building.
All they need­ed to do was spend some time in a union hall, hang out at an unem­ploy­ment office, kill an after­noon in a bar or the gloomy liv­ing room of a work­er on the decline to hear the despair that fills work­ers' hearts. But this is an espe­cial­ly Amer­i­can tragedy root­ed in our worka­day DNA.
An Amer­i­can dilem­ma because when good-pay­ing jobs began to van­ish for work­ers with a strong back, grit to do a tough or mind­less job and lit­tle edu­ca­tion besides high school, it's like some­body stole their soul.
Many blue-col­lar work­ers, who once earned decent wages, thought they owned their jobs and what comes with it. But most Amer­i­can com­pa­nies don't agree.
Many Amer­i­can work­ers once thought that their tire fac­to­ry, steel plant, paper mill or gar­ment mill would nev­er shut down and would be there for their chil­dren. But fate dealt a dif­fer­ent hand for work­ers and their fam­i­lies in Akron, Gary, Youngstown and across the South, where the gar­ment indus­try van­ished in a huff.
Trav­el­ing to these places and more, I real­ized that the most lethal wound from the hol­low­ing out of blue-col­lar jobs for Amer­i­can work­ers is the psy­chic one. Seek­ing out local union offi­cials in the 1980s at places where the jobs had dis­ap­peared, I found that some had died sud­den­ly or sunk into solemn silence. They had tried to stand tall, to help their rank and file move on, but there was lit­tle help from their union or their gov­ern­ment and the future kept on dark­en­ing all around them.
Help­ing these work­ers hasn't been easy because so many blame them­selves and not the com­pa­nies or the Amer­i­can way of doing busi­ness for the mis­for­tune that sud­den­ly enveloped them. One day I talked a young work­er out of sui­cide. He'd failed to get back on his feet after his small auto parts plant in south­ern Michi­gan had shut down and blamed himself.
I've met with wives of strik­ing work­ers in Decatur, Illi­nois, who came togeth­er to help each oth­er because their hus­bands had slipped into silence or were numb­ing them­selves with alco­hol. I spent time with a grief-strick­en hus­band, whose union was on strike, and whose wife died dur­ing a demon­stra­tion. I spoke often with a labor-friend­ly priest in Decatur, who was stunned by the last words a wife gave her hus­band. He had returned unhap­pi­ly to work after a long-term lock­out and had been fatal­ly injured in a car acci­dent. She told her dying hus­band that at least he would not have to go back to the job.
Not long ago, I met with a mid­dle-aged work­er in Chica­go, the sole source of income for her fam­i­ly, who fell into a deep depres­sion when Mon­delez Inter­na­tion­al said it was mov­ing a large chunk of work­ers' jobs at its Nabis­co bak­ery to Mexico.
Soon after she was laid off, a job opened up and she was called back. But her fears about her future had already tak­en a pow­er­ful toll.
After hear­ing news of the lay­offs, the woman had begun los­ing her hair until she was total­ly bald. The bak­ery work­ers union is fight­ing the move with a boy­cott of the firm's Mex­i­can-made products.
Unaware of her mother's sit­u­a­tion, her teenage daugh­ter was stunned when she returned home from col­lege and saw her moth­er. ​"I was scared," she said. ​"I thought she had cancer."
She didn't have can­cer. But she had, indeed, suc­cumbed to an ill­ness — heartbreak.
Stephen Franklin is a for­mer labor and work­place reporter for the Chica­go Tri­bune, was until recent­ly the eth­nic media project direc­tor with Pub­lic Nar­ra­tive in Chica­go. He is the author of Three Strikes: Labor's Heart­land Loss­es and What They Mean for Work­ing Amer­i­cans (2002), and has report­ed through­out the Unit­ed States and the Mid­dle East.