The Forgotten Wildcat Strikes That Swept the Country During WWI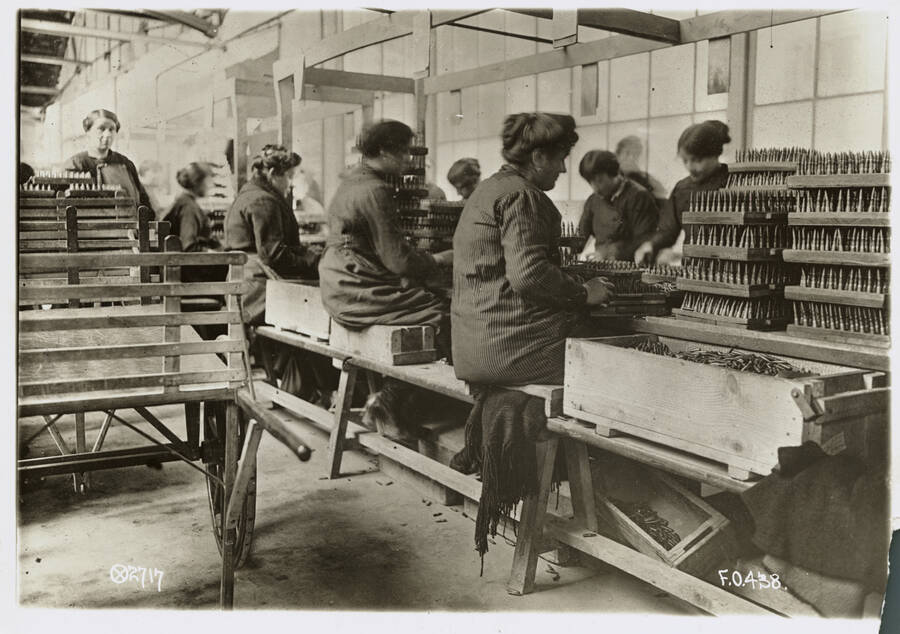 More than a decade before the New Deal, a wild­cat strike wave dur­ing World War I brought about exten­sive con­ces­sions, includ­ing the right to orga­nize, manda­to­ry arbi­tra­tion for employ­ers, high­er wages and short­er work weeks. As we enter the new year, it is crit­i­cal to reflect on the key les­son from this lit­tle-known era of strug­gle: Class con­flict dri­ves reform, not the oth­er way around.
Self-orga­nized women tex­tile work­ers, most of whom did not have a for­mal union, struck in 1915 across New Eng­land, includ­ing those employed at the West­ing­house Elec­tric, Union Metal­lic Com­pa­ny and the Rem­i­ning­ton Arms Com­pa­ny. Their wild­cat strikes spread to work­ers in iron, weapons, cloth­ing, tim­ber, ship­ping, coal and oth­er crit­i­cal war indus­tries, and the work actions picked up steam once the Unit­ed States entered the war in 1917. Those strikes embold­ened work­ers across the coun­try to launch a strike wave that reached into the 1920s.
The Wil­son admin­is­tra­tion respond­ed to the strike wave by embark­ing on a new exper­i­men­tal pol­i­cy of using rapid manda­to­ry arbi­tra­tion car­ried out by gov­ern­ment labor spe­cial­ists to end the dis­rup­tion of weapons man­u­fac­tur­ing. An array of new­ly impro­vised fed­er­al boards were set up to over­see war pro­duc­tion and set wages in iron, weapons, tex­tiles, tim­ber, ship­ping, coal and oth­er crit­i­cal war indus­tries. Pres­i­dent Wil­son soon set­tled on the Nation­al War Labor Board (NWLB), co-chaired by rad­i­cal labor lawyer Frank Walsh and for­mer Pres­i­dent William Howard Taft, as the cen­tral coor­di­nat­ing body for labor rela­tions. The NWLB became a short-lived embry­on­ic pro­to­type for what would lat­er become Roosevelt's famed Sec­tion 7(a) of the 1933 Nation­al Indus­tri­al Recov­ery Act and the 1935 Nation­al Labor Rela­tions Act, also known as the Wag­n­er Act.
Most his­to­ri­ans argue that the Depres­sion-era strike wave pushed the Roo­sevelt Admin­is­tra­tion to pass the Wag­n­er Act. Yet, the his­tor­i­cal records show this to be years too late — wild­cat strik­ers had already pushed Wil­son to put a tem­po­rary labor rela­tions régime into place dur­ing World War I, near­ly two decades ear­li­er. The World War I wild­cat strik­ers demon­strat­ed that work­ers could use the strike to dis­rupt crit­i­cal war indus­tries. The strikes pro­vid­ed the crit­i­cal lever­age that led to gov­ern­ment inter­ven­tion to avoid dis­rup­tion of the war effort. As a result, the Wil­son amin­is­tra­tion used the NWLB to extract con­ces­sions and reforms from arms com­pa­nies that had oth­er­wise been blocked, defeat­ed or repressed by the companies.
When snap wild­cat strikes threat­ened war pro­duc­tion, the NWLB sent in umpires who inves­ti­gat­ed and pro­posed a manda­to­ry set­tle­ment between work­ers and busi­ness­es to quick­ly restart pro­duc­tion, some­times with­in days or weeks. Work­ers also direct­ly peti­tioned the NWLB to inter­vene in a labor dis­putes, umpires were sent in to inves­ti­gate, and the board issued ad hoc rul­ings. Work­ers began achiev­ing gains, such as short­er hours, stan­dard­ized wages and bet­ter con­di­tions that had long elud­ed Amer­i­can Fed­er­a­tion of Labor (AFL) craft unions for years and pro­vid­ed a strat­e­gy that oth­er work­ers emu­lat­ed. A grow­ing num­ber of self-orga­nized work­ers bypassed their AFL unions, which were col­lab­o­rat­ing in the war effort by com­mit­ting to an unen­force­able ​"no strike" pledge, and seized upon the wild­cat strike to extract con­ces­sions. Work­ers were recom­pos­ing their pow­er and tip­ping the bal­ance of forces back in their favor.
What came out of the rul­ings were tem­po­rary gains but not long-term rad­i­cal vic­to­ries for the work­ers. The NWLB explic­it­ly sought to main­tain the exist­ing rela­tions between work­ers and cap­i­tal, often split­ting the dif­fer­ence by short­en­ing work hours and rais­ing wages in exchange for get­ting the work­ers back to work under the same work­ing con­di­tions. The board most­ly ignored work­ers' demands to reign in Tay­lorism, a strat­e­gy that ratio­nal­ized the work process allow­ing man­age­ment to usurp con­trol over the labor process from the work­ers while tying pay to productivity.
The NWLB also adamant­ly refused to rec­og­nize new­ly self-orga­nized shop-floor com­mit­tees as unions or sanc­tion col­lec­tive bar­gain­ing to nego­ti­ate legal­ly bind­ing labor con­tracts. This refusal imme­di­ate­ly back­fired on the NWLB, as work­ers repeat­ed­ly struck soon again after suc­cess­ful­ly achiev­ing a con­ces­sion that lacked a legal­ly bind­ing con­trac­tu­al peri­od. The Indus­tri­al Work­ers of the World (IWW), whose strikes were being sav­age­ly repressed by vig­i­lante vio­lence and anti-syn­di­cal­ism laws at the same, had taught work­ers that the lack of a con­tract gave them a strate­gic advan­tage of con­tin­u­al­ly assert their pow­er on the shop floor to extract gains.
From 1915 to 1917, the num­ber of strikes tripled to a stun­ning 4,359, and the num­ber on strike rose by 250 per­cent. Many work­ers under AFL con­tracts also staged wild­cat strikes. While the num­ber of strikes declined a bit in 1918, the num­ber on strike remained steady, and both the num­ber of strikes and the num­ber of work­ers on strike rose again in 1919 as wartime lay­offs esca­lat­ed and gen­er­al strikes erupt­ed in sev­er­al cites includ­ing Seat­tle. In the mere 16 months of its exis­tence, a lit­tle less than half the time dur­ing the war, the NWLB held inves­ti­ga­tions, con­duct­ed hear­ings and issued awards, find­ings, rec­om­men­da­tions and orders con­cern­ing 490 cas­es. Many of the awards raised pay, par­tic­u­lar­ly for low­er paid unskilled work­ers and women, sim­pli­fied and con­densed com­pli­cat­ed wage scales and reduced hours.
The NWLB com­pressed the wage hier­ar­chy among the work­ers by putting all work­ers — men and women, skilled and unskilled — under a sin­gle wage scale and indus­try-wide work rules in sin­gle work sites, com­pa­ny-wide and even entire indus­tries. In doing so, the NWLB inad­ver­tent­ly cre­at­ed the con­di­tions facil­i­tat­ing work­ing-class coop­er­a­tion unseen since the Amer­i­can Rail­way Union and the Knights of Labor orga­nized all work­ers into a sin­gle union decades earlier.
Not sur­pris­ing­ly, the cor­po­ra­tions were hard­ly on board with manda­to­ry arbi­tra­tion. Near­ly all of them ini­tial­ly refused to rec­og­nize the NWLB until Pres­i­dent Wil­son threat­ened to nation­al­ize any com­pa­ny that refused to play along, which he did with West­ern Union Tele­graph Co. and Smith and Wes­son. That did the trick. The com­pa­nies begrudg­ing­ly accept­ed manda­to­ry arbi­tra­tion for just as long as the coun­try was at war and not a day longer.
AFL patri­arch Pres­i­dent Samuel Gom­pers also reversed course 180 degrees. He not only embraced manda­to­ry arbi­tra­tion, which he had once denounced as a form of slav­ery. Gom­pers became such a true believ­er that he even called for fir­ing work­ers who refused to arbi­trate or abide by NWLB rul­ings, and he backed com­pa­ny unions set up to take over NWLB man­dat­ed elect­ed shop com­mit­tees. In exchange for join­ing the Demo­c­ra­t­ic Party's big tent, Gom­pers became the chair of the Coun­cil of Nation­al Defense (CND) Com­mit­tee on Labor, under whose author­i­ty he issued a ban on wartime strikes despite the AFL lead­er­ship vot­ing against it. The AFL, now the AFL-CIO, has nev­er relin­quished its faith in arbi­tra­tion, the Democ­rats and what we now call col­lec­tive bar­gain­ing. The har­ness­ing of labor to the Democ­rats didn't begin with Roo­sevelt, as most labor his­to­ri­ans wrong­ly claim, but dur­ing World War I and Wilson.
Let there be no illu­sion about the cause of these con­ces­sions: Wilson's pro­to-labor-rela­tions scheme kept pro­duc­tion hum­ming so that the guns on the Euro­pean front could keep fir­ing, killing work­ers of oth­er coun­tries on the bat­tle­field. In the West, where the IWW entire­ly reject­ed col­lec­tive bar­gain­ing and con­tracts, strikes in the tim­ber indus­try were met with local ter­ror­ism and offi­cial repres­sion. Manda­to­ry arbi­tra­tion for east coast war indus­try work­ers and repres­sion of the IWW in the west were two sides of the same policy.
The NWLB tem­porar­i­ly slowed but failed to stop strikes. Work­ers used manda­to­ry arbi­tra­tion to raise their atro­cious­ly low wages, short­en their hor­rif­i­cal­ly long hours and improve work­ing con­di­tions. Many wild­cat strikes led to quick NWLB inter­ven­tion and con­ces­sions which strength­ened and embold­ened work­ers. Ulti­mate­ly, the NWLB was a pro­to­type of col­lec­tive bar­gain­ing that tem­porar­i­ly har­nessed labor to state cap­i­tal­ism by exchang­ing high­er wages for high­er pro­duc­tiv­i­ty just long enough to fight the war. This clas­sic Fordist wage-pro­duc­tiv­i­ty deal, in which unions trade high­er wages for equiv­a­lent increas­es in pro­duc­tiv­i­ty, was born dur­ing World War I — not the New Deal.
When the war end­ed, busi­ness retal­i­at­ed by abro­gat­ing the con­ces­sions and issu­ing mas­sive lay­offs which sparked gen­er­al strikes in steel and coal and led to work­ers tak­ing over the city of Seat­tle. The 1921 Bat­tle of Blair Moun­tain was the final bat­tle of the min­ers' army in West Vir­ginia mark­ing the final defeat of the World War I wild­cat strike wave.
Dur­ing World War I, the wild­cat strike wave esca­lat­ed tac­tics and strat­e­gy to open the way for long over­due con­ces­sions and reforms that shift­ed the bal­ance of pow­er to work­ers for years to come. This strat­e­gy of esca­la­tion appears to be emerg­ing again today. The 2018 teacher strikes in five states and Puer­to Rico demon­strat­ed how dis­rupt­ing pro­duc­tion pro­vides the nec­es­sary lever­age to obtain much need­ed con­ces­sions when all oth­er accept­able efforts have been blocked, defeat­ed and repressed.
This arti­cle was adapt­ed from the book, When Work­ers Shot Back: Class Con­flict from 1877 to 1921 (Brill 2018).
Robert Ovetz
is the author of When Work­ers Shot Back: Class Con­flict from
1877
to
1921
(Brill
2018
).