These Teachers Banded Together to Protect a Student From Deportation—And Won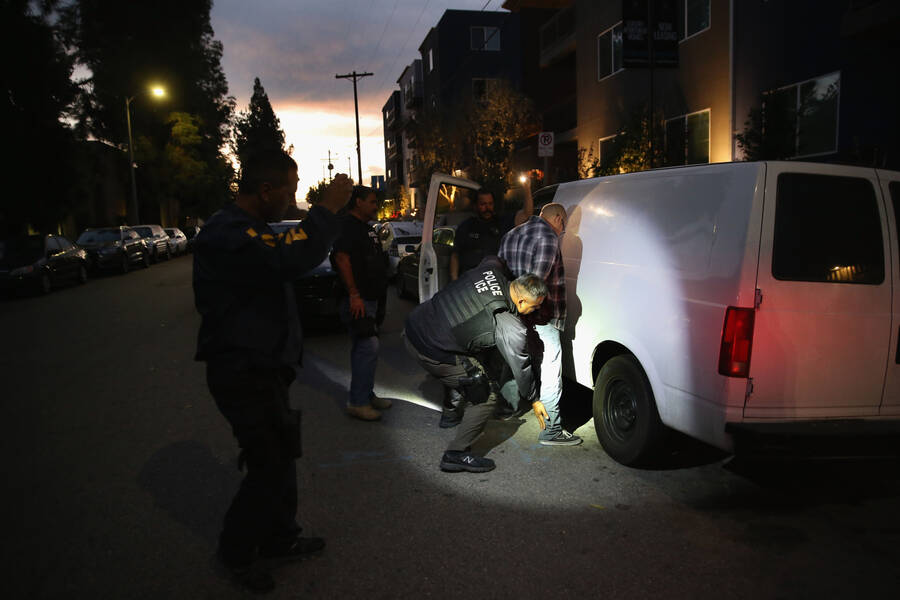 An 18-year-old River­side High School stu­dent was on his way to school when he was detained by Immi­gra­tion and Cus­toms Enforce­ment (ICE) agents two years ago. ICE had flagged Wildin Acos­ta, a North Car­oli­na teen who was a semes­ter away from grad­u­a­tion at the time, as a ​"high pri­or­i­ty" for depor­ta­tion because he's orig­i­nal­ly from Cen­tral Amer­i­ca and had missed an immi­gra­tion court date.
Due to the length of time he's been in the Unit­ed States with­out autho­riza­tion, Acos­ta wasn't enti­tled to an immi­gra­tion hear­ing when ICE first detained him on Jan­u­ary 28, 2016. Lat­er that day Mika Twi­et­mey­er, one of Acosta's teach­ers, heard what hap­pened and called her union.
"Hey Mika. What's going on?," answered Bryan Prof­fitt, pres­i­dent of the Durham Asso­ci­a­tion of Edu­ca­tors. He was on his way to a Thurs­day evening hap­py hour when his phone start­ed buzzing.
"Bryan, ICE detained our one of our kids in his front yard this morn­ing," said Twi­et­mey­er, angrily.
Prof­fitt, a teacher for the past 11 years, was elect­ed pres­i­dent of DAE in the spring of 2016. Like oth­er unions, DAE has orga­nized around ​"bread and but­ter" issues, like a 2015 cam­paign to con­vince the coun­ty com­mis­sion to chip-in for a 3 per­cent raise for bus dri­vers and cafe­te­ria work­ers — their first raise in sev­en years. The union has also inter­vened with school admin­is­tra­tors when teach­ers and oth­er staff iden­ti­fy prob­lem­at­ic man­age­ment by principals.
But their focus on grass­roots orga­niz­ing rather than inter­ven­ing on behalf of work­ers with a griev­ance is unique among South­ern unions.
"Recent­ly some mem­bers in a school com­plained about mold in a library, that the dis­trict hadn't real­ly addressed, so we invit­ed them to build a team to address it," Prof­fitt says. ​"They draft­ed and sent a let­ter to admin­is­tra­tors, and called a meet­ing with them at the library in ques­tion. As staff, we coached them a lit­tle, but they did the rest."
Sim­i­lar­ly, rather than rely on staff rep­re­sen­ta­tives for each school, DAE encour­ages teams to orga­nize them­selves with roles that make the most sense, to encour­age broad­er lead­er­ship development.
"We ask our lead­ers to look at who hangs with who, to make sure all staff are rep­re­sent­ed in our build­ing-lev­el orga­niz­ing," Prof­fitt says. The union also cre­ates oppor­tu­ni­ties for social­iz­ing across schools, like pick­up bas­ket­ball games, yoga ses­sions, a month­ly fam­i­ly-friend­ly hap­py hour and a back-to-school cookout.
Prof­fitt and a few oth­er new­ly elect­ed offi­cers want to empha­size the role of grass­roots orga­niz­ing in build­ing union pow­er. It's an uphill bat­tle as DAE is in a state where pub­lic sec­tor work­ers don't have bar­gain­ing pow­er. North Car­oli­na is one of only five states with laws on the books ban­ning teach­ers from col­lec­tive bargaining.
So at the time of Twietmeyer's call, Prof­fitt had a lot on his mind — chiefly, how to sup­port his lead­er­ship team of teach­ers and par­ents to grow a union con­stant­ly under attack by the state's gen­er­al assem­bly, caus­ing it to lose mem­ber­ship across the state. At the time, the most recent round of high-pro­file immi­gra­tion raids launched by the Oba­ma Admin­is­tra­tion were not on DAE's to do list.
"I didn't think there was much we could do," Prof­fitt says, think­ing back to that phone call. ​"I didn't have much capac­i­ty to respond, and our mem­bers had their hands full, too."
But word spread quick­ly among DAE lead­er­ship the week­end after Acos­ta was tak­en. The fol­low­ing Mon­day, DAE mem­bers at a school board meet­ing to com­ment on anoth­er issue ran into Acosta's moth­er. She was with mem­bers of Aler­ta Migra­to­ria, a local immi­grant activist group.
Aler­ta had come out to urge the school board to pass a res­o­lu­tion demand­ing Acosta's release from ICE cus­tody. DAE mem­bers invit­ed peo­ple who felt angry about what had hap­pened to Acos­ta to join them at DAE's month­ly mem­ber meet­ing the next night.
DAE's lead­er­ship team had expect­ed around 15 peo­ple, but more than 30 showed up — includ­ing par­ents and teach­ers from River­side with no pre­vi­ous con­nec­tion to the union. The night end­ed with the cre­ation of a new com­mit­tee charged with build­ing a cam­paign along­side Aler­ta to get Acos­ta released. Right away, this com­mit­tee start­ed reach­ing out to local elect­ed offi­cials, ask­ing them to make pub­lic state­ments in sup­port of Acos­ta and to reach out direct­ly to ICE and Home­land Secu­ri­ty offi­cials to demand his release.
DAE's statewide par­ent union, the North Car­oli­na Asso­ci­a­tion of Edu­ca­tors, and nation­al union offi­cials with the Nation­al Edu­ca­tion Asso­ci­a­tion, got involved as well. Meet­ings with Durham con­gres­sion­al rep­re­sen­ta­tive G.K. But­ter­field and, lat­er on, Home­land Secu­ri­ty Sec­re­tary Jeh John­son, were set. Nation­al groups like Mijente and the Nation­al Lawyers Guild con­tributed their exper­tise, too.
"We went from only one school in the dis­trict hav­ing its own month­ly DAE mem­ber meet­ing to two schools with a month­ly meet­ing," says Hol­ly Hardin, a mid­dle school teacher and DAE board member.
Both teach­ers and par­ents raised mon­ey for Acosta's legal fees. They also arranged cam­paigns to send him let­ters and books to keep up his school­work, as well as dig­i­tal actions — like an online ​"self­ie" sup­port cam­paign by Acosta's class­mates in their grad­u­a­tion gowns. Con­gress­man But­ter­field even joined stu­dents on one of the trips to vis­it Acos­ta at the deten­tion cen­ter eight hours away in Georgia.
By the end of last March, with calls pour­ing in, ICE told But­ter­field that Acos­ta would be grant­ed an immi­gra­tion hear­ing. The teen began help­ing oth­er detainees. Soon after the deten­tion cen­ter became aware of this, Acos­ta was placed in soli­tary con­fine­ment for not mak­ing his bed, not being at his bed­side dur­ing sleep time and refus­ing to obey an order while help­ing anoth­er incar­cer­at­ed per­son trans­late a let­ter from Span­ish to Eng­lish, accord­ing to Indy Week.
Rep­re­sen­ta­tives from ICE and the Depart­ment of Home­land Secu­ri­ty did not respond to a request for com­ment at press time Jan­u­ary 25.
Acosta's allies in Durham raised ques­tions about the tim­ing of Acosta's soli­tary con­fine­ment, as did their nation­al part­ners. Soon after, fed­er­al elect­ed offi­cials were also inquir­ing about the tim­ing of Acosta's soli­tary con­fine­ment. It was yet anoth­er round of bad pub­lic­i­ty for ICE and Home­land Secu­ri­ty, who released Acos­ta back into the gen­er­al pop­u­la­tion at the deten­tion cen­ter after nine days.
By July 2016, Acosta's depor­ta­tion had been can­celed. The fol­low­ing month he was grant­ed a bail of $10,000, which the com­mu­ni­ty quick­ly raised, and he was released. In June 2017, he com­plet­ed his class­es and par­tic­i­pat­ed in Riverside's grad­u­a­tion cer­e­mo­ny. Acos­ta, now 21-years-old and mar­ried, is still appeal­ing a depor­ta­tion order, accord­ing to the Her­ald-Sun.
Today, DAE's immi­gra­tion com­mit­tee con­tin­ues to orga­nize, as does the com­mit­tee based at Riverside.
"In our end of year mem­ber sur­vey, a lot of new mem­bers iden­ti­fied the Wildin [Acos­ta] cam­paign as the rea­son they signed-up," says Hardin.
Edi­tor's note: A pre­vi­ous ver­sion of this sto­ry stat­ed Wildin Acosta's depor­ta­tion had been can­celed July 2017. This hap­pened in July 2016. The arti­cle has been revised to reflect that.