Navajo Candidate Kicked Off Utah Ballot Files Suit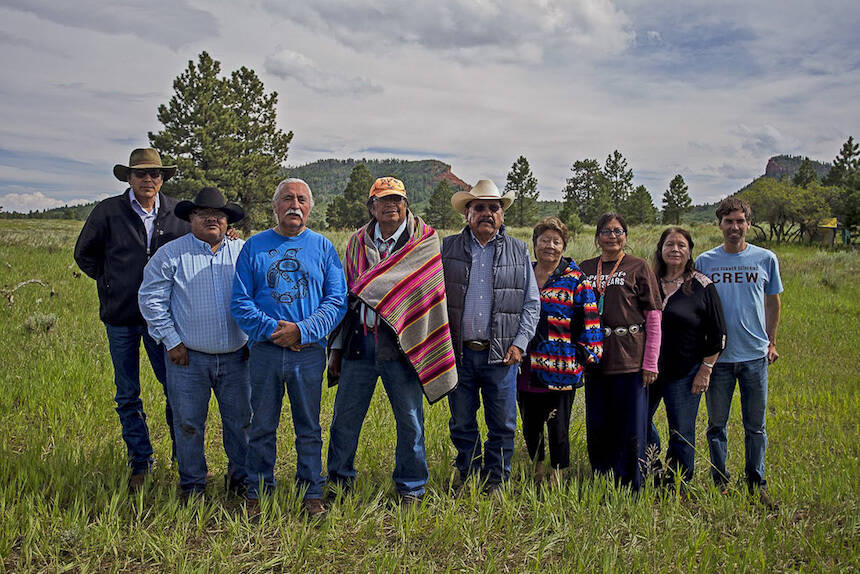 San Juan Coun­ty, Utah's white Repub­li­can estab­lish­ment isn't going down with­out a fight in this year's elec­tions — or at least a whole lot of shenani­gans. That's accord­ing to a new fed­er­al law­suit filed by Willie Grayeyes, a Nava­jo can­di­date for one of the three seats on the coun­ty com­mis­sion. San Juan coun­ty is chal­leng­ing Grayeyes's res­i­den­cy, just as did dur­ing the 2012 elec­tion. Grayeyes passed muster then, and the coun­ty end­ed up cer­ti­fy­ing him as eli­gi­ble to run for office.
This time though, the coun­ty is giv­ing the chal­lenge its best shot. Accord­ing to the law­suit by Grayeyes, a Nava­jo and Demo­c­rat, the coun­ty has nixed his right to run for the com­mis­sion seat in Dis­trict 2 with tech­niques includ­ing seem­ing­ly back­dat­ed doc­u­ments, hearsay evi­dence ("It has been brought to my atten­tion…"), and unnamed expert wit­ness­es (indi­vid­u­als encoun­tered ​"behind the car wash").
The col­lec­tion of this infor­ma­tion has been accom­pa­nied by dri­ving adven­tures in the remote, rugged, sparse­ly pop­u­lat­ed por­tion of San Juan Coun­ty that over­laps the Nava­jo reser­va­tion. Would-be inves­ti­ga­tors (a white can­di­date and lat­er a sheriff's deputy) got lost and/​or con­fused while look­ing for Grayeyes's house. Plus, they appar­ent­ly didn't like the Nava­jo homes they did see, describ­ing the dwellings as not up to their standards.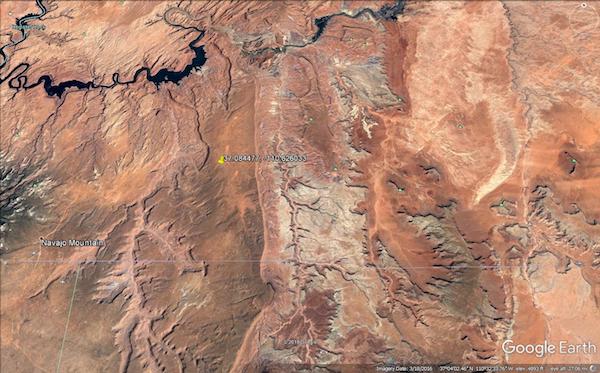 A satel­lite pho­to, with lat­i­tude and lon­gi­tude mark­ings, of the home of Willie Grayeyes, res­i­dent of Nava­jo Moun­tain, Utah, a vil­lage in the por­tion of the Nava­jo reser­va­tion that over­laps San Juan Coun­ty, Utah. (Image: Cour­tesy the law firm Maynes, Brad­ford, Shipps and Shef­tel, LLP. / Google Earth)
Accord­ing to a let­ter to Grayeyes from San Juan Coun­ty Clerk/​Recorder John David Niel­son, which is now a court doc­u­ment, the law­man did look through the win­dows of one house and spied fur­ni­ture, but found no one at home; the deputy also locat­ed a trail­er where, again, no one was home.
More San Juan Coun­ty offi­cials got in on the act, but then appar­ent­ly obscured their involve­ment, alleges Grayeyes's law­suit. The suit also asks why a sheriff's deputy — nor­mal­ly assigned to inves­ti­gat­ing var­i­ous crim­i­nal mat­ters — was put to work fur­ther­ing white can­di­dates' pri­vate inter­ests: Could it have been to give vot­ers the idea that when a Nava­jo, or a Demo­c­rat, runs for office, it is ipso fac­to a crim­i­nal matter?
Still, Grayeyes was hope­ful, say­ing the coun­ty needs to direct its ener­gy toward heal­ing and coop­er­a­tion, not fight­ing. ​"We need to be unit­ed, as one peo­ple, and focus on how to address com­mon issues for the ben­e­fit of every­one," he says.
In his suit, Grayeyes seeks to be rein­stat­ed on the Novem­ber 2018 bal­lot. James Fran­com of the clerk/recorder's office said the coun­ty gov­ern­ment has no com­ment what­so­ev­er on the law­suit, includ­ing spec­i­fy­ing what attor­ney would han­dle a response to it.
White vot­ers may make up less than half of the south­east-Utah county's pop­u­la­tion, accord­ing to the U.S. Cen­sus, but they have had a firm grip on its gov­ern­ment for many years. Across the nation, Native vot­ers face sim­i­lar fights for equal rights, accord­ing to an In These Times inves­tiga­tive article.
Decades of law­suits con­test­ing San Juan Coun­ty elec­tion restric­tions have moved the Native strug­gle for­ward there. An all-mail vot­ing sys­tem that was ful­ly oper­a­tional only in white-inhab­it­ed por­tions of the coun­ty, accord­ing to Rur­al Amer­i­ca In These Times, has been par­tial­ly dis­man­tled. In addi­tion, a fed­er­al judge has just redrawn ger­ry­man­dered coun­ty-com­mis­sion and school-board dis­trict lines that favored white vot­ers. The suits were brought by the ACLU, the Nava­jo Nation, the Nava­jo Nation Human Rights Com­mis­sion, the Lawyers' Com­mit­tee for Civ­il Rights Under Law, and the Col­orado law firm Maynes, Brad­ford, Shipps & Shef­tel, LLP.
"Despite all of these efforts to secure equal rights, Mr. Grayeyes's law­suit clear­ly demon­strates that we are not there yet," says attor­ney Maya Kane, who works with both the Lawyers' Com­mit­tee and the Col­orado law firm.
Until the fed­er­al judge recast the dis­trict bound­aries, most of the county's Nava­jo res­i­dents were grouped into just one dis­trict. As a result, it was the only area in which they had the num­bers need­ed to elect their pre­ferred can­di­dates. Now, Nava­jo vot­ers have a chance to do so in two of the three dis­tricts. All three com­mis­sion seats are on the bal­lot in the Novem­ber Gen­er­al Election.
The Salt Lake Tri­bune has report­ed that local white res­i­dents claim to have been ​"dis­en­fran­chised" by the redrawn dis­tricts. Addi­tion­al­ly, accord­ing to the news­pa­per, they have com­plained, on the one hand, that Nava­jo com­mis­sion­ers wouldn't show up for meet­ings and, on the oth­er hand, that Nava­jo offi­cials going to meet­ings would need high­er trav­el reim­burse­ments than whites elect­ed from areas they inhab­it, which tend to be clos­er to the coun­ty seat.
Grayeyes has stressed that he was born in Nava­jo Moun­tain, has a home and a cat­tle busi­ness there, and has vot­ed in the coun­ty for decades, hav­ing first reg­is­tered to vote there in 1984. He serves as a trib­al offi­cial rep­re­sent­ing Nava­jo Moun­tain and is a local school board member.
Nava­jo tra­di­tions call Grayeyes a res­i­dent of Nava­jo Moun­tain as well. His clan has lived there since time immemo­r­i­al, and his par­ents buried his umbil­i­cal cord there after his birth. This ties him per­ma­nent­ly to the place, accord­ing to Leonard Gor­man, exec­u­tive direc­tor of the Nava­jo Nation Human Rights Com­mis­sion.
In May, Clerk/​Recorder Niel­son announced a deci­sion as the county's elec­tion offi­cial. ​"After a care­ful review," Niel­son wrote in the let­ter to Grayeyes that has become a court doc­u­ment, he found him not to be a coun­ty res­i­dent and there­fore unable to vote there. Niel­son then struck Grayeyes off the bal­lot as well. Grayeyes's law­suit calls these deci­sions attacks on his con­sti­tu­tion­al rights.
Grayeyes is a par­tic­u­lar­ly for­mi­da­ble San Juan Coun­ty can­di­date, with a pow­er­ful voice for the inter­ests of Nava­jo and oth­er envi­ron­men­tal­ly-aware vot­ers in the area. He is the chair­man of Utah Dine Bikeyah, a non­prof­it that advo­cat­ed for estab­lish­ment of the nation­al mon­u­ment Bears Ears and is now in fed­er­al court fight­ing its sub­se­quent dimin­ish­ment under Pres­i­dent Trump.
The San Juan Coun­ty com­mis­sion, as cur­rent­ly con­fig­ured, has been pro-dimin­ish­ment, which is wide­ly regard­ed as a give­away to extrac­tion-indus­try inter­ests, includ­ing min­ing and log­ging. The suc­cess­ful elec­tion of Grayeyes could well tip the bal­ance the oth­er way, in sup­port of the monument.
Grayeyes has invit­ed Nielsen to meet him at his home and see it for himself.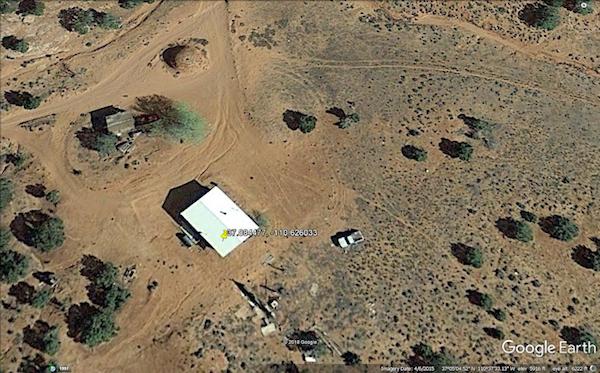 Anoth­er view of Willie Grayeyes' home, also with lat­i­tude and lon­gi­tude mark­ings. (Image: Cour­tesy the law firm Maynes, Brad­ford, Shipps and Shef­tel, LLP.)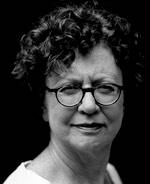 Stephanie Woodard
is an award-win­ning jour­nal­ist who has writ­ten inves­tiga­tive arti­cles for
In These Times
. Her new book is
Amer­i­can Apartheid: The Native Amer­i­can Strug­gle for Self-Deter­mi­na­tion and Inclu­sion
.