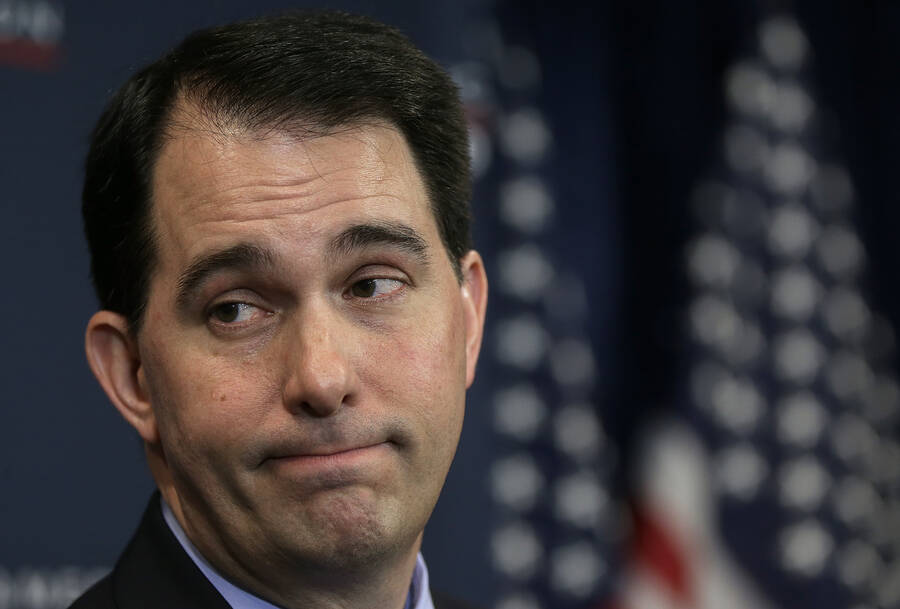 The final act of Wis­con­sin Gov. Scott Walker's quar­ter-cen­tu­ry in pub­lic office opened with state Repub­li­cans suf­fer­ing mas­sive defeats in the midterm elec­tions, los­ing every statewide office on the ballot.
The GOP attack on early voting stands out as especially egregious because it exposes both a contempt for voters as well as the law.
The ver­dict of the vot­ers was clear, as was the Repub­li­can response. On Novem­ber 6, Wis­con­sinites said that they want­ed change, vot­ing Demo­c­ra­t­ic up and down the bal­lot. Just days lat­er, mean­while, the GOP sent a clear mes­sage back that the Repub­li­can Par­ty doesn't respect the will of the voters.
In the wan­ing days of their com­plete con­trol of state gov­ern­ment, Repub­li­cans con­vened an ​"extra­or­di­nary leg­isla­tive ses­sion" packed with sweep­ing mea­sures to under­mine the results of elec­tions which they lost — and to inter­fere with the order­ly trans­fer of power.
The GOP attack on ear­ly vot­ing stands out as espe­cial­ly egre­gious because it expos­es both a con­tempt for vot­ers as well as the law.
In Novem­ber, over 2.67 mil­lion vot­ers cast bal­lots in Wis­con­sin — a record turnout for a midterm elec­tion. The his­toric par­tic­i­pa­tion was dri­ven in part by the suc­cess of ear­ly vot­ing. Rough­ly one of every five bal­lots cast was done ear­ly or absentee.
Com­mu­ni­ties began offer­ing ear­ly vot­ing up to six weeks before the elec­tion, on the week­ends and in the evenings and in satel­lite loca­tions like pub­lic libraries and com­mu­ni­ty centers.
In response to the results, the Repub­li­cans in con­trol of the state leg­is­la­ture adopt­ed leg­is­la­tion to lim­it the ear­ly vote to the two weeks pri­or to the elec­tion. The request for this ear­ly vot­ing crack­down was made by Assem­bly Repub­li­can leader Robin Vos' office a mere eight days after the elec­tion, accord­ing to draft­ing records reviewed by One Wis­con­sin Now.
This isn't the first time Repub­li­cans made such an attempt to rig the rules on vot­ing. And last time, their actions were found by a fed­er­al judge to be unconstitutional.
A fed­er­al court rul­ing in the 2016 vot­ing rights case One Wis­con­sin Insti­tute, et. al. v. Thom­sen, et. al. struck down restric­tions on the hours and days of ear­ly vot­ing imposed after 2011 by Wis­con­sin Repub­li­cans, claim­ing the con­straints were racially-motivated.
In his deci­sion, fed­er­al Judge James Peter­son found, ​"Wisconsin's restric­tions on the hours for in-per­son absen­tee vot­ing have had a dis­parate effect on African Amer­i­cans and Lati­nos. The court also finds that the legislature's jus­ti­fi­ca­tion for these restric­tions was mea­ger, and that the intent was to secure par­ti­san advantage."
Attor­ney Bruce Spi­va, who was on the legal team that argued the case, not­ed the leg­is­la­ture and its Repub­li­can lead­ers could run afoul of the court rul­ing if they fol­low through with a new effort to lim­it ear­ly voting.
The dis­play of dis­re­spect to vot­ers and the judi­cia­ry is all the more galling because leg­is­la­tors passed the vot­ing restric­tions know­ing full well what they were doing. The analy­sis pro­vid­ed to the leg­is­la­ture ahead of the vote by the non­par­ti­san Leg­isla­tive Fis­cal Bureau specif­i­cal­ly not­ed that the deci­sion in One Wis­con­sin Insti­tute et. al. v. Thom­sen et. al. held the pre­vi­ous GOP lim­its imposed on days and times of ear­ly vot­ing were unconstitutional.
Robin Vos and his fel­low Repub­li­cans are play­ing with legal fire as they con­tin­ue their attempts to rig the rules on vot­ing to give them­selves an unfair advan­tage. Vot­ers have stat­ed loud and clear they've had enough of this divi­sion by elect­ing Demo­c­rat Tony Evers as gov­er­nor and reject­ing Repub­li­can rule.
Democ­ra­cy exists only as long as elect­ed offi­cials do not put them­selves above the law.
As the cur­tain falls on Scott Walker's gov­er­nor­ship, the final act clos­es much like the Walk­er saga start­ed, with Repub­li­can attacks on the rights of work­ing peo­ple — includ­ing the sacred right to vote.
Walker's tale may be fin­ished, but the fight to pro­tect democ­ra­cy will con­tin­ue. And when it comes to pro­tect­ing the right to vote in the state of Wis­con­sin, we, the peo­ple, will write the final chapter.
Scot Ross
is the Exec­u­tive Direc­tor of One Wis­con­sin Now and One Wis­con­sin Institute.