Civil-Rights Complaint Details Horrific—Even Deadly—Discrimination Against Native Kids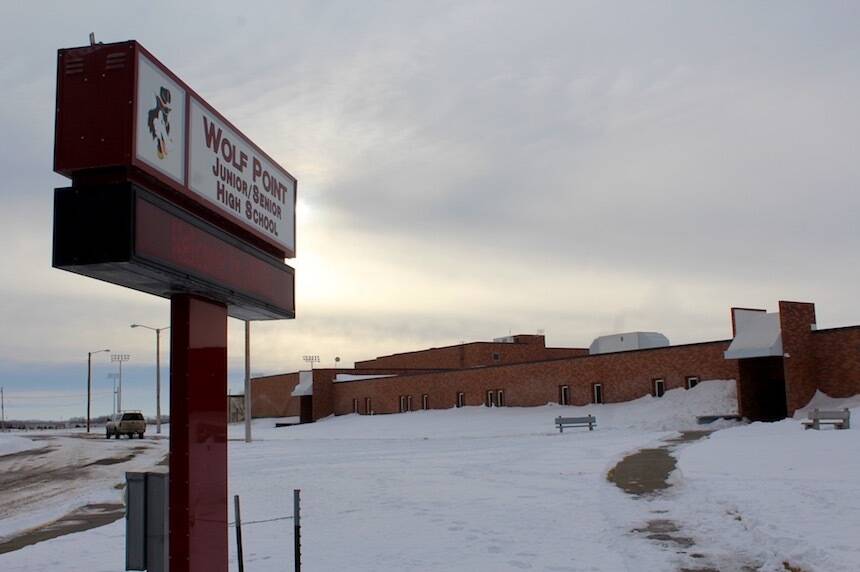 Teach­ers and coach­es in the Wolf Point, Mont., schools have called Native stu­dents ​"dirty Indi­ans" and ​"rez kids," per­formed ​"war whoops," told a con­cerned Native par­ent ​"fuck your daugh­ter," and informed the moth­er of a spe­cial-needs five-year-old that he has to change his behav­ior if he wants his non-Native class­mates to stop bit­ing, hit­ting and sex­u­al­ly touch­ing him.
A Fort Peck Assini­boine and Sioux Nations' dis­crim­i­na­tion com­plaint claims all this and more is par for the course for trib­al chil­dren in the Wolf Point School Dis­trict. On June 28, the tribes sub­mit­ted the com­plaint to the U.S. Depart­ments of Jus­tice and Edu­ca­tion under Title VI of the Civ­il Rights Act of 1964. The act pro­hibits dis­crim­i­na­tion based on race, col­or or nation­al ori­gin in fed­er­al­ly fund­ed pro­grams, includ­ing local school sys­tems. Attor­ney Meli­na Healey, a fel­low with the advo­ca­cy group Equal Jus­tice Works, is rep­re­sent­ing the tribes, along with addi­tion­al attor­neys. The ACLU of Mon­tana signed on in sup­port of the complaint.
"We are at a do-or-die moment for our tribe's chil­dren," says Rox­anne Gourneau, a Fort Peck trib­al exec­u­tive board mem­ber. ​"I don't want any more of our young­sters to end up in the ceme­tery or prison."
The com­plaint asks the fed­er­al gov­ern­ment to help bring the Wolf Point School Dis­trict into com­pli­ance with fed­er­al law; it is not a law­suit and does not request com­pen­sa­tion. It does pro­vide the fed­er­al agen­cies with many per­son­al nar­ra­tives and much data to sup­port its alle­ga­tions that Native kids are sub­ject­ed to staff and stu­dent bul­ly­ing, and are exces­sive­ly dis­ci­plined, receiv­ing a dis­pro­por­tion­ate­ly high rate of sus­pen­sions and expul­sions. The com­plaint main­tains that Native stu­dents are dis­cour­aged from tak­ing advanced aca­d­e­m­ic cours­es for which teach­ers con­trol enroll­ment; instead, they are more like­ly to be ware­housed in an under­fund­ed alter­na­tive school.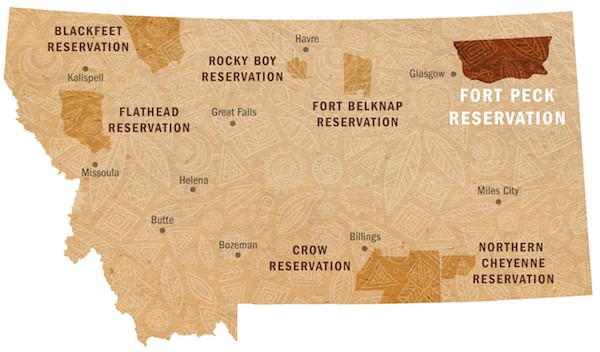 Wolf Point, also the coun­ty seat of Roo­sevelt Coun­ty, Mont., is the largest com­mu­ni­ty on the Fort Peck Indi­an Reser­va­tion. (Image: mon​tana​.edu)
The Wolf Point schools' stu­dent pop­u­la­tion is about 64 per­cent Native, drawn from the sur­round­ing Fort Peck Indi­an Reser­va­tion, in north­east­ern Mon­tana. How­ev­er, whites dom­i­nate the town's polit­i­cal and eco­nom­ic life, and hold most of the jobs at the school. As a result, there are few Native teach­ers and coach­es on staff to serve as men­tors and role mod­els. As a con­se­quence of all this, accord­ing to the 46-page com­plaint, Native chil­dren do not receive the equal edu­ca­tion that the law requires.
The fed­er­al agen­cies have 180 days to decide whether they'll investigate.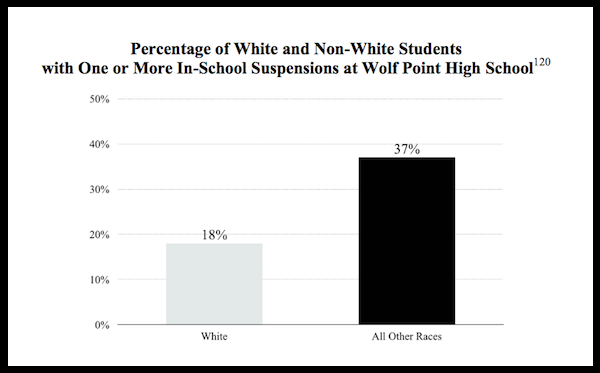 A por­tion of the Wolf Point School Dis­tric­t's sus­pen­sion data as men­tioned in the tribes' com­plaint. Accord­ing to the Dis­tric­t's 2013 online report card, 72 stu­dents total received at least one in-school sus­pen­sion: nine were white, 32 were Native Amer­i­can, 18 were ​"Two or More Races," and 13 were His­pan­ic. Total enroll­ment that year was 219. (To read the com­plaint in its entire­ty click here: aclu​mon​tana​.org)
"

Some­thing is very, very wrong at Wolf Point."

In 2010, Gourneau says, her son, Dal­ton, paid a ter­ri­ble price for the school district's dis­ci­pli­nary poli­cies. After being kicked off the wrestling team just before a big tour­na­ment, Dal­ton tried to plead his case with Wolf Point High School offi­cials. When this proved unsuc­cess­ful, the well-liked senior wan­dered the school's cor­ri­dors for a while, walked home and shot him­self. He was 17.

"I am ter­ri­fied that my grand­chil­dren will be next," Gourneau says.

Attor­ney Jeana Ler­vick, of the district's law firm, Felt, Mar­tin, Fra­zier & Wel­don, wrote in an email to Rur­al Amer­i­ca In These Times, ​"I'm sure you can appre­ci­ate that the Dis­trict is inter­est­ed in a thor­ough, in-depth look at every aspect of con­cern. There­fore, the District's only state­ment at this time is that it is deeply con­cerned by the alle­ga­tions, is com­mit­ted to the well­be­ing of all stu­dents and staff, and is care­ful­ly review­ing the doc­u­ment at this time."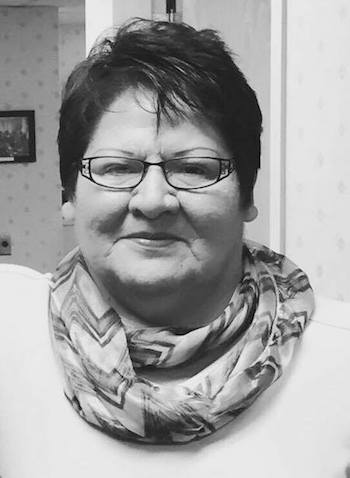 Rox­anne Gourneau, a grand­moth­er and Fort Peck trib­al exec­u­tive board mem­ber. (Image cour­tesy of Rox­anne Gourneau)
Wolf Point's list of vision state­ments intro­duc­ing its 2013 – 2014 online report card for state school dis­tricts offers a pos­i­tive per­spec­tive on the edu­ca­tion that Wolf Point offers. The list reads, in part: ​"All chil­dren feel safe, wel­come, and suc­cess­ful," and ​"All school per­son­nel are respect­ful, tol­er­ant of dif­fer­ences, con­sis­tent, and nurturing."
The online report card also shows a grad­u­a­tion rate that, at 70 per­cent, is more than 10 per­cent below the Mon­tana state aver­age. Mean­while, none of the ele­men­tary, junior high and sec­ondary schools that make up the Wolf Point dis­trict achieved ​"ade­quate year­ly progress" in read­ing or math pro­fi­cien­cy that year.
Life and death
Exces­sive dis­ci­pline and a low grad­u­a­tion rate mean that some of Wolf Point's Native stu­dents are like­ly to acquire crim­i­nal records instead of degrees, accord­ing to the Fort Peck com­plaint. Some don't make it at all. The Fort Peck tribes declared a wide­ly report­ed sui­cide emer­gency dur­ing the 2009 – 2010 school year, after 20 attempts and five com­ple­tions among its children.
For Fort Peck youth aged 15­ – 24, the sui­cide rate was 82.6 per 100,000 dur­ing the decade lead­ing up to 2010, accord­ing to the Mon­tana Depart­ment of Pub­lic Health and Human Ser­vices. This far exceeds the nation­al rate of 12.93 per 100,000 in 2014 for all ages, sex­es, and pop­u­la­tion groups, accord­ing to a Mon­tana Sui­cide Mor­tal­i­ty Review Team report.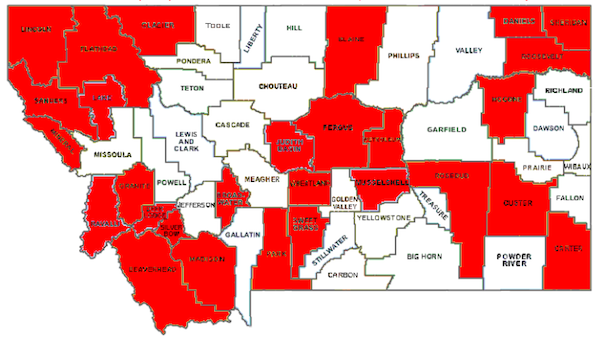 Mon­tana coun­ties shad­ed in red indi­cate a sui­cide rate at or above the 90th per­centile nation­al­ly in 2012. (Source: Mon­tana DPHHS, Mon­tana Vital Statistics)
Coun­ty-lev­el data for 2015 shows that the cri­sis has not abat­ed in Roo­sevelt Coun­ty, which over­laps Fort Peck; 28 out of a total of 233 high school stu­dents attempt­ed sui­cide at least once that year. In the spring of 2017, one Wolf Point stu­dent killed her­self; a sec­ond was hos­pi­tal­ized after attempt­ing suicide.
Native par­ents told RAITT that unpun­ished ver­bal harass­ment and beat­ings by white stu­dents, along with vio­lent behav­ior by teach­ers — curs­ing, shout­ing in stu­dents' faces, strik­ing a Native child from behind with a bas­ket­ball, smash­ing a ball against a wall in a man­ner that chil­dren per­ceived as threat­en­ing, and the like — have caused indi­vid­ual Native stu­dents as many as sev­er­al years' worth of pan­ic attacks, thoughts of sui­cide and oth­er stress-relat­ed responses.
Trib­al par­ents and grand­par­ents told RAITT that each fall they face the first day of school with dread, as they won­der whether their chil­dren will sur­vive the aca­d­e­m­ic year ahead. So far, says the Fort Peck com­plaint, the Wolf Point dis­trict has rebuffed the tribes' offer to col­lab­o­rate on a sui­cide-pre­ven­tion pro­gram. Lervick's did not respond to queries about the district's rea­sons for not offer­ing such a program.
The Wolf Point school dis­trict has long been regard­ed as trou­bled. In 2013, it set­tled an ACLU law­suit alleg­ing that ger­ry­man­dered school-board vot­ing dis­tricts favored white res­i­dents of the town and allowed them to con­trol the school and its resources. Though the vot­ing dis­tricts were sub­se­quent­ly redrawn, some Native board mem­bers now claim that secret board meet­ings and com­mu­ni­ca­tions shut them out of decision-making.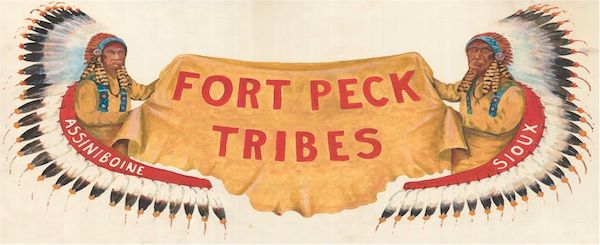 A Fort Peck Sioux trib­al ban­ner. (Source: fort​peck​tribes​.org)
From 2003 to 2008, the Wolf Point schools were under Depart­ment of Edu­ca­tion (DOE) mon­i­tor­ing. Accord­ing to doc­u­ments obtained via a Free­dom of Infor­ma­tion Act request and first report­ed in Indi­an Coun­try Media Net­work, this occurred after a three-day com­mu­ni­ty forum that was spon­sored by the Fort Peck edu­ca­tion depart­ment, among oth­ers. Dur­ing the forum, par­ents shared their children's expe­ri­ences and had con­sul­tants tour the schools and speak to administrators.
The con­sul­tants — Delores Huff, a Cal­i­for­nia State Uni­ver­si­ty pro­fes­sor and Amer­i­can Indi­an-edu­ca­tion expert, and jour­nal­ist Christi­na Rose — wrote a report that became the basis of a 2003 DOE civ­il-rights com­plaint. Huff, who is Chero­kee, and Rose found a locked padded room where Native stu­dents were detained for even minor offens­es, heard par­ent alle­ga­tions that the school rou­tine­ly urged that Native chil­dren take the behav­ior-mod­i­fi­ca­tion drug Rital­in, irre­spec­tive of need or a med­ical eval­u­a­tion, and learned that a teacher had slaugh­tered a lit­ter of kit­tens in a par­tic­u­lar­ly bloody man­ner out­side a class­room win­dow and with­in view of ter­ri­fied children.
The two con­sul­tants told DOE that they saw lit­tle evi­dence of Native cul­tur­al ref­er­ences at Wolf Point, oth­er than a bul­letin board tout­ing ​"Native Amer­i­can Role Mod­els," almost all of whom were light-skinned and/​or blond. Native chil­dren learn that ​"they don't belong," they wrote in their report.
Huff and Rose also learned of one child who died and anoth­er who sus­tained head injuries while play­ing on play­ground equip­ment that remained in use at the time of their vis­it. The inor­di­nate­ly high mor­tal­i­ty among Fort Peck young­sters, includ­ing those who are stu­dents at Wolf Point, has not only been doc­u­ment­ed by Huff and Rose and by Mon­tana state sui­cide reports. It has also been doc­u­ment­ed in the cur­rent DOE/DOJ com­plaint, in a 2011 U.S. Sen­ate Com­mit­tee on Indi­an Affairs hear­ing, and in numer­ous media accounts over the years.
Dis­trict admin­is­tra­tors offered expla­na­tions that Huff and Rose con­veyed in their report: Among them, the padded room (now closed) was con­struct­ed ​"to code," an appar­ent ref­er­ence to build­ing codes, and the teacher who killed the kit­tens was sus­pend­ed for a few days. Bot­tom line, they wrote, ​"Some­thing is very, very wrong at Wolf Point."
DOE began mon­i­tor­ing the dis­trict with con­tin­u­al inspec­tions until it felt, in 2008, that the Wolf Point schools had improved enough to remove oversight.
Dif­fi­cult (and dis­tant) choices
Some Wolf Point fam­i­lies trans­fer trib­al chil­dren to schools in pre­dom­i­nant­ly Native areas of the reser­va­tion. How­ev­er, this can be cum­ber­some and expen­sive for poor work­ing folk, observes grand­par­ent and trib­al mem­ber Louel­la Con­tr­eras. One of the clos­est pub­lic school sys­tems, in Poplar, Mont., is 20 miles from Wolf Point. Assum­ing a par­ent has the time, vehi­cle, gas mon­ey, abil­i­ty to get off work and/​or access to a babysit­ter, that means two dai­ly round trips, adding up to 80 miles on the road each school day, Con­tr­eras says.
One par­ent decid­ed this was her best option. Wor­ried about her daughter's depres­sion as a result of her treat­ment by staff and stu­dents at Wolf Point, the moth­er trans­ferred the girl to the Poplar school sys­tem. ​"Every­one wel­comed us with open arms," says the moth­er, who wish­es to remain anony­mous for fear of retal­i­a­tion in Wolf Point. ​"And real­ly impor­tant, in Poplar's cul­ture class­es, my daugh­ter is learn­ing good things about her her­itage instead of feel­ing that every­thing about her and her peo­ple is bad."
Still, says Con­tr­eras, Native fam­i­lies shouldn't have to go through this. She points out that the Fort Peck reser­va­tion is the trib­al stu­dents' tra­di­tion­al home­land, and for those who live in Wolf Point, it is their home­town. ​"How can the school con­tin­ue to give our chil­dren the impres­sion, or actu­al­ly tell them, that they don't belong?" she asks.
There are ​"Native Amer­i­can" class­es at Wolf Point these days, Con­tr­eras adds. ​"But they're taught by a white woman. She may be a fine teacher, but what can she real­ly know of the mean­ing of any­thing she tells our chil­dren about?"
Con­tr­eras reit­er­ates a point that oth­er par­ents made, which is that solv­ing these prob­lems is lit­er­al­ly, not fig­u­ra­tive­ly, a mat­ter of life and death for Fort Peck's children.
Pow­er plays
Attor­ney Meli­na Healey first vis­it­ed Fort Peck and Wolf Point sev­er­al years ago in the course of research that result­ed in a work of legal schol­ar­ship, ​"The School-to-Prison Pipeline Tragedy on Montana's Amer­i­can Indi­an Reser­va­tions." In a 2013 inter­view, Healey told Indi­an Coun­try Media Net­work that she was ini­tial­ly sur­prised to see a white enclave on an Amer­i­can Indi­an reser­va­tion. ​"Then I real­ized how much white peo­ple ben­e­fit from the reser­va­tion, includ­ing jobs in the schools," Healey said. ​"They live in nice hous­es on top of a hill, while hous­ing for Amer­i­can Indi­ans is very dif­fer­ent. Look­ing fur­ther, I saw how promi­nent school is in Fort Peck children's lives and why expul­sions and oth­er dis­ci­pli­nary mea­sures, applied unfair­ly, are devastating."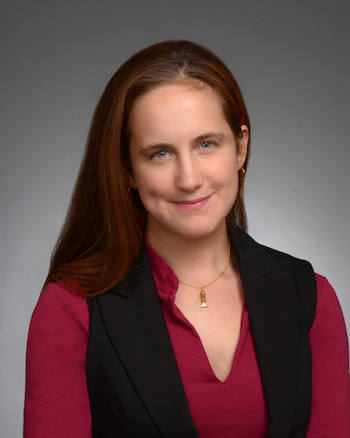 Equal Jus­tice Works fel­low, attor­ney Meli­na Healey. (Pho­to: Wyck­off-Tweed­ie Photography)
How did white incom­ers end up in con­trol of Wolf Point's econ­o­my, polit­i­cal sys­tem and schools? This takeover fol­lowed the allot­ment, or breakup, of the Fort Peck reser­va­tion. In a process described by an In These Times spe­cial inves­ti­ga­tion, the U.S. gov­ern­ment divid­ed many com­mu­nal­ly held Indi­an reser­va­tions into sep­a­rate, indi­vid­u­al­ly owned plots, or ​"allot­ments." This occurred dur­ing the 1800s and ear­ly 1900s. The gov­ern­ment award­ed some tracts to trib­al mem­bers and sold the rest to white settlers.
The prac­tice was intend­ed to weak­en the tribes and their eco­nom­ic and social struc­tures, accord­ing to Pres­i­dent Ted­dy Roo­sevelt. He called it ​"a mighty pul­ver­iz­ing engine to break up the trib­al mass" in a 1901 mes­sage to Con­gress. And it worked. Par­ti­tion­ing the reser­va­tions destroyed trib­al economies, which had relied on col­lec­tive, sea­son­al, rotat­ing use of large tracts of land. The fed­er­al­ly dri­ven exter­mi­na­tion of the great buf­fa­lo herds was anoth­er blow to the food­ways of the Sioux, Assini­boine and oth­er tribes for which the ani­mals were a dietary staple.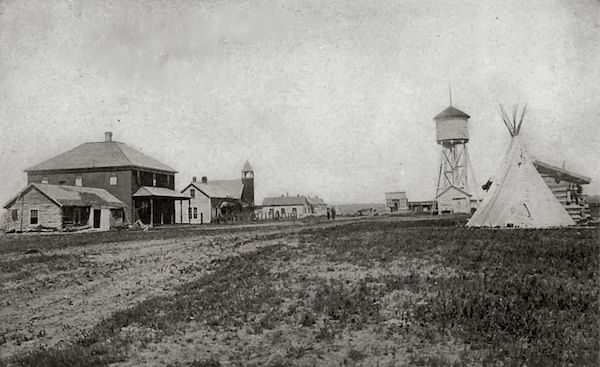 The Fort Peck Indi­an Reser­va­tion, cir­ca 1920. (Image: makeitright​.org)
The Wolf Point town web­site says the burg was lit­tle more than a few set­tlers and a rail­road sta­tion until 1914:
"Only one more thing was need­ed. Wolf Point was on an Indi­an reser­va­tion — a huge reser­va­tion with very few Indi­ans. [Then] the date every­one was wait­ing for arrived — the offi­cial open­ing of the Fort Peck Reser­va­tion to home­steading. June 30th was the big day, and there were long lines at the Fed­er­al Land Office."
Whites got the best crop­land, accord­ing to the cur­rent Fort Peck com­plaint, set­ting the pat­tern for their future eco­nom­ic dom­i­nance of the area.
Hopes for the future
"This is not an adver­sar­i­al process," Healey says of the Fort Peck tribes' com­plaint. ​"The tribes want the fed­er­al gov­ern­ment to facil­i­tate a town-tribe rec­on­cil­i­a­tion, while ful­fill­ing the government's legal respon­si­bil­i­ties to Native peo­ple as their trustee. At the end of the day, what trib­al mem­bers want is for their chil­dren to be treat­ed equal­ly and fair­ly and to feel safe in school."
Gourneau says the com­plaint is direct­ed toward a sys­tem, not indi­vid­u­als. ​"A good many teach­ers and admin­is­tra­tors who were around dur­ing the 2013 ACLU law­suit have left," she told RAITT. ​"Those who replaced them, even those who came here from out of state, soon began engag­ing in the same bul­ly­ing and exces­sive dis­ci­pline of our Native chil­dren. It was like iron fil­ings to a mag­net. I was amazed and real­ized the prob­lems are systemic."
The prob­lems aren't only at Fort Peck, though, says Gourneau. ​"Reser­va­tions all over the coun­try face edu­ca­tion-relat­ed dis­crim­i­na­tion, whether their chil­dren attend schools in white bor­der­towns or in white on-reser­va­tion enclaves. I hope Fort Peck's com­plaint becomes the key that opens up this issue and gets it resolved nationwide."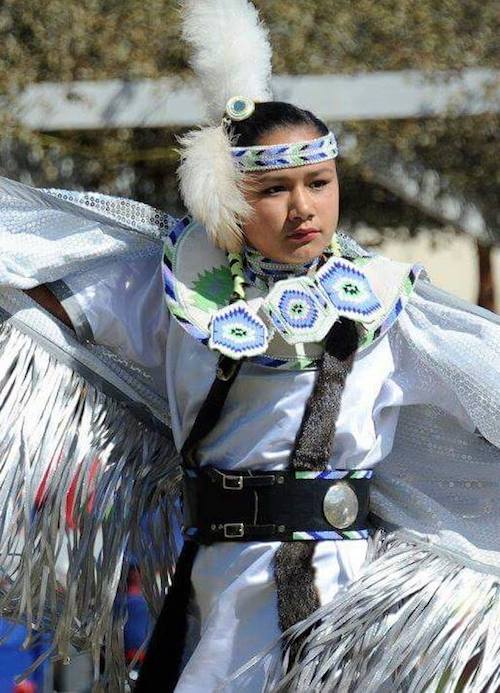 Fort Peck youth, like this young woman in tra­di­tion­al dress, main­tain their time-hon­ored trib­al her­itage. (Image cour­tesy of Ruth Jackson)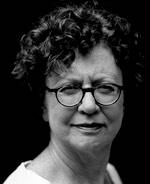 Stephanie Woodard
is an award-win­ning jour­nal­ist who has writ­ten inves­tiga­tive arti­cles for
In These Times
. Her new book is
Amer­i­can Apartheid: The Native Amer­i­can Strug­gle for Self-Deter­mi­na­tion and Inclu­sion
.