#WomeninAg: USDA Profiles a Lakota Cattle Rancher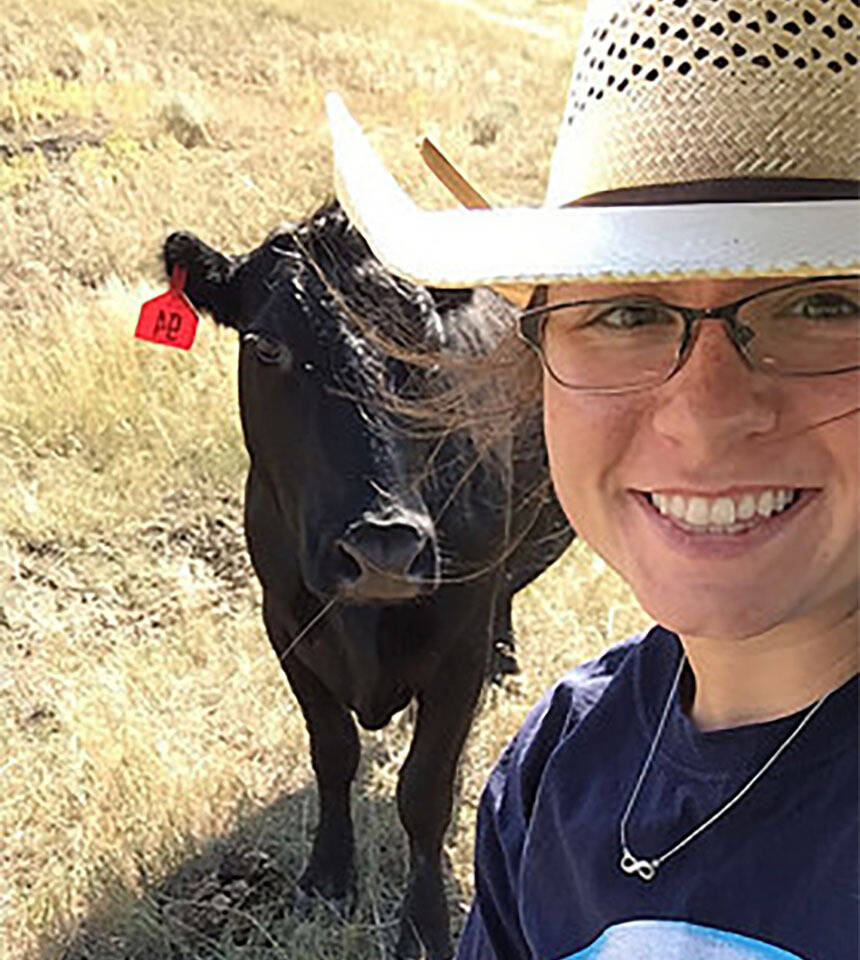 Each month, USDA shares sto­ries of women in agri­cul­ture who are lead­ing the indus­try and help­ing oth­er women suc­ceed along the way. This month, we hear from Kelsey Duch­e­neaux, a mem­ber of the Lako­ta Sioux Nation. Along­side her work as a beef cat­tle ranch­er on the Cheyenne Riv­er Sioux Reser­va­tion in South Dako­ta, Duch­e­neaux is the youth pro­grams coor­di­na­tor and nat­ur­al resource direc­tor of the Inter­trib­al Agri­cul­ture Coun­cil, a nation­al orga­ni­za­tion work­ing to improve Indi­an Country.
Accord­ing to your LinkedIn, you've had an impres­sive his­to­ry of recruit­ing young peo­ple to agri­cul­ture. Why is this impor­tant to you?
Where I grew up, oppor­tu­ni­ties don't real­ly come knock­ing because no one has ever built a door. We're in an incred­i­bly rur­al part of South Dako­ta; while we're rich in both human and nat­ur­al resources, we're suf­fer­ing from the symp­toms which cen­turies of pover­ty has inflict­ed and most often it's our youth that suf­fer the most. In my out­reach and advo­ca­cy for careers in agri­cul­ture, I put my ener­gy towards help­ing our young peo­ple real­ize that the wide-open spaces we call home are not just ​"the mid­dle of nowhere." Instead, I want them to look around their home and to see resources, which have the poten­tial to grow food, which can in turn feed their fam­i­ly. There's a whole lot of pride that comes with being respon­si­ble for some­thing as beau­ti­ful as our land­scapes. I've learned that with just a lit­tle effort, I can inspire young peo­ple to believe in them­selves as much as they believe in agriculture.
What should the world know about your story?
My sto­ry looks the way it does as a result of many peo­ple offer­ing me an oppor­tu­ni­ty that I felt com­fort­able and con­fi­dent in pur­su­ing. I could not be where I am today, had it not been for many gen­er­a­tions of sac­ri­fice, hard work, and sup­port. I strive every day to car­ry out my sto­ry in a way that can help to put oth­ers in a place they are proud of, like I am for­tu­nate enough to experience.
What is the mis­sion of the Inter­trib­al Agri­cul­ture Coun­cil? How did you get involved in this organization?
The mis­sion of the Inter­trib­al Agri­cul­ture Coun­cil is to pro­vide a uni­fied effort to pro­mote change in Indi­an Agri­cul­ture for the ben­e­fit of Indi­an Peo­ple. IAC pro­grams fur­ther the goal of improv­ing Indi­an Agri­cul­ture. The IAC pro­motes the Indi­an use of Indi­an resources and con­tracts with fed­er­al agen­cies to max­i­mize resources for trib­al mem­bers. The IAC has been at the fore­front of engag­ing youth in Indi­an Agri­cul­ture, and it cap­tured my atten­tion when I was still in high school. I attend­ed my first annu­al IAC Sym­po­sium as a junior in high school. I still remem­ber the moment that I decid­ed these are the peo­ple I want to spend my career work­ing with.
The IAC was com­mit­ted to pro­vid­ing access to pro­fes­sion­al devel­op­ment oppor­tu­ni­ties as I sought my col­lege edu­ca­tion., It's been a dream come true join­ing them in full employ­ment after achiev­ing my under­grad­u­ate degree. I tell peo­ple every day that I have the very best job in the world.
Tell us about your work as youth pro­grams coor­di­na­tor and nat­ur­al resource direc­tor at the Inter­trib­al Agri­cul­ture Coun­cil? What are some spe­cif­ic projects you work on? How does your work inter­sect with the USDA?
Since 2015, my work with the Inter­trib­al Agri­cul­ture Coun­cil has allowed me to engage with over 550 native youth from more than 150 trib­al nations. Most of this inter­ac­tion takes place at the region­al youth lead­er­ship devel­op­ment events which the IAC works to coordinate.
Our one-of-a-kind youth lead­er­ship devel­op­ment oppor­tu­ni­ties expose youth to land con­ser­va­tion and stew­ard­ship, tra­di­tion­al food prepa­ra­tion and preser­va­tion, agri­cul­tur­al pro­duc­tion plan­ning, entre­pre­neur­ial busi­ness ven­tures in food and agri­cul­ture, and resource man­age­ment as a com­mu­ni­ty devel­op­ment tool. These events are build­ing inter­trib­al col­lab­o­ra­tions and nation­al net­works which will be the source for life chang­ing impacts for gen­er­a­tions to come.
When I tell peo­ple, I have the best job in the world, I mean it. Every day I get to work at the cross­ing of Trib­al land stew­ard­ship and native youth lead­er­ship devel­op­ment. In my job, I share the vast oppor­tu­ni­ties that exist for native peo­ples in the field of agri­cul­ture. From eco­nom­ic devel­op­ment to improv­ing food sys­tems, from cul­tur­al preser­va­tion to uti­liz­ing tech­no­log­i­cal advances; agri­cul­ture has the abil­i­ty to bridge the largest gaps in Indi­an Country.
In so many of our native com­mu­ni­ties, access to our his­tor­i­cal food sys­tems and agri­cul­tur­al pro­duc­tion pat­terns has been restrict­ed for long enough that we've for­got­ten what they look like. In my work I get to expe­ri­ence com­mu­ni­ty devel­op­ment dri­ven by recon­nect­ing native youth with holis­tic agri­cul­tur­al devel­op­ment. I've real­ized that a change led by youth is more sus­tain­able. I know that our out­stand­ing net­work of youth is going to be large­ly respon­si­ble for the great­ness we will expe­ri­ence in the years to come.
Kelsey engages with the next gen­er­a­tion of trib­al land stew­ards at an Inter­trib­al Agri­cul­ture Youth Food Sov­er­eign­ty Sum­mit. (Image: Donita Fischer)
What per­son­al chal­lenges have you encoun­tered as a woman in ag? How did you over­come them?
I con­sid­er myself incred­i­bly for­tu­nate in many ways, but one that stands out is my upbring­ing as a woman in agri­cul­ture. I was raised on a ranch where being a girl was con­sid­ered my strong suit, rather than being viewed as my weak­ness. In many native soci­eties, famil­ial struc­ture fol­lows a matri­ar­chal orga­ni­za­tion. Fol­low­ing suit, my fam­i­ly raised me to work along­side the men in any job. As I ven­tured into my career, my biggest chal­lenge was real­iz­ing that oth­er soci­eties tend­ed to view women in agri­cul­ture as less superior.
My par­ents raised me to be aware, dili­gent, stub­born (some­times to a fault), and empa­thet­ic, which has allowed me to be com­fort­able in any are­na I dive into – even if it is a male dom­i­nat­ed field.
Who are your role models?
I'd sure hate to imag­ine where I'd be in life with­out my large, sup­port­ive family!
One of my largest role mod­els is my moth­er. Her tena­cious, com­pas­sion­ate heart is one I'll strive every day to mim­ic. My broth­er and sis­ter came along right when I need­ed some­one to look up to me and they are the spark which ignit­ed my desire to help youth.
In the work that I get to do now, I meet many inspi­ra­tional young minds and I find that the aver­age age of my role mod­els con­tin­ues to drop. Our young peo­ple are so cre­ative, inno­v­a­tive and caring.
What advice do you have for young women inter­est­ed in agri­cul­ture? What's the best advice you've received?
"It's what you learn after you know it all that real­ly matters."
As a young woman inter­est­ed in agri­cul­ture, I find it incred­i­bly cru­cial that we find ways to chal­lenge the sta­tus quo. It must be our job to seek more effi­cient, har­mo­nious ways to work with the land and its resources. There will be many tri­als to over­come, so don't be afraid to take that leap of faith. In these instances, the grass real­ly is always green­er on the oth­er side!
I also want to encour­age young women to take pride in their work. When you've wit­nessed an accom­plish­ment, share it! Espe­cial­ly when you're the one reach­ing that mile­stone. Remem­ber that once you've climbed the lad­der of suc­cess there's almost always some­one that doesn't have the capac­i­ty to reach that bot­tom rung. It is your job to climb back down and help oth­ers find their way to the top to enjoy the view along­side of you.
Where do you see your­self in five, ten and twen­ty years and how do you hope to get there?
I hon­est­ly couldn't imag­ine myself in a bet­ter place than where I am at cur­rent­ly. I'd like to think I'm spend­ing most of my days on horse­back along­side my fam­i­ly and friends, still enjoy­ing a career that uplifts rur­al agri­cul­ture, Indi­an Coun­try and most impor­tant­ly, our youth!
What was it like being the first Native Amer­i­can stu­dent to give the stu­dent address at the com­mence­ment cer­e­mo­ny at South Dako­ta State University?
There are some moments that words just can't describe. This is one of them.
As the first Native Amer­i­can stu­dent to have such an oppor­tu­ni­ty at South Dakota's Land-Grant Uni­ver­si­ty, I felt as though I had played a hand in claim­ing new ter­ri­to­ry. High­er edu­ca­tion is not near­ly as attain­able as it should be for youth, espe­cial­ly those of Indi­an Coun­try. I wit­nessed the stage as a plat­form to advo­cate for what is attain­able for native youth back home. Since my grad­u­a­tion, it's been so reward­ing to wit­ness SDSU Pres­i­dent Bar­ry Dunn's Woki­ni Ini­tia­tive reveal a more cul­tur­al­ly appro­pri­ate approach to inspir­ing our youth to pur­sue high­er edu­ca­tion. It is an excit­ing and inspi­ra­tional time through­out Indi­an Country.
What does agri­cul­ture mean to you?
In my trav­els around the coun­try, I've learned to view agri­cul­ture as soci­eties sur­viv­ing in har­mo­ny with the land and its resources. To me, agri­cul­ture is the act of car­ing for the land which we are bor­row­ing from our chil­dren. Any work that we do on, to, or with the land, should be done in a way that leaves a health­i­er ecosys­tem in our wake.
(Sal­ly Gif­ford orig­i­nal­ly con­duct­ed this inter­view for the USDA blog. For more con­ver­sa­tions with #Wom­eni­nAg click here, and check out the hash­tag on twit­ter.)
Sal­ly Gif­ford
is a USDA Com­mu­ni­ca­tions Coor­di­na­tor. Her port­fo­lio includes work with the For­eign Agri­cul­tur­al Ser­vice, Begin­ning Farm­ers and Ranch­ers, Cen­ter for Faith-Based and Neigh­bor­hood Part­ner­ships, Women in Agri­cul­ture and the Office of Trib­al Relations.