We're Number One! America Leads the Way in CEO-Worker Income Gap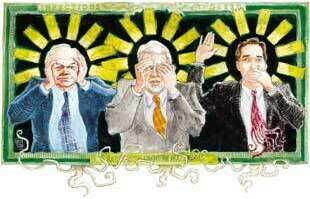 This article first appeared on Common Dreams.
As corporations and wealthy individuals across the United States are slated to benefit from massive tax breaks thanks to the GOP's latest tax legislation, a Bloomberg analysispublished Thursday found that chief executives of American companies already make 265 times the amount of money an average worker is paid — the largest CEO-worker income gap in the world.
"CEOs of the biggest publicly traded U.S. companies averaged $14.3 million in annual pay, more than double that of their Canadian counterparts and 10 times greater than those in India," according to Bloomberg. While India ranked second on Bloomberg​'s CEO pay-to-average income ratio, Indian chief executives made about a tenth of their American counterparts' incomes, averaging $1.46 million annually.
"There are myriad reasons for compensation discrepancies between executives," Bloombergnotes. ​"The U.S. is home to several of the world's largest corporations, which tend to pay more. Cost of living is often higher in North America and Western Europe than some parts of Asia. And even the mere disclosure of detailed figures can push pay higher as boards set CEOs' compensation in line with their peers."
The new analysis comes as a security filing by Apple — one of the largest public companies in the United States — revealed on Wednesday that the company gave CEO Tim Cook and some of its other executives major raises.
The Wall Street Journal reports Cook's ​"total compensation for the fiscal year, which ended in September, jumped 47 percent — to $12.8 million — the largest bump among the five executives listed in Apple's annual proxy filing," notably ​"driven by his cash bonus, which was hinged on exceeding the revenue and profit targets set by the board."
"Apple's other highest-paid executives received smaller increases in total compensation, according to Wednesday's filing, each rising about 6 percent to just over $24 million from just under $23 million a year ago," the Journal reports. ​"Compensation for each included about $1 million in salary, $20 million in restricted stock, and $3.1 million in cash for performance."
Although Cook's yearly compensation is lower than that of other Apple executives, the Journal notes that ​"the number is somewhat misleading because of a large restricted stock grant he received in 2011. About 560,000 shares of that award vested in fiscal 2017 that were valued at $89.2 million"—pushing the Apple CEO's 2017 total payout beyond $100 million.
While Cook's yearly income is substaintial, it's less than half of what was given to the highest-paid chief executive in 2016. As CNBC reported in July, the executive who was paid the most last year was Marc Lore, CEO of e-commerce at Wal-Mart, who made $243.9 million; he was followed by Sundar Pichai, CEO of Alphabet's Google, who made $199.7 million, and Robert J. Coury, the chairman of the pharmaceutical company Mylan, who made $136.8 million.
Last year's CEO-to-worker compensation ratio, calculated by the Economic Policy Institute (EPI), was 271-to-1, with the chief executives of American companies seeing an average of $15.6 million in annual compensation. The EPI report, which was published in July, notes that ​"regardless of how it's measured, CEO pay continues to be very, very high and has grown far faster in recent decades than typical worker pay," and ​"exorbitant CEO pay means that the fruits of economic growth are not going to ordinary workers."
EPI president Lawrence Mischel and research assistant Jessica Schieder found that CEO compensation rose ​"by 807 or 937 percent (depending on how it is measured — using stock options granted or stock options realized, respectively) from 1978 to 2016." They argue that ​"exorbitant CEO compensation…has fueled the growth of the top 1 percent incomes" at the expense of ​"the vast majority of workers."
"Simply put, money that goes to the executive class is money that does not go to other people. Rising executive pay is not connected to overall growth in the economic pie," Mishel explained, as Common Dreams previously reported. ​"We could curtail the explosive growth in CEO pay without doing any harm to the economy."
In response to their findings in July, Mishel and Schieder proposed the following policy solutions:
Reinstate higher marginal income tax rates at the very top.
Remove the tax break for executive performance pay.
Set corporate tax rates higher for firms that have higher ratios of CEO-to-worker compensation.
Allow greater use of ​

"

say on pay," which allows a firm's shareholders to vote on top executives' compensation.
Jessica Corbett
, a former In These Times intern, is a Maine-based staff writer at Common Dreams. Follow her on Twitter at @corbett_jessica.