Organizers Work With Businesses to Prevent Wage Theft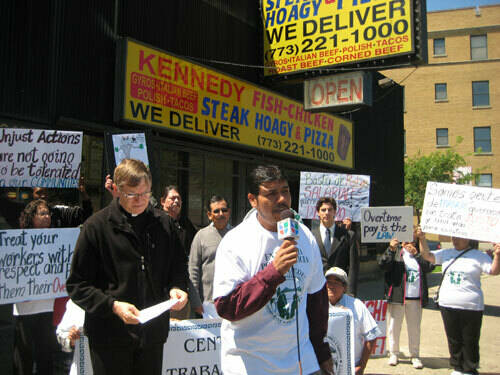 CHICA­GO — Despite the harsh anti-wage theft leg­is­la­tion passed in Illi­nois that went into effect this year, low-wage and immi­grant work­ers con­tin­ue to become the tar­get of exploita­tive busi­ness owners.
The lat­est exam­ples: Juan Lopez and his wife Laila Ale­man, who worked at Kennedy Fish & Chick­en and were alleged­ly fired after Lopez filed a law­suit to recov­er more than nine years worth of lost over­time wages from own­er Ali Liaquat.
"When I told him he was sup­posed to fol­low the state law — that he was sup­posed to pay over­time after 40 hours — he told me ​'I nev­er pay over­time and I nev­er will, so if you don't like it then you can go,'" Lopez told In These Times.
Lopez says he some­times worked as many as six or sev­en days a week for 12 hours each day, all the while being referred to by Liaquat as his ​'Mex­i­can machine.' Accord­ing to Ale­man, who filed a dis­crim­i­na­tion com­plaint against Liaquat with the Illi­nois Depart­ment of Human Rights last week, Liaquat found many ways to dis­crim­i­nate against His­pan­ic employ­ees and favor employ­ees from Pak­istan, where Liaquat is from.
"I and oth­er employ­ees that Mr. Liaquat believed to be Mex­i­can were not giv­en any lunch breaks and had to eat as we worked, while Pak­istani work­ers would have three lunch breaks (30 min­utes each break)," Ale­man tes­ti­fied in the report.
Lopez and Ale­man are far from alone. As Kari Lyder­son report­ed fol­low­ing the sign­ing of the Wage Theft Enforce­ment Act (PDF) in August 2011, more than two thirds of work­ers in Chica­go, Los Ange­les and New York suf­fer from wage theft. Accord­ing to Ana Gua­jar­do, exec­u­tive direc­tor of Cen­tro de Tra­ba­jadores Unidos, it's shock­ing how often injus­tices occur not out of mal­ice, but because small employ­ers and restau­ra­teurs don't under­stand their legal respon­si­bil­i­ties. To keep employ­ers in the loop when it comes to new wage theft leg­is­la­tion, many work­ers cen­ters like Guajardo's have decid­ed to adopt a new, pre­ven­ta­tive strat­e­gy cen­tered on edu­cat­ing employers.
"Many small busi­ness­es real­ly don't know the laws," Gua­jar­do told In These Times. ​"At a work­shop on the south­east side a few busi­ness­es didn't know the rules for vaca­tion time. What's even more sur­pris­ing is that one busi­ness didn't even know about the state's min­i­mum wage requirements."
Cen­tro de Tra­ba­jadores Unidos, which serves the south­east side and Blue Island com­mu­ni­ties, is in the process of pro­mot­ing an employ­er Code of Con­duct (PDF) mod­eled after the Restau­rant Oppor­tu­ni­ties Cen­ter of New York (ROC-NY) code adopt­ed two years ago.
Emi­ly Sanders of ROC-NY says since the con­duct code's incep­tion, it has become less focused on the con­tract itself and more reliant on its ​"NYC Restu­rant Own­er Round­table," which helps own­ers improve busi­ness with­out com­pro­mis­ing the rights of their work­ers. Sanders told In These Times the round­table includes between 20 and 30 restau­rants in the met­ro­pol­i­tan area who trou­bleshoot com­mon prob­lems in the busi­ness world and ​"iden­ti­fy weak­ness­es and goals for the future" when it comes to labor practices.
Restau­rants were among the first indus­tries work­ers cen­ters began to tar­get in wage theft edu­ca­tion cam­paigns because of high instances of exploita­tion. Accord­ing to Pete Mey­ers, coor­di­na­tor of the Tomp­kins Coun­ty Work­ers Cen­ter in upstate New York, many restau­rant own­ers start out as chefs and fail to keep accu­rate records sim­ply because they don't know how or that they have to.
"Often time restau­rant own­ers are wear­ing many dif­fer­ent hats," Mey­ers said. In 2009 Mey­ers told In These Times the state Labor Depart­ment found 17 restau­rants in Tomp­kins Coun­ty guilty of labor vio­la­tions because, ​"they didn't under­stand the law." This encour­aged the work­ers cen­ter to work along­side the coun­ty health depart­ment in pub­lish­ing and dis­trib­ut­ing a ​"Restau­rant Own­ers Man­u­al," (PDF) which spells out best prac­tices in plain Eng­lish. The man­u­al is one of the first of its kind to specif­i­cal­ly tar­get restau­rant owners.
"We got a lot of pub­lic­i­ty because often times the rela­tion­ship between work­ers cen­ters and employ­ers gets por­trayed in an adver­sar­i­al light," Mey­ers told In These Times. ​"We're advo­cat­ing pri­mar­i­ly for the rights of work­ers to their fair wages under the law, and some per­ceive this to be anti-busi­ness. So what we're doing with this man­u­al seems strange to them."
Gua­jar­do plans to take these edu­cat­ing mod­els one step fur­ther by extend­ing the code of con­duct to all com­mu­ni­ty busi­ness­es — not just restau­rants. In addi­tion to a writ­ten ​'sym­bol­ic agree­ment' and com­mu­ni­ty round­table, Gua­jar­do says busi­ness­es that sign on to the agree­ment will receive a ​'stamp of approval,' which they can dis­play in their store win­dows. So far, she said two busi­ness­es have signed the code of con­duct — both of which have been the tar­get of past wage theft cam­paigns. In the com­ing weeks, she says the cen­ter plans to get many more com­mu­ni­ty busi­ness­es in their corner.
On Mon­day, faith and com­mu­ni­ty mem­bers gath­ered out­side of Kennedy Fish and Chick­en car­ry­ing posters, wield­ing drums and whis­tles and armed with over 1,000 com­mu­ni­ty sig­na­tures urg­ing Lai­quat to be the next busi­ness own­er on the south­east side to amend his busi­ness prac­tices. At the sight of local cam­era crews, Lai­quat retreat­ed to the back of the restau­rant, refus­ing to address his for­mer employ­ees and the 20 oth­ers who gath­ered at their sides.
Our Lady of Guadalup Father Carl Quebe­deaux told In These Times he's seen the same thing from busi­ness own­ers many times before. ​"We've done this many times before and they usu­al­ly don't respond," he said. But accord­ing to Lopez, he will keep com­ing back until Lai­quat ​"shows his face and takes the time to listen."