Jimmy John's Fired Workers for Making a 'Disloyal' Meme. A Court Just Ruled That's Okay.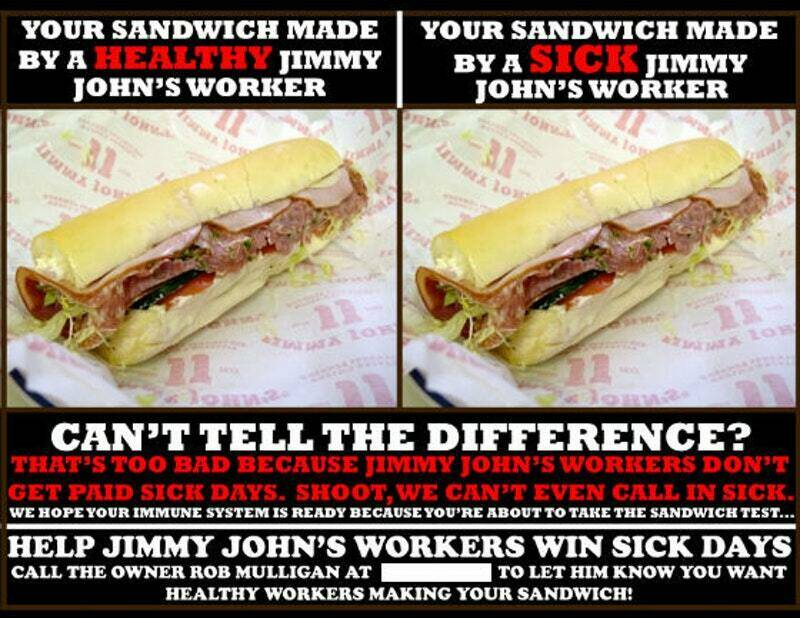 In a deci­sion emblem­at­ic of the new cli­mate of Trumpian gov­er­nance, a fed­er­al appeals court in St. Louis ruled on July 3 that it is accept­able for the boss of a fast-food chain to fire work­ers for the sin of being ​"dis­loy­al."
The U.S. Court of Appeals for the Eighth Cir­cuit reversed a rul­ing issued by the Oba­ma-era Nation­al Labor Rela­tions Board (NLRB) in a case spawned by a labor orga­niz­ing dri­ve at the Jim­my John's fast-food chain. The court held that Mik­lin Enter­pris­es, the own­er of Jim­my John's fran­chis­es in Min­neapo­lis, had the right to fire six pro-union advo­cates because they demon­strat­ed ​"dis­loy­al­ty" by dis­trib­ut­ing fly­ers in 2011 that implied the com­pa­ny was sell­ing unsafe food con­t­a­m­i­nat­ed by employ­ees oblig­ed to work while sick with the flu.
The orga­niz­ers designed and dis­trib­uted memes that showed images of iden­ti­cal Jim­my John's sand­wich­es. One was ​"made by a healthy Jim­my John's work­er," the oth­er by a ​"sick" work­er. ​"Can't tell the dif­fer­ent?" the poster con­tin­ued. ​"That's too bad because Jim­my John's work­ers don't get paid sick days. Shoot, we can't even call in sick. We hope your immune sys­tem is ready because you're about to take the sand­wich test."
The Min­neapo­lis union cam­paign, launched by the Indus­tri­al Work­ers of the World (IWW or ​'Wob­blies'), has been high-pro­file from the start. First erupt­ing in 2010, the effort quick­ly devel­oped into an intense legal fight at the NLRB before advanc­ing to the fed­er­al courts. It even spilled over into the U.S. Con­gress in 2014 with the rev­e­la­tion that Jim­my John's rou­tine­ly required its low-paid sand­wich mak­ers to sign ques­tion­able ​"non-com­pete agreements."
Threat­ened with puni­tive action by the attor­neys gen­er­al in sev­er­al states, Jim­my John's rescind­ed its non-com­pete poli­cies in 2016, but not before the company's rep­u­ta­tion had been tarnished.
Like the non-com­pete agree­ments, the July 3 court deci­sion is an unwar­rant­ed attack on labor rights, says William B. Gould IV, a labor law pro­fes­sor at Stan­ford Uni­ver­si­ty and for­mer chair­man of the fed­er­al labor board.
"The first thing that strikes you is how archa­ic this feels," Gould tells In These Times. ​"The legal basis is from a case in the 1950s when peo­ple had a whole dif­fer­ent con­cept of loy­al­ty owed to their employer.
"In those days," Gould con­tin­ues, ​"the assump­tion was that loy­al­ty was a two-way street: You were loy­al to the com­pa­ny and the com­pa­ny was loy­al to you. Now, with Uber and Lyft and the oth­ers, com­pa­nies are even refus­ing to admit that you are one of their employ­ees, so there isn't much talk about loy­al­ty owed to the employ­er anymore."
The July 3 deci­sion turns on the inter­pre­ta­tion of ​'loy­al­ty' artic­u­lat­ed in the 1953 Supreme Court case Nation­al Labor Rela­tions Board v. Local Union 1229 Inter­na­tion­al Broth­er­hood of Elec­tri­cal Work­ers, known as ​"Jef­fer­son Stan­dard" for short. Ear­li­er in the process of the more recent NLRB case, the labor agency's Oba­ma appointees had ruled that the fir­ing of the work­ers was an ille­gal vio­la­tion of their rights to form a union. But the appeals court deci­sion reversed that deci­sion, assert­ing that the dis­loy­al­ty dis­played by the pam­phlets gave the employ­er the right to fire the work­ers, Gould explains.
The court stat­ed, "(W)hile an employ­ee's sub­jec­tive intent is of course rel­e­vant to the dis­loy­al­ty inquiry — ​"sharp, pub­lic, dis­parag­ing attack" sug­gests an intent to harm the Jef­fer­son Stan­dard prin­ci­ple includes an objec­tive com­po­nent that focus­es, not on the employ­ee's pur­pose, but on the means used — whether the dis­parag­ing attack was ​'rea­son­ably cal­cu­lat­ed to harm the com­pa­ny's rep­u­ta­tion and reduce its income,' to such an extent that it was harm­ful, inde­fen­si­ble dis­par­age­ment of the employ­er or its product."
Erik For­man was fired six years ago for orga­niz­ing a union at a Jim­my John's in Min­neapo­lis. He told In These Times, ​"The big take­away for me is that this rul­ing means work­ers do not have the right to tell the truth about their employ­er," he said, adding: ​"The rul­ing is incred­i­bly slant­ed towards the employ­er. They frame our cam­paign for sick days as an attack on the employ­er and turn log­ic on its head. We told the truth about the risk to the public."
​"Employ­ers' moti­va­tion was­n't just to stop the sick-day cam­paign," For­man con­tin­ued. ​"It was to stop our union­iza­tion effort."
Accord­ing to Gould, ​"This case comes from the 8th Cir­cuit which is the most con­ser­v­a­tive in the coun­try. It's the worst cir­cuit in the coun­try for a labor union, or for labor rights."
The ultra-con­ser­v­a­tive nature of the rul­ing may have the unin­tend­ed ben­e­fit of lim­it­ing its applic­a­bil­i­ty to work­ers oth­er than the Min­neapo­lis Jim­my John's employ­ees, the for­mer NLRB chair­man adds. Oth­er judi­cial dis­tricts may not be eager to fol­low its lead because many tra­di­tion­al­ly defer to the NLRB in mat­ters of this kind, he says, and few employ­ers will want to take the legal risk of rely­ing on a cir­cuit court rul­ing that has not been con­firmed by the Supreme Court.
The rever­sal of the Oba­ma-era NLRB deci­sion mir­rors action in Con­gress, where sev­er­al mea­sures are under con­sid­er­a­tion to roll back pro-work­er mea­sures adopt­ed by the labor board dur­ing Obama's tenure. This week, the U.S. Sen­ate is con­sid­er­ing thenom­i­na­tion of two Trump NLRB appointees, both of whom have been crit­i­cized as anti-work­er by the AFL-CIO.
Car­men Spell, an NLRB rep­re­sen­ta­tive at the agency's Wash­ing­ton, D.C. head­quar­ters, would only com­ment that "(w)e are con­sid­er­ing options at this time" on how the agency will respond to the court ruling.
Jane Hard­ey, a spokes­woman for Jim­my John's, declined any com­ment, assert­ing that the legal case involved only the Min­neapo­lis fran­chise own­er, and did not involve the sand­wich chain com­pa­ny itself. Hard­ey did not respond to a request from In These Times for a tele­phone inter­view with Jim­my John Liau­tard, the con­tro­ver­sial founder of the franchise.
Accord­ing to the Jim­my John's web site, the rapid­ly grow­ing chain cur­rent­ly has 2,701 loca­tions in 48 states. The num­ber of employ­ees is esti­mat­ed at over 100,000.
"The fact that we were fired over six years ago in retal­i­a­tion for union orga­niz­ing should tell every­one that you can­not rely on labor law in this coun­try," says For­man. ​"Every sin­gle deci­sion can now be appealed up to a Trump Supreme Court. We need to find new ways of build­ing and exer­cis­ing pow­er on our own."
Bruce Vail
is a Bal­ti­more-based free­lance writer with decades of expe­ri­ence cov­er­ing labor and busi­ness sto­ries for news­pa­pers, mag­a­zines and new media. He was a reporter for Bloomberg BNA's Dai­ly Labor Report, cov­er­ing col­lec­tive bar­gain­ing issues in a wide range of indus­tries, and a mar­itime indus­try reporter and edi­tor for the Jour­nal of Com­merce, serv­ing both in the newspaper's New York City head­quar­ters and in the Wash­ing­ton, D.C. bureau.