Police Officer: 'Policing Mostly Became a Response to the 911 Call Machine'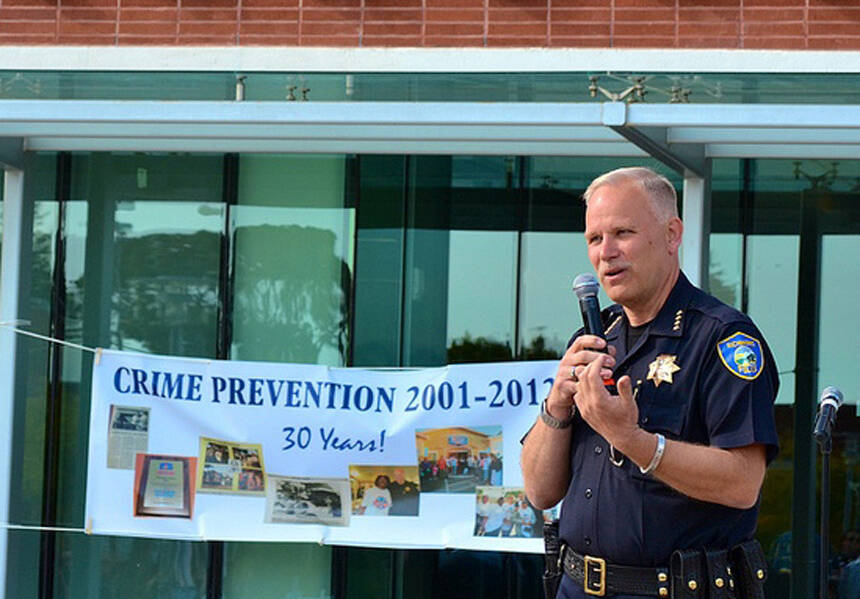 For three years in the ear­ly 1970s, jour­nal­ist Studs Terkel gath­ered sto­ries from a vari­ety of Amer­i­can work­ers. He then com­piled them into Work­ing, an oral-his­to­ry col­lec­tion that went on to become a clas­sic. Four decades after its pub­li­ca­tion, Work­ing is more rel­e­vant than ever. Terkel, who reg­u­lar­ly con­tributed to In These Times, once wrote, ​"I know the good fight — the fight for democ­ra­cy, for civ­il rights, for the rights of work­ers has a future, for these val­ues will live on in the pages of In These Times." In hon­or of that sen­ti­ment and of Working's 40th anniver­sary, ITT writ­ers have invit­ed a broad range of Amer­i­can work­ers to describe what they do, in their own words. More ​"Work­ing at 40" sto­ries can be found here.
In Work­ing, Terkel inter­viewed two Chica­go police offi­cers, Vin­cent Maher and Renault Robin­son, both of whom were dis­sat­is­fied with their jobs. Maher, a white cop, com­plained, ​"We have lost com­plete con­tact with the peo­ple. They get the assump­tion that we're gonna be called to the scene for one pur­pose — to become vio­lent to make an arrest." Mean­while, Robin­son, a black cop, was sharply crit­i­cal of the Chica­go Police Department's empha­sis on arrest­ing its way out of crime. Robin­son orga­nized the Afro-Amer­i­can Patrolmen's League ​"to improve rela­tion­ships between the black com­mu­ni­ty and the police" because ​"as police­man, we were the only orga­nized group that could do some­thing about it."
Forty years lat­er, Chris Mag­nus, a mod­ern-day vet­er­an of police work, talked to In These Times about how his pro­fes­sion has changed in cities that val­ue ​"com­mu­ni­ty polic­ing" — which tries to improve pub­lic safe­ty through bet­ter work­ing rela­tion­ships between law enforce­ment per­son­nel and the peo­ple they serve — over the meth­ods ques­tioned by Maher and Robin­son. As chief of police in Rich­mond, Cal­i­for­nia for the last eight years, Mag­nus has won wide­spread approval for reduc­ing the city's homi­cide rate and restor­ing local con­fi­dence in its police depart­ment. Mag­nus began by para­phras­ing Lon­don police reformer Robert Peel, whose fol­low­ers argued, two cen­turies ago, that ​"the police are the pub­lic and the pub­lic are the police."
His­tor­i­cal­ly, the idea of a rela­tion­ship based more on togeth­er­ness and com­mon­al­i­ty — rather than sep­a­ra­tion and occu­pa­tion — was a big part of polic­ing. But then, with the advent of tech­nol­o­gy, polic­ing most­ly became a response to the 911 call machine. And many cities suf­fered a great deal as a result.
We saw police tran­si­tion into this role of call-tak­ers, report-writ­ers, and cri­sis-inter­ven­ers. Some of those changes moved us away from the idea that offi­cers could actu­al­ly be peo­ple who built rela­tion­ships in the com­mu­ni­ty, who devel­oped trust, and who were seen as prob­lem solvers.
If you're real­ly com­mit­ted to com­mu­ni­ty polic­ing, you have to make struc­tur­al changes with­in your orga­ni­za­tion. Are you going to have com­mu­ni­ty polic­ing offi­cers who are just this small cadre with­in a depart­ment — essen­tial­ly its pub­lic rela­tions wing — or are you going to inte­grate the larg­er expec­ta­tions of com­mu­ni­ty polic­ing into the role of every offi­cer? The lat­ter is what we've tried to do here — to say no mat­ter what your assign­ment, we expect you to, first and fore­most, build qual­i­ty relationships.
In our depart­ment, we assign peo­ple for longer peri­ods of time to spe­cif­ic geo­graph­ic areas with the expec­ta­tion that they get to know and become known by res­i­dents. They are in and out of busi­ness­es, non­prof­its, church­es and a wide vari­ety of oth­er com­mu­ni­ty orga­ni­za­tions; they come to be seen as a part­ner in crime reduc­tion. It's impor­tant that offi­cers be in a role where they can inter­act with the major­i­ty of the com­mu­ni­ty, that is not hos­tile toward them, that sees them as a val­ued part­ner; they want a qual­i­ty rela­tion­ship, and are not engaged in crim­i­nal activity.
This real­ly does work, and it can change the whole dynam­ic between com­mu­ni­ty res­i­dents and police, includ­ing in com­mu­ni­ties of col­or or oth­ers that have his­tor­i­cal­ly felt mar­gin­al­ized by police and dis­trust­ful of them.
It not only leads to bet­ter out­comes in terms of pub­lic safe­ty; it also makes for police offi­cers who are a lot more sat­is­fied and pro­duc­tive over the course of their careers, because they're not just arrest­ing the same peo­ple over and over again. They're actu­al­ly engaged with res­i­dents. They're see­ing their work have an impact and make a dif­fer­ence. I think that makes the job a lot more sat­is­fy­ing even when there's an enforce­ment com­po­nent to it, which, of course, there still has to be.
What we've tried to do is pro­mote peo­ple who under­stand the impor­tance of that kind of rela­tion­ship-build­ing. In our ongo­ing eval­u­a­tions of offi­cers, we include mea­sure­ments of that work, not just of enforce­ment-relat­ed out­comes. We have got­ten away entire­ly from the idea of just putting offi­cers out in street teams to go into high-crime neigh­bor­hoods and roust any­body who's out walk­ing around doing what­ev­er, with the idea that they might have a war­rant out­stand­ing or might be hold­ing drugs or some­thing. That only serves to alien­ate the whole pop­u­la­tion that lives in those neigh­bor­hoods. And 95 per­cent of them are good peo­ple not engaged in crime.
Tech­nol­o­gy and data do play an impor­tant part in con­tem­po­rary polic­ing. The data that we use allows us to be more sophis­ti­cat­ed about who we go after. It's about focus­ing on the right peo­ple at the right times and right places, which can help offi­cers approach enforce­ment in a thought­ful, tac­ti­cal and strate­gic way — as opposed to a blan­ket approach that nets every­body up. It's very frus­trat­ing to res­i­dents when polic­ing is done like that.
But our data is not used as a weapon to smack peo­ple around. It's not about quo­tas. It's not about num­ber of arrests. We use sta­tis­tics to inform dis­cus­sions, to give peo­ple infor­ma­tion they can use, and to dis­cuss prob­lems and to brain­storm solu­tions. It's not a ​"blame and shame" type approach. It's more about encour­ag­ing inno­va­tion and cre­ativ­i­ty, and real­ly cel­e­brat­ing suc­cess­es as much as point­ing out chal­lenges or unmet needs.
One of my over­ar­ch­ing goals — and it's also a chal­lenge — is to have our depart­ment rep­re­sent as best we can the diver­si­ty of the com­mu­ni­ty. When you have a depart­ment that doesn't look any­thing like the com­mu­ni­ty it serves, you're ask­ing for trou­ble no mat­ter how ded­i­cat­ed and pro­fes­sion­al your employ­ees are. I don't even just mean from a racial, eth­nic, or gen­der stand­point. I mean in terms of life expe­ri­ences, being con­nect­ed to neigh­bor­hoods, grow­ing up either in Rich­mond or cities like it — I think those are impor­tant fac­tors to con­sid­er as well.
Rich­mond is still a com­mu­ni­ty that has a lot of very dan­ger­ous calls for ser­vice. We take a gun or two a day off the streets. You need police offi­cers who are very pro­fes­sion­al and dis­ci­plined, and who know how to use the var­i­ous tools, includ­ing weapon­ry, that they are issued.
But at the same time, we also want peo­ple who can shift gears — who can flip a switch and inter­act, in a very dif­fer­ent way, with com­mu­ni­ty mem­bers. We want offi­cers who can show empa­thy with vic­tims of crime, who are not afraid to smile or to get out of the police car and inter­act in a pos­i­tive way with peo­ple, who can demon­strate emo­tion­al intel­li­gence, who are good lis­ten­ers, who have patience, and who don't feel that it dimin­ish­es their author­i­ty to demon­strate kindness.
Hap­pi­ly, there are peo­ple who actu­al­ly have the blend of those skills and abil­i­ties. Find­ing them is not always easy. Many of them do not even nec­es­sar­i­ly con­sid­er police work as some­thing that they would nat­u­ral­ly be drawn to. So you have to be a lit­tle cre­ative in where you look for those people.
Steve Ear­ly worked for 27 years as an orga­niz­er and inter­na­tion­al rep­re­sen­ta­tive for the Com­mu­ni­ca­tions Work­ers of Amer­i­ca. He is the author of sev­er­al books, includ­ing Refin­ery Town: Big Oil, Big Mon­ey, and the Remak­ing of an Amer­i­can City (Bea­con Press).