The Real Reason Why the WHO Waited Until March to Declare a Global Pandemic
The 2005 regulations pushed on the World Health Organization by the United States and the Europeans hampered the WHO's ability to declare an emergency and a pandemic.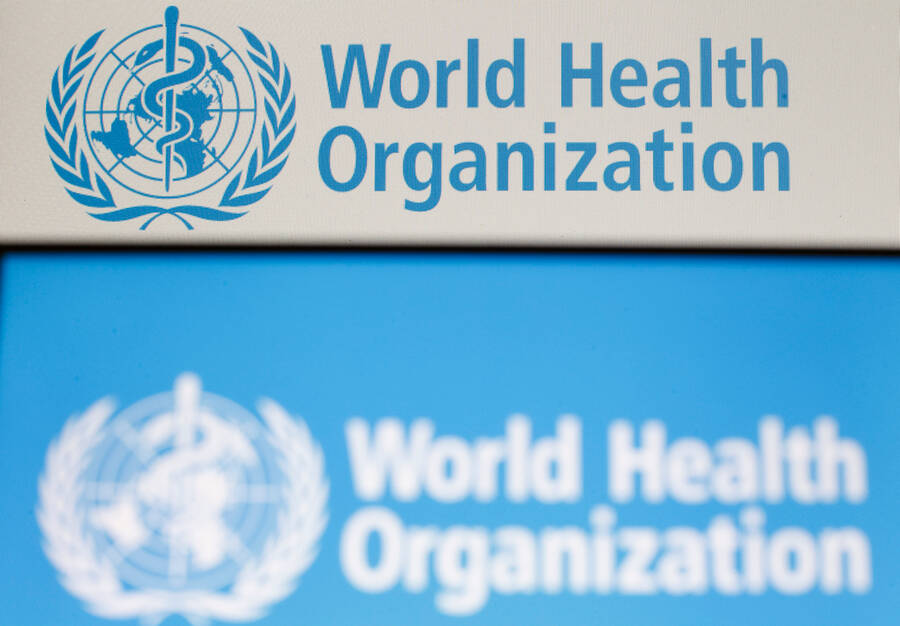 When U.S. Pres­i­dent Don­ald Trump cut off his government's fund­ing to the World Health Orga­ni­za­tion (WHO), one of his griev­ances was that the WHO — under Chi­nese tute­lage — failed to declare the glob­al coro­n­avirus out­break as a pan­dem­ic soon enough. Not long after the virus brought patients to Hubei Provin­cial Hos­pi­tal, the Chi­nese med­ical and pub­lic health author­i­ties brought it to the notice of the WHO. The WHO inves­ti­gat­ed the virus over the course of ear­ly Jan­u­ary, send­ing a team into Wuhan and mak­ing pub­lic what­ev­er cred­i­ble infor­ma­tion it could report.

The WHO's Inter­na­tion­al Health Reg­u­la­tions (2005) Emer­gency Com­mit­tee met twice in Jan­u­ary, first on Jan­u­ary 22 – 23 and then again on Jan­u­ary 30; in the first meet­ing, the com­mit­tee felt it had insuf­fi­cient evi­dence to declare an emer­gency, but at the sec­ond meet­ing it took the deci­sion to declare a pub­lic health emer­gency of inter­na­tion­al con­cern (PHE­IC). This is the penul­ti­mate step for the WHO; on March 11, after it became clear that the virus was spread­ing across bor­ders, but not before the WHO made many warn­ings to gov­ern­ments, the WHO declared a glob­al pandemic.

Trump and his Demo­c­ra­t­ic rival Joe Biden, as well as a host of oth­er U.S. politi­cians, made the argu­ment that the WHO did not act fast enough with its dec­la­ra­tion. What­ev­er prob­lems posed to the Unit­ed States by the virus were not the respon­si­bil­i­ty of the U.S. gov­ern­ment, they sug­gest­ed; the fault lay with the Chi­nese gov­ern­ment and with the WHO.

Our inves­ti­ga­tion finds that this argu­ment has lit­tle foun­da­tion. The WHO's report­ing mech­a­nisms are sound, but the WHO's own abil­i­ty to make these for­mal dec­la­ra­tions — a pub­lic health emer­gency and a glob­al pan­dem­ic, which come with seri­ous finan­cial con­se­quences for mem­ber states — has been cir­cum­scribed; those who have con­strained the World Health Orga­ni­za­tion — the Unit­ed States and Euro­pean nations — are the very same coun­tries whose lead­ers are now com­plain­ing about Chi­nese influ­ence over the WHO.

Revi­sions

By the 1990s, it had become clear that the WHO's old Inter­na­tion­al Health Reg­u­la­tions — orig­i­nal­ly issued in 1969, with only a few minor updates and new edi­tions over the two decades after that — were inad­e­quate. For one, these reg­u­la­tions were pro­duced before the emer­gence of very infec­tious, lethal, and recur­rent infec­tions such as Ebo­la and the avian influen­zas. Sec­ond­ly, these old reg­u­la­tions were made before air trav­el began to move about 4.3 bil­lion pas­sen­gers per year, the scale of air traf­fic now mak­ing the move­ment of virus­es so much easier.

In May 2005, the 58th World Health Assem­bly revised the 1969 reg­u­la­tions, point­ing out that the new reg­u­la­tions would ​"pre­vent, pro­tect against, con­trol and pro­vide a pub­lic health response to the inter­na­tion­al spread of dis­ease in ways that are com­men­su­rate with and restrict­ed to pub­lic health risks, and which avoid unnec­es­sary inter­fer­ence with inter­na­tion­al traf­fic and trade."

The North Amer­i­can and Euro­pean states, in par­tic­u­lar, insist­ed that the dec­la­ra­tion of a PHE­IC or glob­al pan­dem­ic only be made after it was clear that air trav­el and trade would not be undu­ly inter­rupt­ed. This restric­tion, essen­tial­ly the core foun­da­tions of glob­al­iza­tion, has con­strained the WHO since 2005.

The 2009 Test

The new WHO reg­u­la­tions were test­ed when a new influen­za emerged out of Mex­i­co and the Unit­ed States in mid-April 2009. This H1N1 was a com­bi­na­tion of influen­za virus genes that had links to swine-lin­eage H1N1 from both North Amer­i­ca and Eura­sia (thus the 2009 out­break was com­mon­ly known as ​"swine flu"). It was first detect­ed on April 15. On April 24, the U.S. Cen­ters for Dis­ease Con­trol and Pre­ven­tion uploaded a gene sequence onto a pub­licly acces­si­ble influen­zas data­base. On April 25, ten days after the first detec­tion of the virus, the WHO declared the 2009 H1N1 out­break a PHE­IC. On June 11, the WHO said that a glob­al pan­dem­ic was underway.

In 2020, the WHO took a month to declare a PHE­IC for the coro­n­avirus and took an addi­tion­al two months after that to pro­nounce a glob­al pan­dem­ic. It was slow­er to announce the emer­gency, but it took the same time to declare a glob­al pandemic.

By July 2009, the dan­ger­ous H1N1 virus had a less lethal impact than the WHO had feared. How­ev­er, for the full year from its first detec­tion, 60.8 mil­lion peo­ple were infect­ed and 12,469 died.

Almost imme­di­ate­ly, the WHO was attacked for the June 11 descrip­tion of the out­break as a pan­dem­ic. When the WHO declares a pan­dem­ic, gov­ern­ments are expect­ed to do a vari­ety of things includ­ing mass pur­chase of drugs and vac­cines. These are costly.

That Decem­ber, mem­bers of par­lia­ment in the Coun­cil of Europe opened an inquiry into the WHO dec­la­ra­tion. Four­teen mem­bers of the Coun­cil charged the WHO with what was essen­tial­ly fraud. They said that ​"phar­ma­ceu­ti­cal com­pa­nies have influ­enced sci­en­tists and offi­cial agen­cies, respon­si­ble for pub­lic health stan­dards, to alarm gov­ern­ments world­wide. They have made them squan­der tight health care resources for inef­fi­cient vac­cine strate­gies and need­less­ly exposed mil­lions of healthy peo­ple to the rise of unknown side-effects of insuf­fi­cient­ly test­ed vac­cines." ​"The def­i­n­i­tion of an alarm­ing pan­dem­ic," they wrote, ​"must not be under the influ­ence of drug-sellers."

The crit­i­cism of the WHO stung. It had declared a pan­dem­ic, but the virus had sta­bi­lized very soon after the dec­la­ra­tion. The WHO respond­ed to such crit­i­cism with humil­i­ty. ​"Adjust­ing pub­lic per­cep­tions to suit a far less lethal virus has been prob­lem­at­ic," the WHO respond­ed. ​"Giv­en the dis­crep­an­cy between what was expect­ed and what has hap­pened, a search for ulte­ri­or motives on the part of the WHO and its sci­en­tif­ic advis­ers is under­stand­able, though with­out justification."

Trump's Attacks

A WHO offi­cial told one of us that the agency had been shak­en by the assault in 2009. Over the past ten years, the agency has strug­gled to regain its con­fi­dence, work­ing through the Ebo­la out­break in 2014 and then Zika in 2016. In nei­ther of those cas­es was there a need to make any glob­al declaration.

This year, the WHO declared a glob­al pan­dem­ic with­in three months of the first cas­es. But there is no doubt that the attack on the WHO a decade ago has made an impact. For­mer WHO employ­ees tell us that fear of being attacked like this by the main donors seri­ous­ly ham­pers the inde­pen­dence of the WHO and its sci­en­tif­ic advis­ers. Trump's cur­rent attack is going to weak­en fur­ther the abil­i­ty of the WHO to oper­ate at its own pace and with credibility.

The World Health Orga­ni­za­tion is not the first UN agency to face the wrath of the U.S. admin­is­tra­tion. The Trump admin­is­tra­tion sent its bud­get to Con­gress with zero dol­lars for a line item called Inter­na­tion­al Orga­ni­za­tions and Pro­grams. Under this line item comes Unit­ed States funds for UN Devel­op­ment Pro­gram, UNICEF, UNESCO, Office of the High Com­mis­sion­er for Human Rights, UN Women, and UN Pop­u­la­tion Fund. In 2018, the Unit­ed States stopped fund­ing the UN's Pales­tine agency (UNR­WA). When the UN is use­ful, the Unit­ed States uses it; when the UN goes against Unit­ed States inter­ests, it will lose its funding.

When Trump said that the WHO is ​"Chi­na cen­tric," he offered no evi­dence; he did not have to.

No doubt that the Unit­ed States is cur­rent­ly fac­ing the wrath of the glob­al pan­dem­ic. If the U.S. gov­ern­ment had begun to plan effec­tive­ly after the WHO declared a pub­lic emer­gency on Jan­u­ary 30 or even when it declared a glob­al pan­dem­ic on March 11, the prob­lems would not be so grave. But there was no plan­ning at all, which is dis­tress­ing. As George Pack­er put it in the Atlantic, the Unit­ed States in the months after Jan­u­ary was ​"like a coun­try with shod­dy infra­struc­ture and a dys­func­tion­al gov­ern­ment whose lead­ers were too cor­rupt or stu­pid to head off mass suf­fer­ing." From Trump, the U.S. cit­i­zen­ry got ​"will­ful blind­ness, scape­goat­ing, boasts, and lies." This sums it up. Part of the scape­goat­ing was direct­ed at Chi­na; it is far eas­i­er to blame Chi­na — already part of a dan­ger­ous trade war and a sim­mer­ing region­al strug­gle in Asia — than to accept respon­si­bil­i­ty oneself.

(This is the sec­ond part of a two-part series, which is ful­ly avail­able here.)

This arti­cle was pro­duced by Glo­be­trot­ter, a project of the Inde­pen­dent Media Institute.
Vijay Prashad
is an Indi­an his­to­ri­an, edi­tor and jour­nal­ist. He is a writ­ing fel­low and chief cor­re­spon­dent at Glo­be­trot­ter, a project of the Inde­pen­dent Media Insti­tute. He is the chief edi­tor of Left­Word Books and the direc­tor of Tri­con­ti­nen­tal: Insti­tute for Social Research. He has writ­ten more than twen­ty books, includ­ing The Dark­er Nations and The Poor­er Nations. His lat­est book is Wash­ing­ton Bul­lets, with an intro­duc­tion by Evo Morales Ayma.