Saudi Bombing and Blockade Are Devastating Yemen, And Yemenis Know the U.S. Bears Responsibility
U.S.-backed Saudi aggression is stoking anti-American sentiment in Yemen.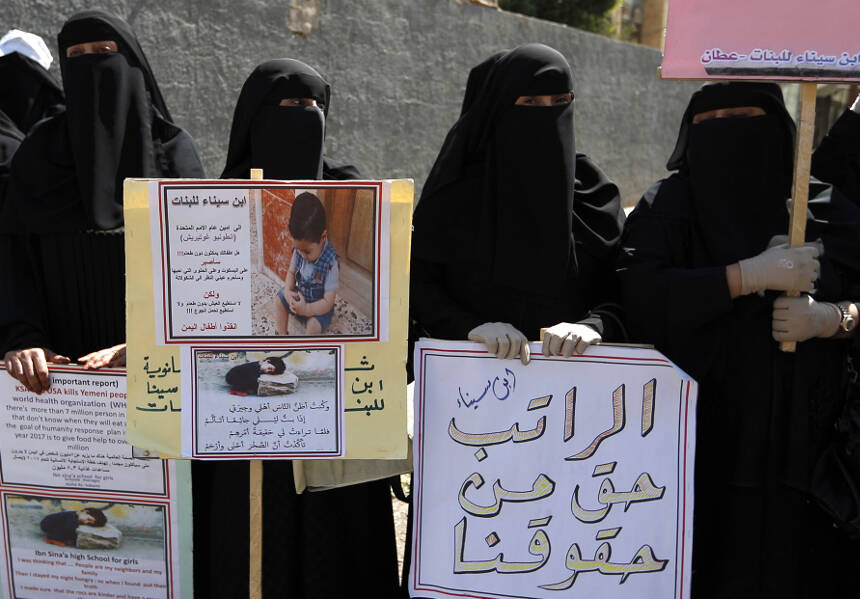 SANAA, YEMEN — Two years of the U.S.-backed Sau­di war in Yemen has caused a dis­as­trous human­i­tar­i­an sit­u­a­tion in the poor­est Arab coun­try. The con­flict is increas­ing­ly stok­ing anti-Amer­i­can sen­ti­ment among Yeme­nis, many of whom see the U.S. gov­ern­ment as a killer using Sau­di hands.
Yemenis believe the Saudis would not have dared to fight them without American support and consent.
The con­flict began in 2015, when Pres­i­dent Abed Rab­bo Man­sour Hadi resigned and went into exile, and Sau­di Ara­bia led an armed coali­tion alleged­ly to restore Hadi's legit­i­ma­cy. Hadi now leads a gov­ern­ment-in-exile while the rebel Houthi move­ment surges in Yemen.
Accord­ing to the UN, around 13,500 civil­ians were killed in the con­flict between March 2015 and June 2017. The UN Human­i­tar­i­an Coor­di­na­tor for Yemen, Jamie McGoldrick, tells In These Times that the UN has not been able to reg­u­lar­ly update its fig­ures due to lack of doc­u­men­ta­tion. Local human rights groups say the num­ber might be sev­er­al times high­er, espe­cial­ly when you include the impacts of the block­ade and a recent cholera out­break, made much worse by Sau­di bomb­ings of health clin­ics and oth­er effects of the war.
Abdul­lah Allaw, chair­man of a local human rights obser­va­to­ry, the Mid­dle East Foun­da­tion for Devel­op­ment and Human Rights, gives In These Times a much high­er num­ber for the total death toll, due to direct and indi­rect con­se­quences of the con­flict. ​"From our active vol­un­teers work­ing all over the coun­try in rur­al, urban and sub­ur­ban areas, we have doc­u­ments show­ing that 500,000 Yeme­nis died because of aggres­sion over the last two years," main­ly of dis­ease and mal­nu­tri­tion, he says.
About a mil­lion gov­ern­ment employ­ees have received lit­tle to no salary over the past year, in part because the Hadi gov­ern­ment moved the bank.
Before the war, the coun­try import­ed 90 per­cent of its food and near­ly all of its med­i­cine. Now, because of the block­ade, Yeme­nis can­not eas­i­ly receive these or oth­er essen­tial items, such as fuel.
More than 55 per­cent of the coun­try's health facil­i­ties are destroyed or only part­ly func­tion­ing due to Sau­di airstrikes, and the clo­sure of the Sanaa air­port thanks to coali­tion-imposed air­space restric­tions has made it more dif­fi­cult to access oth­er health­care. ​"Tens of thou­sands of Yeme­nis can­not go abroad for med­ical treat­ments or any oth­er civ­il pur­pos­es, and many more can­not even come back home," said Min­is­ter of Trans­porta­tion Zakaria Al Shami.
"The clo­sure of Sanaa air­port is … a fla­grant vio­la­tion of all inter­na­tion­al laws, human­i­tar­i­an laws, human rights laws."
Many fam­i­lies are hav­ing to make do with less. ​"We now buy 90 per­cent less food and oth­er essen­tial things than we did before this war," says gov­ern­ment employ­ee Raghad Ahmed, who sup­ports six chil­dren on her and her husband's salaries.
​"We have not received salaries for six months now, we do not have any oth­er income and our sav­ings are near zero, despite the fact that we have only 2 meals per day," she told In These Times ear­li­er this year.
Water access is also now a prob­lem for all of the low­er class and most of the mid­dle class in Sanaa, as water has become more expen­sive because of the rise of fuel prices due to the Sau­di block­ade. They receive water only from local char­i­ties that installed water tanks in almost every neigh­bor­hood. ​"If these [char­i­ties] did not bring us this water, we would have died of thirst by now," says Um Ibrahim, moth­er of five, whose hus­band is a con­struc­tion worker.
Her 13-year-old son Ibrahim and his father Ahmed stay 24 hours at the site of an under-con­struc­tion build­ing to sup­port their fam­i­ly. Ibrahim helps his father by watch­ing the site and equip­ment when work­ers are not there.
"The war killed us all, my kids don't go to school any­more. I need Ibrahim to help me," Ahmed says.
Anti-Amer­i­can Sentiment
Yeme­nis know that most of the Sau­di weapons are U.S.-made: Abrams tanks, Bradley vehi­cles and some clus­ter bombs, not to men­tion the F‑16 and F‑15 fight­er jets that fly over their heads around the clock.
As a result, anti-Amer­i­can sen­ti­ment is on the rise. Yeme­nis have repeat­ed­ly tak­en to the streets chant­i­ng against the Unit­ed States. Many of those who have lost friends and fam­i­ly to Sau­di airstrikes show more hatred toward the Unit­ed States than toward Sau­di Ara­bia. They believe the Saud­is would not have dared to fight them with­out Amer­i­can sup­port and consent.
So activists have orga­nized a nation­wide cam­paign using the slo­gan, ​"The U.S. kills Yemeni peo­ple," hop­ing to embar­rass the Unit­ed States before the world.
Huge posters in the streets of major cities pro­claim, ​"Amer­i­ca kills Yemeni peo­ple." Tele­vi­sions, radios and papers have dai­ly shows using the hash­tag #Amer­i­caKill­sYe­meniPeo­ple.
"We made this cam­paign because the Sau­di war was declared against us from Wash­ing­ton, not from Riyadh," says Mohammed Haidra, who coor­di­nates the campaign.
Al-Qae­da and ISIS Win
The U.S. has not only turned the Yemeni peo­ple against it, but has also been sup­port­ing its ene­mies, al-Qae­da and ISIS, by sup­port­ing the Sau­di Wah­habi régime which pro­vides the ide­o­log­i­cal basis of these ter­ror­ist groups. These groups are also exploit­ing the chaos to fur­ther expand and recruit.
Mul­ti­ple mem­bers of the exiled Hadi gov­ern­ment are des­ig­nat­ed by the U.S. Trea­sury Depart­ment as glob­al ter­ror­ists and com­man­ders of groups labeled as terrorists.
Some of these men are senior offi­cials and hold posts in Hadi's Sau­di-backed gov­ern­ment-in-exile, and some of them are field com­man­ders fight­ing in Yemen with Sau­di forces against Houthis.
Nayif Sal­ih Sal­im al-Qaisy, for instance, was appoint­ed by Hadi in 2015 as a gov­er­nor of al-Bai­da, an al-Qae­da strong­hold. As a senior mem­ber of the Hadi gov­ern­ment, al-Qaisy receives polit­i­cal and finan­cial sup­port from the Saud­is — and he also sends mon­ey and weapons to al-Qae­da in Baiha.
In the mean­time, al-Qae­da and ISIS con­tin­ue to grow. For instance, this Jan­u­ary, al-Qae­da fought off the Houthis for con­trol over Taiz, which is the cap­i­tal of the most pop­u­lous province in Yemen with around 3 mil­lion people.
But many Yemeni peo­ple remain ready to fight back against the al-Qae­da, Sau­di Ara­bia and their U.S. back­ers. ​"I and all my sons would go and fight Saud­is, killers of our peo­ple, and I would call every Yemeni to take gun and go defend our coun­try," said Mohammed Rubaid Jan­u­ary 25. He was speak­ing to thou­sands of peo­ple who had gath­ered in Sanaa to com­mem­o­rate his broth­er, Judge Yahya Rubaid, who was killed by a Sau­di airstrike asleep in his house with his wife and sev­en chil­dren one year before, on Jan. 25th, 2016.
"We must defend our­selves from such crimes and such Sau­di tyran­ny and brutality."
Some of the mate­r­i­al in this piece has been adapt­ed with per­mis­sion from the author's web­site.
Nass­er Arraby­ee
is a Yemeni jour­nal­ist and film­mak­er based in Sanaa, Yemen. He is founder and cur­rent pres­i­dent of media pro­duc­tion com­pa­ny Yemen Alaan.