Fine Print in Defense Bill Acknowledges U.S.-Backed War in Yemen Will Go On Indefinitely
Lawmakers' efforts to limit U.S. support for the Yemen War have failed to stop the bloody Saudi-led assault on the port city of Hodeida.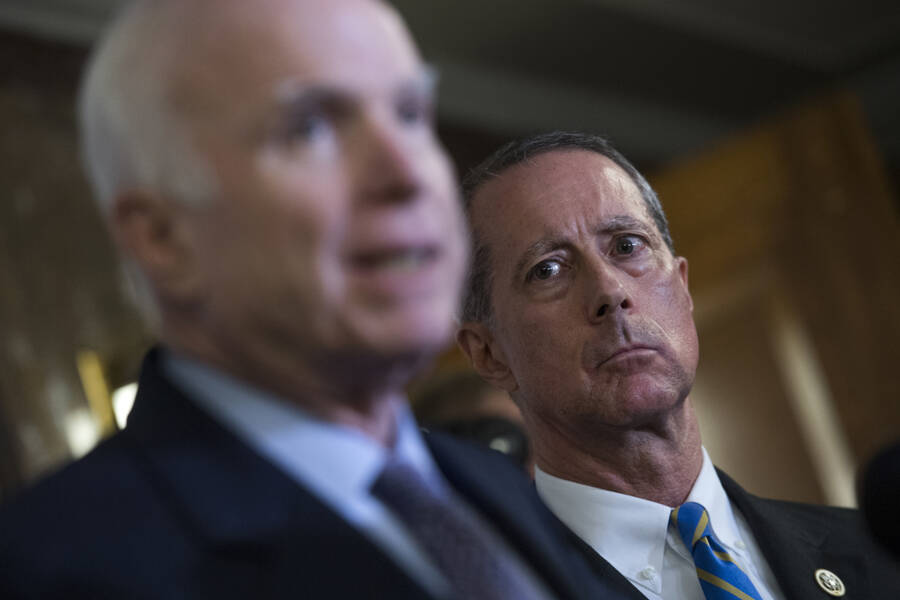 On July 26, the U.S. House passed the Nation­al Defense Autho­riza­tion Act (NDAA) 359 – 54, autho­riz­ing a stag­ger­ing $717 bil­lion war bud­get for 2019. One week lat­er, the bill eas­i­ly passed in the Sen­ate 87 – 10 and was sent to Trump's desk, mak­ing it, accord­ing to Sen. John McCain (R‑Ariz.), the ear­li­est Con­gress has ever vot­ed for mil­i­tary spend­ing in 40 years.
Whatever "protections" U.S. lawmakers are extending to Yemeni civilians, those protections did nothing to prevent this assault.
By rub­ber-stamp­ing this bloat­ed defense bill, law­mak­ers on both sides of the aisle vot­ed to green­light more U.S.-backed war and destruc­tion in Yemen — just as the coali­tion launched a bloody assault on the port city of Hodei­da in which scores of civil­ians have already per­ished. While the bill includes lim­it­ed pro­vi­sions aimed at reduc­ing civil­ian deaths, the only way to stop harm­ing civil­ians is to stop the war — and the leg­is­la­tion falls far short of that.
Yemen has already been dev­as­tat­ed by more than three years of war, which began when Sau­di Ara­bia and the Unit­ed Arab Emi­rates assem­bled a coali­tion that inter­vened in Yemen's civ­il war, osten­si­bly to rein­state Yemeni Pres­i­dent Abdu Rab­bu Mansur Hadi to pow­er. Both the Oba­ma and Trump admin­is­tra­tions have pro­vid­ed the Sau­di-led coali­tion with exten­sive mil­i­tary sup­port, sell­ing hun­dreds of bil­lions of dol­lars' worth of weapons, deploy­ing U.S. Spe­cial Forces to the Sau­di-Yemen bor­der and pro­vid­ing midair refu­el­ing of Sau­di and Emi­rati jets dur­ing bomb­ing cam­paigns. Amer­i­can sup­port has con­tin­ued as more than a mil­lion peo­ple have been infect­ed with cholera, tens of thou­sands have been killed by vio­lence, and at least 113,000 chil­dren have per­ished from mal­nu­tri­tion and pre­ventable illnesses.
In an effort to mit­i­gate the U.S. role in the Yemen war, mem­bers of Con­gress have twice invoked the War Pow­ers Res­o­lu­tion, though these efforts were not ulti­mate­ly suc­cess­ful. Some mem­bers of Con­gress sought to use the new NDAA to address the harm wrought by the ongo­ing war on Yemen — but their attempts, unfor­tu­nate­ly, were not enough.
Sen­a­tors Todd Young (R‑Ind.) and Jeanne Sha­heen (D‑N.H.), as well as Rep­re­sen­ta­tives Adam Smith (D‑Wash.), Ro Khan­na (D‑Calif.), Beto O'Rourke (D‑Texas) and Mark Pocan (D‑Wis.) — all of whom oppose the Unit­ed States' unau­tho­rized mil­i­tary involve­ment in Yemen — suc­cess­ful­ly includ­ed pro­vi­sions in that aim to lim­it the NDAA's use toward the war on Yemen. These include mea­sures requir­ing the Sec­re­tary of State to ver­i­fy that the U.S.-backed coali­tion is tak­ing steps to alle­vi­ate the human­i­tar­i­an dis­as­ter, min­i­mize harm to civil­ians and end the civ­il war. Accord­ing to the bill, such cer­ti­fi­ca­tion is required for the Unit­ed States to engage in midair refu­el­ing to sup­port bomb­ing cam­paigns. How­ev­er, the Sec­re­tary of State could issue a waiv­er to allow midair refu­el­ing for ​"secu­ri­ty rea­sons," so long as a detailed jus­ti­fi­ca­tion is sub­mit­ted to Congress.
These stip­u­la­tions are bet­ter than noth­ing, giv­en that, in the words of Sen­a­tor Chris Mur­phy (D‑Conn.), there is ​"an Amer­i­can imprint on every civil­ian life lost in Yemen." The coop­er­a­tion between House and Sen­ate law­mak­ers on includ­ing the ​"Yemen pro­vi­sion" stems from grow­ing con­cern about U.S. com­plic­i­ty in appar­ent war crimes.
These caveats, how­ev­er, pose a sig­nif­i­cant prob­lem for a coali­tion that has con­sis­tent­ly denied bomb­ing civil­ians and infra­struc­ture out­right despite over­whelm­ing evi­dence to the con­trary, or dis­missed such bomb­ings as ​"mis­takes." The August 2 attack con­duct­ed by the Sau­di-led Coali­tion on al-Thawra Hos­pi­tal and a pop­u­lar fish mar­ket in the embat­tled city of Hodei­dah has been described by locals as a ​"mas­sacre." The airstrikes killed at least 55 civil­ians and left over 124 peo­ple injured, many of whom are fight­ing for their lives in health facil­i­ties that are bare­ly func­tion­al due to repeat­ed airstrikes and med­i­c­i­nal short­ages result­ing from the Saudi/UAE-imposed block­ade. What­ev­er ​"pro­tec­tions" U.S. law­mak­ers are extend­ing to Yemeni civil­ians, those pro­tec­tions did noth­ing to pre­vent this assault.
In response to inter­na­tion­al con­dem­na­tion of the airstrikes on civil­ians, the Sau­di-led coali­tion out­right denied any involve­ment, and blamed the attack on Yemen's Houthis. Colonel Tur­ki al-Mal­ki claimed that the coali­tion ​"fol­lows a strict and trans­par­ent approach based on the inter­na­tion­al law." In a war where atroc­i­ties have long been ignored or denied, how can the Unit­ed States and its allies be trust­ed to over­see coali­tion attacks?
That Con­gress should eas­i­ly pass a mon­u­men­tal mil­i­tary bud­get is not sur­pris­ing. After all, the Unit­ed States has been engaged in wars for most of its his­to­ry, and boasts mil­i­tary spend­ing that is more than the next sev­en coun­tries com­bined. What should cause pause, how­ev­er, is the pass­ing of such a mas­sive bud­get with­out con­crete pro­vi­sions that ensure the Unit­ed States does not con­tin­ue to be par­ty to appar­ent war crimes in Yemen. By includ­ing pro­vi­sions that allow midair refu­el­ing under cer­tain con­di­tions, Con­gress has effec­tive­ly con­tra­dict­ed an ear­li­er House res­o­lu­tion that acknowl­edges the Unit­ed States is at war in Yemen with­out con­gres­sion­al authorization.
Yeme­nis require much more than vague assur­ances and promis­es. What Yeme­nis need is for the Unit­ed States to end all its sup­port to the Sau­di-led coali­tion, which includes pulling out troops from the Sau­di-Yemen bor­der, end­ing all refu­el­ing mis­sions and tar­get­ing assis­tance, end­ing all mil­i­tary con­tracts involv­ing the train­ing of Sau­di mil­i­tary per­son­nel and the main­te­nance of mil­i­tary vehi­cles and air­craft, and end­ing all sales of weapons to Sau­di Ara­bia and the UAE. The Unit­ed States should end its uncon­sti­tu­tion­al war on Yemen, and Con­gress should not autho­rize mil­i­tary spend­ing that will undoubt­ed­ly serve to pro­long the same war some in Con­gress have been attempt­ing to end.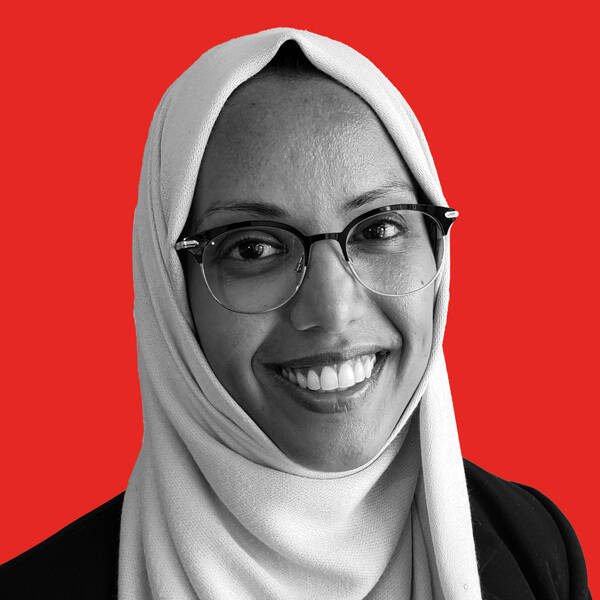 Shireen Al-Adei­mi
is an assis­tant pro­fes­sor of edu­ca­tion at Michi­gan State Uni­ver­si­ty. Hav­ing lived through two civ­il wars in her coun­try of birth, Yemen, she has played an active role in rais­ing aware­ness about the U.S.-supported, Sau­di-led war on Yemen since
2015
. Through her work, she aims to encour­age polit­i­cal action among fel­low Amer­i­cans to bring about an end to U.S. inter­ven­tion in Yemen.