Why Nancy Pelosi Needs to Sue the Trump Administration Over the Yemen War
Peace activists are urging lawmakers to step up their efforts to end the war.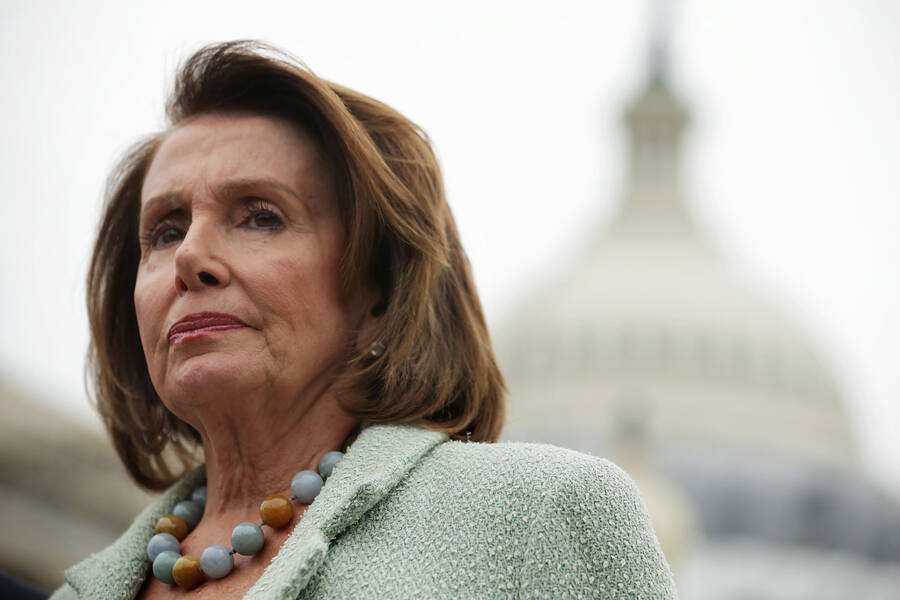 In four years, the U.S.-Saudi war in Yemen has killed over 70,000 peo­ple and starved at least 85,000 chil­dren to death. The U.S. mil­i­tary involve­ment in the war was launched by Pres­i­dent Barack Oba­ma and con­tin­ued by Pres­i­dent Don­ald Trump with­out con­gres­sion­al approval. ​"It remains the case that nei­ther Pres­i­dent Oba­ma nor Pres­i­dent Trump has actu­al­ly gained the con­sent of Con­gress with­in 60 days of engag­ing in hos­til­i­ties," Bruce Ack­er­man, con­sti­tu­tion­al law schol­ar and pro­fes­sor at Yale Law School, told In These Times, argu­ing this is ​"ille­gal under the War Pow­ers Resolution."
If Congress is unable to reassert its authority over war—a right granted by Article I, Section 8 of the Constitution—what measures are there to protect both the Constitution from the president and Yemeni civilians whose lives are disrupted or cut short by his senseless war?
After years of war, a small group of law­mak­ers in the House and Sen­ate final­ly suc­ceed­ed in pres­sur­ing Con­gress to reassert its con­sti­tu­tion­al pow­ers by pass­ing a bipar­ti­san bill that calls on the pres­i­dent to end the U.S. war in Yemen. Yet this his­toric mile­stone was vetoed by Trump in April, and now peace activists are regroup­ing and work­ing toward next steps for end­ing the war, insist­ing the strug­gle is far from over. They are call­ing on Con­gress — specif­i­cal­ly, House Speak­er Nan­cy Pelosi (D‑Calif.) — to act. Accord­ing to Jehan Hakim, founder of the Yemeni Alliance Com­mit­tee, which formed in the after­math of Trump's first Mus­lim ban, Con­gress must make it clear ​"that the Pres­i­dent does not have the author­i­ty to wage nev­er-end­ing wars."
An Uphill Battle
The War Pow­ers bill over­came its final hur­dle when it passed in the House on April 4 fol­low­ing a pre­vi­ous win in the Sen­ate. It invoked a fed­er­al law called the War Pow­ers Act of 1973, which allows Con­gress — not the Pres­i­dent — to wage war on anoth­er country.
This law was first invoked in Sep­tem­ber 2017 in the House by new­com­er Rep. Ro Khan­na (D‑Calif.) but was quick­ly stripped of its priv­i­leged sta­tus and replaced by a watered-down, non-bind­ing ver­sion. At the time, Khan­na tweet­ed, ​"They would have killed it com­plete­ly had we not com­pro­mised." Khan­na assem­bled a bipar­ti­san coali­tion con­sist­ing of Reps. Thomas Massie (R‑Ky.), Mark Pocan (D‑Wisc.), and the late Wal­ter Jones (R‑N.C.), who worked togeth­er despite numer­ous set­backs to final­ly pass the bill by April, not long after Rep. Jones' passing.
The War Pow­ers Act was also invoked in Feb­ru­ary 2018 in the Sen­ate by a bipar­ti­san coali­tion con­sist­ing of Sens. Bernie Sanders (I‑Vt.), Mike Lee (R‑Utah) and Chris Mur­phy (D‑Conn.), the lat­ter of whom began call­ing for an end to the U.S. inter­ven­tion in Yemen months after the war began under Obama's lead­er­ship. At first, the Act did not fare much bet­ter in the Sen­ate and was tabled short­ly after its intro­duc­tion in March 2018. When both the House and Sen­ate even­tu­al­ly over­came numer­ous hur­dles and passed the leg­is­la­tion in both cham­bers, it sig­ni­fied the first time Con­gress passed a War Pow­ers bill since it became fed­er­al law near­ly fifty years ago.
After this his­toric moment, Trump had the oppor­tu­ni­ty to end the U.S. government's bru­tal and sense­less war in Yemen. Instead, he vetoed the bill on April 16, ensur­ing that the U.S. would con­tin­ue to pro­vide intel­li­gence, train­ing, logis­ti­cal sup­port and oth­er forms of mil­i­tary sup­port to the Sau­di- and UAE-led coali­tion. This veto — which is the sec­ond of his pres­i­den­cy — sent the bill back to the Sen­ate for an over­ride attempt, where it failed to gar­ner the two-thirds major­i­ty need­ed for an override.
Essen­tial­ly, both Oba­ma and Trump were in vio­la­tion of a fed­er­al law, and when Con­gress final­ly passed a bill to rein­state its author­i­ty over the president's vio­la­tion of this law, the pres­i­dent vetoed its deci­sion. If Con­gress is unable to reassert its author­i­ty over war — a right grant­ed by Arti­cle I, Sec­tion 8 of the Con­sti­tu­tion—what mea­sures are there to pro­tect both the Con­sti­tu­tion from the pres­i­dent and Yemeni civil­ians whose lives are dis­rupt­ed or cut short by his sense­less war?
Next Steps
Has­san El-Tayyab, co-direc­tor of Just For­eign Pol­i­cy, an anti-war advo­ca­cy orga­ni­za­tion, told In These Times, ​"The War Pow­ers fight to us is not over." He and anti-war groups and activists are now pur­su­ing the option to direct­ly chal­lenge the legal­i­ty of Trump's veto by urg­ing House lead­er­ship and Speak­er Pelosi to file a law­suit against the Trump admin­is­tra­tion. Should the case be heard by the Supreme Court, it would be a ​"moment of truth for [Supreme Court] orig­i­nal­ists," says El-Tayyab. As both Jus­tices Kavanaugh and Gor­such are pro­po­nents of orig­i­nal­ism in their inter­pre­ta­tion of the Con­sti­tu­tion, El-Tayyab explains, their posi­tion will be test­ed by a law­suit chal­leng­ing Trump's veto on the basis that it vio­lates the Constitution.
There is prece­dent to lim­it­ing pres­i­den­tial pow­ers, Ack­er­man explains, as was the case in the Steel Seizure case of 1952 in which the Supreme Court pre­vent­ed Pres­i­dent Tru­man from car­ry­ing out his exec­u­tive order to seize the country's steel mills to avert a nation­wide strike. The author­i­ty of the Supreme Court to be the ​"ulti­mate defend­ers of checks and bal­ances," says El-Tayyab, ​"is crit­i­cal for defend­ing the Con­sti­tu­tion and the peo­ple of Yemen.'
The Steel Seizure case has been ​"reaf­firmed by [Jus­tice] Roberts him­self and the Court as recent­ly as 2015," explains Ack­er­man. He notes that, ​"the entire pur­pose of the [War Pow­ers] Act was to move the asser­tions of pres­i­den­tial war power…and to reaf­firm the foun­da­tion­al char­ac­ter of the Steel Seizure case." Thus, should the Court reject the actu­al mer­its of a case brought upon by Speak­er Pelosi against Trump's veto, Ack­er­man argues, it would ​"be a real turn­ing away from the Court's fun­da­men­tal respon­si­bil­i­ty to serve as the ulti­mate safe­guard of the con­sti­tu­tion­al system."
Hakim has been work­ing along­side El-Tayyab and Just For­eign Pol­i­cy to draft a let­ter to Speak­er Pelosi urg­ing her to chal­lenge the legal­i­ty of Trump's veto. ​"Her con­stituents and our com­mu­ni­ties are count­ing on [Pelosi] to make the war in Yemen a for­eign pol­i­cy pri­or­i­ty," says Hakim.
The call for Pelosi to chal­lenge Trump's veto through a law­suit is also gain­ing momen­tum in the legal com­mu­ni­ty. Bruce Ack­er­man and sev­er­al oth­er legal experts recent­ly sent Pelosi a let­ter urg­ing her to serve as a lead plain­tiff in a law­suit against Trump's veto of the War Pow­ers bill. As House major­i­ty leader, Pelosi has the strongest legal stand­ing to con­test Trump's veto by act­ing as lead plain­tiff in a poten­tial law­suit against Trump. ​"The rea­son why Pelosi is cen­tral to move for­ward," Ack­er­man explains, ​"is that if the court denies her the ​'People's House' stand­ing to vin­di­cate its expressed author­i­ty under Arti­cle 1 of the Constitution…the court would be legit­i­mat­ing pre­cise­ly the kind of actions that King George III engaged in." That is, this law­suit would be defend­ing a ​"core foun­da­tion­al prin­ci­ple of the Amer­i­can Rev­o­lu­tion" that pre­vents the pres­i­dent from exer­cis­ing ​"the war mak­ing pow­er of King George III," Ack­er­man adds.
In addi­tion to bring­ing forth a law­suit against Trump's veto of Con­gress' bill to end the war U.S.' role in the Yemen war, some advo­ca­cy groups are also seek­ing to defund the war through the 2020 Nation­al Defense Autho­riza­tion Act. This effort seeks to pre­vent intel­li­gence shar­ing, logis­tics and oth­er forms of direct U.S. sup­port while also sus­pend­ing all weapon sales to the Sau­di-led coalition.
In a yet-unpub­lished let­ter urg­ing Con­gress to sus­pend mil­i­tary aid to the Sau­di-UAE Coali­tion, orga­ni­za­tions such as Just For­eign Pol­i­cy, Win With­out War, the Yemeni Alliance Com­mit­tee and oth­ers are call­ing on Con­gress to ​"sus­pend the trans­fer, sale, and autho­riza­tion for license for export of defense arti­cles like­ly to be used in the war in Yemen" and ​"express­ly pro­hib­it any fur­ther U.S. assis­tance or sup­port for Yemen-relat­ed intel­li­gence shar­ing and logis­tics sup­port activ­i­ties to Sau­di Ara­bia or the Unit­ed Arab Emi­rates." Giv­en the extent of the U.S. sup­port for the Sau­di and UAE coali­tion — which may amount to war crimes—the defense bill could be a crit­i­cal and more com­pre­hen­sive step to end­ing atroc­i­ties com­mit­ted against the peo­ple of Yemen.
While these efforts are of imme­di­ate impor­tance, Hakim also empha­sizes the need for focus­ing on ​"polit­i­cal edu­ca­tion" as well as com­mu­ni­ty-build­ing and rais­ing aware­ness about the still ​"for­got­ten war" in Yemen. ​"It is when we march alone that our voic­es are muf­fled," says Hakim. ​"Through uni­ty and as a col­lec­tive, we gain more power."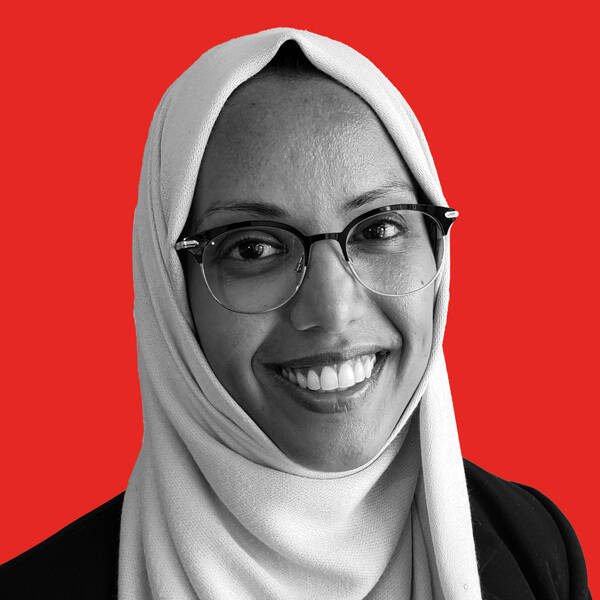 Shireen Al-Adei­mi is an assis­tant pro­fes­sor of edu­ca­tion at Michi­gan State Uni­ver­si­ty. Since 2015, she has played an active role in rais­ing aware­ness about the Sau­di-led war on her coun­try of birth, Yemen, and works to encour­age polit­i­cal action to end U.S. support.