Update: On Thurs­day, the Sen­ate passed a bipar­ti­san res­o­lu­tion, with a vote of 56 – 41, instruct­ing Pres­i­dent Don­ald Trump to end U.S. par­tic­i­pa­tion in the Sau­di-led war on Yemen
"Our only dream is that the war in Yemen ends."
On Wednes­day, the House faced a set­back when rep­re­sen­ta­tives vot­ed 206 – 203 to strip the House ver­sion of the War Pow­ers Res­o­lu­tion of priv­i­leged sta­tus, with the help of five Democ­rats. Despite the loss in the House, peace activists say the Sen­ate momen­tum is turn­ing against the war — and they're deter­mined to con­tin­ue the fight to end it.
Yet the Yeme­nis who have been liv­ing through near­ly four years of a dev­as­tat­ing U.S.-Saudi war do not get to par­tic­i­pate in these U.S. polit­i­cal debates — and are rarely heard in the Amer­i­can press.
The war is respon­si­ble for tak­ing the lives of at least 57,000 peo­ple and starv­ing to death near­ly 85,000 chil­dren under the age of five, accord­ing to a con­ser­v­a­tive esti­mate by Save the Chil­dren. With exten­sive mil­i­tary sup­port from the Unit­ed States, the war and block­ade, led by Sau­di Ara­bia and the Unit­ed Arab Emi­rates, have also led to the near col­lapse of the eco­nom­ic, health and edu­ca­tion­al sec­tors in Yemen, with half the pop­u­la­tion—14 mil­lion peo­ple — now fac­ing famine.
In These Times asked Yeme­nis in Yemen to describe to the Amer­i­can pub­lic their own expe­ri­ence of the war and analy­sis of the over­all sit­u­a­tion in Yemen, using a word or a sen­tence. Respons­es were over­whelm­ing, with near­ly 900 pub­lic replies to the tweet and dozens more direct mes­sages (WARN­ING: graph­ic pho­tos were also pro­vid­ed by many respondents):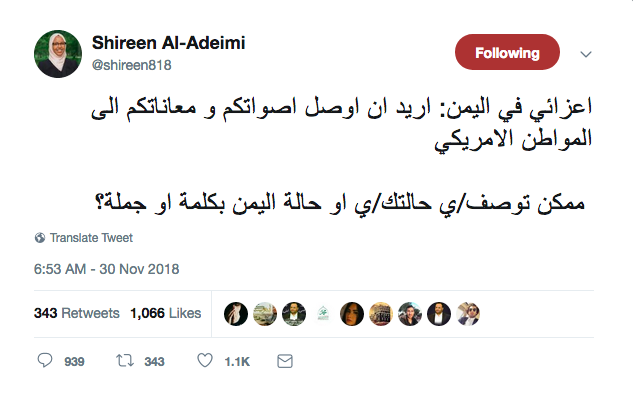 Most respon­dents tweet­ed about the impact of the war on their coun­try and its dev­as­tat­ing impact on their dai­ly lives, and I trans­lat­ed their tes­ti­monies from Ara­bic to Eng­lish. Below are the mes­sages of 100 Yeme­nis liv­ing in Yemen, in their own words.
Dr. Ammar Ali, a com­put­er spe­cial­ist liv­ing in Sana'a with his wife and two daugh­ters, not­ed that ​"the for­got­ten war in Yemen must be known to all." Moham­mad Lotf, an engi­neer also liv­ing in Sana'a with his wife and two boys, began with, ​"God is with us," a sen­ti­ment expressed by many respon­dents, along with his grat­i­tude to those who speak out against the war. ​"Thanks for every free voice and every one with a con­science who speaks out, defends, and rejects injus­tice and aggres­sion on Yemen," he wrote.
Respon­dents like Yas­meen Ali, a woman liv­ing in Sana'a, direct­ly addressed the Amer­i­can pub­lic: She tweet­ed, ​"Dear Amer­i­can peo­ple, we speak with you in the name of human­i­ty. Help us to stop the war in Yemen. Your great coun­try Amer­i­ca is the one that sells weapons to the Coali­tion to bomb Yemen. Your great coun­try is the one that gave the green light to strike Yemen." Oth­ers, such as Dr. Ashraf Alkeb­si, asked, ​"Why must the beau­ti­ful Amer­i­can dream turn our lives in Yemen into an ugly night­mare in the depths of hell?" Oth­ers also addressed the Amer­i­can pub­lic in their tweets:
Abdul­ghani Hus­sein: Your gov­ern­ment is killing us and the price of your wel­fare is our blood…

Abdul­salam Alwag­ih: Yeme­nis know very well that Amer­i­ca is the main dri­ver and the first part­ner in the aggres­sion on Yemen, and no mat­ter how it tries to improve its image through deceit and mis­lead­ing the media and call­ing for false peace, it will nev­er suc­ceed. Tell the Amer­i­cans that all the val­ues and prin­ci­ples they claim to uphold have been cheap­ly sold to the most despi­ca­ble of peo­ple, the Fam­i­ly of Saud and the Fam­i­ly of Nahyan.

Imran AlKa­fi: The sit­u­a­tion in Yemen is very des­per­ate. We need help. [There's] unem­ploy­ment and pover­ty and dis­ease with the siege. Yeme­nis are forced to live in pover­ty. Is there any assis­tance for Yeme­nis? Will you have mer­cy on them, O' you who have block­ad­ed them by land, sea and air? Relieve them of their pain. Relieve them of their sit­u­a­tion. Help them.

Gamal Asad: Tell the Amer­i­can peo­ple that their econ­o­my is built upon the blood of the inno­cent peo­ple of Yemen. Does this sat­is­fy them?!

Abu Nass­er: We have no place on this plan­et. Please tell them if they have dis­cov­ered life on anoth­er plan­et, allow us to live on any piece of it in peace.
Oth­ers addressed the inter­na­tion­al community's inac­tion — and com­plic­i­ty — regard­ing the suf­fer­ing of Yemen.
Abu Hus­sein Almuayyad: Hel­lo world. Do you still remem­ber Yemen? We are sor­ry to both­er you but we have to inform you that Sau­di-Amer­i­can jets bombed a pop­u­lar neigh­bor­hood, mas­sacring and wound­ing 28, all of whom are civil­ians, most­ly women and children.

Algriri: The world has lost human­i­ty towards the Yemeni people.

Jalal­addin: Yemen is the place that was once called the Hap­py Yemen but it is no longer hap­py after being bombed by Sau­di Ara­bia and its coali­tion. The chil­dren of Yemen die every moment because of hunger while bil­lions are spent to buy weapons that destroyed every­thing. The world does not see the tragedy of Yemen; we don't know why. We want noth­ing but the sov­er­eign­ty of [our] country!

Badr Alka­sm: Mon­ey and oil buys the world to destroy and kill Yemenis.

Ghaleb Alfaqih: All the world kills and besieges and invades a peo­ple in which the ele­ments of life have ceased.

Abdulka­reem Ali: The peo­ple live in pain because of the fail­ure of the inter­na­tion­al com­mu­ni­ty and its lack of inter­est in Yemen's hunger, dis­ease, insta­bil­i­ty and lack of salaries.

Enough wars, destruc­tion and con­flicts fueled by inter­na­tion­al actors. We want to live in dig­ni­ty like all human beings.

The worst tor­ment is to see your coun­try ruined in front of you while you're unable to do anything.
Some respon­dents tweet­ed short phras­es or words that cap­tured the human­i­tar­i­an night­mare they are liv­ing through. Sukaina, a com­mu­ni­ca­tions offi­cer for Save the Chil­dren in Yemen and a moth­er of a two-year-old, sim­ply not­ed, ​"Night­mare." Sim­i­lar­ly, Alsha­mi said, ​"Yemen is unwell," while Mohamed Alhe­m­yari, who says in his Twit­ter bio that he ​"speaks for the poor and oppressed," respond­ed with a series of words: ​"Death, hunger, fear, dis­ease, cold."
Nour: This isn't the life I deserve to live.

Zaid Al-Thairi: Human­i­tar­i­an tragedy.

Faisal AbuRas (in Eng­lish): Fed up. Our lives are difficult.

Abdul­lah bin Mohamed: Yemeni chil­dren are killed by epidemics.

Man­sour: Yemen has become a vast prison.

Rehana Sabr: Hunger.

Khaled Alaqel: The smell of death and destruc­tion is every­where. Suf­fer­ing, con­tin­ued hunger, and unemployment.

Yahya Solah: Yemen is slaugh­tered from vein to vein.

Bashir Alrayashi: Yeme­nis live between life and death.

Ahmed G. Almo­ham­mad: Yemen is miserable.

Ahmad Ghanem: They've destroyed [Yemen].
Among those who replied are peo­ple who have expe­ri­enced per­son­al loss. Ibrahim AbdulKa­rim, who lost his infant daugh­ter, Zainab, in a Coali­tion airstrike in 2015 and has since been look­ing for a lawyer to rep­re­sent his case against Sau­di Ara­bia and the UAE, not­ed, ​"Innu­mer­able crimes are com­mit­ted by Coali­tion air­craft against human beings and stone [alike]. Wide­spread famine and a suf­fo­cat­ing siege is killing 27 mil­lion women, chil­dren and the elder­ly. Chron­ic dis­eases are wide­spread, [all] with an Amer­i­can inter­na­tion­al cov­er for this crim­i­nal Coali­tion. This is the con­di­tion of the wound­ed Yemen." Ali AlShatha­mi respond­ed to the tweet with a heart­break­ing first­hand account of the day his fam­i­ly of 11 was bombed by the Coali­tion: ​"Per­son­al­ly, Sau­di and UAE air­craft struck my fam­i­ly, killing my chil­dren and my wife."
A num­ber of respon­dents under­scored their resilience in the face of such over­whelm­ing suf­fer­ing, and their resis­tance to for­eign occu­pa­tion. Ahmed Munif wrote, ​"Yemen refus­es sub­mis­sion and slav­ery. It upholds its right to live a good life like the rest of the world. What do the aggres­sors want from their unjust war?" Sim­i­lar­ly, Mohamed AbdulQud­dus, a writer and jour­nal­ist, wrote, ​"My beloved Yemen is in gen­er­al a state of leg­endary stead­fast­ness, despite the immense suf­fer­ing result­ing from the bru­tal mil­i­tary aggres­sion and the unjust siege imposed by the Coali­tion coun­tries 3 years and 7 months ago, which result­ed in the worst human­i­tar­i­an dis­as­ter in the world. More than 20 mil­lion peo­ple under the pover­ty line suf­fer from famine." Oth­ers tweet­ed along sim­i­lar themes of resis­tance to oppression:
Abu­jib­ril Alwazir: Yemen is still stead­fast and resis­tant after four years of unjust aggres­sion, despite the inten­si­ty of the mil­i­tary, eco­nom­ic and media war waged against it by the Amer­i­can and Sau­di régime.

Mohamad Al Sha­mi: Faith­ful, strong, stead­fast, defen­sive, hon­or, hope­ful for peace.

Alhas­san Alhomani: Yemen, despite the bomb­ing, hunger, and death, will remain proud, refus­ing the humil­i­a­tion and the break­ing of this unjust world.

Shi­hab Ismail Jahaf: Human Rights Coun­cil. UN Secu­ri­ty Coun­cil. Lies and non­sense. There are no human rights or inter­na­tion­al secu­ri­ty. We live in a jun­gle. The strong eat the weak. In con­clu­sion, we will defend our­selves or we shall die as mar­tyrs with pride.

Hamza Almawri: Resis­tance is accom­pa­nied by pain.

Zahra: Stead­fast­ness, patience and endurance amidst pover­ty and hunger and Coali­tion airstrikes and its destruc­tive war.
Hus­sam Al-San­a­bani, who penned an open let­ter last year urg­ing Amer­i­can law­mak­ers to end the war in Yemen, wrote, ​"Our lives have been destroyed, but we are still alive. We live with­out hope and we watch as human val­ues lose their mean­ing: democ­ra­cy, human rights, equal­i­ty, jus­tice … these words and oth­ers have become, in our view, an absurd pro­pa­gan­da, as ridicu­lous as describ­ing Mohammed bin Salman as a reformer." Like Al-San­a­bani, most respon­dents high­light­ed the immense human­i­tar­i­an suf­fer­ing expe­ri­enced by every­one liv­ing in Yemen. Tweet­ing in Eng­lish, Abdul­lah Tamesh wrote, ​"Urgent mes­sage. STOP THE WAR IN YEMEN." Oth­er tweets high­light­ing the human­i­tar­i­an toll are below:
Tweet­ing in Eng­lish, one per­son not­ed, ​"We lost our jobs. We can't com­plete our post­grad­u­ate edu­ca­tion. We need to live safe­ly and build our country."

Every­thing here is expen­sive except suf­fer­ing and sick­ness and pover­ty and death — [they're] for free.

The US-Sau­di coali­tion killed and mur­dered the Yemeni peo­ple and destroyed their property.

Hashim AlLahji: The hous­es were bombed upon the heads of their inhab­i­tants with Amer­i­can weapons and complicity.

Mustafa Almaghri­by: Yemen is war, killing and star­va­tion. Yemen is a real tragedy in the present world.

Saleh Alsarafi: Expen­sive liv­ing conditions.

Ali Abu Munqidh: The most impor­tant issue is the denial of salaries; [it's] the biggest crime against the Yemeni peo­ple. Imag­ine an employ­ee who has per­formed his duty in any field of ser­vice for forty or fifty years and in the end found him­self with­out a source of livelihood.

Yemeni chil­dren die of hunger, dis­ease and rock­ets due to US-Sau­di-Emi­rati alliance

Abdul­lah AlNasiri: Our sit­u­a­tion is mis­er­able nation­al and stolen every day it destroys tens of souls no free­dom we have no secu­ri­ty and no safe­ty we live

All the instru­ments of war are being tried in Yemen and on real peo­ple. There are so many vic­tims with­out any account for human rights. If a cit­i­zen is not killed by a weapon, he'll die of hunger or dis­ease or cold or psy­cho­log­i­cal con­di­tions. Yemen's peo­ple are sen­tenced to death, with­out exception.

Mohamad Ali Alma­mari (in Eng­lish): Yemen is going through the worst phase since it found famine, killing, dis­place­ment and oblit­er­at­ing some­thing called edu­ca­tion and health.

Najmaldin Alrafai: Yemen is sub­ject­ed to an unjust aggres­sion that kills civil­ians, destroys all ele­ments of life, occu­pies the land and loots wealth under false pretenses.

Zakarya Aljabree: …We live in fear and doubt, and we no longer find safe­ty in anything.

Nag­wa Ahmed: The Yemeni cit­i­zen is expe­ri­enc­ing the worst stag­na­tion in employ­ment and education.

Magd: The Sau­di aggres­sion on Yemen is fueled by the poor cit­i­zen and the spread of pover­ty, hunger, dis­ease and unemployment.

Abrhim: Yemen has become like an aban­doned land. No elec­tric­i­ty. No food. Only bomb­ing and killing and the coverup of those crimes by politi­cized media.

Ali Alya­mani: The Yemeni cit­i­zen suf­fers from the lack of elec­tric­i­ty, the lack of water, the lack of oil deriv­a­tives, dis­eases, espe­cial­ly malar­ia dengue fever.

Hus­sein Sar­rar: We are denied basic ser­vices, salaries and everything.

Um Hus­sein: The sit­u­a­tion is ter­ri­ble and peo­ple want to emigrate.

The human­i­tar­i­an sit­u­a­tion in Yemen has dete­ri­o­rat­ed — a total inter­rup­tion of salaries for over two years until cit­i­zens no longer find means of pur­chas­ing food.

Ali Alhasani: The Sau­di-Emi­rati-Amer­i­can Coali­tion has killed every­thing in Yemen.

Cit­i­zens suf­fer a slow death with­out salaries or work oppor­tu­ni­ties for over two years.

Faisal: Yemeni peo­ple are killed by bul­lets and starvation.

Abdul­rah­man Kohlani: Yemen suf­fers from a com­plete lack of food secu­ri­ty. The pur­chas­ing pow­er of the cur­ren­cy is also very weak due to the lack of oil exports and the ben­e­fit­ing from its rev­enues. Sau­di Ara­bia and the UAE are lead­ing their aggres­sion against Yemen under false pretexts…
Oth­ers, like Maha Nagi, an MBA stu­dent who now works in the human­i­tar­i­an sec­tor, could not find the words to express the suf­fer­ing: ​"Unfor­tu­nate­ly, the sit­u­a­tion can­not be described."
One per­son asked, ​"What have the Yemeni peo­ple done to deserve the killing and siege and star­va­tion and the great oppres­sion? What is the big crime that caused all these coun­tries to wage a third world war upon them, devour­ing the green and the land? What [crime] have Yeme­nis committed?"
Sim­i­lar­ly, Abo Yasen includ­ed a pic­ture of a smil­ing child and asked, ​"What did this child do for him to die in a raid and be under the rubble?"
ما اقترف هذا الطفل بان يموت بإحدى الغارات ويكون تحت الانقاض pic​.twit​ter​.com/​n​T​9​F​f​lkbD4

 — Abo Yasen (@aboyosef

0000111

) Decem­ber

1

,

2018
Respon­dents also used the word ​"geno­cide" to describe their condition:
Malek Hasan: In the war in Yemen, all laws were vio­lat­ed; the world ignored the geno­cide of the Yemeni peo­ple and con­sciences died.

Zaha: We call for an end to the Sau­di aggres­sion against the Yemeni peo­ple. We call for an end to the geno­cide of Yemeni chil­dren and women. We call for an end to the sale of con­ven­tion­al and non-con­ven­tion­al weapons to the bloody Sau­di régime We call for the boy­cotting of the Sau­di régime until it stops and ends the war and aggres­sion against Yemen.

Abu Ibrahim: Our chil­dren in Yemen are being killed by US-backed Sau­di planes. Those who sur­vive the mis­siles will die of hunger because of the siege. Yemen is being sub­ject­ed to genocide.
Many respon­dents ref­er­enced the aer­i­al, naval and land block­ade specif­i­cal­ly, and not­ed its dev­as­tat­ing impact on life in Yemen.
Alawi Farag: Sau­di Ara­bi­a's arbi­trary and inhu­mane prac­tices against the Yemeni peo­ple con­tin­ue unin­ter­rupt­ed­ly around the clock. The Coali­tion's prac­tices and its land, air, and naval block­ade for four years com­plete­ly con­tra­dict all inter­na­tion­al con­ven­tions, inter­na­tion­al human­i­tar­i­an law and all inter­na­tion­al protocols.

Abdu­laz­iz Dhai­ful­lah: Yemen defends its nation­al sov­er­eign­ty for the [right] to an inde­pen­dent polit­i­cal deci­sion and the lift­ing of the guardian­ship of the Fam­i­ly of Saud, the Fam­i­ly of Zayed and the Amer­i­can régime. They imposed a block­ade and tar­get­ed women and chil­dren. [They've com­mit­ted] ser­i­al crimes and moved the Cen­tral Bank to Aden, and cut salaries for the pur­pose of starv­ing and forc­ing the peo­ple into sub­mis­sion. Is it not our right to be free from for­eign guardianship?

Abunass­er Alsa­di (in Eng­lish): Yemen is suf­fer­ing from a land, sea and air block­ade, and no one can leave and food and med­i­cine enter through human­i­tar­i­an aid organizations

Aqlan: Lift your hands off Yemen. Lift your siege from the air­ports and ports.
Many spoke about the U.S. government's com­plic­i­ty in the war. One woman, Lames, not­ed, ​"The unfor­tu­nate sit­u­a­tion of Yemen is the biggest and most impor­tant con­se­quence of the true face of Amer­i­can pol­i­cy in the region and its ambi­tions. With­out the Amer­i­can sup­port for Sau­di Ara­bia and its allies, Yemen would have not reached this sit­u­a­tion." Anoth­er per­son echoed the wide­ly-held view that the war can­not con­tin­ue with­out U.S. sup­port: ​"If Amer­i­ca wants to stop the unjust war on Yemen, it will stop it with­in hours."
Abul­hus­sein Alsaqqaf: What can a U.S. cit­i­zen do when the U.S. admin­is­tra­tion decides to main­tain its [arms] deals with Sau­di in total dis­re­gard of human­i­tar­i­an principles?!

Abdulka­rim AlTa­ban: The White House is the one run­ning the war in Yemen and mak­ing it a test field for new U.S. mis­siles on the bod­ies of chil­dren and women.

Abdu Ali: All mem­bers of Con­gress in both cham­bers are well aware that the Coali­tion coun­tries in the war on Yemen have com­mit­ted extreme­ly heinous and ugly crimes. They them­selves are the mem­bers who vote to sell arms deals that com­mit such crimes.

Nour: The Amer­i­can gov­ern­ment sup­ports the crim­i­nals Al Saud and Al Zayed in the killing and siege of the Yemeni people.

Abdul­hameed Abdo: We've learned that [U.S.] par­tic­i­pa­tion with­out con­gres­sion­al autho­riza­tion is con­trary to the Con­sti­tu­tion. But it seems that the admin­is­tra­tion does not place any weight on this violation.

Abdul­lah Mufd­hil Alwazir: Our blood, for the Trump admin­is­tra­tion, is just arms deals. There is no val­ue for the human being at a time when you talk about ani­mal rights while you com­mit the most extreme ter­ror­ism against us.

Alham­di Muh­sen: Dogs tear the flesh of Yeme­nis. An unjust cru­el oppres­sion. Led by America.

Zakaria Amer (in Eng­lish): The Yemeni peo­ple live in very dif­fi­cult eco­nom­ic and human­i­tar­i­an con­di­tions, all due to the Amer­i­can sup­port for the Sau­di aggres­sion against the Repub­lic of Yemen.

Abu Qased AlSal­mi AlYafiee: Sau­di Ara­bia, the greater ISIS, and the ones who killed the Amer­i­cans. And the dis­as­ter is that Amer­i­cans are the ones who sup­port [this] and by all means for killing Yeme­nis. In oth­er words, Trump has become in the pock­et of the crim­i­nal bin Salman.

Amer­i­ca is the one who cre­at­ed this war, the siege, and slaugh­ter of Yemen.
Ref­er­enc­ing jour­nal­ist Jamal Khashoggi's mur­der, one woman not­ed, ​"Describe Yemen's sit­u­a­tion like that of Khashog­gi — every­day for four years, the Sau­di saw cuts it with U.S. sup­port in front of the world." Sim­i­lar­ly, Senan Alsai­di asked, ​"Do you want to know what's going on in Yemen? Look at the bru­tal­i­ty of the Sau­di régime's assas­si­na­tion of the jour­nal­ist Khashog­gi and you will know what is hap­pen­ing in Yemen close­ly. That bru­tal régime is sup­port­ed by the Amer­i­can government."
Final­ly, respon­dents dis­cussed their hopes, or lack there­of, for the future:
Abood: We are tired of war and destruc­tion. Enough shed­ding blood of the Yemeni people.

Dr. Ali Alzanm: Yemen needs a last­ing and gen­uine peace and the rebuild­ing of the nation on a nation­al basis that includes all Yeme­nis, and this will only be by the pres­sure of the major pow­ers on the coun­tries that have used Yemen as a field to set­tle their scores, and not for Yemen and Yemenis."

Our only dream is that the war in Yemen ends. Amer­i­can cit­i­zens are good peo­ple who are capa­ble of pres­sur­ing [the gov­ern­ment] to end the war. We will be grate­ful for their sym­pa­thy and assis­tance to us.

Abu Mohamed: We're liv­ing a tragedy. In some areas, there's no drink­ing water. We only want life.

Omar Alabasi: Peo­ple in South and North Yemen face hunger, pover­ty and unem­ploy­ment. There's noth­ing in Yemen oth­er than war. We want to stop the wars in Yemen. Peo­ple want peace. Peo­ple pay the price of wars. Enough destruc­tion. Enough war. There's no road to peace. Peo­ple are men­tal­ly, eco­nom­i­cal­ly, and moral­ly exhaust­ed of war.

Man­sour Alsaya­di: The future of youth is lost in the midst of their suffering.

Our present is a night­mare and our future is wasted.