Yes, Trump Is President. We Can't Compromise in the Fight Against Criminalization.
We can't leave survivor-defendants, like Bresha Meadows and others, behind.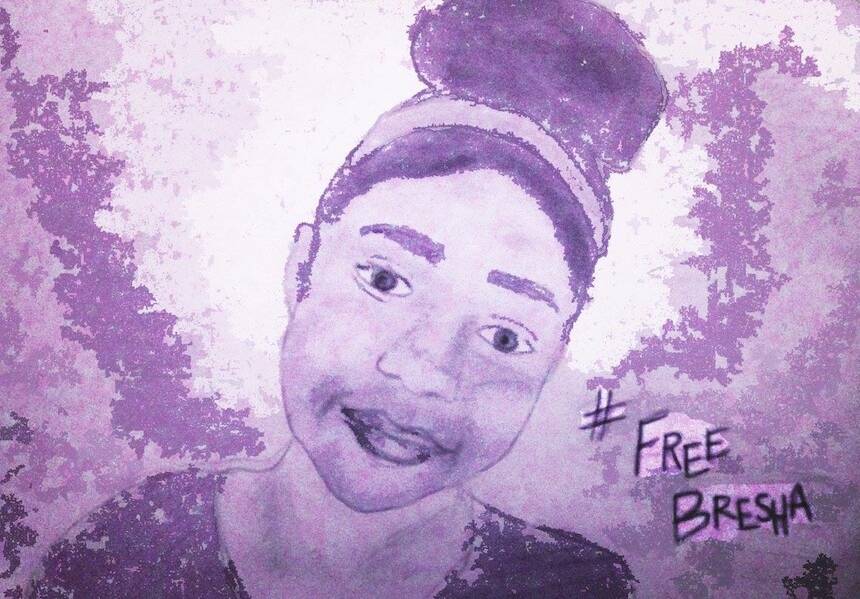 As Don­ald Trump is sworn in as the 45th Pres­i­dent of the Unit­ed States, a 15-year-old Black girl named Bre­sha Mead­ows will be fight­ing for her free­dom in Ohio.
As we organize to end mass criminalization, the focus of our analyses and messaging should not be on who "deserves" freedom, but on the destructive social conditions that rely on punishment, scarcity and control to give rise to a prison nation.
Bre­sha alleged­ly killed her abu­sive father to defend her­self and her fam­i­ly. As Trump is inau­gu­rat­ed on Jan­u­ary 20, Bre­sha will stand before a judge as her lawyers make a motion for her release on her own recog­ni­zance. When this twice-post­poned hear­ing final­ly occurs, Bre­sha will have spent 175 days in jail await­ing a tri­al. Few will be pay­ing atten­tion to Bresha's plight as all eyes and ears turn to D.C. We hope that this is not a metaphor for what's to come when Trump ascends to power.
Trump's rhetoric and Cab­i­net choic­es make it clear that his admin­is­tra­tion will be a per­ilous and even dead­ly one for many. Dur­ing his cam­paign speech­es to over­whelm­ing­ly white crowds, Trump iden­ti­fied him­self as the ​"law and order can­di­date," code com­mon­ly used by politi­cians as a racist appeal to white vot­ers. He reg­u­lar­ly char­ac­ter­ized poor Black neigh­bor­hoods as law­less, ​"crime-infest­ed" spaces in need of law enforce­ment inter­ven­tion. His selec­tion of Jeff Ses­sions as his attor­ney gen­er­al is in line with his racist rhetoric.
On the eve of his inau­gu­ra­tion, we think that it's crit­i­cal to ask what impact Trump will have on the crim­i­nal pun­ish­ment sys­tem — and in par­tic­u­lar, on crim­i­nal­ized sur­vivors of vio­lence like Bre­sha. We must care­ful­ly con­sid­er how to orga­nize around prison and crim­i­nal legal issues in this new con­text. There will be a scram­ble to pri­or­i­tize issues that need our atten­tion and advo­ca­cy. It's impor­tant that the expe­ri­ences of crim­i­nal­ized sur­vivors of domes­tic and sex­u­al vio­lence not be lost in the shuffle.
Accord­ing to the ACLU, near­ly 60 per­cent of peo­ple in women's pris­ons nation­wide, and as many as 94 per­cent of some women's prison pop­u­la­tions, have a his­to­ry of phys­i­cal or sex­u­al abuse before being incar­cer­at­ed. These num­bers are high because sur­vivors are sys­tem­at­i­cal­ly pun­ished for tak­ing action to pro­tect them­selves and their chil­dren while liv­ing in unsta­ble and dan­ger­ous con­di­tions of vio­lence. Sur­vivors are crim­i­nal­ized for self-defense, fail­ing to con­trol abusers' vio­lence, migra­tion, remov­ing chil­dren from abu­sive peo­ple, being coerced into crim­i­nal­ized activ­i­ty, and secur­ing resources need­ed to live day to day while suf­fer­ing eco­nom­ic abuse.
On Jan­u­ary 27, Maris­sa Alexan­der, a black moth­er and domes­tic vio­lence sur­vivor who was impris­oned for sav­ing her own life by fir­ing a warn­ing shot to pro­tect her­self from her abu­sive hus­band, will final­ly be released from house arrest. It's fit­ting that these mile­stones in Bresha's and Marissa's cas­es are with­in a week of each oth­er and over­lap with the inau­gu­ra­tion of Don­ald Trump, who has made it clear that his admin­is­tra­tion will be hos­tile to many mar­gin­al­ized pop­u­la­tions, includ­ing women.
Domes­tic vio­lence is a cru­cial part of Bresha's and Marissa's paths to crim­i­nal­iza­tion. This is impor­tant because both cas­es rep­re­sent a chal­lenge to fem­i­nist anti-vio­lence efforts that have become inter­twined with the crim­i­nal pun­ish­ment appa­ra­tus through advo­cat­ing for pro-crim­i­nal­iza­tion poli­cies that endan­ger sur­vivors (such as manda­to­ry arrest laws), estab­lish­ing uncrit­i­cal part­ner­ships with police and pros­e­cu­tors (even as peo­ple across the coun­try orga­nize against police vio­lence), and fail­ing to advo­cate and orga­nize for sur­vivors tar­get­ed for pros­e­cu­tion. Will orga­ni­za­tions that address gen­der-based vio­lence re-eval­u­ate their rela­tion­ships with an empow­ered police state under Trump?
The cas­es of Bre­sha, Maris­sa and oth­er crim­i­nal­ized sur­vivors demand that our cri­tiques of pris­ons, jails and deten­tion cen­ters reflect a com­pre­hen­sive under­stand­ing of the ways in which gen­der vio­lence, racism, home­less­ness, lack of health­care, dis­abil­i­ty and pover­ty have fueled the rise of our prison nation. Dur­ing the Oba­ma era, we have seen an increase in cri­tiques of pris­ons and polic­ing, but those cri­tiques often rely on an excep­tion­al­ist nar­ra­tive that argues for the release of pris­on­ers who are deemed most deserv­ing of free­dom, such as ​"non-vio­lent drug offend­ers." It will be even more tempt­ing for some advo­cates and orga­niz­ers, in try­ing to cur­ry favor with this new Trump admin­is­tra­tion, to shy away from dis­cus­sions about the need to free peo­ple who have been con­vict­ed of vio­lent offens­es. This would be a mis­take if we are seri­ous about advanc­ing a pro­gram of decarcer­a­tion and about push­ing for an end to pro­found­ly vio­lent sys­tems of punishment.
Orga­niz­ing cam­paigns that might only focus on non-vio­lent offens­es would also nec­es­sar­i­ly exclude peo­ple like Bre­sha and Maris­sa. This strat­e­gy pre­sumes that peo­ple who are con­vict­ed of a ​"vio­lent crime" do not deserve to be free, in which case sur­vivors like Bre­sha and Maris­sa who are crim­i­nal­ized for self-defense will be aban­doned. An excep­tion­al­ist frame­work is also pre­sumed to be the most prag­mat­ic approach for reform, but free­ing only ​"non-vio­lent offend­ers" is in no way prag­mat­ic for Bre­sha and Maris­sa, among oth­ers. Excep­tion­al­ist argu­ments also entrench, rather than weak­en, sys­tems of pun­ish­ment because they rein­force the legit­i­ma­cy of pris­ons for every­one else. As we orga­nize to end mass crim­i­nal­iza­tion, the focus of our analy­ses and mes­sag­ing should not be on who ​"deserves" free­dom, but on the destruc­tive social con­di­tions that rely on pun­ish­ment, scarci­ty and con­trol to give rise to a prison nation.
The defense cam­paigns that we have co-found­ed and sup­port­ed over the years have insist­ed that pris­ons are fun­da­men­tal­ly vio­lent, not just for some, but for all. Our orga­niz­ing strate­gies must be bold­er than the insti­tu­tions that we are chal­leng­ing. It will be tempt­ing for some on the Left to demand less dur­ing the Trump era. It will be seduc­tive to cur­tail our visions of free­dom to secure crumbs. We say that now, as ever, is the time to be fear­less, vision­ary and demand what we actu­al­ly want, not just what we think we can achieve in a con­text of state repres­sion and violence.
On Thurs­day, Jan­u­ary 19, we invite every­one to join a Nation­al Day of Action to #Free­Bre­sha. This day of action will be fol­lowed by a week of atten­tion to oth­er crim­i­nal­ized sur­vivors, includ­ing Ny Nourn, Ras­mea Odeh, Alisha Walk­er, Ky Peter­son, Ton­dalao Hall, Kel­ly Ann Sav­age and Maris­sa Alexan­der. For more infor­ma­tion, please vis­it free​bre​sha​.com and sur​vivedand​pun​ished​.org.