Zuckerman Gives Hoffa a Run for His Money in Squeaker of a Teamsters Vote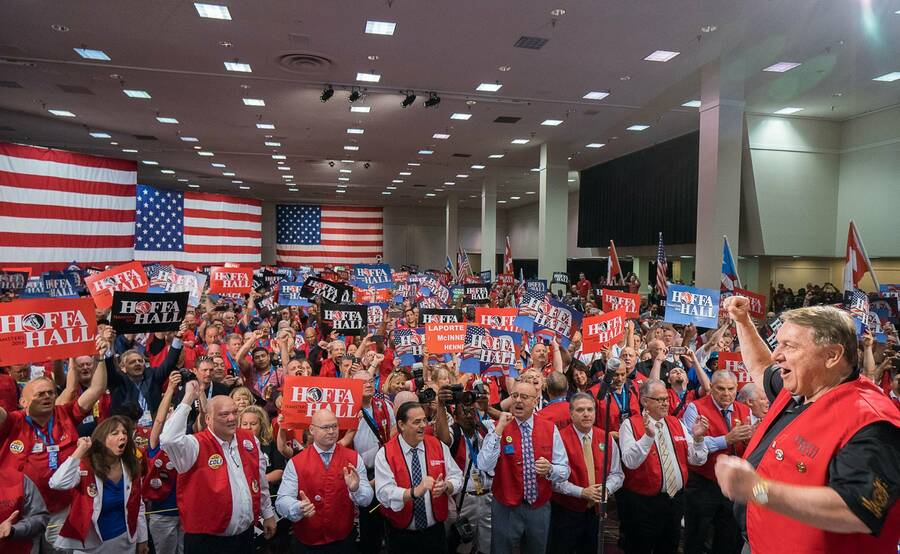 Team­sters Pres­i­dent James P. Hof­fa appears to be head­ed for a nar­row vic­to­ry in his bid for elec­tion to a fifth term as head of the 1.3 mil­lion-mem­ber union. Unof­fi­cial vote totals show him beat­ing chal­lenger Fred Zuck­er­man with an esti­mat­ed 100,000 votes, com­pared to some 95,000 votes for Zuckerman.
The tal­ly was a lot clos­er than most observers thought like­ly and shows the lev­el of divi­sion with­in the Inter­na­tion­al Broth­er­hood of Teamsters.
Offi­cial results will be announced fol­low­ing the res­o­lu­tion of chal­lenges relat­ed to uncount­ed bal­lots, accord­ing Richard Mark, head of the Office of the Elec­tion Super­vi­sor, an inde­pen­dent agency charged with ensur­ing a fair elec­tion process. Mark told In These Times that the office had received a total of 211,635 bal­lots, but that some had been ruled inel­i­gi­ble because the vot­er was not paid up in union dues, or for oth­er tech­ni­cal issues.
Many of Hoffa's trust­ed lieu­tenants also appear to be head­ed for re-elec­tion, includ­ing Sec­re­tary-Trea­sur­er Ken Hall. How­ev­er, a strong show­ing by the Zuck­er­man slate of anti-Hof­fa can­di­dates in the union's South­ern and Cen­tral divi­sions trans­lat­ed into vic­to­ries by Zuck­er­man-allied chal­lengers for six vice pres­i­dent positions.
Zuck­er­man released a state­ment Thurs­day that offered a par­tial con­ces­sion but also said that his side has filed elec­tion protests and will pur­sue every avail­able legal rem­e­dy. It read, it part:
"As the bal­lots were tal­lied this week, we shocked the employ­ers and Hof­fa-Hall slate and won the major­i­ty of the vote from Team­sters in the Unit­ed States. Hof­fa-Hall over­took our lead when Team­sters Cana­da bal­lots were counted.

Tomor­row, the Elec­tion Supervisor's office will start to resolve the bal­lots that were chal­lenged because of eli­gi­bil­i­ty issues.

The Inter­na­tion­al Union vote count is near­ing a close. The fight for our future is just beginning."
Pre­lim­i­nary vote totals indeed show that Zuck­er­man won more votes among U.S. mem­bers and was lead­ing by near­ly 800 votes before the Cana­di­an bal­lots were count­ed. But the Cana­di­an vote went heav­i­ly in Hoffa's favor, about 9,500 to 2,900.
Hof­fa showed his great­est strength in the union's East­ern divi­sion, where he defeat­ed Zuck­er­man 33,373 to 26,573. He also won the West­ern divi­sion 23,636 to 18,069. Zuck­er­man won the Cen­tral divi­sion, 36,736 to 26,135, and the South­ern divi­sion, 10,789 to 8,228.
In a recent inter­view with In These Times, Zuck­er­man said he'd been cam­paign­ing unof­fi­cial­ly for more than two years, and that vic­to­ry would depend on the abil­i­ty of the chal­lengers to increase vot­er turnout among mem­bers. But turnout fell from the last pres­i­den­tial elec­tion in 2011, when more than 250,000 mem­bers sent in ballots.
Elec­tion super­vi­sor Mark said he did not expect a final, cer­ti­fied vote to be pub­lished until Jan­u­ary 2017. He said it typ­i­cal­ly takes sev­er­al weeks to resolve out­stand­ing chal­lenges and issues. In no pre­vi­ous case has a pres­i­den­tial elec­tion result been altered by the process of final­iz­ing the ini­tial results, Mark said.
Bruce Vail
is a Bal­ti­more-based free­lance writer with decades of expe­ri­ence cov­er­ing labor and busi­ness sto­ries for news­pa­pers, mag­a­zines and new media. He was a reporter for Bloomberg BNA's Dai­ly Labor Report, cov­er­ing col­lec­tive bar­gain­ing issues in a wide range of indus­tries, and a mar­itime indus­try reporter and edi­tor for the Jour­nal of Com­merce, serv­ing both in the newspaper's New York City head­quar­ters and in the Wash­ing­ton, D.C. bureau.