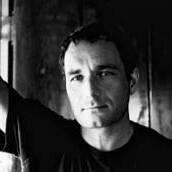 Chris­t­ian Par­en­ti
is an Amer­i­can inves­tiga­tive jour­nal­ist and author. His books include:
Lock­down Amer­i­ca: Police and Pris­ons in the Age of Cri­sis
(
2000
), a sur­vey of the rise of the prison indus­tri­al com­plex from the Nixon through Rea­gan eras and into the present;
The Soft Cage: Sur­veil­lance in Amer­i­ca From Slav­ery to the War on Ter­ror
(
2003
), a study of sur­veil­lance and con­trol in mod­ern soci­ety; and
The Free­dom: Shad­ows and Hal­lu­ci­na­tions in Occu­pied Iraq
(
2004
), an account of the U.S. occu­pa­tion in Iraq. Par­en­ti has also report­ed from Afghanistan, Iraq, Venezuela, and Bolivia.
Congo's landscape of forgetting