In Search of Lumumba
Congo's landscape of forgetting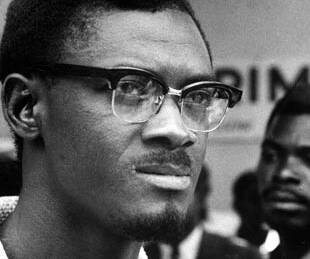 Kin­shasa lies on the flat banks of the Riv­er Con­go like a dis­solute mis­tress in repose – slow and hag­gard, but with a dig­ni­ty and washed-out beau­ty. Most of the city is made up of ​"le Cite," the huge slum metrop­o­lis that makes up almost two-thirds of this city of 7 mil­lion. The land­scape is an alter­nate­ly dusty and mud­dy sprawl of dense shanties that seem to stretch for­ev­er. Here, grub­by white egrets and lizards – rather than pigeons and rats – dom­i­nate the smol­der­ing trash heaps.
How­ev­er, on the tree-lined boule­vards of the crum­bling down­town, one feels the essence of mod­ern Con­golese his­to­ry. It's a sto­ry of bru­tal­ly uneven devel­op­ment that, after the opti­mistic moment of African de-col­o­niza­tion that began with Ghana's inde­pen­dence in 1957 and swept across the con­ti­nent, lead­ing to Congo's inde­pen­dence three years lat­er, was then arrest­ed and erod­ed by klep­toc­ra­cy and war.
Kinshasa's archi­tec­ture is frozen in the his­tor­i­cal amber of that peri­od, when the Cen­tral African coun­try won inde­pen­dence from Bel­gium in 1960. It was the time when its first-elect­ed, left-wing Prime Min­is­ter Patrice Lumum­ba gov­erned and pro­vid­ed hope, if noth­ing else.
Who knows what Lumum­ba would have become? He leaned toward social­ism and, when spurned by the West, turned to the Sovi­ets for mil­i­tary sup­port. Some accounts from West­ern jour­nal­ists and diplo­mats por­tray him as impul­sive and errat­ic. Maybe he would have devolved into cor­rup­tion and mega­lo­ma­nia like so many oth­er lead­ers who began their pub­lic careers close to the peo­ple, but then drift away.
As it was, the brave Lumum­ba, only 36 when he was killed, became a sym­bol of Pan-African­ism and Third World polit­i­cal hope. He was one of the few Con­golese to have stud­ied abroad – a mea­sure of how the Bel­gians had enforced illit­er­a­cy and con­fu­sion upon their colo­nial subjects.
Today, life in the Demo­c­ra­t­ic Repub­lic of the Con­go is hard: too often marked by star­va­tion, dis­ease, refugees, ban­dit­ry, war and oth­er unspeak­able vio­lence. The last decade of for­eign inva­sions and civ­il war has killed 4 mil­lion peo­ple in the Con­go, most­ly from atten­dant dis­ease, accord­ing to the Inter­na­tion­al Res­cue Com­mit­tee. Congo's cri­sis finds its ulti­mate caus­es in colonialism's deep wounds – the vio­lence of the slave trade and Bel­gian humil­i­a­tion and bru­tal­i­ty. But it also relates to the over­throw of Lumumba.
A messy start
Post-colo­nial rela­tions got off to a bad start. On June 30, 1960, at Congo's Inde­pen­dence Day cel­e­bra­tions, the Bel­gian King Bau­douin I adopt­ed a con­de­scend­ing and self-con­grat­u­la­to­ry tone. Enraged, the young, black prime min­is­ter, Lumum­ba, coun­tered with an impromp­tu speech that dis­abused the king and oth­er Bel­gians of any notion that colo­nial rule had been a benef­i­cent affair.
"We have wit­nessed," he said, ​"atro­cious suf­fer­ings of those con­demned for their polit­i­cal opin­ions or reli­gious beliefs, exiled in their own coun­try, their fate tru­ly worse than death itself." Lumum­ba con­tin­ued: ​"We have seen that … a black trav­eled in the holds, at the feet of the whites in their lux­u­ry cab­ins. Who will ever for­get the mas­sacres where so many of our broth­ers per­ished, the cells into which those who refused to sub­mit to a régime of oppres­sion and exploita­tion were thrown?"
The Bel­gian del­e­ga­tion was hor­ri­fied. And Bel­gian busi­ness inter­ests were wor­ried they would lose their mines and plan­ta­tions. A few days lat­er, the Con­golese mil­i­tary mutinied, then a Bel­gian-foment­ed seces­sion broke out in the min­er­al-rich south­ern province of Katan­ga. Lumum­ba strug­gled to regain con­trol, but was deposed and arrest­ed only three months later.
It began mess­i­ly, as these things always do. Pres­i­dent Joseph Kasavubu dis­missed Lumum­ba. But this was not nec­es­sar­i­ly a legal maneu­ver, and Lumum­ba refused to rec­og­nize the edict. Then on Sept. 14, Defense Min­is­ter Joseph Désiré Mobu­tu Sese Seko, staged a coup d'etat that was backed by the CIA and sev­er­al Euro­pean powers.
At first, Lumum­ba was placed under house arrest. After four months, dur­ing which time polit­i­cal chaos and spo­radic vio­lence took hold of the Con­go, he was ​"allowed" to escape and then fall into the hands of seces­sion­ist forces that beat and shot him to death in the pres­ence of Bel­gian offi­cers. Doc­u­ments now show that the mur­der, like the coup, took place with tac­it West­ern backing.
The West feared that Lumum­ba would expro­pri­ate for­eign cap­i­tal­ists and attempt to use the Congo's tremen­dous nat­ur­al wealth for the ben­e­fit of its peo­ple. And when, at the height of the cri­sis in the sum­mer of 1960, Lumum­ba asked for Sovi­et mil­i­tary sup­port and received it, well, that was the last straw. The CIA had drawn up assas­si­na­tion plans of its own, and Pres­i­dent Dwight D. Eisen­how­er and British Prime Min­is­ter Harold Macmil­lan had dis­cussed the need to get rid of Lumum­ba. Bel­gian indus­tri­al­ists and the Bel­gian gov­ern­ment were also both sep­a­rate­ly back­ing anti-Lumum­ba forces. The full sto­ry of this sor­did impe­r­i­al sub­terfuge is laid out in Ludo De Witte's The Assas­si­na­tion of Lumum­ba.
After five years of shar­ing pow­er with Pres­i­dent Kasavubu and play­ing along with the cha­rade of con­sti­tu­tion­al gov­ern­ment, Mobu­tu staged a sec­ond blood­less coup and declared him­self the sole polit­i­cal leader. He reigned as Congo's absolute ruler from 1965 to 1997, in that time pul­ver­iz­ing not only the Con­golese econ­o­my and infra­struc­ture, but also its intel­lec­tu­al life.
Fire in his wake
Lumum­ba is remem­bered the world over as an icon of African inde­pen­dence. But how is he thought of here in the Con­go after three decades of Mobutu?
Near the Kin­shasa air­port there is a stat­ue of Lumum­ba, but when I talk to the Con­golese peo­ple, they recall Lumum­ba in a frag­ment­ed fash­ion – if at all.
"He was our first pres­i­dent," says a handy­man at a Catholic mission.
"He became a com­mu­nist," offers one student.
"There is a uni­ver­si­ty named for him," says a driver.
My friend Tshiba­su Dieudonne, who teach­es Eng­lish at a Jesuit high school, explains why I'm nev­er able to get a clear answer on who Lumum­ba was. ​"There is no polit­i­cal cul­ture here," Tshiba­su says.
I ask: ​"Did they teach much his­to­ry under Mobutu?"
"No," says Tshiba­su. ​"Only about Mobu­tu, his fam­i­ly, his life.
"The cur­rent Prime Min­is­ter Antoine Gizen­ga is a Lumum­baist," explains Tshiba­su. ​"But he is an old man. The pres­i­dent just gave him the job." When I asked whether that meant the prime min­is­ter is a social­ist, Tshiba­su respond­ed with an avun­cu­lar, ​"No, no, not like that."
Dic­ta­tor­ships have a way of scram­bling people's mem­o­ries. And many dic­ta­tors them­selves tend to both repress and embrace the cul­ture of their vic­tims. (When Iraqi Pres­i­dent Sad­dam Hus­sein was killing Kurds, he would often dress in tra­di­tion­al Kur­dish attire and vis­it Kurdistan.)
The son of a cook, Mobu­tu became a non­com­mis­sioned offi­cer in the Bel­gian colo­nial mil­i­tary, le Force Publique. Before inde­pen­dence, Mobu­tu stud­ied in Bel­gium where he met Lumum­ba and was, at first, one of the prime minister's allies.
After gain­ing pow­er, Mobu­tu stole wild­ly, exploit­ed his peo­ple, mur­dered his ene­mies and ser­viced U.S. and West­ern agen­das, most notably by sup­port­ing the anti-com­mu­nist Angolan forces of UNI­TA (the Nation­al Union for the Total Inde­pen­dence of Angola).
Yet Mobutu's régime swathed itself in a pseu­do rad­i­cal­ism, a more-African-than-thou nation­al­ism. He out­lawed wigs and West­ern suits, and expro­pri­at­ed many large Euro­pean-owned com­pa­nies, giv­ing them away to friends in his par­ty, the Pop­u­lar Rev­o­lu­tion­ary Movement.
In 1966, Mobu­tu offi­cial­ly ​"reha­bil­i­tat­ed" Lumum­ba, which meant that, instead of being con­demned or ignored, the mem­o­ry of the mar­tyred prime min­is­ter was now woven into the nation­al mythology.
Then in 1971, in a ​"recourse to authen­tic­i­ty," as Mobu­tu put it, he African­ized his name, those of many towns and renamed the coun­try Zaïre. His new name became Mobu­tu Sese Seko Nkuku Ngben­du wa Za Ban­ga, mean­ing ​"the all pow­er­ful war­rior who goes from con­quest to con­quest, leav­ing fire in his wake."
Kim Jong … Kabila?
In a traf­fic cir­cle near Kinshasa's cen­tral bank stands a three-sto­ry high stat­ue of the late Pres­i­dent Lau­rent Kabi­la, who was a for­mer ally of Lumum­ba and a Marx­ist guer­ril­la. Kabi­la fought against Mobu­tu for two decades. Dur­ing the ​'80s, he dis­ap­peared into Ugan­da, turn­ing into a dia­mond smug­gler. In 1997, Kabi­la was back, installed as pres­i­dent by invad­ing Rwan­dan and Ugan­dan troops, to fill the vac­u­um after Mobu­tu died of cancer.
From the neck down, the Kabi­la mon­u­ment looks strange­ly like Kim Jong Il: bag­gy uni­form, creased pants, the raised arm, a lit­tle book in his left hand. From the neck up, the stat­ue is the thick, grim bald mug of Lau­rent Kabi­la (his son Joseph is the cur­rent pres­i­dent). ​"The body was made in North Korea," explains my dri­ver Felix. In oth­er words, the body is Kim Jong Il's, but with a fat, scowl­ing Kabi­la head sim­ply weld­ed on.
Kabi­la – the man and the stat­ue – embod­ies the dis­in­te­gra­tion of polit­i­cal thought and pro­gres­sive pol­i­tics in the Con­go. His sad his­to­ry is part of how Lumum­ba is simul­ta­ne­ous­ly remem­bered and forgotten.
In 1965, Che Gue­vara and 150 Cuban vol­un­teers joined Kabi­la on the west­ern shores of cen­tral Africa's Lake Tan­ganyi­ka. Che's diaries from that ​"lost year" offer a bizarre tale: He came for social­ist rev­o­lu­tion and found pet­ty war­lords, witch­craft and peas­ants large­ly detached from the world's cap­i­tal­ist sys­tem. Che described Kabi­la as ​"cor­dial but aloof." Kabila's men were thug­gish and lazy. Their adver­saries, mer­ce­nar­ies led by Mike Hoare, the infa­mous Anglo-Irish maraud­er and for­mer British mil­i­tary cap­tain, were thug­gish and not lazy.
After 32 years of Mobu­tu, Kabi­la re-launched the for­mer dictator's cor­rupt clien­tal­ism. He even retained the old dictator's PR man. In 2000, some of Kabila's dis­grun­tled child sol­diers assas­si­nat­ed their leader and he was suc­ceed­ed by his son, who now rules with a sim­i­lar com­bi­na­tion of cor­rup­tion and violence.
Hell on earth
Today, the east­ern Con­go is a hell on earth. In the lush moun­tains out­side the city of Goma, U.N. troops and the nation­al army, such as it is, face off against an array of com­pet­ing mili­tias. Among them are Gen. Nkunda's Tut­si forces; ele­ments of the old Hutu Interuwa­ma of Rwan­da (the FDLR) that fled into the Con­go after their country's geno­cide in 1994; and fur­ther north are the Mai Mai, some of whom began as Lumum­baists. They fight naked, pro­tect­ing them­selves against ene­my bul­lets by wash­ing in water.
Rwan­da and Ugan­da sup­port some of these mili­tias and receive a steady flow of lum­ber, gold, coltan and dia­monds in exchange. Both coun­tries export these prod­ucts in amounts that far exceed their own nat­ur­al sup­plies. This makes local elites rich and helps the gen­er­al devel­op­ment of their economies.
In late August when I vis­it­ed Goma, armed men killed 10 of Congo's remain­ing 170 moun­tain goril­las in the near­by Virun­ga Nation­al Park. The ani­mals were not poached, but sim­ply mur­dered. Sus­pi­cion set­tled on Nkunda's men. As for humans, a band of Mai Mai raid­ed a vil­lage and sys­tem­at­i­cal­ly raped scores of women. The Inter­na­tion­al Cri­sis Group esti­mates that in the last year ​"over 370,000 civil­ians have been dis­placed in the province" and that through­out the Con­go ​"over 1,000 peo­ple con­tin­ue to die each day from con­flict-relat­ed caus­es, most­ly dis­ease and mal­nu­tri­tion but ongo­ing vio­lence as well." Short­ly after my vis­it, Ebo­la hit the area.
This lev­el of hor­ror demands expla­na­tion. Mere­ly to describe the sit­u­a­tion risks acqui­es­cence to racist myths. But there's a direct line from the rise of the slave trade that con­tin­ues to the present. Start­ing in the late 15th cen­tu­ry, the Por­tuguese maraud­ed in from the west coast while ​"Arabs" (real­ly Mus­lim Africans) from Zanz­ibar raid­ed from the east.
As an indus­try, steal­ing bod­ies required meth­ods akin to total war: vil­lages anni­hi­lat­ed, the old and the young slaugh­tered, the work­ing age car­ried off in chains. The raiders sus­tained them­selves by killing off wildlife and when nec­es­sary, smok­ing and eat­ing human flesh.
Belgium's King Leopold II invoked these hor­rors to jus­ti­fy his ​"human­i­tar­i­an inter­ven­tion" in the late 19th cen­tu­ry. He promised that his Con­go Free State would stamp out slav­ery. In real­i­ty, the slav­ing par­ties sim­ply mor­phed into the colo­nial mili­tias, now in ser­vice of the rapa­cious sta­tion chiefs of Leopold's Free State work­ing to extract ivory and rub­ber from the population.
Among the most famous of these colo­nial-era ter­ror­ists was Tip­pu Tip. His pri­vate army's meth­ods includ­ed mass mur­der, rape, muti­la­tion and can­ni­bal­ism. Soon these mili­tias were trans­formed into the uni­formed Force Publique, the colo­nial-era para­mil­i­tary police. This in turn became Mobutu's army and, with his fall, his sol­diers seed­ed the militias.
And here they are, still, in their rag­tag fatigues, car­ry­ing Kalash­nikov rifles and crazy amulets. They no longer take slaves or rub­ber, but steal cat­tle and loot min­er­als. Some see the mili­tias of North Kivu as the fail­ure of the U.N. peace process. But the mili­tias are also liv­ing mon­u­ments to a long, oft-for­got­ten his­to­ry of ter­ror as a means of eco­nom­ic extrac­tion. The vio­lence is here in the heart of Africa, but the wealth flows out and away to all points of the com­pass, bear­ing with it no sign of the bloody process­es that pro­duce it.
God Lumum­ba
Some weeks after gaz­ing upon the stat­ues of Kin­shasa, I trav­eled to cen­tral Con­go, near a small town on the riv­er. There I met George Ningo Tole­ka, who works for a tiny, impov­er­ished local NGO. We talked politics.
"Mobu­tu thought that Lumum­ba was bad," Tole­ka says, ​"but in my view, he was a good leader." He con­tin­ued: ​"In Opala, about a two days ride from here, there is a group that believes in Lumumba."
My ears perk up. Tole­ka watch­es me close­ly as he talks: ​"They think Lumum­ba is still alive and will come back. They call him Nzambe Lumum­ba – God Lumum­ba. They think he can heal the sick. Their leader is Olun­gu Moses, prophet Moses."
He looks at me blankly, and adds: ​"It is a politi­co-reli­gious move­ment. They all vot­ed for the prime minister's par­ty, the neo-Lumum­baists, but they have no idea what that par­ty stands for. But no one real­ly does."
In the Con­go – as any­where else – ideas and polit­i­cal sym­bols change with the times. And so it seems to be the case for Patrice Lumum­ba. Once dead, the mem­o­ry of Lumum­ba is erased, then revived to prop up a dic­ta­tor, then to legit­imize the rebel who over­threw that dic­ta­tor and then, out in the jun­gles along the riv­er, an imag­i­nary Lumum­ba cures the sick and promis­es to come back to life.
Chris­t­ian Par­en­ti
is an Amer­i­can inves­tiga­tive jour­nal­ist and author. His books include:
Lock­down Amer­i­ca: Police and Pris­ons in the Age of Cri­sis
(
2000
), a sur­vey of the rise of the prison indus­tri­al com­plex from the Nixon through Rea­gan eras and into the present;
The Soft Cage: Sur­veil­lance in Amer­i­ca From Slav­ery to the War on Ter­ror
(
2003
), a study of sur­veil­lance and con­trol in mod­ern soci­ety; and
The Free­dom: Shad­ows and Hal­lu­ci­na­tions in Occu­pied Iraq
(
2004
), an account of the U.S. occu­pa­tion in Iraq. Par­en­ti has also report­ed from Afghanistan, Iraq, Venezuela, and Bolivia.