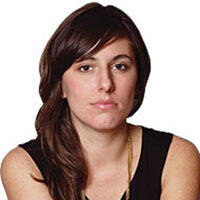 Jessica Valenti
– called the ​
"
poster girl for third-wave feminism" by Salon – is the author of three books: Full Frontal Feminism: A Young Woman's Guide to Why Feminism Matters, He's a Stud, She's a Slut…and
49
Other Double Standards Every Woman Should Know, and The Purity Myth: How America's Obsession with Virginity is Hurting Young Women which is being made into a documentary by the Media Education Foundation. She is the editor of the anthology Yes Means Yes: Visions of Female Sexual Power and a World Without Rape, which was named one of Publishers Weekly's Top
100
Books of
2009
. Jessica is also the founder of Fem​i​nist​ing​.com.
Here's how you can help
In These Times is funded entirely by readers like you, but through the first half of 2021, reader donations are down 20% compared to last year. If that continues, it could spell real trouble for In These Times. We're running a short fundraising drive (from now until July 31) to get things back on track. Will you chip in?