Since founding Fem​i​nist​ing​.com in 2004, Jessica Valenti has emerged as one of the brightest and feistiest voices behind a new breed of feminism — one that melds snark and substance to get young women talking — and thinking.
One thing's for sure — this is a far cry from your ma's bra-burning ballyhoo. With a biting, pop-savvy sense of humor and a keen awareness of our age's oft-maligned or just plain ignored gender politics, Valenti, Feministing's executive editor, is reaching out to an unsung population of young women activists fighting to promote feminist principles.
Along the way, she's written two books (a third, The Purity Myth: How America's Obsession with Virginity is Hurting Young Women, will be out in spring 2009) and tangoed with Stephen Colbert.
In These Times caught up with the native New Yorker in February.
In 25 words or less, what makes you so special? (Keep in mind that humility, while admirable, is boring).
I'm candid, opinionated and play a mean game of table tennis.
What's the first thing that comes up when your name is Googled?
My profile on Feministing. (Boring, I know.)
Shamelessly plug a colleague's project.
My co-blogger Miriam has a kick-ass blog called Radical Doula that everyone should read. (And she's just started doing speaking events – she's not to be missed, so book her!)
Describe your politics
Lefty feminist with socialist leanings.
(Come up with a question for yourself and answer it.)
The question I get most often is why don't more young women call themselves feminists. The answer is always they same – they do! You're just not paying attention. I think that we need to give more credit to young women who are doing incredible feminist work every day – be it through blogs, college activism or even starting their own orgs. Younger women's activism tends to be a bit invisible, and I'd like to see that changed.
Media
Name a journalist whose work you read religiously. Why?
Rebecca Traister – she's brilliant and funny and makes me want to be a better writer. I also think Rebecca has this amazing ability of making really complex ideas accessible, a talent I really admire.
Pick your 5 favorite websites and tell us why.
1. Google Reader because it allows me to shirk the ​"your favorite blog" question.
2. Andrew Golis' Twitter profile because, despite the fact that I'm marrying this dude, his 140 character contributions about new media always surprise and educate me.
3. Feministing's Community site. No, I'm not above shameless self-promotion. Honestly, I just love seeing all of thee diverse posts from folks across the feminist spectrum – we have the ACLU blogging on the community site alongside a 14-year-old girl who writes about repro rights and being a high school feminist. It's the best.
4. Sapiua – it's the blog of a great florist in Brooklyn, and I just think that she's hilarious.
5. RH Reality Check. The sheer amount of information there is just so impressive and wonderful, and they do an amazing job of covering reproductive justice issues.
Name 5 other websites you go to when you're procrastinating.
1. FmyLife​.com because I have a schadenfreude streak.
2. The website for the Independent Women's Forum because I like to keep my eye on what anti-feminists are up to. Though I also go there for laughs, truth be told.
3. Design*Sponge to look at pretty things.
4. Twitter, for obvious reasons that everyone is probably sick of hearing about.
5. Viral Video Chart because I like to know what the kids these days are watching.
What's a mistake the mainstream media always makes that really gets under your skin?
Using the term ​"post-feminist."
Politics
My political awakening occurred when …
There were definitely a lot of ​"click" moments, but one of the earliest feminist awakenings I had was in elementary school when I was playing baseball. The boys on my team wanted me to say that I was sick and couldn't go up to bat because they were afraid I would screw up. (You know, being a girl and all.) I went up and did fine – I think I made it to second base – but I remember being so insulted and hurt by it.
What's one piece of legislation (state or national) you'd like to see defeated?
I'd like to see the Hyde Amendment repealed – it forbids federal funding for abortion and Medicaid funding. It punishes low-income women and is just generally egregious. You can find more about it here and here.
What campaign should we all sign on to right now?
Getting Latifa Lyles elected president of NOW. I've written a lot about how institutional feminism needs to change, and I think Latifa has the capability to do that with NOW.
Any conferences coming up that we should definitely attend?
I'm a big WAM fan, and for the first time this year I'm going to the CLPP​'s annual conference on reproductive justice, which I'm incredibly excited about.
Personal
How do you get around (bike, public transportation, car)? Why?
I'm a native New Yorker, so the subway is definitely my transportation mode of choice – but I also have this great fold-up bike that I love riding around just because I think it looks cool and somewhat dorky.
What local media do you depend on?
What do you do during your free time?
On the weekends you can find me in the LIC Sculpture Park with my dog; he loves it there. Also, right now, my partner and I are making our way through Battlestar Galactica starting with the first season.
If you had to pick one other profession to embrace, what would it be and why?
When I was younger, I was obsessed with Dian Fossey and Jane Goodall – I thought I would definitely go study chimps or apes or something. Instead, I ended up on the Internet. Go figure.
Culture
What is the last, best book you have read?
The Canon: A Whirligig Tour of the Beautiful Basics of Science by Natalie Angier.
Guilty television watching pleasure?
Tool Academy on VH1.
What person deserves to be a lot more famous than they are?
—March 6, 2009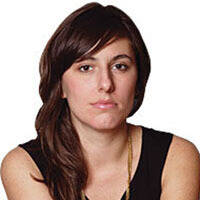 Jessica Valenti
– called the ​
"
poster girl for third-wave feminism" by Salon – is the author of three books: Full Frontal Feminism: A Young Woman's Guide to Why Feminism Matters, He's a Stud, She's a Slut…and
49
Other Double Standards Every Woman Should Know, and The Purity Myth: How America's Obsession with Virginity is Hurting Young Women which is being made into a documentary by the Media Education Foundation. She is the editor of the anthology Yes Means Yes: Visions of Female Sexual Power and a World Without Rape, which was named one of Publishers Weekly's Top
100
Books of
2009
. Jessica is also the founder of Fem​i​nist​ing​.com.