Since found­ing Fem​i​nist​ing​.com in 2004, Jes­si­ca Valen­ti has emerged as one of the bright­est and feisti­est voic­es behind a new breed of fem­i­nism — one that melds snark and sub­stance to get young women talk­ing — and thinking.
One thing's for sure — this is a far cry from your ma's bra-burn­ing bal­ly­hoo. With a bit­ing, pop-savvy sense of humor and a keen aware­ness of our age's oft-maligned or just plain ignored gen­der pol­i­tics, Valen­ti, Feministing's exec­u­tive edi­tor, is reach­ing out to an unsung pop­u­la­tion of young women activists fight­ing to pro­mote fem­i­nist principles.
Along the way, she's writ­ten two books (a third, The Puri­ty Myth: How America's Obses­sion with Vir­gin­i­ty is Hurt­ing Young Women, will be out in spring 2009) and tan­goed with Stephen Colbert.
In These Times caught up with the native New York­er in February.
In 25 words or less, what makes you so spe­cial? (Keep in mind that humil­i­ty, while admirable, is boring).
I'm can­did, opin­ion­at­ed and play a mean game of table tennis.
What's the first thing that comes up when your name is Googled?
My pro­file on Fem­i­nist­ing. (Bor­ing, I know.)
Shame­less­ly plug a colleague's project.
My co-blog­ger Miri­am has a kick-ass blog called Rad­i­cal Doula that every­one should read. (And she's just start­ed doing speak­ing events – she's not to be missed, so book her!)
Describe your politics
Lefty fem­i­nist with social­ist leanings.
(Come up with a ques­tion for your­self and answer it.)
The ques­tion I get most often is why don't more young women call them­selves fem­i­nists. The answer is always they same – they do! You're just not pay­ing atten­tion. I think that we need to give more cred­it to young women who are doing incred­i­ble fem­i­nist work every day – be it through blogs, col­lege activism or even start­ing their own orgs. Younger women's activism tends to be a bit invis­i­ble, and I'd like to see that changed.
Media
Name a jour­nal­ist whose work you read reli­gious­ly. Why?
Rebec­ca Trais­ter – she's bril­liant and fun­ny and makes me want to be a bet­ter writer. I also think Rebec­ca has this amaz­ing abil­i­ty of mak­ing real­ly com­plex ideas acces­si­ble, a tal­ent I real­ly admire.
Pick your 5 favorite web­sites and tell us why.
1. Google Read­er because it allows me to shirk the ​"your favorite blog" question.
2. Andrew Golis' Twit­ter pro­file because, despite the fact that I'm mar­ry­ing this dude, his 140 char­ac­ter con­tri­bu­tions about new media always sur­prise and edu­cate me.
3. Feministing's Com­mu­ni­ty site. No, I'm not above shame­less self-pro­mo­tion. Hon­est­ly, I just love see­ing all of thee diverse posts from folks across the fem­i­nist spec­trum – we have the ACLU blog­ging on the com­mu­ni­ty site along­side a 14-year-old girl who writes about repro rights and being a high school fem­i­nist. It's the best.
4. Sapi­ua – it's the blog of a great florist in Brook­lyn, and I just think that she's hilarious.
5. RH Real­i­ty Check. The sheer amount of infor­ma­tion there is just so impres­sive and won­der­ful, and they do an amaz­ing job of cov­er­ing repro­duc­tive jus­tice issues.
Name 5 oth­er web­sites you go to when you're procrastinating.
1. FmyLife​.com because I have a schaden­freude streak.
2. The web­site for the Inde­pen­dent Women's Forum because I like to keep my eye on what anti-fem­i­nists are up to. Though I also go there for laughs, truth be told.
3. Design*Sponge to look at pret­ty things.
4. Twit­ter, for obvi­ous rea­sons that every­one is prob­a­bly sick of hear­ing about.
5. Viral Video Chart because I like to know what the kids these days are watching.
What's a mis­take the main­stream media always makes that real­ly gets under your skin?
Using the term ​"post-fem­i­nist."
Pol­i­tics
My polit­i­cal awak­en­ing occurred when …
There were def­i­nite­ly a lot of ​"click" moments, but one of the ear­li­est fem­i­nist awak­en­ings I had was in ele­men­tary school when I was play­ing base­ball. The boys on my team want­ed me to say that I was sick and couldn't go up to bat because they were afraid I would screw up. (You know, being a girl and all.) I went up and did fine – I think I made it to sec­ond base – but I remem­ber being so insult­ed and hurt by it.
What's one piece of leg­is­la­tion (state or nation­al) you'd like to see defeated?
I'd like to see the Hyde Amend­ment repealed – it for­bids fed­er­al fund­ing for abor­tion and Med­ic­aid fund­ing. It pun­ish­es low-income women and is just gen­er­al­ly egre­gious. You can find more about it here and here.
What cam­paign should we all sign on to right now?
Get­ting Lat­i­fa Lyles elect­ed pres­i­dent of NOW. I've writ­ten a lot about how insti­tu­tion­al fem­i­nism needs to change, and I think Lat­i­fa has the capa­bil­i­ty to do that with NOW.
Any con­fer­ences com­ing up that we should def­i­nite­ly attend?
I'm a big WAM fan, and for the first time this year I'm going to the CLPP​'s annu­al con­fer­ence on repro­duc­tive jus­tice, which I'm incred­i­bly excit­ed about.
Per­son­al
How do you get around (bike, pub­lic trans­porta­tion, car)? Why?
I'm a native New York­er, so the sub­way is def­i­nite­ly my trans­porta­tion mode of choice – but I also have this great fold-up bike that I love rid­ing around just because I think it looks cool and some­what dorky.
What local media do you depend on?
What do you do dur­ing your free time?
On the week­ends you can find me in the LIC Sculp­ture Park with my dog; he loves it there. Also, right now, my part­ner and I are mak­ing our way through Bat­tlestar Galac­ti­ca start­ing with the first season.
If you had to pick one oth­er pro­fes­sion to embrace, what would it be and why?
When I was younger, I was obsessed with Dian Fos­sey and Jane Goodall – I thought I would def­i­nite­ly go study chimps or apes or some­thing. Instead, I end­ed up on the Inter­net. Go figure.
Cul­ture
What is the last, best book you have read?
The Canon: A Whirligig Tour of the Beau­ti­ful Basics of Sci­ence by Natal­ie Ang­i­er.
Guilty tele­vi­sion watch­ing pleasure?
Tool Acad­e­my on VH1.
What per­son deserves to be a lot more famous than they are?
—March 6, 2009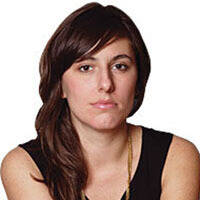 Jes­si­ca Valen­ti
– called the ​
"
poster girl for third-wave fem­i­nism" by Salon – is the author of three books: Full Frontal Fem­i­nism: A Young Woman's Guide to Why Fem­i­nism Mat­ters, He's a Stud, She's a Slut…and
49
Oth­er Dou­ble Stan­dards Every Woman Should Know, and The Puri­ty Myth: How America's Obses­sion with Vir­gin­i­ty is Hurt­ing Young Women which is being made into a doc­u­men­tary by the Media Edu­ca­tion Foun­da­tion. She is the edi­tor of the anthol­o­gy Yes Means Yes: Visions of Female Sex­u­al Pow­er and a World With­out Rape, which was named one of Pub­lish­ers Weekly's Top
100
Books of
2009
. Jes­si­ca is also the founder of Fem​i​nist​ing​.com.