Washington Supreme Court Rules All SeaTac Workers Must Be Paid $15 Minimum Wage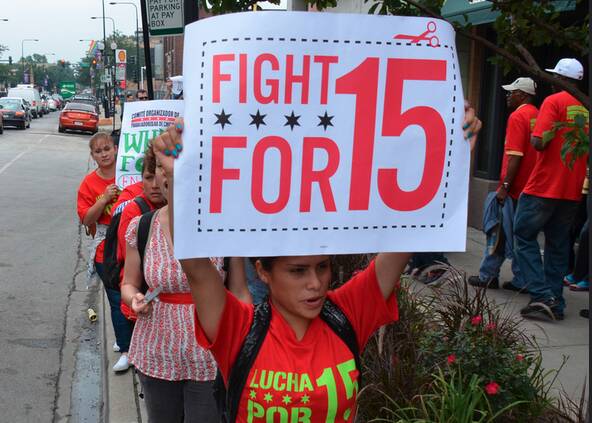 We wanted to make sure you didn't miss the announcement of our new Sustainer program. Once you've finished reading, take a moment to check out the new program, as well as all the benefits of becoming a Sustainer.

SeaTac workers have a reason to celebrate after the Washington Supreme Court ruled 5 – 4 yesterday that the $15 minimum wage passed by a recent voter referendum should apply to thousands of airport employees.
SeaTac surrounds Seattle-Tacoma International Airport, and many of its 28,000 residents are employed by companies near and in the airport. SeaTac became the first city in the nation to enact a $15 minimum wage after voters approved a 2013 ballot measure, Proposition 1, that took effect January 1, 2014.
The measure benefited 1,600 workers from hotels, restaurants, rental car agencies and parking lots that surround the airport. But a number of companies operating at the airport, including Alaska Airlines, filed a lawsuit against SeaTac which halted the minimum wage effect for airport workers. A King County Superior Court judge ruled that airport workers were excluded since the airport is owned by the Port of Seattle. The case then made its way to the state's Supreme Court last June.
So those who work in the airport itself consist of a majority of the city's workforce, but the minimum wage increase did not apply. Socialist Seattle Councilwoman Kshama Sawant was one of four people arrested in a protest outside of Alaska Airlines in November. A statement on her website notes Proposition 1 includes guaranteed paid sick leave and worker job protection. The new ruling will affect an estimated 4,700 airport employees and also allows retroactive backpay to January 1, 2014. Workers' next paychecks should show an hourly wage of $15.24.
​"This important ruling helps protect the rights of workers at SeaTac Airport and recognizes the broad authority state and local governments have to support their hard-working residents," Washington Attorney General Bob Ferguson said in a written statement.
Valarie Long, Executive Vice President of the Service Employees International Union (SEIU), which helped lead the $15 campaign in SeaTac, said in a statement, ​"While we celebrate this victory, we understand the fight against economic imbalance in our nation is far from over. Many baggage handlers, cabin cleaners and wheelchair attendants are paid as little as $10 per hour, without access to healthcare."
Airport workers in Los Angele, San Francisco, and St. Louis have recently earned minimum wage increases, but workers in New York and Boston are fighting.
"SeaTac Airport employees and their allies will continue to stand together with others at major origin and destination airports in the fight for $15 and union rights movement to raise standards for all," said Long.
Become a Sustainer
We surveyed thousands of readers and asked what they would like to see in a monthly giving program. Many of you expressed interest in magazine subscriptions, gift subscriptions, tote bags, events and books —and we've added all of those. Some of you said that cost was an issue, so we've kept our starting tier at just $5 a month—less than 17 cents a day.

Now, for the first time, we're offering three different levels of support, with unique rewards at each level, for you to choose from. Check out the new Sustainer program.