Democratic Socialist Jovanka Beckles Could Upset Buffy 'the Bernie Slayer' Wicks in CA
Beckles is running in the East Bay on a solidly left-wing platform and her campaign is gaining steam ahead of the November 6 election.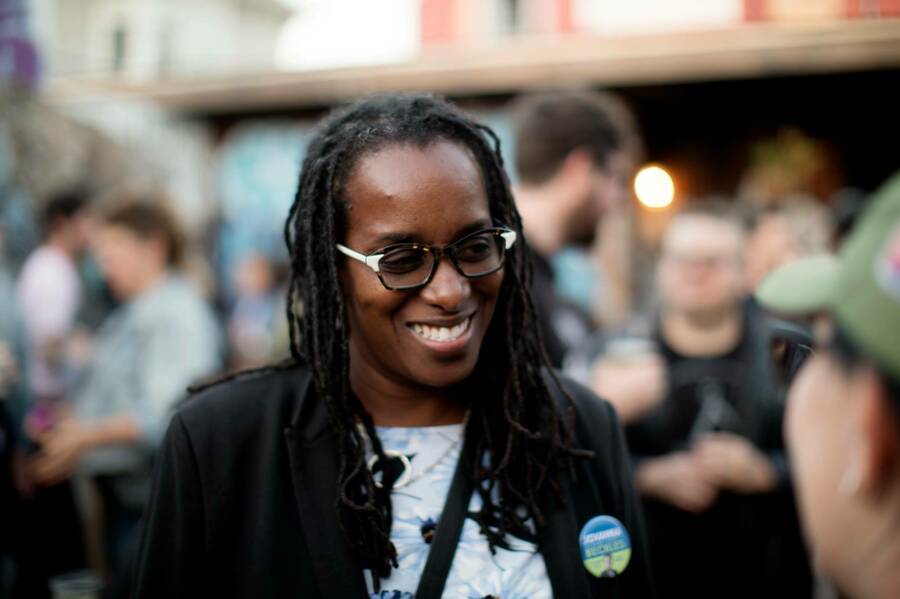 When demo­c­ra­t­ic social­ist Alexan­dria Oca­sio-Cortez won the June 26 Demo­c­ra­t­ic pri­ma­ry for New York's 14th Con­gres­sion­al Dis­trict, her elec­tion made nation­al news, launch­ing her into the spot­light as the new stan­dard bear­er for the Left in the elec­toral arena.
"My perspective as a black woman on the Left is so important and valuable in this race," Beckles says.
Since that vic­to­ry, oth­er open demo­c­ra­t­ic social­ists have won pri­maries across the coun­try, includ­ing Rashi­da Tlaib in Michi­gan, Sarah Smith in Wash­ing­ton and Julia Salazar in New York City. This new class of left chal­lengers may soon gain com­pa­ny from California's Bay Area, where anoth­er demo­c­ra­t­ic social­ist, Jovan­ka Beck­les, is run­ning in a high-pro­file elec­tion for Dis­trict 15 State Assembly.
The Novem­ber 6 elec­tion pits Beck­les, a Bernie Sanders sup­port­er and Rich­mond city coun­cil mem­ber who cur­rent­ly serves as the town's vice may­or, up against Buffy Wicks, an Oak­land res­i­dent, state direc­tor for Hillary Clinton's 2016 pres­i­den­tial cam­paign and for­mer advis­er in the Oba­ma White House.
Wicks, who dur­ing her time as a Clin­ton state direc­tor was referred to as ​"Buffy the Bernie Slay­er" has also been endorsed by for­mer Pres­i­dent Oba­ma. Beck­les, mean­while, has the sup­port of Our Rev­o­lu­tion, an off­shoot of Sanders' 2016 cam­paign. The race con­jures obvi­ous par­al­lels to the 2016 Demo­c­ra­t­ic pres­i­den­tial pri­ma­ry. But Beck­les is quick to point out that it's all about issues and pol­i­cy, not re-lit­i­gat­ing the past.
"We're Democ­rats. We're work­ing peo­ple. We need to not allow oth­ers to sep­a­rate [or] divide us," Beck­les tells In These Times. ​"For me, this is not about Hillary ver­sus Bernie. This is about mon­ey and out­side inter­ests com­ing in and telling us what we need as opposed to allow­ing lead­ers, par­tic­u­lar­ly lead­ers of col­or, to have to a seat at the table. This is about whether or not we are going to have a top-down kind of lead­er­ship ver­sus a bot­tom-up leadership."
For her part, Wicks is not ced­ing the ground of pro­gres­sivism. She tells In These Times: ​"Fun­da­men­tal­ly, I think we pro­gres­sives need to stand up for what we believe in and be bold about that; not be afraid to stand up for pro­gres­sive ide­ol­o­gy [and] advo­cate for the things that we believe in. Now is the time for us to real­ly dig into the pro­gres­sive man­tle and stand strong by those values."
But Beck­les, who came in sec­ond to Wicks in the June pri­ma­ry, has the back­ing of a num­ber of high-pro­file pro­gres­sive groups includ­ing the Work­ing Fam­i­lies Par­ty and the Demo­c­ra­t­ic Social­ists of Amer­i­ca (DSA), along with Our Rev­o­lu­tion, more than a dozen envi­ron­men­tal groups and over 20 labor unions.
Not every­one is on board. Ahead of the pri­ma­ry, East Bay Express, an Oak­land based week­ly news­pa­per, endorsed Buffy Wicks and Dan Kalb, claim­ing Beck­les ​"had the fewest ideas for solv­ing Cal­i­for­ni­a's problems."
Beck­les, how­ev­er, is not both­ered by these crit­i­cisms. ​"I know that when you're com­ing from a place of mod­ern pol­i­tics, I think it might be hard to give cred­it to some­one who is being a rev­o­lu­tion­ary [and] being inno­v­a­tive," she says. Indeed, Beck­les is run­ning on a solid­ly left-wing plat­form, includ­ing Medicare for All, uni­ver­sal afford­able hous­ing, a $20 statewide min­i­mum wage, a 36-hour work week, free pub­lic col­lege and a Green New Deal.
Born in Pana­ma, Beck­les moved to the Bay Area after col­lege in 1989. Wit­ness­ing social injus­tice through­out her career as a men­tal health pro­fes­sion­al shaped her deci­sion to get involved with local pol­i­tics. She became the first open­ly les­bian mem­ber of Rich­mond City Coun­cil when she was elect­ed in 2010. Her cam­paign was sup­port­ed by Rich­mond Pro­gres­sive Alliance (RPA), a grass­roots coali­tion most known for chal­leng­ing Chevron's oil refin­ery and hold­ing the fos­sil-fuel giant account­able to the city's res­i­dents. In retal­i­a­tion for her role rein­ing in the pow­er of Chevron, the cor­po­ra­tion spent over $3 mil­lion in ads to defeat Beck­les and oth­er oppo­nents dur­ing the 2014 elec­tion cycle.
Dur­ing her time on the coun­cil, Beck­les has sup­port­ed min­i­mum-wage increas­es, pro­tec­tions for renters and the ​"Ban the Box" ordi­nance, which pro­vides for­mer­ly incar­cer­at­ed peo­ple with more equal oppor­tu­ni­ties in employ­ment and edu­ca­tion. She has also worked to improve com­mu­ni­ty rela­tions with the Rich­mond Police Depart­ment, an enti­ty she has open­ly crit­i­cized.
Beck­les says she wants to gain a larg­er plat­form in order to sup­port poli­cies that will help California's most mar­gin­al­ized com­mu­ni­ties. Rich­mond City Council's pro­gres­sive poli­cies can only go so far with­out changes in state leg­is­la­tion. The city passed rent con­trol in 2016, for exam­ple, but it faces lim­i­ta­tions with cur­rent state laws.
Not sur­pris­ing­ly, hous­ing has been one of the focal points of the race. Beck­les was the only can­di­date who ran on repeal­ing Cos­ta-Hawkins, a 1994 law that restricts rent con­trol in Cal­i­for­nia. Sky­rock­et­ing rents are an issue plagu­ing the state, espe­cial­ly long­time res­i­dents in Rich­mond and Oak­land who are being dis­placed by thou­sands of peo­ple who have been priced out of San Fran­cis­co over the last decade. Wicks, mean­while, has called for reform­ing the law.
The ques­tion of whether or not to repeal Cos­ta-Hawkins will be put to vot­ers in Novem­ber through the Propo­si­tion 10 bal­lot mea­sure. If passed, Prop 10 would allow Cal­i­for­nia cities like Rich­mond to pass rent con­trol ordi­nances and expand them to sin­gle-fam­i­ly homes and new construction.
Beck­les believes Wicks buys into the argu­ment that repeal­ing the law will make hous­ing worse. But Beck­les sees the issue dif­fer­ent­ly. ​"What it's going to do is stop peo­ple, par­tic­u­lar­ly peo­ple of col­or, poor work­ing peo­ple, from being dis­placed," says Beck­les. ​"When you see peo­ple work­ing 40 hours a week hav­ing to live in their cars, on the streets, or on the Berke­ley Mari­na, that is a huge red flag. We are in a cri­sis. Reform­ing Cos­ta-Hawkins is not going to end this cri­sis. Repeal­ing it is."
One of the chal­lenges fac­ing Beck­les' cam­paign is fundrais­ing, since she does not accept cor­po­rate dona­tions. Her largest cam­paign dona­tions to date have come from labor groups, accord­ing to Berke­ley­side.
"We're not going to be able to raise as much mon­ey as the oth­er can­di­date, tak­ing mon­ey from the 1%," she says. ​"When the greater class invests in a can­di­date, you bet­ter believe they are look­ing for a return on their invest­ment. They are not invest­ing in me. They are invest­ing in my oppo­nent, and they are doing that for a reason."
So far, Wicks has raised $1.2 mil­lion, 73 per­cent of which is from in state. A web­site set up by East Bay DSA has tracked where her dona­tions have come from. By con­trast, Beck­les has so far raised $381,500, 95 per­cent of which is from in state.
But with all the pro­gres­sive ener­gy behind Beck­les, why was Wicks able to out­per­form her in the primary?
Steve Ear­ly, Rich­mond res­i­dent and author of Refin­ery Town: Big Oil, Big Mon­ey, and the Remak­ing of an Amer­i­can City, thinks he knows. ​"There's cer­tain­ly a type of Demo­c­ra­t­ic Par­ty vot­er in one of the more left-lean­ing dis­tricts in the state, who [is] prob­a­bly more com­fort­able with a nice pol­i­cy wonk, Oba­ma admin­is­tra­tion alum like Buffy rather than some­body like Jovan­ka," says Early.
Abi­gail Gut­mann-Gon­za­lez, Vice Chair of the East Bay chap­ter of DSA, con­curs. ​"Buffy Wicks is a demo­c­ra­t­ic estab­lish­ment insid­er. She knows what to say. She has the pol­i­cy lan­guage down right," she says.
With just a few weeks left before the elec­tion, Ear­ly, who fol­lowed Beck­les' pre­vi­ous cam­paigns, pre­dicts Wicks' big busi­ness donors will attempt to smear Beck­les. And it wouldn't sur­prise him if those whose finan­cial inter­ests were threat­ened by Beck­les' accom­plish­ments in Rich­mond seize the oppor­tu­ni­ty to join in.
Rich­mond May­or Tom Butt endorsed Wicks, which was not a com­plete sur­prise con­sid­er­ing the ten­sions between him and Beck­les. While he has spo­ken against some of the harass­ment thrown at Beck­les over the years, he has made his dis­dain for her known through his online newslet­ter. On April 26, he wrote, ​"I can­not in good con­science rec­om­mend that any­one vote to send her to the Cal­i­for­nia Assem­bly where she would most sure­ly be an unmit­i­gat­ed disaster."
Beck­les says she sees why Butt would go with Wicks rather than sup­port­ing her, giv­en that the two do not agree on most issues, includ­ing pass­ing Propo­si­tion 10. ​"He puts prof­it over peo­ple, unlike me. I put peo­ple over prof­it," she says.
Gut­mann-Gon­za­lez notes that Beck­les stood in sol­i­dar­i­ty with Uni­ver­si­ty of Cal­i­for­nia work­ers (AFSCME Local 3299) dur­ing their strike in May. ​"She is stand­ing up for the inter­ests of work­ing peo­ple," Gut­mann-Gon­za­lez says. Beck­les, who is a mem­ber of East Bay DSA, was endorsed by the orga­ni­za­tion in 2017, and they have since sup­port­ed her cam­paign with 250 vol­un­teers.
Beck­les has been gain­ing momen­tum and recent­ly scored the endorse­ment of pow­er­ful House Rep. Bar­bara Lee (D‑Calif.). Her sup­port­ers hope that her vol­un­teer-pow­ered cam­paign, pro­gres­sive cre­den­tials and bold vision are enough to help put her over the top next month.
"Jovan­ka is a work­ing Team­ster," says Ear­ly. ​"She used to come work in the streets. [She] was part of that, you know, rad­i­cal group in Rich­mond that took on Chevron. You can look at the same record and, depend­ing who you are, you get ner­vous or start cheer­ing her on."
Beck­les' pol­i­tics are not the only sig­nif­i­cant fac­tor in this elec­tion. ​"My per­spec­tive as a black woman on the Left is so impor­tant and valu­able in this race," Beck­les says.
Accord­ing to the San Fran­cis­co Chron­i­cle, cur­rent AD-15 Assem­bly­man Tony Thur­mond is the only black rep­re­sen­ta­tive of the Bay Area in state gov­ern­ment. If Beck­les doesn't win in the race to replace him, a demo­graph­ic that makes up sev­en per­cent of California's pop­u­la­tion will not have a rep­re­sen­ta­tive who looks like them.
"I think we [peo­ple of col­or] real­ly need to be able to have a seat at the table if we are going to suc­cess­ful­ly cre­ate the kind of laws that ben­e­fit us, lev­el the play­ing field, and bring about equi­ty and jus­tice for all," Beck­les says.