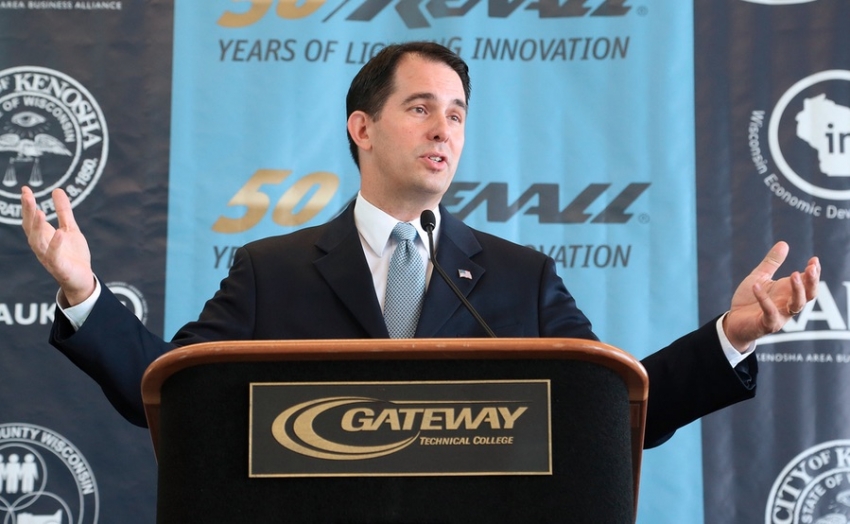 Web Only / Views » July 31, 2015
Gov. Scott Walker's Economic Development Record in Wisconsin Has Been a Scandal-Wracked Failure
Walker's development record consists of giving taxpayer dollars to his friends—while Wisconsin's economy has remained in the toilet.
As Walker's record faces intensifying scrutiny during his presidential campaign, his free-market rhetoric may conflict with his embrace of market-distorting subsidies for private businesses.
The continuum of American politics is not a straight line—it is more like a circle. Travel farther out on the right and left, and ultimately the sides bend to a common position on an issue like taxpayer subsidies for big business. To many progressives, such expenditures are giveaways to the already wealthy. To many conservatives, they are a free-market-distorting waste of taxpayer resources. Both sides also often criticize the subsidies as an instrument of cronyism and corruption.
In recent years, taxpayer subsidies for corporations have become a huge expense: The New York Times estimates that states and cities now spend more than $80 billion a year on such so-called "incentives." For the most part, this gravy train has not faced much pressure to slow down.
But now, as the 2016 presidential campaign intensifies, both the Left and the Right will have a prime opportunity to spotlight its critiques. That is because one of the most prominent Republican presidential candidates, Wisconsin Gov. Scott Walker, has made such subsidies a central part of his public policy agenda. Those subsidies have produced both high-profile scandals and lackluster economic results.
In 2011, Walker created the Wisconsin Economic Development Corporation to give businesses taxpayer loans and grants. Within a few years, state auditors published reports spotlighting "concerns with WEDC's administration and oversight of its economic development programs and its financial management." Specifically, auditors said "WEDC did not require grant and loan recipients to submit information showing that contractually required jobs were actually created or retained" and also noted that money was handed out "in ways that did not consistently comply" with state law.
Much of the cash flowed to Walker's political allies. According to a new report by the left-leaning One Wisconsin Institute, 60 percent of the $1.14 billion given out by the WEDC went to firms connected to Walker's campaign contributors—that includes more than $2.1 million those donors have given Walker's election campaigns directly.
Had the taxpayer largesse significantly boosted Wisconsin's economy, perhaps the financial management problems and the allegations of cronyism could be downplayed. But Wisconsin's economy has suffered under Walker. As Bloomberg News reported, "Wisconsin ranked 33rd among U.S. states in economic health improvement during Walker's first term" with the state only "a little more than half the 250,000 private-sector jobs that Walker promised during that time."
Those results, though, have not deterred Walker: His most recent budget proposed to slash $300 million out of higher education funding and spend roughly the same amount to help finance a new arena for the Milwaukee Bucks. One of the members of the investor group that owns the NBA team is the national finance co-chairman of Walker's presidential campaign. Walker pushed the subsidies despite a widely cited 2008 study by researchers at the University of Maryland and University of Alberta, which found the "overwhelming preponderance of evidence" shows "that no tangible economic benefits are generated by these heavily subsidized professional sports facilities."
As Walker's record faces intensifying scrutiny during his presidential campaign, his free-market rhetoric may conflict with his embrace of market-distorting subsidies for private businesses. Particularly in the Republican primary, conservative candidates and groups will have an opportunity to spotlight Wisconsin as an illustration of why they crusade against corporate welfare.
Walker, of course, may try to shift the blame for Wisconsin's troubles—but the facts, stats and policies tell a clear and compelling story about why states cannot rely on subsidies as a tool of economic growth.
---
Help In These Times Continue Publishing
Progressive journalism is needed now more than ever, and In These Times needs you.
Like many nonprofits, we expect In These Times to struggle financially as a result of this crisis. But in a moment like this, we can't afford to scale back or be silent, not when so much is at stake. If it is within your means, please consider making an emergency donation to help fund our coverage during this critical time.
David Sirota
David Sirota, an In These Times senior editor and syndicated columnist, is a staff writer at PandoDaily and a bestselling author whose book Back to Our Future: How the 1980s Explain the World We Live In Now—Our Culture, Our Politics, Our Everything was released in 2011. Sirota, whose previous books include The Uprising and Hostile Takeover, co-hosts "The Rundown" on AM630 KHOW in Colorado. E-mail him at ds@davidsirota.com, follow him on Twitter @davidsirota or visit his website at www.davidsirota.com.
View Comments