Will 2020 Be the Year Presidential Candidates Actually Take Labor Issues Seriously?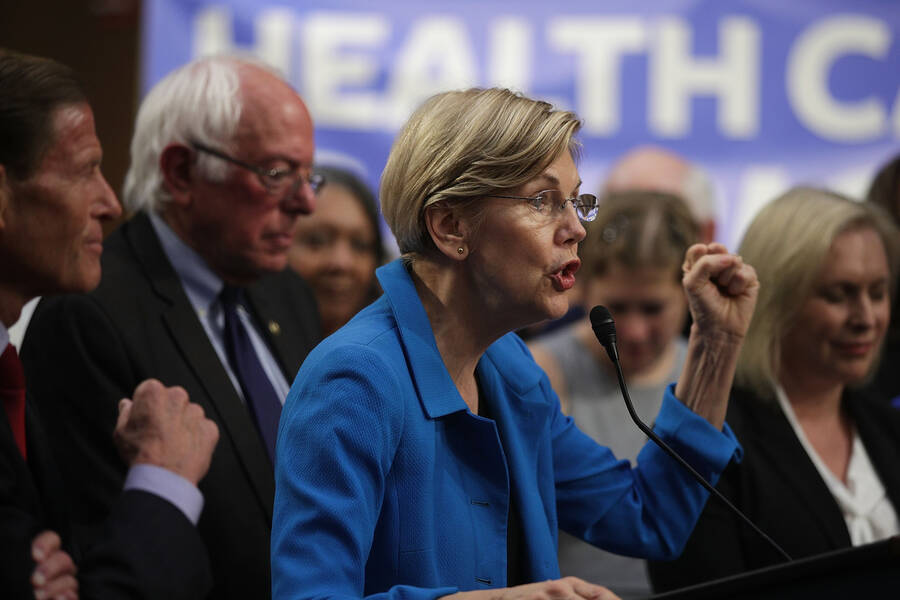 Call it a sin of omis­sion, but the his­toric decline of labor union pow­er was on full dis­play dur­ing recent CNN town hall meet­ings with 2020 Demo­c­ra­t­ic pres­i­den­tial aspi­rants Sens. Bernie Sanders, Kamala Har­ris and Amy Klobuchar.
All three nation­al­ly tele­vised forums fea­tured ques­tions on a range of issues from stu­dents, non­prof­it direc­tors, com­mu­ni­ty lead­ers and oth­er tra­di­tion­al Demo­c­ra­t­ic con­stituen­cies (includ­ing undis­closed lob­by­ing firms), but not a sin­gle ques­tion was asked about nation­al labor law.
It's not just CNN, either. By and large, the announced 2020 pres­i­den­tial can­di­dates have not spo­ken at length on the stump about their agen­da for labor, at least not yet, instead stick­ing to broad­er themes such as eco­nom­ic inequal­i­ty and poli­cies like rais­ing the min­i­mum wage, Medicare-for-All, free col­lege tuition and uni­ver­sal child care.
"The can­di­dates are mak­ing a dis­tinc­tion between labor pol­i­cy and labor issues," David Yepsen, the host of Iowa Press and a lead­ing expert on pres­i­den­tial pol­i­tics, told In These Times. ​"It's polit­i­cal­ly safer to talk about health care, expand­ed Medicare, and a high­er min­i­mum wage than it is to talk about things like card check."
Most vot­ers don't under­stand the lat­ter, even though you've got to do things like the lat­ter to get the for­mer," Yepsen added. ​"If you don't find ways to strength­en the labor move­ment, there isn't going to be the polit­i­cal sup­port to do the things need­ed to rebuild the work­ing class."
The fail­ure of the Oba­ma admin­is­tra­tion and a fil­i­buster-proof Demo­c­ra­t­ic con­gress to pass the 2009 Employ­ee Free Choice Act is a good exam­ple. The leg­is­la­tion would have made it eas­i­er for work­ers to form a union with a sim­ple 50 per­cent major­i­ty. But there was lit­tle polit­i­cal will by the Demo­c­ra­t­ic lead­er­ship at the time to get it done giv­en oth­er pri­or­i­ties such as an eco­nom­ic stim­u­lus, Oba­macare, rein­ing in Wall Street and with­draw­ing troops from Iraq.
The issue agen­da of the Oba­ma White House was per­haps jus­ti­fi­able at the time, but it also came with a steep oppor­tu­ni­ty cost. The Democ­rats' fail­ure to strength­en union bar­gain­ing and con­sol­i­date a work­ing-class base of polit­i­cal sup­port when they had the chance helped lead to an even­tu­al Repub­li­can takeover of gov­ern­ment between 2010 and 2016, paving the way for future attacks on labor by right-wing gov­er­nors and the Supreme Court.
Has the new crop of 2020 pres­i­den­tial can­di­dates learned this les­son? All of the declared can­di­dates who are con­sid­ered front run­ners have strong ties to orga­nized labor.
With the notable excep­tion of Klobuchar, near­ly all of the sen­a­tors run­ning for pres­i­dent— Gilli­brand, Har­ris, War­ren and Book­er — co-spon­sored Sanders' 2018 Work­place Democ­ra­cy Act, which would over­haul exist­ing labor law and make it eas­i­er for work­ers to form and fund their own unions.
"The Work­place Democ­ra­cy Act is Sen. Sanders' key labor union leg­is­la­tion," a spokesper­son for Sanders told In These Times.
Accord­ing to Sanders' con­gres­sion­al office, the Work­place Democ­ra­cy Act would enable unions to orga­nize through a major­i­ty sign up process; enact ​'first con­tract' pro­vi­sions to ensure com­pa­nies can­not pre­vent a union from form­ing by deny­ing a first con­tract; elim­i­nate ​"right to work" laws; end inde­pen­dent con­trac­tor and fran­chisee abuse; legal­ize sec­ondary boy­cotts and pick­et­ing; and expand the ​'per­suad­er rule' to weak­en union-bust­ing efforts.
As Sanders explained when intro­duc­ing the lat­est iter­a­tion of the bill last year, ​"Cor­po­rate Amer­i­ca under­stands that when work­ers become orga­nized, when work­ers are able to engage in col­lec­tive bar­gain­ing, they end up with far bet­ter wages and ben­e­fits… and that is why, for decades now, there has been a con­cen­trat­ed well-orga­nized attack on the abil­i­ty of work­ers to organize."
Sanders, Har­ris and War­ren have all also tak­en sym­bol­ic actions since announc­ing their pres­i­den­tial runs in order to high­light their close rela­tion­ship with unions and the work­ing class.
War­ren, for exam­ple, for­mal­ly announced her can­di­da­cy for pres­i­dent in Lawrence, Mass­a­chu­setts, the site of the 1912 strike by tex­tile work­ers known as the ​"Bread and Ros­es Strike."
"Sup­port­ing labor and mak­ing it eas­i­er for Amer­i­can work­ers to join a union is absolute­ly a pri­or­i­ty for Sen. War­ren," Jason Noble, Warren's com­mu­ni­ca­tions direc­tor, told In These Times. ​"She is a co-spon­sor of the 2018 Work­place Democ­ra­cy Act, intro­duced a bill in 2017 to ban ​"right to work" laws, and has been very vocal about the need for stronger labor orga­ni­za­tion and wider access to unions."
Warren's Account­able Cap­i­tal­ism Act would also allow work­ers at cor­po­ra­tions with more than $1 bil­lion in rev­enue to choose up to 40 per­cent of the company's board of direc­tors, shift­ing the bal­ance of pow­er toward the rank-and-file.
Cal­i­for­nia is one of the last remain­ing union strong­holds in the coun­try, and Har­ris has hired the for­mer pres­i­dent of the state's largest and most diverse labor union, SEIU's Laphon­za But­ler, to be her senior cam­paign advi­sor.
"Sen. Har­ris is a strong and pas­sion­ate sup­port­er of orga­nized labor and work­ers' rights," the Har­ris campaign's nation­al press sec­re­tary, Ian Sams, told In These Times.
"She's spon­sored mul­ti­ple bills in the Sen­ate, includ­ing Work­ers' Free­dom to Nego­ti­ate Act, WAGE Act, Pub­lic Ser­vice Free­dom to Nego­ti­ate Act, Work­place Democ­ra­cy Act, and Pro­tect­ing Work­ers and Improv­ing Labor Stan­dards Act."
In Feb­ru­ary, Sanders pub­licly jumped in on the side of strik­ing work­ers in Erie, Penn­syl­va­nia after announc­ing his own 2020 can­di­da­cy. Since 2016, he has also joined work­ers in fights against Ama­zon and McDon­alds, help­ing them to win major wage increases.
"Many blue-col­lar work­ers sup­port­ed Trump in the last elec­tion," Yepsen, the Iowa-based nation­al polit­i­cal ana­lyst, said. ​"Both pres­i­den­tial can­di­dates and labor lead­ers have to fig­ure out ways and mes­sages to move them back onto the pro­gres­sive side if they hope to get 270 elec­toral votes for a pres­i­den­tial can­di­date. The phras­es ​'labor pol­i­cy,' ​'labor move­ment' and ​'orga­nized labor' aren't well under­stood by vot­ers. ​'Health care' ​'min­i­mum wage' and ​'improved edu­ca­tion' are under­stood. So give the can­di­dates some cred­it for talk­ing about impor­tant issues in a way peo­ple can understand."
As Yepsen pre­vi­ous­ly not­ed, how­ev­er, this kind of think­ing may help win elec­tions, but it can also lead to a para­dox. Focus­ing on eas­i­ly-under­stood, ​'bread and but­ter' issues — talk­ing about work­ing fam­i­lies but not union pow­er — and rely­ing on con­gres­sion­al vot­ing records and score­cards instead of stump speech­es and bold new procla­ma­tions won't build a pop­u­lar man­date for labor law reform, or the long term work­ing-class polit­i­cal pow­er that comes with it.
"Most Amer­i­cans take for grant­ed the things the labor move­ment has done for them over the decades — child labor, min­i­mum wage, a 40-hour work week, health care," Yepsen said. ​"A lot of work­ers have for­got­ten that too. The good news for labor is that peo­ple seem to be wak­ing up. The polls show sup­port for unions increas­ing and look at the suc­cess teach­ers have been having."
On anoth­er mea­sure, work­er mil­i­tan­cy has been on the rise — a record num­ber of work­ers engaged in strikes or work stop­pages in 2018. This increased labor action will have to be har­nessed by vot­ers in order to push even the strongest can­di­dates into ele­vat­ing union rights as a pri­or­i­ty issue on the cam­paign trail.
Work­ers in ear­ly vot­ing states can help do so by attend­ing cam­paign events and ask­ing the can­di­dates to pub­licly explain their sup­port for the Work­place Democ­ra­cy Act — or whether or not they back a nation­al ​"right to strike" law for pub­lic sec­tor unions.
The more explic­it pres­i­den­tial politi­cians are about labor rights on the stump, the more like­ly union pow­er will become a ​"day one" issue if a Demo­c­ra­t­ic pres­i­dent takes pow­er in 2020. In the long run, this may be one of the only effec­tive ways to both win pro­gres­sive social change and defend work­ers' gains from the inevitable right-wing counterattack.
David Good­ner
is a writer, orga­niz­er and Catholic Work­er from Iowa City.