Bernie 2020? Sanders' Return to Iowa Fuels Speculation of Another Presidential Bid.
Sanders hasn't stopped railing against billionaires and the ruling class—and he's not denying the possibility of another presidential run.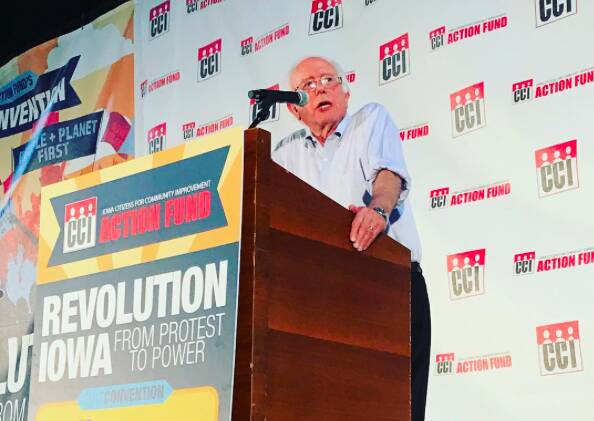 Sen­a­tor Bernie Sanders (I‑Vt.) returned to Iowa on Sat­ur­day for the first time since 2016 and brought the house down dur­ing a keynote speech in front of more than 1,000 com­mu­ni­ty activists.
Sanders' speech had all the hallmarks of a campaign rally.
His vis­it to the ear­ly vot­ing swing state fueled nation­wide spec­u­la­tion that Sanders may run for pres­i­dent again in 2020, a pos­si­bil­i­ty he has not denied.
Sanders' appear­ance in the corn state on Sat­ur­day was orga­nized by Iowa Cit­i­zens for Com­mu­ni­ty Improve­ment (CCI) Action Fund as part of their annu­al con­ven­tion, ​"Rev­o­lu­tion Iowa: From Protest to Pow­er." Iowa CCI is a pop­ulist com­mu­ni­ty orga­ni­za­tion with more than 4,000 mem­bers. The group has had a rela­tion­ship with Sanders since 2014.
Long­time CCI lead­ers opened their con­ven­tion Sat­ur­day morn­ing with call-and-response chants. By the time Sanders appeared Sat­ur­day after­noon, the crowd had swelled from 800 peo­ple to more than 1,000. Late in the day, CCI staff announced they had raised more than $30,000 from con­ven­tion goers dur­ing a fundrais­ing pitch moments before Sanders walked on stage.
Chants of ​"Bernie! Bernie!" rocked the con­ven­tion hall when the self-described demo­c­ra­t­ic social­ist sen­a­tor final­ly grasped the podium.
Sanders' speech had all the hall­marks of a cam­paign ral­ly. He thanked his local sup­port­ers and called for a polit­i­cal rev­o­lu­tion against the oli­garchy, bil­lion­aire class and one per­cent. He railed against Cit­i­zens Unit­ed, strict vot­er iden­ti­fi­ca­tion laws and cat­a­stroph­ic cli­mate change. And he spoke at length about the his­toric fight of African-Amer­i­cans, women, immi­grants, and LGBTQ com­mu­ni­ties for equal rights.
Sanders also ham­mered Pres­i­dent Don­ald Trump and the GOP on their bill to repeal the Afford­able Care Act, as he did recent­ly in sim­i­lar trips to Ken­tucky and West Vir­ginia. If passed, the ​"Oba­macare" repeal would throw mil­lions of peo­ple off health insur­ance, cut Med­ic­aid and turn over mil­lions of dol­lars in tax cuts to the wealthy and big corporations.
"When Don­ald Trump ran for pres­i­dent, he told the peo­ple of Iowa, the peo­ple of Ver­mont, the peo­ple of this coun­try, that he was going to stand with the work­ing class, but he is cur­rent­ly sup­port­ing the most anti-work­ing class leg­is­la­tion ever pre­sent­ed in the mod­ern his­to­ry of this coun­try, a dis­as­trous health care bill that will come before the Sen­ate soon," Sanders said.
Sanders told the crowd that a 60-year-old work­er in Des Moines mak­ing $40,000 a year could see their annu­al health insur­ance costs increase from $400 to $8,000.
"Med­ic­aid pays about two thirds of the fund­ing for those peo­ple who are in nurs­ing homes," he emphasized.
"So, I say to the peo­ple of Iowa, if you have a mom or dad who is in a nurs­ing home, what hap­pens when Med­ic­aid is severe­ly cut and those peo­ple are forced out of their nurs­ing homes?" Sanders con­tin­ued. ​"Who will take care of them? What hap­pens to their lives?"
"Our imme­di­ate test, as we go on to health care, is to defeat this hor­rif­ic leg­is­la­tion," Sanders said. ​"But as soon as we accom­plish that, I will be intro­duc­ing leg­is­la­tion which has gained more and more sup­port all across this coun­try, leg­is­la­tion for a Medicare for All, sin­gle-pay­er system."
Sanders is increas­ing­ly seen as the Demo­c­ra­t­ic Par­ty fron­trun­ner in 2020, but his rela­tion­ship with the par­ty is com­pli­cat­ed and full of con­flict. Many of his sup­port­ers believe the Demo­c­ra­t­ic Nation­al Com­mit­tee stacked the deck against him dur­ing his pri­ma­ry bat­tle with Hillary Clin­ton last year. A Clin­ton sup­port­er is now chal­leng­ing Sanders for his Ver­mont Sen­ate seat.
"The cur­rent strat­e­gy of the Demo­c­ra­t­ic Par­ty is an absolute fail­ure," Sanders said at the People's Sum­mit in Chica­go in June, where he called for a pro­gres­sive takeover of the party.
But Sanders also gave the Demo­c­ra­t­ic Nation­al Com­mit­tee (DNC) $100,000 in May to reim­burse the par­ty for expens­es on a post-elec­tion Uni­ty Tour. And he endorsed and cam­paigned for Clin­ton last sum­mer. Crit­ics from the left have accused Sanders of being a ​"sheep­dog" for the Demo­c­ra­t­ic Par­ty, herd­ing peo­ple dis­af­fect­ed with cor­po­rate cap­i­tal­ism and the two-par­ty sys­tem back into the ​"grave­yard of social movements."
The ten­sion between Sanders, his allies and the Demo­c­ra­t­ic Par­ty was on full dis­play in Iowa on Saturday.
"The Demo­c­ra­t­ic Par­ty won't even imple­ment its own agen­da," said Michael Lighty, a Nation­al Nurs­es Unit­ed orga­niz­er, dur­ing a con­ven­tion work­shop on the move­ment for sin­gle-pay­er health care.
"Every Demo­c­rat was ​'pro-immi­grant' but wouldn't put a bill on the floor for us," said Eri­ka Andi­o­la, an undoc­u­ment­ed DREAM­er and polit­i­cal direc­tor of Our Rev­o­lu­tion, dur­ing anoth­er work­shop sto­ry on the pow­er of com­mu­ni­ty orga­niz­ing. ​"We said you put it on the floor or deport us."
Sanders is set to return to the first-in-the-nation cau­cus state on August 31, where he will pro­mote his new book, Bernie Sanders' Guide to Polit­i­cal Rev­o­lu­tion, at Hanch­er Audi­to­ri­um in Iowa City.
David Good­ner
is a writer, orga­niz­er and Catholic Work­er from Iowa City.