4 Women's Strikes That Were Anything But a Privilege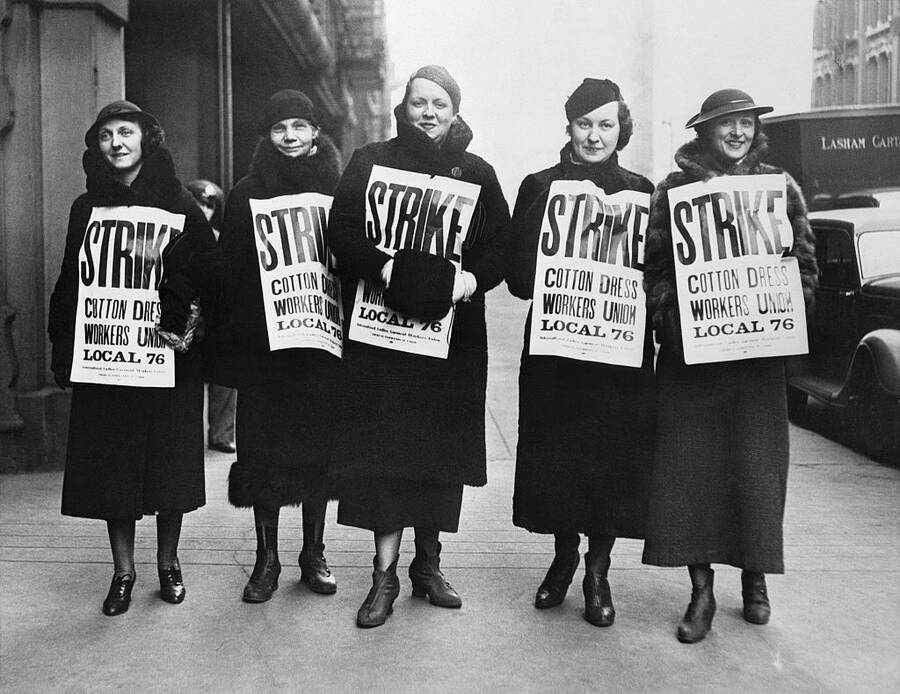 As this week's Women's Strike makes head­lines, there's a strange idea float­ing around the Inter­net: that strik­ing is for the priv­i­leged, the province of well-off women with the lux­u­ry of being able to claim a vaca­tion day or hire oth­er peo­ple to take care of their chil­dren and loved ones.
In a coun­try with a union den­si­ty just south of 11 per­cent, there are a num­ber of legit­i­mate ques­tions to be raised about the fea­si­bil­i­ty of a strike in 2017. Work­ers' bar­gain­ing pow­er stands at his­toric lows, and the insti­tu­tions that once sup­port­ed strik­ing work­ers (name­ly, unions) have been erod­ed by a mix of neolib­er­al assault and mar­ket forces. Women, in par­tic­u­lar — inor­di­nate­ly rep­re­sent­ed in low-wage ser­vice work — enjoy per­ilous­ly few pro­tec­tions on the job, and are all too like­ly to face retal­i­a­tion from their boss­es for not show­ing up. Thanks to these and oth­er struc­tur­al fac­tors, what hap­pens will not be a tru­ly mass strike. That's why orga­niz­ers have out­lined a num­ber of ways to plug into the day's events, inside and out­side the workplace.
Still, what's trou­bling about an analy­sis that claims strik­ing-as-priv­i­lege is its near-total dis­con­nec­tion from Amer­i­can labor his­to­ry. Women's strikes have nev­er been about ​"abdicat[ing] par­ent­ing respon­si­bil­i­ties in sol­i­dar­i­ty," as Quartz​'s Mau­reen Shaw put it — per­form­ing the role of a duti­ful, priv­i­leged ally — but about rec­og­niz­ing a shared strug­gle across a work­place, indus­try, class or (in this case) coun­try. Meghan Daum, at the Los Ange­les Times, made an argu­ment sim­i­lar to Shaw's but still more ill-informed: that women strik­ing would some­how show that they are an acces­so­ry to the econ­o­my, instead of crit­i­cal to its functioning.
"The idea that women should take a day off en masse to make a polit­i­cal point is both self-defeat­ing and vague­ly insult­ing. It's meant to high­light how cru­cial we are, but its very premise also sug­gests the oppo­site: Women are expend­able," Daum writes, seem­ing­ly unaware of what a strike is. "'A Day With­out A Woman' plays into the idea that we entered the work­force not to sup­port our­selves and our fam­i­lies but to com­bat bore­dom or to boost our self-esteem. For all but a very few afflu­ent women, that's nev­er been the case."
As Mag­a­l­ly A. Miran­da Alcazar and Kate D. Grif­fiths explain at The Nation, poor and work­ing women are no strangers to either strikes or mass actions, hav­ing been key forces behind every­thing from the move­ment for black lives to the ​"Day With­out Immi­grants." Labor his­to­ry is filled with women lead­ers like Dolores Huer­ta and Karen Lewis, who have been none too shy about using mil­i­tant action to secure respect on the job and good con­tracts. More recent­ly, women have pop­u­lat­ed pick­et lines in the Fight for $15 and out­side Wal-Marts.
"Strik­ing is not a priv­i­lege," Alcazar and Grif­fiths con­clude. ​"Priv­i­lege is not hav­ing to strike."
In dis­cussing the his­tor­i­cal prece­dents for Wednesday's strike, sev­er­al writ­ers have point­ed to recent actions abroad — like those in Ice­land and Poland — and a 1970 women's strike for equal­i­ty in the work­place, orga­nized by America's Nation­al Orga­ni­za­tion for Women. Amer­i­can his­to­ry, how­ev­er, is rife with exam­ples of women strik­ing as work­ers, at con­sid­er­able risk to their lives and liveli­hoods. Fol­low­ing min­ing and the build­ing trades, for instance, the tex­tile indus­try — staffed almost entire­ly by women — was the third most strike-prone indus­try in the coun­try in the ear­ly 20th cen­tu­ry. Here are just a few exam­ples of women who walked off the job:
Atlanta Washerwomen's Strike,
1881
Less than 20 years after the end of the Civ­il War, half of Atlanta's black wage earn­ers were women, almost all doing domes­tic work for white house­holds. Of those, many women were employed as laun­dress­es, or ​"wash­er­women," to whom wealthy, mid­dle class and even poor whites would send their dirty clothes. Wash­er­women, includ­ing many for­mer slaves, made between $4 to $8 a month for long hours of phys­i­cal­ly demand­ing labor.
In the sum­mer of 1881, 20 wash­er­women met and formed the Wash­ing Soci­ety, com­prised entire­ly of African Amer­i­can women. Can­vass­ing fel­low work­ers and gar­ner­ing sup­port from the city's black church­es, the Society's ranks swelled from 20 to 3,000 laun­dress­es in just three weeks. Strike meet­ings were held every night, and strik­ers faced arrests and harass­ment from police. Amid com­plaints from white fam­i­lies, the city charged women par­tic­i­pat­ing in the strike with ​"dis­or­der­ly con­duct and quar­rel­ing," accord­ing to the Atlanta Con­sti­tu­tion, and fined them sums greater than many of their month­ly wages. A defen­dant in one such case was unable to pay, and sen­tenced to work for 40 days on a chain gang. The city also attempt­ed to enforce a tax on any women found to be a par­ty of the Wash­ing Soci­ety. Anec­do­tal evi­dence sug­gests that the washerwomen's strike also spread to oth­er work­ers. As the Con­sti­tu­tion report­ed at the time, ​"not only the wash­er­women, but the cooks, house ser­vants and nurs­es are ask­ing increases."
Even­tu­al­ly, the Soci­ety set­tled with the Atlanta City Coun­cil to pay a $25 annu­al licens­ing fee in exchange for high­er rates and more auton­o­my. ​"We can afford to pay these licens­es, and will do it before we will be defeat­ed, and then we will have full con­trol of the city's wash­ing at our own prices," the women wrote in a state­ment to May­or Jim Eng­lish. The strike had a chill­ing effect on Atlanta's white busi­ness and polit­i­cal estab­lish­ment, unsure of whether the city could run with­out black labor. Short­ly after the Washerwomen's strike, Atlanta's gov­ern­ment caved to demands from cooks, maids, hotel work­ers and nurs­es for high­er pay.
"

The Upris­ing of

20

,

000

" (

1909

)

New York's Tri­an­gle Shirt­waist Fac­to­ry is per­haps best remem­bered for the hor­rif­ic fire that claimed the lives of 146 work­ers, most of them young immi­grant women. Two years pri­or, how­ev­er, many of the work­ers in that plant par­tic­i­pat­ed in what was one of the country's biggest labor upris­ings to date. In 1909, Yid­dish-speak­ing women, many in their teens and ear­ly 20s, orches­trat­ed an 11-week gen­er­al strike across Gotham's 600-shop shirt­waist indus­try, oth­er­wise known as the ​"nee­dle trades." It all start­ed with a spat of spon­ta­neous strikes in the Leis­er­son Com­pa­ny, the Rosen Broth­ers and at Tri­an­gle, protest­ing work­place safe­ty issues, low wages and ram­pant sex­u­al harass­ment, among oth­er issues. In con­di­tions com­mon through­out the indus­try, Tri­an­gle work­ers worked unin­ter­rupt­ed 14 hour shifts with just one bath­room break, forc­ing many to uri­nate on the fac­to­ry floor.

Work actions, begun in the late sum­mer and fall, car­ried on for sev­er­al months before Local 25 of the Inter­na­tion­al Ladies Gar­ment Work­ers' Union (ILGWU) began to ques­tion whether mem­bers should return to work. At a packed meet­ing to dis­cuss the strike's future, work­er-orga­niz­er and Local 25 exec­u­tive com­mit­tee mem­ber Clara Lem­lich made an impas­sioned call: ​"I am a work­ing girl, one of those who are on strike against intol­er­a­ble con­di­tions. I am tired of lis­ten­ing to speak­ers who talk in gen­er­al terms. What we are here to decide is whether we shall or shall not strike. I offer a res­o­lu­tion that a gen­er­al strike be declared — now." The res­o­lu­tion passed.

In the morn­ing, 15,000 shirt­waist work­ers struck. Over­all, 70 per­cent of strik­ers were women. Nine­ty per­cent were Jew­ish. More than 700 were arrest­ed with­in just one month, 19 of whom were sen­tenced to the work­house. Sev­er­al faced beat­ings by police. As in oth­er strikes, sev­er­al of the most instru­men­tal orga­niz­ers were social­ist women and immi­grants, like Lem­lich and Rose Schneiderman.

Even­tu­al­ly, strik­ers' resources were exhaust­ed and the upris­ing was called off — though not before win­ning sig­nif­i­cant con­ces­sions. The strike was also a boon for the ILGWU, which, by the end of the strike, count­ed some 85 per­cent of New York shirt­waist mak­ers as mem­bers. Inspired by the events of 1909, sim­i­lar strike actions fol­lowed, even­tu­al­ly ren­der­ing the tex­tile indus­try one of the country's most union-dense. Beyond those gains, the upris­ing fur­ther cement­ed women's role in the to-that-point fair­ly con­ser­v­a­tive ILGWU, the lead­er­ship of which would be replaced by social­ists in 1914.
Chica­go Gar­ment Work­ers Strike (
1910

)

By 1910, Chicago's tex­tile indus­try was its third largest employ­er, and its largest employ­er of work­ing women. Begin­ning in late Sep­tem­ber with 16 women in the Hart, Schaffn­er and Marx plant—the largest cloth­ing man­u­fac­tur­er in the nation at the time — the strike swelled to 2,000 work­ers in just the first week, includ­ing Yid­dish, Czech, Pol­ish, Ital­ian, Lithuan­ian and Eng­lish speak­ers. As in New York's Upris­ing the year pri­or, many of the core orga­niz­ers behind the strike were teenagers and social­ists. Nel­lie M. Zeh, who helped orga­nize pick­et lines in var­i­ous Chica­go neigh­bor­hoods, opined about the young women strik­ers in one of the city's social­ist papers: ​"Sweet and pret­ty is that laugh­ing face, but strength of char­ac­ter is also shown in that it was she who took the lead in the walk-out of an entire shop."

Per indus­try stan­dard, work­ing con­di­tions in the plant were deplorable. What agi­tat­ed work­ers into declar­ing a strike, though, was the impo­si­tion of a ​"bonus sys­tem," where­by the piece rate per gar­ment was cut and male super­vi­sors were giv­en more dis­cre­tion over which work­ers did and didn't get paid. An esti­mat­ed 41,000 work­ers joined in once the strike was endorsed by the Unit­ed Gar­ment Work­ers (UGW), though Chica­go orga­niz­ers crit­i­cized the union for fail­ing to call for a gen­er­al, indus­try-wide strike. City res­i­dents ral­lied in sup­port of strik­ing work­ers, with doc­tors offer­ing free med­ical care and the­aters host­ing ben­e­fit per­for­mances for the union's strike fund. Chica­go author­i­ties were not as kind: City police and agents hired by the tex­tile com­pa­nies shot two strik­ing work­ers dead, with three oth­er Chicagoans killed as the result of stand-offs between work­ers and their employers.

A set­tle­ment with a major­i­ty of strik­ers was reached in Decem­ber, though a num­ber of strik­ers stayed off the job for sev­er­al months after the UGW with­drew its sup­port, demand­ing fur­ther con­ces­sions. The Chica­go strike laid the ground­work for the cre­ation of the Amal­ga­mat­ed Cloth­ing Work­ers of Amer­i­ca and launched the career of famed labor orga­niz­er Sid­ney Hillman.
Los Ange­les Gar­ment Work­ers Strike (
1933

)

In the wake of the Great Depres­sion, Los Ange­les dress­mak­ers began a strike that would spread to an esti­mat­ed 2,000 work­ers and 80 man­u­fac­tur­ers. Tex­tile employ­ers rou­tine­ly vio­lat­ed the city's liv­ing wage ordi­nance, pay­ing work­ers only for the time they spent cut­ting and sewing parcels of gar­ments, which came in at odd inter­vals. Dress­mak­ers worked on hot and poor­ly ven­ti­lat­ed shop floors, and work was often irreg­u­lar, with few guar­an­tees of paid work on a giv­en day.

Three-quar­ters of work­ers in the dress­mak­ing indus­try were Mex­i­can immi­grants, who were also the main orga­niz­ers behind the strike. They were part of the Los Ange­les local of the ILGWU. To that point, Los Angeles's tex­tile indus­try had been hos­tile to unions, so estab­lish­ing the local in the first place, in a proud­ly ​"open shop" town, was an achieve­ment in its own right. What's more, the union's own white, East Coast lead­er­ship had been con­vinced that Mex­i­can gar­ment work­ers were ​"unor­ga­ni­z­able."

They were proven wrong. Orga­niz­ing in both fac­to­ries and neigh­bor­hoods, in Eng­lish and in Span­ish, rank and file activists began build­ing toward a strike, with demands for union recog­ni­tion, a 35-hour week, high­er wages and oth­er protections.

The three-week strike that ensued when employ­ers refused work­ers' demands ground the city's tex­tile indus­try to a halt. More than 3,000 work­ers turned out to a Gar­ment Dis­trict pick­et line on the strike's first day. Ten­sions quick­ly swelled between strik­ers and their boss­es, who called on the police to jail and intim­i­date their employ­ees. One strik­er-turned-long­time labor orga­niz­er, Ani­ta Andrade Cas­tro, recalled being jailed 37 times, the first time for giv­ing out leaflets. Man­u­fac­tur­ers began cav­ing after two weeks, and the ILGWU end­ed up win­ning sev­er­al of its demands, includ­ing its cen­tral call for col­lec­tive bar­gain­ing rights.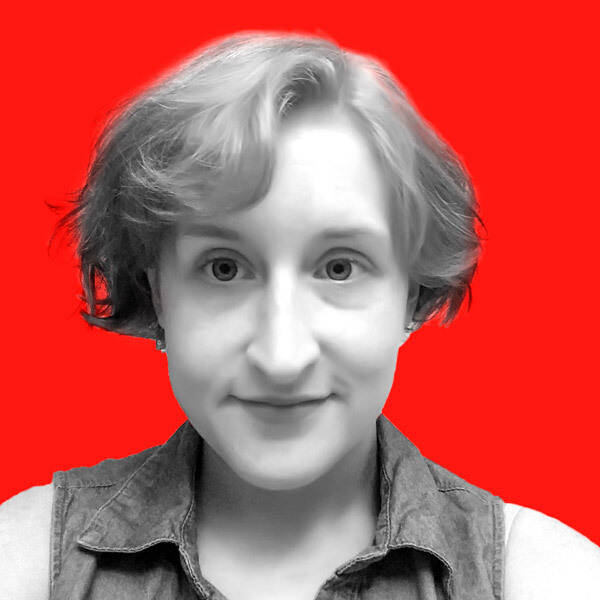 Kate Aronoff
is a Brook­lyn-based jour­nal­ist cov­er­ing cli­mate and U.S. pol­i­tics, and a con­tribut­ing writer at The Inter­cept. Fol­low her on Twit­ter @katearonoff.