5 Reasons Why a Federal Job Guarantee Makes Sense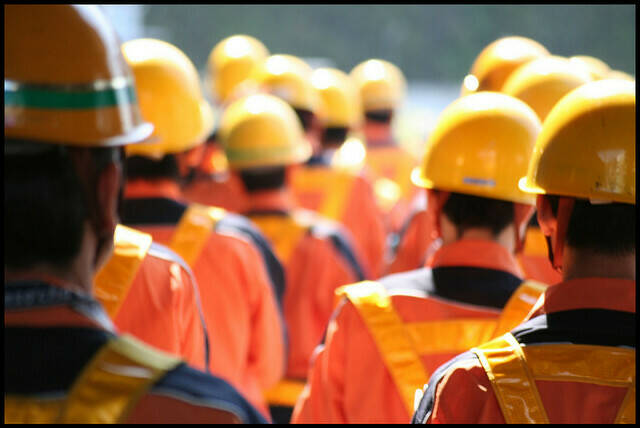 This arti­cle was first post­ed by Jacobin.
Uni­ver­sal basic income (UBI), an annu­al gov­ern­ment-spon­sored pay­ment to all cit­i­zens, has been gain­ing trac­tion across the Amer­i­can polit­i­cal land­scape. Andy Stern, for­mer Ser­vice Employ­ees Inter­na­tion­al Union pres­i­dent, believes the pro­gram will coun­ter­act the ​"accel­er­a­tion of tech­nol­o­gy" that he thinks will like­ly cre­ate ​"work but not reli­able jobs or incomes." On the Right, the Amer­i­can Enter­prise Institute's Charles Mur­ray argues that we should replace the ​"entire bureau­crat­ic appa­ra­tus of gov­ern­ment social work­ers" with a UBI.
Oth­er heavy-hit­ters agree it's worth dis­cussing. Robert Reich's recent video calls on the gov­ern­ment to pro­vide a min­i­mum pay­ment for every cit­i­zen. Pres­i­dent Oba­ma told Wired that the Unit­ed States will have to debate UBI and sim­i­lar pro­grams ​"over the next ten or twen­ty years."
The renewed atten­tion makes sense: UBI would cov­er work­ers who, thanks to tech­no­log­i­cal progress, have lost their jobs. One often-cit­ed report tells us that 47 per­cent of all jobs are at risk of being auto­mat­ed. Yet exist­ing social insur­ance pro­grams are insuf­fi­cient. The cur­rent array of pro­grams — such as unem­ploy­ment insur­ance, the earned income tax cred­it, and the Sup­ple­men­tal Nutri­tion Assis­tance Pro­gram—help many Amer­i­cans, but over forty-three mil­lion peo­ple still live below the pover­ty line. Chil­dren are among the most vul­ner­a­ble, with near­ly half liv­ing at or near poverty.
The UBI rep­re­sents one way to fight increas­ing depri­va­tion. But anoth­er poten­tial inter­ven­tion — the fed­er­al job guar­an­tee (FJG) — might be a far more promis­ing demand.
A job guar­an­tee is not a new idea. It has been part of the Amer­i­can con­ver­sa­tion at least since pop­ulist gov­er­nor Huey Long put forth his Share Our Wealth Plan. In 1934, he argued that the Unit­ed States should use pub­lic works to ensure ​"every­body [is] employed." These calls were echoed by politi­cians from Roo­sevelt in his Eco­nom­ic Bill of Rights to George McGov­ern dur­ing his 1972 pres­i­den­tial bid. Mar­tin Luther King also stumped for a job guar­an­tee, demand­ing imme­di­ate ​"employ­ment for every­one in need of a job." He saw ​"a guar­an­teed annu­al income at lev­els that sus­tain life and decent cir­cum­stances" as the sec­ond-best option.
Here are five rea­sons to agree with him.
1

. A job guar­an­tee means few­er poor Americans.

A job guar­an­tee would reduce pover­ty more quick­ly and pro­vide more ben­e­fits than a UBI. To ensure a suf­fi­cient income, we argue for a FJG that would pay a min­i­mum annu­al wage of at least $23,000 (the pover­ty line for a fam­i­ly of four), ris­ing to a mean of $32,500. This would elim­i­nate the ​"work­ing poor" for full-time work­ing house­holds. In addi­tion to the wage, work­ers in the FJG pro­gram would receive health insur­ance and pen­sion ben­e­fits in line with those that all civ­il ser­vants and elect­ed fed­er­al offi­cials receive.

In com­par­i­son, many of the UBI pro­pos­als promise around $10,000 annu­al­ly to every cit­i­zen (for an exam­ple, see Charles Murray's pro­pos­al here). On the one hand, this plan would break the link between employ­ment and mon­ey. But it does so at half the rate that would be avail­able under the FJG, not even con­sid­er­ing life­sav­ing ben­e­fits like health insurance.
2

. The robots haven't tak­en over yet. We still need workers.

The dan­gers of immi­nent full automa­tion are over­stat­ed: there is lit­tle evi­dence that com­pa­nies are large­ly replac­ing human work­ers with robots. As Dean Bak­er explains,
If tech­nol­o­gy were rapid­ly dis­plac­ing work­ers then pro­duc­tiv­i­ty growth — the rate of increase in the val­ue of goods and ser­vices pro­duced in an hour of work — should be very high, because machines are more effi­cient. In the last decade, how­ev­er, pro­duc­tiv­i­ty growth has risen at a slug­gish 1.4 per­cent annu­al rate. In the last two years it has limped along at a pace of less than 1 per­cent annu­al­ly. By com­par­i­son, in the post – World War II ​"Gold­en Age," from 1947 to 1973, pro­duc­tiv­i­ty grew at an annu­al rate of almost 3 percent.
No doubt, sta­ble and high-paid employ­ment oppor­tu­ni­ties are dwin­dling, but we shouldn't blame the robots. Work­ers aren't being replaced by automa­tons; they are being replaced with oth­er work­ers — ones low­er-paid and more pre­car­i­ous­ly employed. Nev­er­the­less, tech­nol­o­gy, and glob­al­iza­tion, have struck fear into Amer­i­can workers.
Not because they are by nature a raw deal, but because the bal­ance of forces over the last few decades has been skewed so dra­mat­i­cal­ly in the favor of cap­i­tal. Tech­nol­o­gy, nor glob­al­iza­tion, need have neg­a­tive employ­ment effects on work­ers — but they cer­tain­ly can. It's time to get the rules right, and ensure work­ers are pro­vid­ed the dig­ni­ty of a job. A fed­er­al job pro­gram would solve the real prob­lem, while UBI would sim­ply treat a side effect.
3

. A FJG could build an inclu­sive economy.

Con­ven­tion­al wis­dom holds that peo­ple dis­like work. Intro­duc­to­ry eco­nom­ics class­es will explain the disu­til­i­ty of labor, which is a direct trade-off with leisure. Grant­ed, employ­ment isn't always fun, and many forms of employ­ment are dan­ger­ous and exploita­tive. But the UBI miss­es the way in which employ­ment struc­tural­ly empow­ers work­ers at the point of pro­duc­tion and has by its own mer­its pos­i­tive dimen­sions.

This touch­es on a heat­ed debate on the Left. But for now, there is no doubt that peo­ple want jobs, but they want good jobs that pro­vide flex­i­bil­i­ty and oppor­tu­ni­ty. They want to con­tribute, to have a pur­pose, to par­tic­i­pate in the econ­o­my and, most impor­tant­ly, in soci­ety. Nev­er­the­less, the pri­vate sec­tor con­tin­ues to leave mil­lions with­out work, even dur­ing sup­posed ​"strong" eco­nom­ic times.

The work­place is social, a place where we spend a great deal of our time inter­act­ing with oth­ers. In addi­tion to the stress asso­ci­at­ed with lim­it­ed resources, the lone­li­ness that plagues many unem­ployed work­ers can exac­er­bate men­tal health prob­lems. Employ­ment — espe­cial­ly employ­ment that pro­vides added social ben­e­fits like com­mu­nal cof­fee breaks—adds to work­ers' well-being and pro­duc­tiv­i­ty. A fed­er­al job guar­an­tee can pro­vide work­ers with social­ly ben­e­fi­cial employ­ment — pro­vid­ing the dig­ni­ty of a job to all that seek it.

The FJG would also act as a de fac­to wage floor — pri­vate employ­ers will have to offer wages and ben­e­fits at least as entic­ing as the fed­er­al gov­ern­ment to attract work­ers. There has been exten­sive pub­lic sup­port for recent increas­es in the min­i­mum wage, such as the Fight for $15 cam­paign, demon­strat­ing that most Amer­i­cans believe work­ers deserve a liv­ing wage. Fight­ing for a high­er min­i­mum wage is an impor­tant step to ensure that work­ers are com­pen­sat­ed a liv­ing wage rather than a pover­ty wage, yet let us not for­get that the effec­tive min­i­mum wage in this coun­try with­out a UBI or a job guar­an­tee is $0. This must change.

Final­ly, some argue that a ​"skills mis­match" explains why some work­ers remain unem­ployed. While we reject that nar­ra­tive, a well-designed FJG will nev­er­the­less include a train­ing ele­ment to build work­ers' skills and a jobs lad­der to cre­ate upward mobil­i­ty in the workplace.

All of these ele­ments will build an inclu­sive econ­o­my that pro­vides good jobs for all. The UBI, in con­trast, could sub­si­dize bad jobs — allow­ing low min­i­mum wages and lack of ben­e­fits to persist.
4

. Fed­er­al jobs could pro­vide social­ly use­ful goods and services.

Dur­ing the Great Depres­sion, the Works Progress Admin­is­tra­tion (WPA) and Civil­ian Con­ser­va­tion Corps (CCC) were pub­lic employ­ment pro­grams designed to put Amer­i­cans back to work after the nation­al unem­ploy­ment rate reached 25 per­cent. These pro­grams, imple­ment­ed under the Roo­sevelt admin­is­tra­tion, pro­vid­ed social­ly ben­e­fi­cial goods and ser­vices that ben­e­fit­ed all Amer­i­cans. Some of our nation­al parks — Zion, Glac­i­er, and Shenan­doah — received sub­stan­tial work con­tri­bu­tions from employ­ees of the fed­er­al jobs pro­grams. The Blue Ridge Park­way was a fed­er­al­ly fund­ed and staffed infra­struc­ture program.

A new fed­er­al job guar­an­tee could under­take sim­i­lar­ly bold and much-need­ed pub­lic-works projects.

The Amer­i­can Soci­ety of Civ­il Engi­neers gave the Unit­ed States a D+ in infra­struc­ture and prices nec­es­sary repairs at $3.6 tril­lion. This lack of invest­ment has low­ered employ­ment rates, cost busi­ness­es sales, and reduced incomes for Amer­i­can fam­i­lies. Make no mis­take, these are gov­ern­ment choic­es. They could choose instead to hire unem­ployed work­ers to repair bridges, main­tain road­ways, and update pow­er grids.

Like­wise, Bill McK­ibben just called for us to ​"declare war" against cli­mate change. With cli­mate change being per­haps the largest threat to our well-being, bold action is need­ed. The job guar­an­tee pro­gram would cre­ate the capac­i­ty to do just that. Pro­fes­sor Robert Pollin of the Polit­i­cal Econ­o­my Research Insti­tute calls for scal­ing up the tran­si­tion to a green econ­o­my, which would cre­ate mil­lions of new jobs along the way. He and his col­leagues esti­mate what a Green New Deal would look like, and find that a tran­si­tion to a green econ­o­my would amount to an esti­mat­ed $200 bil­lion in invest­ment annu­al­ly, result­ing in a drop in ​"US emis­sion by 40 per­cent with­in 20 years, while cre­at­ing a net increase of 2.7 mil­lion jobs." In part, this is due to the labor-inten­sive nature of ener­gy effi­cien­cy and oth­er ​"green" investments.

Addi­tion­al ser­vices, when com­bined with a FJG, would save aver­age Amer­i­can house­holds thou­sands, if not tens of thou­sands, a year. Accord­ing to the Eco­nom­ic Pol­i­cy Insti­tute, for exam­ple, tuition-free and uni­ver­sal child care and edu­ca­tion — staffed by FJG work­ers — would trim an aver­age of $22,631 annu­al­ly from fam­i­lies' bud­gets in expen­sive places such as DC while sav­ing house­holds in places like Arkansas a more mod­est $5,995 on average.

To be sure, a UBI would free up time to vol­un­teer, to care for sick rel­a­tives, or to start small busi­ness­es. Addi­tion­al­ly, the UBI would final­ly pro­vide greater finan­cial free­dom to those that choose to stay at home and engage in care work — dis­pro­por­tion­ate­ly pro­vid­ed by women. How­ev­er, the FJG has the abil­i­ty to pro­vide high qual­i­ty ser­vices, such as child care and elder care, that would great­ly reduce the care bur­den, pro­vid­ing more choice while build­ing on the cur­rent social safe­ty net.
5

. It'll sta­bi­lize the economy.

A FJG would bring us much clos­er to actu­al full employ­ment, not the neo­clas­si­cal full employ­ment that sub­jec­tive­ly allows for some opti­mal fric­tion­al unem­ploy­ment. Most con­tem­po­rary econ­o­mists rely on the non-accel­er­at­ing infla­tion rate of unem­ploy­ment (NAIRU) to cal­cu­late this less-than-full full employ­ment arti­fi­cial sta­tis­tic which func­tions as a dis­ci­pli­nary tool of the bour­geoisie, but this, accord­ing to Roger Farmer is ​"an idea past its sell-by date."

By full employ­ment, we mean sim­ply that every­one seek­ing a job gets one. We'd wager that if you asked the aver­age Amer­i­can what full employ­ment means to them, they'd give you a sim­i­lar answer — a job for all. Indeed, a plu­ral­i­ty of Amer­i­cans will also tell you they sup­port a FJG.

The UBI would like­ly still leave a sub­stan­tial seg­ment of the pop­u­la­tion in pover­ty. As Bel­gian philoso­pher Philippe Van Par­i­js, one of the most promi­nent UBI advo­cates, acknowl­edged, even a large pay­ment through the UBI won't nec­es­sar­i­ly secure a com­fort­able liv­ing for all cit­i­zens. How about those with­out jobs, or those who earn below sub­sis­tence wages? Of course, a UBI cou­pled with a non-pover­ty wage option and strong union­iza­tion could seri­ous­ly com­bat pover­ty. The UBI would elim­i­nate the effec­tive min­i­mum wage of $0 cur­rent­ly offered in the Unit­ed States, though it would fail to pro­vide ade­quate employ­ment for all that demand­ed it — a cru­cial short­fall of such a program.

A FJG is a sounder mech­a­nism to com­bat struc­tur­al inequal­i­ties, for instance through clos­ing the per­sis­tent unem­ploy­ment gap expe­ri­enced by stig­ma­tized groups who face con­tin­ued dis­crim­i­na­tion. (Note, since 1972 unem­ploy­ment has aver­age dou­ble dig­its for black work­ers and has nev­er fall­en below 7 per­cent — a lev­el that is only reached dur­ing times of eco­nom­ic cri­sis — for white workers).

Fur­ther, the FJG will have a strong macro­eco­nom­ic sta­bi­liza­tion effect. Dur­ing eco­nom­ic down­turns, it would expand and hire more peo­ple; it would then shrink dur­ing eco­nom­ic boom peri­ods as peo­ple move from pub­lic to bet­ter-pay­ing pri­vate employ­ment. Pavli­na R. Tch­erne­va, a lead­ing voice on the FJG's macro­eco­nom­ic effects, argues that poli­cies like the UBI have no counter-cycli­cal fea­tures. Thus, when the econ­o­my takes a down­turn — say as it did in 2007 — basic incomes pro­vide no auto­mat­ic sta­bi­liz­ers to right the sink­ing ship.

This is good for the econ­o­my as a whole. Rather than expand­ing the unem­ploy­ment insur­ance rolls dur­ing eco­nom­ic busts, the FJG would put folks to work and mod­er­ate the busi­ness cycle. Fed­er­al work­ers' pay­checks will increase demand, which will increase eco­nom­ic growth. Many econ­o­mists agree that today's sec­u­lar stag­na­tion — insuf­fi­cient demand — is con­tribut­ing to con­tin­ued ​"lack­lus­ter" growth after the Great Reces­sion. Only mod­est upticks in growth for the fore­see­able future will come if we con­tin­ue the sta­tus quo.

Final­ly, as a less cost­ly pro­gram a FJG might be eas­i­er for a future left gov­ern­ment to enact. Some esti­mate that basic income could eas­i­ly cost more than $3 tril­lion each year, while oth­ers say it will only come to $2.7 tril­lion. The FJG, on the oth­er hand, will cost orders of mag­ni­tude less. Even if we con­ser­v­a­tive­ly guess that fif­teen mil­lion unem­ployed work­ers need jobs, fund­ing the FJG would take about $750 bil­lion.

We want to build an inclu­sive econ­o­my. The FJG will build an econ­o­my that serves the work­ing class more effi­cient­ly and effec­tive­ly than the UBI.

The ben­e­fits will be imme­di­ate­ly and broad­ly dis­trib­uted. The FJG will direct­ly tar­get the unem­ployed — rem­e­dy­ing a key pre­dic­tor of pover­ty. By pro­vid­ing uni­ver­sal employ­ment, it will also coun­ter­act employ­ers' sys­tem­at­ic dis­crim­i­na­tion against ex-offend­ers, recent mil­i­tary vet­er­ans, and cer­tain racial groups. Fur­ther­more, through pro­vid­ing a guar­an­teed job, work­ers will be embold­ened to take new actions in the pri­vate sec­tor. This could be just the pol­i­cy to rein­vig­o­rate the labor move­ment, spurring union­iza­tion dri­ves to improve work­ing con­di­tions. These ben­e­fits will result in the fed­er­al jobs rais­ing ben­e­fi­cia­ries and their fam­i­lies above the pover­ty line. The UBI can make no such guarantee.

Not only would a fed­er­al job guar­an­tee bring jus­tice to the mil­lions who desire work, but it would also address the long-stand­ing unjust bar­ri­ers that keep large seg­ments of stig­ma­tized pop­u­la­tions out of the labor force.

Final­ly, it would reverse the ris­ing tide of inequal­i­ty for all work­ers. By strength­en­ing their bar­gain­ing pow­er and elim­i­nat­ing the threat of unem­ploy­ment once and for all, a fed­er­al job guar­an­tee would bring pow­er back to the work­ers where it belongs.

In These Times is proud to fea­ture con­tent from Jacobin, a print quar­ter­ly that offers social­ist per­spec­tives on pol­i­tics and eco­nom­ics. Sup­port Jacobin and buy a four-issue sub­scrip­tion for just $19.95.
Mark Paul is a post­doc­tor­al asso­ciate at the Samuel DuBois Cook Cen­ter on Social Equi­ty at Duke Uni­ver­si­ty and holds a PhD in eco­nom­ics from the Uni­ver­si­ty of Mass­a­chu­setts Amherst. William Dar­i­ty Jr is the Samuel DuBois Cook pro­fes­sor of pub­lic pol­i­cy, African and African-Amer­i­can Stud­ies, and eco­nom­ics; and the direc­tor of the Samuel DuBois Cook Cen­ter on Social Equi­ty at Duke Uni­ver­si­ty. Dar­rick Hamil­ton is asso­ciate pro­fes­sor of eco­nom­ics and urban pol­i­cy at the Milano School of Inter­na­tion­al Affairs, Man­age­ment and Urban Pol­i­cy and the Depart­ment of Eco­nom­ics, New School for Social Research.