5,000 Protest Bank Power, Abuses, as 'Showdown' Culminates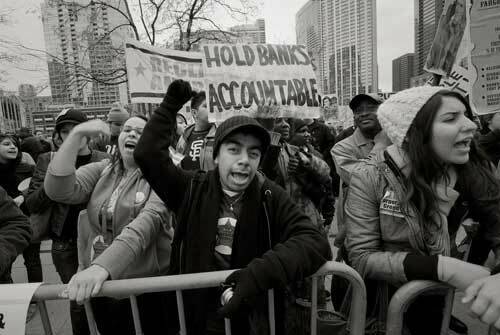 CHICAGO – Angenita Tanner faces tough times. Her home-based child care business is threatened by potential Illinois state budget cuts to programs subsidizing care for children of low-income workers. Already her clients have found it hard to pay for her services, leading her to fall behind on her mortgage. But her bank refuses to re-negotiate the mortgage, even though losing her home would also end her business and income.
"America has bailed out the banks, but the banks aren't bailing out the people," she told a crowd of about 5,000 unionists and organized community activists on Tuesday as they protested outside the American Bankers Association conference on the third and final day of what was billed as the ​"Showdown in Chicago."
It was the common theme of the protest, the largest focused on the financial industry since the banking crisis pushed the whole economy into deep recession, echoed in marchers' chants: ​"the banks got bailed out, we got sold out."
The protest, which relied heavily on unions – especially the Service Employees (SEIU) – and Chicago community groups fighting foreclosure, delivered a strongly worded but programmatically diffuse message calling on banks to serve real needs of people, not the greedy speculative aims of their executives.
Against a backdrop of giant cut-out figures of leading ​"robber bankers," SEIU Secretary-Treasurer Anna Burger called for investigation of big bank CEOS, adding, ​"and, if necessary, we have to prosecute them for what they've done to our country."
And AFL-CIO president Richard Trumka said, ​"We are not going to let bankers rule our lives or our country." Addressing the ABA members inside the hotel, he said:
You work for us-not the other way around. Your job is to be stewards of our savings-to put and keep working families in homes, to lend the money companies need to create jobs. And you have failed. You've turned the American economy into your own private casino, gambling away our financial future with our money, driving us to the brink of a second Great Depression, then sticking out your hand for taxpayers to bail you out.

And Bankers, let me tell you this: We didn't put you back in business so you can pay billions in bonuses to the suits; those bonuses have to go. And we didn't put you back in business so you could pile money and lobbyists into Capitol Hill to fight the financial reform we so desperately need-while we're losing jobs, losing our homes, losing our retirement savings, losing it all-because you treated the money we worked so hard to earn like Monopoly money.
Trumka called for establishing a consumer financial protection agency, reforming the Federal Reserve or creating a new agency to stop systemic risk, regulating shadow financial markets (like hedge funds, private equity funds and over-the-counter derivatives), and reforming corporate governance and executive pay).

Other speakers called for stopping foreclosures and breaking up big banks. They demanded more and lower-interest loans for public needs and job creation. And they told the ABA to stop lobbying against much-needed reforms.

There was broad agreement on anger at the banks for providing so little, if any, public benefit for the massive bail-out, and for so quickly returning to the greed and abuse that precipitated the crisis.
Stoking anger at the banks is not only justified, it is politically important and beneficial. But the variety of demands hint at the problem of organizing that anger. It's often hard to educate people about important but complex initiatives – like reforming the Fed or regulating derivatives – or to link those reforms to their personal experiences.
Other reforms – like judicial modification of mortgages – make sense to people facing foreclosure, but may not move others to action. But it may still be possible to build an overarching movement around the idea that the banks should serve the real economy, not their own speculative greed, mobilizing constituencies on as many of the items on the broad agenda as possible.

After all, many Americans now share the sentiment of janitor Maria Guerra, now facing bank refusal to renegotiate a mortgage she co-signed with her brother-in-law, who has exhausted his unemployment benefits.
"Bankers are recovering," Guerra told the crowd, ​"but what about everyone else?"
Socialism ... Seriously
"The most fun and accessible introduction to socialist ideas I've ever read."—Anand Gopal
For a limited time, when you donate $20 or more to support In These Times, we'll send you a copy of the new, expanded edition of Socialism ... Seriously by Danny Katch.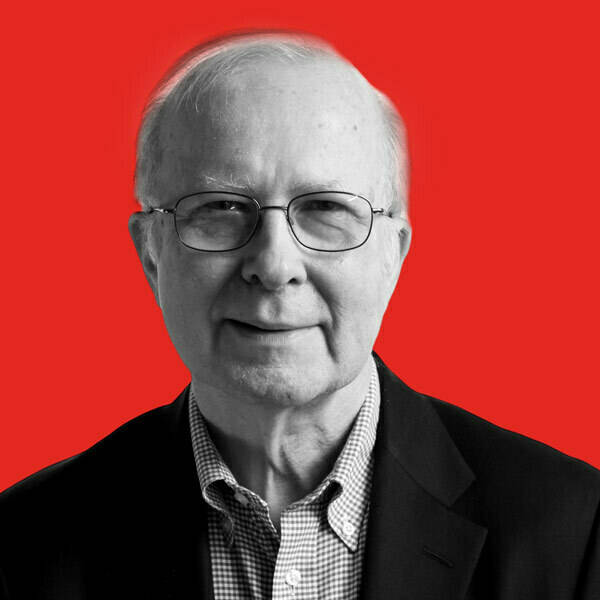 David Moberg, a former senior editor of In These Times, was on staff with the magazine from when it began publishing in 1976 until his passing in July 2022. Before joining In These Times, he completed his work for a Ph.D. in anthropology at the University of Chicago and worked for Newsweek. He received fellowships from the John D. and Catherine T. MacArthur Foundation and the Nation Institute for research on the new global economy.