Bernie Sanders Started the Revolution. The Rest Is Up to Us.
Sanders ended his presidential campaign, but he's laid a path to take on corporate power and win democratic socialism.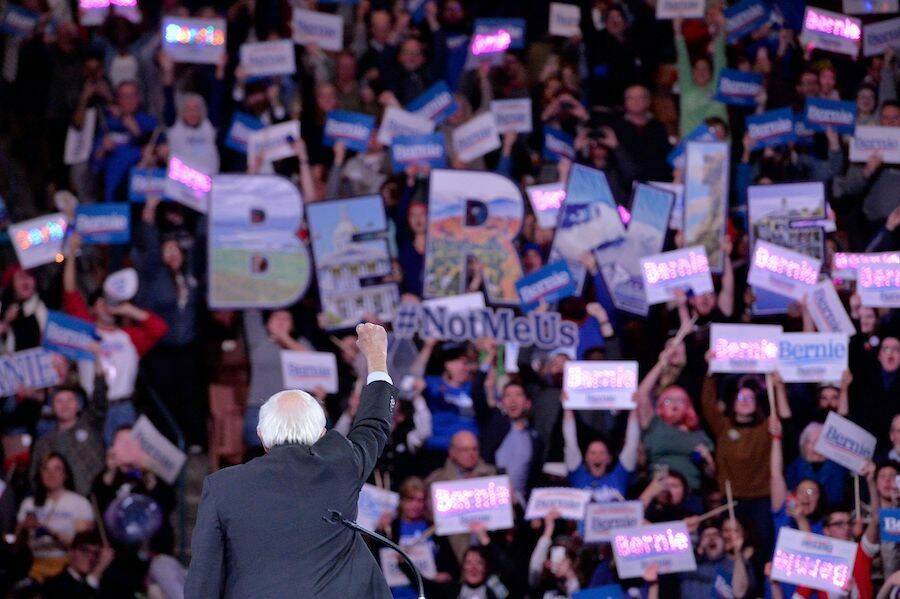 Bernie Sanders is no longer a can­di­date for pres­i­dent. It's a dev­as­tat­ing moment for his sup­port­ers and for all those who under­stand that the sta­tus quo in Amer­i­can pol­i­tics and soci­ety is not ten­able. But we should pause, in our grief, to reflect on what has come from his cam­paign. We now have a once-in-a-life­time open­ing, pried open by the Sanders cam­paign and the orga­niz­ing it helped inspire, to reshape the world for the many, not the few. Giv­en the impend­ing real­i­ty of cat­a­stroph­ic cli­mate change, we have no choice but to take advan­tage of this open­ing if we don't want to live out our days in a dystopi­an nightmare.
As socialists, in the pursuit of an elevated human condition alongside close friends and total strangers, we have discovered a feeling of connectedness to humanity that's nearly impossible to find elsewhere in our alienated society.
Unfor­tu­nate­ly, lib­er­als are not tak­ing the threats we face seri­ous­ly enough. They've moved heav­en and earth to defeat the Sanders cam­paign while get­ting caught up in sideshow spec­ta­cles in recent years—Rus­si­a­gate, impeach­ment—rather than work­ing to put for­ward an alter­na­tive to the grind­ing mis­ery of life in Amer­i­ca under cap­i­tal­ism. Sanders, mean­while, showed that we aren't doomed to live in a world of inequal­i­ty, oppres­sion and mis­ery — that mil­lions of peo­ple real­ly are ready for a cri­tique of the polit­i­cal and eco­nom­ic sys­tem we live under, and eager to cre­ate a soci­ety that's just, sus­tain­able, and gives every­one a chance to flour­ish as human beings.
Peo­ple often quote Wern­er Sombart's remark in 1906 about the pre­pon­der­ance of ​"roast beef and apple pie," the incred­i­ble abun­dance that the U.S. work­ing class sup­pos­ed­ly has access to, as a way to explain why social­ism has not tak­en root here the way that it has else­where. Less quot­ed, how­ev­er, is the end­ing of the 1906 book from which that line comes. Som­bart, hav­ing giv­en his full expla­na­tion for socialism's absence in the U.S., has this to say:
These are rough­ly the rea­sons why there is no Social­ism in the Unit­ed States. How­ev­er, my present opin­ion is as fol­lows: all the fac­tors that till now have pre­vent­ed the devel­op­ment of Social­ism in the Unit­ed States are about to dis­ap­pear or to be con­vert­ed into their oppo­site, with the result that in the next gen­er­a­tion Social­ism in Amer­i­ca will very prob­a­bly expe­ri­ence the great­est pos­si­ble expan­sion of its appeal.
Over a cen­tu­ry lat­er, these words ring true. We are in a rare, per­haps brief, moment of polit­i­cal oppor­tu­ni­ty. Let's seize it to go beyond the Bernie Sanders cam­paign and win social­ism in our time.
A Nar­row Window
The social­ist move­ment is on stronger foot­ing than it was before Sanders broke into the main­stream, and the cri­sis of coro­n­avirus has helped pop­u­lar­ize many of the kinds of mea­sures social­ists have argued for (at least for now). But there are no guar­an­tees that social­ism will remain a sub­ject of curios­i­ty or inter­est for the Amer­i­can work­ing class, much less per­me­ate the polit­i­cal cul­ture. We may in fact have a very short win­dow of oppor­tu­ni­ty to inter­vene and grow our move­ment. It's our respon­si­bil­i­ty to take the baton from Sanders and run with it.
Social­ists have to take advan­tage of this oppor­tu­ni­ty as strate­gi­cal­ly as pos­si­ble. The pur­pose of social­ist pol­i­tics is to build work­ing people's pow­er. That has to include win­ning real mate­r­i­al vic­to­ries, but we can't cel­e­brate those vic­to­ries for long. Rest­ing on our lau­rels while cap­i­tal­ism per­sists is a recipe for the even­tu­al ero­sion of our accomplishments.
One les­son all those inspired by Sanders should take away is the urgent neces­si­ty of a class-strug­gle approach to polit­i­cal action, both in the state and out­side it. Right now, we need more can­di­dates run­ning in class-strug­gle elec­tions — cam­paigns that clar­i­fy that cap­i­tal­ists are our ene­my, raise the expec­ta­tions of the work­ing class and help build its capac­i­ty to fight beyond the elec­toral realm — and push­ing to decom­mod­i­fy basic goods in our lives like health­care, high­er edu­ca­tion and hous­ing. We need more protests and strikes, more fights against the tiny minor­i­ty in the cap­i­tal­ist class that has an active inter­est in squeez­ing as much out of every­one else as pos­si­ble while destroy­ing the plan­et we all live on, as well as an inter­est in stok­ing hatred and divi­sion through­out society.
And we need those can­di­dates and those ini­tia­tives to all meet under one roof: a social­ist orga­ni­za­tion. Not all of the peo­ple who join these fights will be social­ists, but with a strong social­ist orga­ni­za­tion, we'll be able to pull them togeth­er to build the kind of work­ing-class strength that can trans­form the world. The Demo­c­ra­t­ic Social­ists of Amer­i­ca (DSA) have emerged as exact­ly such an organization.
DSA mem­bers, from Alexan­dria Oca­sio-Cortez and Rashi­da Tlaib in Con­gress to half a dozen social­ist city coun­cil mem­bers in Chica­go and beyond, have already won elec­tions up and down the bal­lot, not to men­tion play­ing key roles in the Sanders cam­paign; the group has been orga­niz­ing in the streets on a wide range of issues, includ­ing Medicare for All, afford­able hous­ing, immi­grants rights, union orga­niz­ing and sup­port, and much more. For those who want to con­tin­ue fight­ing for the ​"polit­i­cal rev­o­lu­tion" that Sanders put on the map, there's no bet­ter group to do it with than DSA.
A Strug­gle, Not a Slog
We each have one life to live. We should spend it free and hap­py. To main­tain a sys­tem that ren­ders peo­ple mis­er­able and unfree, for no oth­er rea­son than the accru­al of a huge amount of prof­its to a small num­ber of peo­ple, is a crime.
We deserve the world. And we won't have it until cap­i­tal­ism ends.
It's daunt­ing, this idea that social­ists must keep strug­gling through con­di­tions unfore­seen, pos­si­bly for the rest of our lives. But it's not a slog. In fact, that strug­gle is mean­ing­ful and nour­ish­ing. And in the pur­suit of an ele­vat­ed human con­di­tion along­side close friends and total strangers, we have dis­cov­ered a feel­ing of con­nect­ed­ness to human­i­ty that's near­ly impos­si­ble to find else­where in our alien­at­ed society.
To be a social­ist, engaged in this per­pet­u­al strug­gle, entails many frus­tra­tions and some per­son­al sac­ri­fice. But it is also enliven­ing, enrich­ing and inspir­ing. At times it can feel down­right spir­i­tu­al. In a speech deliv­ered in Can­ton, Ohio, the one that land­ed him in jail, labor orga­niz­er and five-time Social­ist pres­i­den­tial can­di­date Eugene V. Debs cap­tured this sen­ti­ment beautifully:
I have regret­ted a thou­sand times that I can do so lit­tle for the move­ment that has done so much for me. The lit­tle that I am, the lit­tle that I am hop­ing to be, I owe to the Social­ist move­ment. It has giv­en me my ideas and ideals; my prin­ci­ples and con­vic­tions, and I would not exchange one of them for all of Rockefeller's blood­stained dollars.

It has taught me how to serve — a les­son to me of price­less val­ue. It has taught me the ecsta­sy in the hand­clasp of a com­rade. It has enabled me to hold high com­mu­nion with you, and made it pos­si­ble for me to take my place side by side with you in the great strug­gle for the bet­ter day; to mul­ti­ply myself over and over again, to thrill with a fresh-born man­hood; to feel life tru­ly worth­while; to open new avenues of vision; to spread out glo­ri­ous vis­tas; to know that I am kin to all that throbs; to be class-con­scious, and to real­ize that, regard­less of nation­al­i­ty, race, creed, col­or or sex, every man, every woman who toils, who ren­ders use­ful ser­vice, every mem­ber of the work­ing class with­out an excep­tion, is my com­rade, my broth­er and sis­ter — and that to serve them and their cause is the high­est duty of my life.
What Bernie Sanders has accom­plished in the last five years can't be over­stat­ed. He has invit­ed hun­dreds of thou­sands, per­haps even­tu­al­ly mil­lions of peo­ple to join in the fight for a humane and free world, and to come to know through their own actions the mean­ing of solidarity.
It's now the task of the reborn social­ist move­ment to act bold­ly, inter­vene intel­li­gent­ly, and con­tin­ue to invite peo­ple into that strug­gle, so that the poten­tial of this moment isn't squan­dered. There has not been a bet­ter time to be a social­ist in the Unit­ed States in the last century.
There hasn't been a more urgent time to join the social­ist move­ment, either. So join us.
Adapt­ed from Big­ger than Bernie: How We Go from the Sanders Cam­paign to Demo­c­ra­t­ic Social­ism by Mea­gan Day and Mic­ah Uet­richt, from Ver­so Books. Views expressed are the authors'. As a 501©3 non­prof­it, In These Times does not sup­port or oppose can­di­dates for polit­i­cal office.