The People of Honduras Do Not Owe Obedience to an Imposed Government
Despite brutal repression, the people of Honduras have resisted the U.S.-backed dictatorship since the 2009 coup d'état.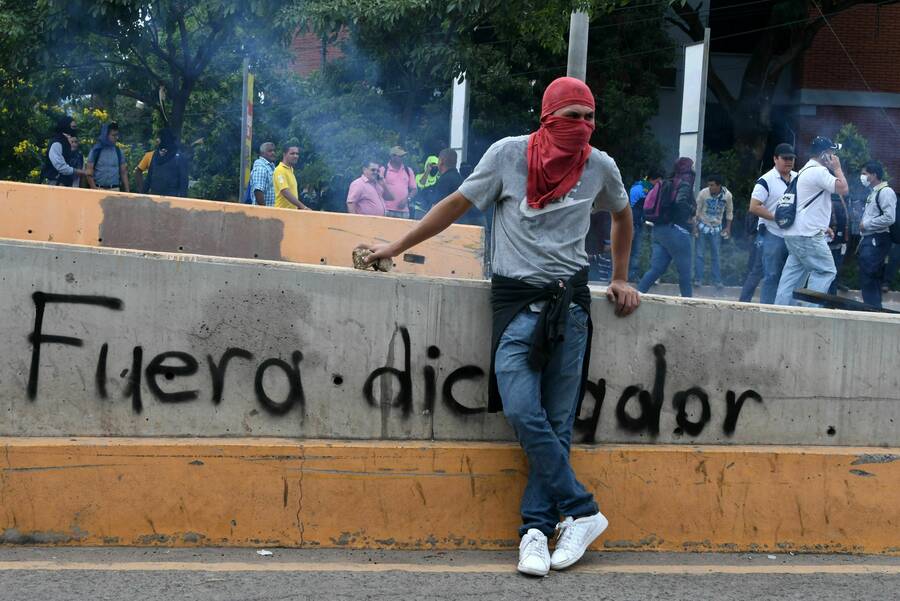 Since elec­tions wide­ly denounced as fraud­u­lent this Novem­ber, the social move­ments of Hon­duras have tak­en to the streets, con­fronting vio­lent repres­sion by a Hon­duran state armed with mil­lions of dol­lars from U.S. tax­pay­ers. Melis­sa Car­doza, Hon­duran fem­i­nist and author of 13 Col­ors of the Hon­duran Resis­tance, was in the Unit­ed States last spring for a book release tour in hon­or of assas­si­nat­ed Hon­duran indige­nous leader Berta Cáceres. Here she speaks of and to those from grass­roots strug­gles in the U.S. about the cur­rent peri­od of unyield­ing resis­tance and bru­tal repres­sion in Hon­duras. The fol­low­ing essay was trans­lat­ed by Matt Ginsberg-Jaeckle.
With the support of the same European and U.S. colonizers as always, the dictator seeks to stay put.
Hon­duras is con­sid­ered by the U.S. gov­ern­ment to be its back yard, its dump, its mil­i­tary base par excel­lence in the region, the banana plan­ta­tion that has enriched its busi­ness­es with the blood of workers.
There, in the his­to­ries of banana exploita­tion, is one of the ori­gins of the his­to­ry that we are now liv­ing through in this Jan­u­ary — full of calls express­ing people's strug­gles and express­ing grief for the lives stolen from us. These are the lives of com­pa­tri­ots who have tak­en to the streets to say ​"no" to anoth­er bru­tal coup against the peo­ple — this time an elec­toral coup.
But that his­to­ry could also be told start­ing cen­turies ago, when the ruin that arrived by sea with sto­ries of a sin­gu­lar, pun­ish­ing god and the incon­ceiv­able greed of the white Euro­peans prac­ti­cal­ly con­demned this coun­try to obliv­ion. Through force and exploita­tion, rela­tions based on avarice and cru­el­ty in all of their forms devel­oped. It would be the same sto­ry cen­turies lat­er in the min­ing and banana enclaves, now run by North Amer­i­can boss­es. All that changed through time were the masters.
Through the years as they sought to strength­en a nation­al state, the exec­u­tives of the Unit­ed Fruit Com­pa­ny inter­vened in nation­al pol­i­tics to the point of invest­ing in the pres­i­den­tial seat and the Nation­al Congress.
His­to­ry teach­es. His­to­ry comes back and shows us scenes that we have lived through and that we often need to recall. On the one hand, there are the sell­outs. But on the oth­er are peo­ple who dig­ni­fy us with their actions and words. Peo­ple from the banana fields who car­ried out an epic strike in 1954 against that giant of a com­pa­ny, break­ing the back of its domination.
In Hon­duras, since the last days of 2017, those peo­ple are writ­ing a new page by hand. The most servile right-wing polit­i­cal and busi­ness class in this region orga­nized an elec­toral fraud to re-install their favorite vil­lain, the wretched Juan Orlan­do Her­nan­dez (JOH) — the cur­rent Pres­i­dent who con­trols all state and legal insti­tu­tions. Backed by Wash­ing­ton, a coup d'etat was con­sol­i­dat­ed in 2009 through bal­lot box­es manip­u­lat­ed by the hands of the Nation­al Par­ty, now famous for its omi­nous acts of cor­rup­tion. This is part of a long his­to­ry of nation­al cor­rup­tion, which has brought the Hon­duran peo­ple to the extremes of dis­gust. In this way, the cur­rent Pres­i­dent has declared war on the major­i­ty of the peo­ple, who have respond­ed to that dec­la­ra­tion large­ly with­out weapons, with strength and cre­ativ­i­ty. They are orga­niz­ing and sus­tain­ing peace­ful actions replete with deter­mi­na­tion, anger, mem­o­ry and an ener­gy that goes beyond that of its cur­rent lead­ers — the politi­cians who are, for now, part of the opposition.
At the bar­ri­cades, peo­ple scream, ​"Dic­ta­tor­ship — nev­er again!" and, ​"Juan Orlan­do you're not my Pres­i­dent." Arti­cle 3 of the con­sti­tu­tion fills their voic­es: Nobody owes obe­di­ence to an imposed government.
The peo­ple of Hon­duras are weary of bet­ting on a democ­ra­cy that, since its incep­tion, has done noth­ing but enrich a few fam­i­lies and trap the vast major­i­ty of peo­ple in a human­i­tar­i­an emer­gency. Our soci­ety is plagued by unem­ploy­ment, lack of health­care, hunger and the con­stant threat of insecurity.
An impor­tant major­i­ty of the Hon­duran peo­ple are tired of even the most basic rights being made a mock­ery — those rights that pro­po­nents of democ­ra­cy love to praise: vot­ing and elect­ing a can­di­date who reflects some of the desires for well­be­ing and peace.
This is hap­pen­ing these days, events in the midst of a peo­ple mourn­ing more than 30 assas­si­na­tions of those who have par­tic­i­pat­ed in protests and actions against this impo­si­tion — many of them in the north of the coun­try, where the repres­sion against a thought­ful and brave peo­ple has turned cru­elest. An entire army is in the streets, hunt­ing down men and women who will not accept anoth­er fraud.
With the sup­port of the same Euro­pean and U.S. col­o­niz­ers as always, the dic­ta­tor seeks to stay put. The peo­ple are set on remov­ing him, soon­er or lat­er. The deci­sions are no longer being made in the usu­al rooms full of politi­cians and agree­ments behind the backs of the majori­ties. Now things are play­ing out right there in the prepa­ra­tions for a bar­ri­cade, the burn­ing of tires to stop traf­fic, the orga­niz­ing of a response to repres­sion, the decid­ing on the words for a state­ment, the denun­ci­a­tions and chants.
The song that plays over and over again and gives mean­ing to these times — ​"JOH, JOH, you're on your way out" — has not only turned into an inter­na­tion­al hit but is a new hymn of the resis­tance that has not stopped since the 2009 coup d'état. In fact, this call has been strength­ened by brave and angry Hon­duran peo­ple who have learned how to resist a dic­ta­tor­ship and take mat­ters into their own hands.
Melis­sa Car­doza
is an afro-indige­nous jour­nal­ist, poet, writer and fem­i­nist orga­niz­er from Hon­duras. She is the author of the book,
13
Col­ors of the Hon­duran Resistance.