"General Strike, F*ck This Country": Talking Politics and Punk With Jawbreaker's Blake Schwarzenbach
The guitarist and singer of the legendary band discusses politics, poetry, Palestine and antifascism.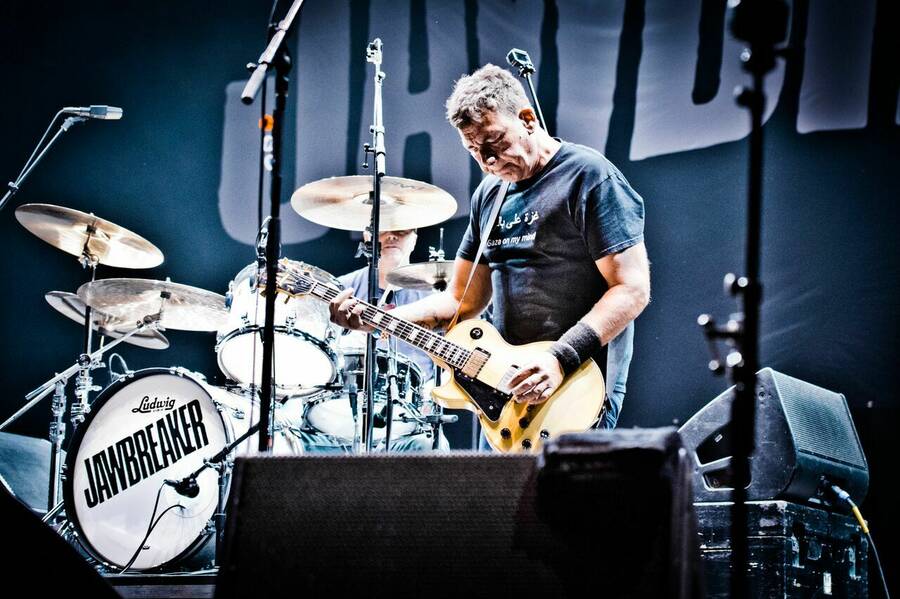 After more than 20 years of silence, the leg­endary punk band Jaw­break­er reunit­ed this Sep­tem­ber to head­line Riot Fest, where they played their grit­ty, melod­ic songs as a packed crowd shout­ed along. The charged atmos­phere in Chicago's Dou­glas Park also resound­ed with the band's bold, rad­i­cal polit­i­cal state­ments — point­ing towards a ​"rev­o­lu­tion­ary spir­it" as a nec­es­sary anti­dote to Trumpism.
I don't think of us as having a political legacy, other than living well and responsibly—that we're conscientious people. I'd love for that to be a takeaway later on.
"Every­one call into work tomor­row, because gen­er­al strike, fuck this coun­try," said Blake Schwarzen­bach, Jawbreaker's singer and gui­tar play­er, address­ing many thou­sands of fans gath­ered in front of the large, out­door stage. Wear­ing a black T‑shirt read­ing, ​"Gaza on my mind" in Eng­lish and Ara­bic, Blake denounced the ​"hell scape we are all liv­ing in, in this moment of total sex­ism, total racism, total cor­po­rate cap­i­tal­ist shit." He thanked the crowd for ​"sup­port­ing art and resis­tance." Mean­while, bassist Chris Bauer­meis­ter played the show wear­ing an orange ​"Antifas­cist Action" T‑shirt.
These were no small ges­tures. The band, which broke up 21 years ago, has a cult fol­low­ing, and many of its fans had nev­er seen them play live. Their Chica­go per­for­mance, in addi­tion to two small­er shows in Cal­i­for­nia, fol­lowed years of rumors that there would be a reunion. Jaw­break­er head­lined after major acts, includ­ing Nine Inch Nails, Queens of the Stone Age and Prophets of Rage.
I spoke with Blake about why a band not known for on-the-nose polit­i­cal state­ments decid­ed to use this high­ly-antic­i­pat­ed show and giant plat­form to voice rad­i­cal polit­i­cal mes­sages. Rather than present him­self as an expert or author­i­ty, Blake said that he did it ​"on the fly, like a liv­ing per­son." Here is our con­ver­sa­tion about art, punk, poet­ry, Pales­tine and the moral imper­a­tive to reject fascism.
Sarah Lazare: Thanks for being up for doing this interview.
Blake Schwarzen­bach: Hey, I've been silent for 20 years.
Sarah: As I men­tioned before, this will pri­mar­i­ly be polit­i­cal, not your usu­al rock inter­view. I want to give you a chance to explain or expand on any polit­i­cal state­ments you were aim­ing to make at your show in Chicago.
Blake: I will do my best. I'm not real­ly a pub­lic fig­ure, you know, oth­er than play­ing music.
Sarah: You're more pub­lic than most of us.
Blake: You wouldn't know that to see how I live. I'm just a cit­i­zen, you know.
Sarah: I know you recent­ly did an inter­view with Brook­lyn­Ve­g­an about how it's been hard for you to get a job as a dog walk­er in this hor­ri­ble economy.
Blake: I felt bad about that, because I felt it came off as dis­parag­ing to dog walk­ers. I want­ed that job, I think that's a great job. Tak­en as a pull quote, it seemed a bit dismissive.
Sarah: I just took it as a state­ment about how bleak and pre­car­i­ous the econ­o­my is.
Blake: Yeah, I think it is, if you don't devote your life to being employ­able. I have a very sus­pect resume, I think, because of these enor­mous gaps in it where I try to claim I made music. That was my job, and I don't think they real­ly buy that in human resources.
Sarah: I've lis­tened to Jaw­break­er more than half my life and was excit­ed by how many overt­ly polit­i­cal, rad­i­cal state­ments you made dur­ing your show. I'm think­ing of your ​"Gaza on my mind" shirt and Chris's ​"Antifas­cist Action" shirt, as well as state­ments about the much-need­ed rev­o­lu­tion­ary spir­it in the face of total sex­ism, racism and cor­po­rate cap­i­tal­ism. I'd love to give you an oppor­tu­ni­ty to explain what your aims were, if you had any, in express­ing polit­i­cal views at your show.
Blake: I thought that wear­ing some­thing would prob­a­bly be the best way to do it, because everybody's talk­ing, and I didn't want to waste that plat­form. I knew it was an oppor­tu­ni­ty to express some kind of sol­i­dar­i­ty with the rest of the world — the whole rest of the world. I'm so tired of speechi­fy­ing. I'm also aware of being from a place of priv­i­lege in my own way, as a band, I didn't think the world need­ed a lec­ture on fem­i­nism or racism from a pow­er trio that's white. I didn't pre­pare any remarks, but I think we all want­ed to do our lit­tle part to acknowl­edge we had a lot of space and a big micro­phone for a minute. So I did it on the fly, like a liv­ing person.
Sarah: Have you done any activism or orga­niz­ing around Pales­tine sol­i­dar­i­ty or Gaza?

Blake: No. I've spo­ken at anti-war events, I've attend­ed ral­lies. But I don't know, I haven't been inclined to be a full-time activist. I sup­port what I can, and I do it through books that I look at and read. I guess it's a kind of liv­ing activism that I admire in oth­ers, where it's a part of your life and not such a big pub­lic expression.
Sarah: Do you think now is an impor­tant time for artists and musi­cians to make polit­i­cal state­ments, in light of Trump­ism, cli­mate chaos, mass depor­ta­tions and the fact that orga­nized white suprema­cist mili­tias have a direct line to the White House?
Blake: I think it's always a good time for that. I wish peo­ple were bet­ter at it. I find most lec­tures at shows feel like just that. It's very rare that you find an artist that is liv­ing their rev­o­lu­tion­ary ethos. An artist who doesn't have to tell: Those are the ones who inspire me in the long-term. Until we have anoth­er Fugazi or some­thing, I don't know how it's going to hap­pen on the stage.
As I get old­er, I get a lit­tle less explic­it. I like sly rad­i­cal­ism. I always think of Leonard Cohen, because I think he's a very sly rad­i­cal. He was say­ing things that were philo­soph­i­cal and reach real­ly deep if you take them on.
We played imme­di­ate­ly after Prophets of Rage, an explic­it­ly rev­o­lu­tion­ary group. They do that very effec­tive­ly. They're a giant pro­pa­gan­da machine, in a way, for their ide­ol­o­gy. That polit­i­cal­ly says noth­ing to me. I don't know what to do with that kind of rhetoric. I'm all for ​"pow­er to the peo­ple" and every­thing. I love Chuck D, I grew up lis­ten­ing to his music. But it was a lit­tle intim­i­dat­ing for us, com­ing on right after that. This is a band fir­ing on all cylin­ders, fir­ing peo­ple up. And then it's an inter­est­ing tran­si­tion to our act, which is kind of no act. It made me think a lot of how we ped­dle resis­tance and express the wish for it. I don't have an answer for that yet. I think good writ­ing does it. It's just slow­er — slow­er than we want.
Sarah: Can you explain what you mean about sly radicalism?
Blake: Well, poet­ry is what I stud­ied for­mal­ly, and that's where I learned to appre­ci­ate that. It's a form that doesn't real­ly help you very much. It doesn't hold your hand through a rev­o­lu­tion­ary process with lan­guage and ideas. The poets I stud­ied were the sec­ond-gen­er­a­tion roman­tics, like Per­cy Bysshe Shel­ley, who was quite rad­i­cal in his think­ing and a total­ly com­plex, fucked up per­son in his own life. I grew to real­ly appre­ci­ate work that makes you work.
Anoth­er per­son just off the top of my head — some­one I found real­ly gal­va­niz­ing when I encoun­tered her work — is Anne Car­son, the poet. She also has this com­plete­ly wild body of work that has no overt polit­i­cal con­tent to it. And yet, she com­plete­ly rethinks rela­tion­ships and gen­der and cul­tur­al pro­duc­tion just through her rig­or­ous poet­ic work and per­for­mance art. I saw her per­form once. She did a show called ​"Stacks." It was just her and her part­ners build­ing piles of things on stage while she incant­ed this incred­i­ble poet­ic litany. And it was com­plete­ly about Sep­tem­ber 11 for me. That was nev­er said in any way, it was kind of this ter­ri­fy­ing, beau­ti­ful spec­ta­cle. And I just thought, ​"That's a mem­o­ry I'm going to car­ry with me for a long time and draw from."
That's anoth­er exam­ple of some­one express­ing her­self oblique­ly and sub­tly. I'm going to car­ry that for longer than I'm going to car­ry a per­fect posi­tion paper.
Sarah: As we saw at your show in Chica­go, you have many ador­ing fans. Are you want­i­ng to find ways to express pol­i­tics that encour­age peo­ple not just to fol­low you, but to think?
Blake: I do it self­ish­ly too, because I want to be engaged in the process. If I'm not being intel­li­gent about it, it's going to get flat real­ly quick­ly. I've known plen­ty of bull­shit artists over the years, where their bands say all the right things but live in ways that are very out of step of their rhetoric. I am vis­cer­al­ly resis­tant to that. I don't want to be that guy. We have that guy in office, we have that guy every­where in Amer­i­ca. I want to do my best to not be that person.
I don't want to be the guy who uses that for cul­tur­al cache. It's kind of play­ing at a pop­u­lar­i­ty con­test. That's already going on. That's our cul­ture right now. I don't see that as a cre­ative endeav­or. It seems emp­ty and unpro­duc­tive. It's a short con.
Sarah: What do you con­sid­er Jawbreaker's polit­i­cal lega­cy to be? Or, if it's hard to think in terms of lega­cies, feel free to push back on that.
Blake: I don't think of us as hav­ing a polit­i­cal lega­cy, oth­er than liv­ing well and respon­si­bly — that we're con­sci­en­tious peo­ple. I'd love for that to be a take­away lat­er on. There were a lot of things we didn't do, because we didn't feel good about it or in the right space emotionally.
Jawbreaker's a pret­ty psy­cho­log­i­cal band. We're all con­cerned with men­tal health. That's a big issue for me, per­son­al­ly. One of the things we've always been about is the way the mind works. Depres­sion, anx­i­ety, frus­tra­tion — those are themes from the ear­li­est songs. That doesn't always have an overt polit­i­cal spin to it. But if you are unwell, if you're men­tal­ly unsta­ble and thrown into soci­ety in a very raw way, it is quick­ly polit­i­cal and financial.
Per­son­al­ly I've strug­gled with my own men­tal health for a long time and had to learn how to take care of myself, luck­i­ly with some real­ly good friends and fam­i­ly, but unluck­i­ly in some insti­tu­tions and sys­tems that were very unhelp­ful. I tend to write from that space, about try­ing to find your place in this world, with those challenges.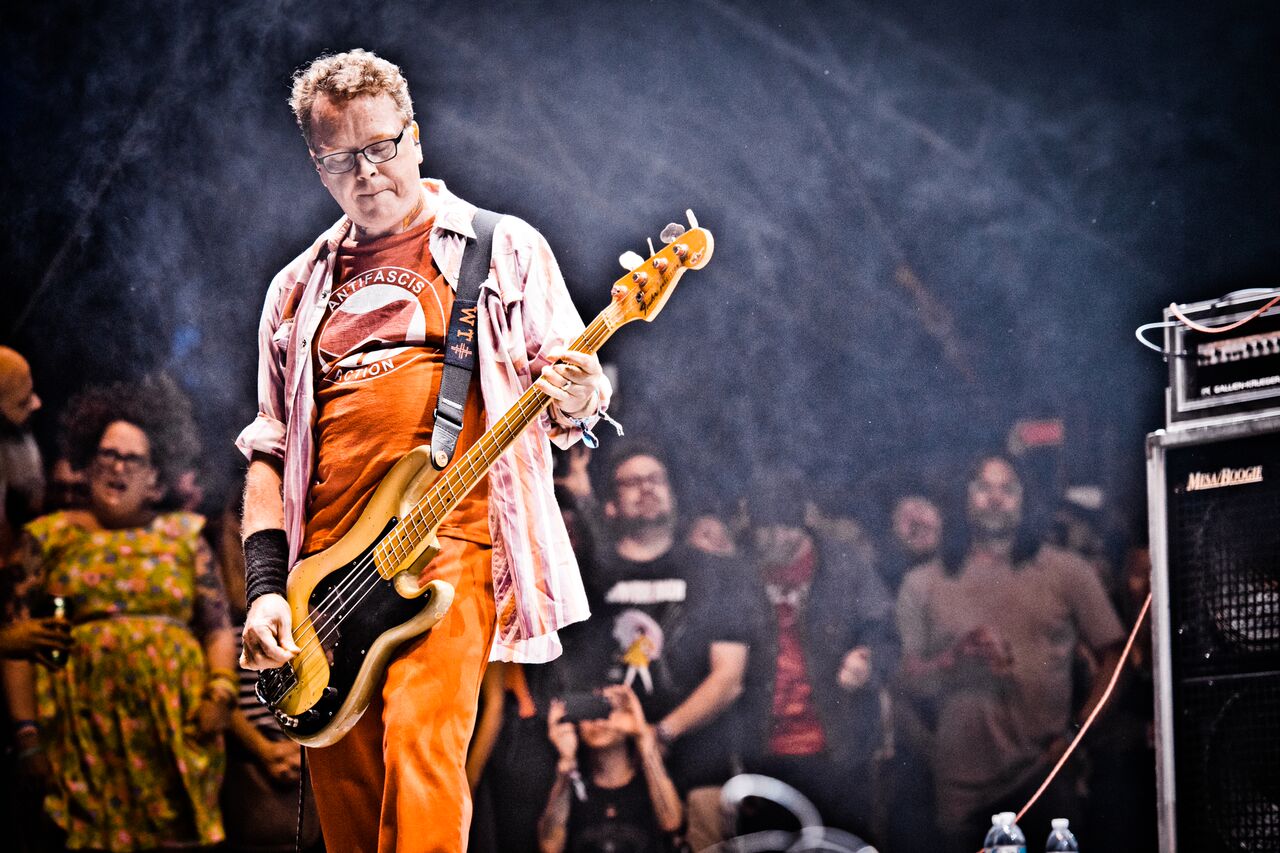 Jaw­break­er bassist Chris Bauer­meis­ter wars an ​"Antifas­cist Action" T‑shirt. (Ali­son Green)
Sarah: It seems that we can't sep­a­rate per­son­al men­tal health and well­ness from soci­ety, at a time when com­mu­ni­ties are under attack and the front lines are everywhere.
Any­ways, when you made your state­ments, you had a giant platform.
Blake: Yeah. I don't go to fes­ti­vals that often. I have played two now. I'm lucky to have played two that were real­ly fun. I was just hap­py to see peo­ple enjoy­ing music. It's such a rare thing these days. Live music is now the entire indus­try, so that's one weird part of it. All these bands have to make their liv­ing, not by record­ing or writ­ing, but by per­form­ing. Clubs and venues have become this whole oth­er mas­sive indus­try. In New York, every show is sold out by neces­si­ty I think. So it's always kind of a do-or-die event, and the amount of inher­ent cap­i­tal­ist shit is present at every show I see. It's kind of a bum­mer. I miss shows where there are 18 peo­ple, and you're see­ing some incred­i­ble band. That's very rare here.
Sarah: Well your show was real­ly dif­fer­ent from that. You were play­ing to a huge audi­ence, had a huge plat­form, and the atmos­phere was very charged.
Blake: Yeah, that was kind of a first for us after 20-some years. Every­one knows the lyrics final­ly. It's the show we always dreamed of play­ing. Every­body was caught up. We weren't play­ing a new record. That was just real­ly nice.
Sarah: I was struck by the fact that the polit­i­cal shirts you wore made bold state­ments that you had to stick your necks out for. As I'm sure you're aware, there's a phe­nom­e­non of ​"pro­gres­sive except for Pales­tine," and you can be demo­nized for sup­port­ing the Pales­tin­ian strug­gle against occu­pa­tion and apartheid. And we are also see­ing antifas­cists, and peo­ple who take antifas­cist action, being smeared — not only by Trump, but also by some who are left of cen­ter and fall into these false ​"both sides are respon­si­ble" arguments.
Blake: Yeah, I was very hap­py with our shirts. We chose our own, and they were very spe­cif­ic. I'm glad you rec­og­nized that. My shirt came from one of my dear friends who is a his­to­ri­an. Her name is Eliz­a­beth Esch. She does a lot of work around U.S. his­to­ry of racism and cap­i­tal­ism. She's been a kind of men­tor to me in terms of Pales­tine and Arab identity.
My con­nec­tion to that issue goes back to Sep­tem­ber 11, 2001 when I was in New York City. I was so mad at the Unit­ed States when that hap­pened. That was a strange, off-the-cuff reac­tion. I didn't feel vic­tim­ized. I felt like we had fucked up. And then we did — we real­ly fucked up. We took an oppor­tu­ni­ty for self-aware­ness and being checked in a real­ly pro­found way, as some­one infil­trat­ing our implaca­ble defense.
I began grad­u­ate school short­ly there­after, and the first book I was assigned was Edward Said's Ori­en­tal­ism. And I just read that book cov­er-to-cov­er. I was real­ly scared, because I was new­ly in grad school and was pay­ing my way, and I felt like I can't mess up. So I sat in a chair and read that book front to back. And I went through a real­ly great sem­i­nar with about 10 peo­ple and talked about it. It drew me into the sto­ry of Pales­tine and that strug­gle and a lot of poet­ry in the region. Once you know about it, I'm sure you've expe­ri­enced this your­self, sud­den­ly you see it every­where. Arab iden­ti­ty in New York was so under threat, so under siege. If you knew any­body in that com­mu­ni­ty, you saw very imme­di­ate­ly how pre­pos­ter­ous these charges and para­noia were. I felt aligned with it from that moment forward.
That's the long gen­e­sis of want­i­ng to say some­thing about that issue. Which, as you point out, no one wants to dis­cuss. There's always some hor­ri­ble false equiv­a­len­cy that gets thrown in against it.
I can­not speak for Chris, but Chris is a his­to­ri­an who did his grad­u­ate work in Ger­man mil­i­tarism, and I know he chose that shirt for a reason.
I was hap­py. I think Adam felt a lit­tle left out. He was like, ​"I don't have a shirt!"
Sarah: It was espe­cial­ly strik­ing for me giv­en that the Pales­tin­ian civ­il soci­ety call for Boy­cott, Divest­ment and Sanc­tions (BDS) against Israel extends to musicians.
Blake: Yeah, I'm torn on that one about musi­cians in Israel though. I think a band like Radio­head could do a lot of dam­age by play­ing Tel Aviv and Jerusalem and being this kind of crazy band. I always think going and being your­self some­where is a good idea. I'm a lit­tle torn that they would get flak for that. I can under­stand not buy­ing SodaS­tream or doing spe­cif­ic tar­get­ed things, but not going and per­form­ing and con­tin­u­ing a dia­logue or being present for that — I don't know. That's not some­thing I've read a great deal about.
Sarah: The argu­ment is that it's not real­ly a dia­logue if Pales­tini­ans are liv­ing under con­di­tions of occu­pa­tion and apartheid. And it's in the con­text of a cam­paign, ini­ti­at­ed by Pales­tin­ian civ­il soci­ety groups in 2005.
Blake: I guess I'm say­ing I agree with it in every way: I'm total­ly for BDS and a very vis­i­ble boy­cott and resis­tance to that ongo­ing col­o­niza­tion and occu­pa­tion. But when it comes to peo­ple going to the aggres­sor and colo­nial pow­er, then I get a lit­tle bit, ​"Hmmm." I don't know. Is it bet­ter just not to go? And then, there's a resis­tant pop­u­la­tion in Israel. Are we exclud­ing them as well?
Sarah: Yes, but many from the resis­tance with­in Israel are strong sup­port­ers of BDS and join­ing the call for Radio­head to boy­cott Israel.
Blake: Okay.
Sarah: You talked about being politi­cized right after Sep­tem­ber 11, 2001. The Unit­ed States has been wag­ing con­stant war since. Is this some­thing you're pay­ing atten­tion to and think­ing about a lot?
Blake: Yes, I do. I pay exact­ly as much atten­tion as I can with­out being soul-destroyed by it. I do think peo­ple need to inoc­u­late them­selves a bit and not just wal­low in main­stream media garbage all the time. It can con­t­a­m­i­nate you, either with cyn­i­cism, hope­less­ness or despair.
Art is how I've always found my way for a rea­son to live and to truth. If you're fight­ing all the time, you're for­feit­ing a cer­tain degree of liv­ing that makes it all worth­while. I choose my sources care­ful­ly, and I don't watch a lot of big media, just because I don't get any­thing from it, oth­er than tox­i­c­i­ty. I don't draw any infor­ma­tion from it, there's very lit­tle infor­ma­tion being dis­sem­i­nat­ed. I stay off that stream as much as possible.
I feel sor­ry for those lone­ly racist uncles out there who are awash in Fox & Friends. They're so defense­less intel­lec­tu­al­ly. I know a lot of peo­ple who have lost rel­a­tives to that preda­to­ry broad­cast­ing. Per­fect­ly fine elder­ly peo­ple who sit around their house all day. Sud­den­ly they can't talk to them any­more — they've been derailed. It's actu­al­ly real­ly sad.
That's always a ques­tion with this stuff: When do you write some­one off? I've seen that over the years, in the punk scene. It's such a painful thing if you have to make that deter­mi­na­tion about some­one you were for­mer­ly con­nect­ed to. Are they actu­al­ly such a dan­ger or so irrepara­bly dam­aged that you can't con­tin­ue to deal with them. I don't have any wis­dom on that, oth­er than that hope­ful­ly you can make that deci­sion with a lot of com­pas­sion and patience.
I think most peo­ple are not beyond redemp­tion. Peo­ple do get to be way­ward and igno­rant for a while. I don't know. It doesn't feel like that right now. There are plen­ty of peo­ple I would not want to redeem.
Sarah: Do you think punk scenes have a spe­cial respon­si­bil­i­ty to address fas­cism in this cur­rent polit­i­cal moment?
Blake: Gosh, I don't know. We were itch­ing for that fight 20 years ago. It was more imag­i­nary skin­heads than real ones at shows, and peo­ple get­ting run out for fair­ly light trans­gres­sions. And now, you could real­ly have a small army come into your venue. I think you have to be fierce and make sure everyone's safe and say no to bull­shit. That's always required. The stakes feel like they've been elevated.
Sarah: Sad­ly, it's been my expe­ri­ence that, in var­i­ous punk scenes, there is some­times too much room for fas­cism, too much tol­er­ance. Punk has, at times, had a prob­lem with that.
I think it's impor­tant, as you seem to be say­ing, for punk scenes to refuse to give fas­cism an inch.
Blake: Absolute­ly. I think that's a no-brain­er. Punk shouldn't have an issue with that. It should always be antifas­cist. That's a great thing to say no to. You have an all-ages show. The rule is that any­one can come into the show age-wise. We're not ageist. The oth­er rule is that you can­not be a fas­cist. You can­not be a racist and come to this event. This is our event for our peo­ple. I don't think that's cen­sor­ship or any­thing, or what­ev­er that argu­ment is. You can do all that First Amend­ment shit outside.
Sarah: I want to give you an oppor­tu­ni­ty to expand on any oth­er polit­i­cal or oth­er mes­sages you'd like to include in this interview.
Blake: You know, I always say what I want in the songs that I write. I find I'm not very effec­tive at express­ing it out­side of that in inter­views. I can write about it. Real­ly, what I have to say, is stuff I'm will­ing to sign my name to in music. Per­son­al­ly, the work I've done — For­get­ters, my last band, and Jets to Brazil — those were a lot more of my think­ing. Those are my for­mal state­ments. I would leave it to that lega­cy. Any­thing else I'll put on Face­book and the book that's been elud­ing me the last 50 years. Hope­ful­ly I can write some of it down someday.
Sarah: Would you be open to me send­ing you infor­ma­tion on resis­tance move­ments with­in Israel call­ing for cul­tur­al boycott?
Blake: I know what's going to hap­pen: In These Times is going to get me thrown out of the Park Slope Food Coop for sup­port­ing BDS [laughs].
Yeah, I would love that. I would wel­come information.
Sarah: Are there any exam­ples of orga­niz­ing or resis­tance that you find par­tic­u­lar­ly inspiring?
Blake: On Fri­day night, I went to see the Free­dom The­ater, the Pales­tin­ian the­atri­cal group that lives in Jenin, in the camps. They did a per­for­mance at NYU, sur­pris­ing­ly, of a play called The Siege. It's the siege of the Church of the Nativ­i­ty, which hap­pened in 2002, I believe. It was real­ly excit­ing to see this group. They live in a camp, and they have this incred­i­ble the­ater and brought their show to New York and per­formed. It was a total­ly inspir­ing moment. I know a lot of peo­ple worked real­ly hard to help them get here and make this hap­pen. So that was total­ly inspir­ing. It was cool.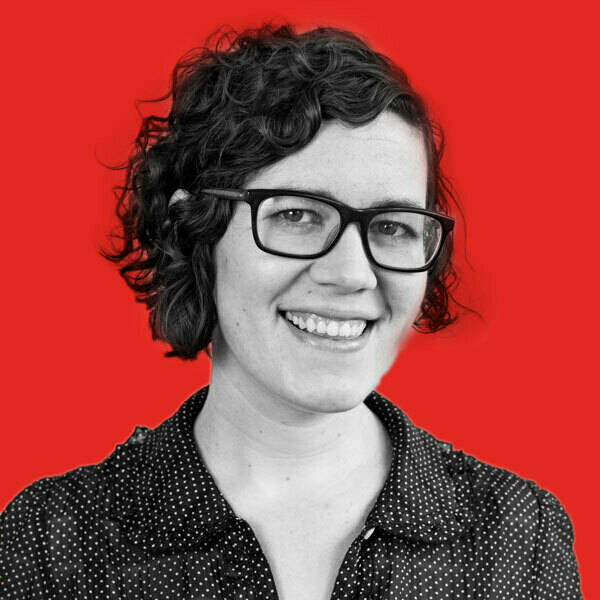 Sarah Lazare is web edi­tor at In These Times. She comes from a back­ground in inde­pen­dent jour­nal­ism for pub­li­ca­tions includ­ing The Inter­cept, The Nation, and Tom Dis­patch. She tweets at @sarahlazare.