Reagan Lives On in Biden
For 40 years, Biden has pushed to cut federal spending. In a recession, don't expect him to prime the pump.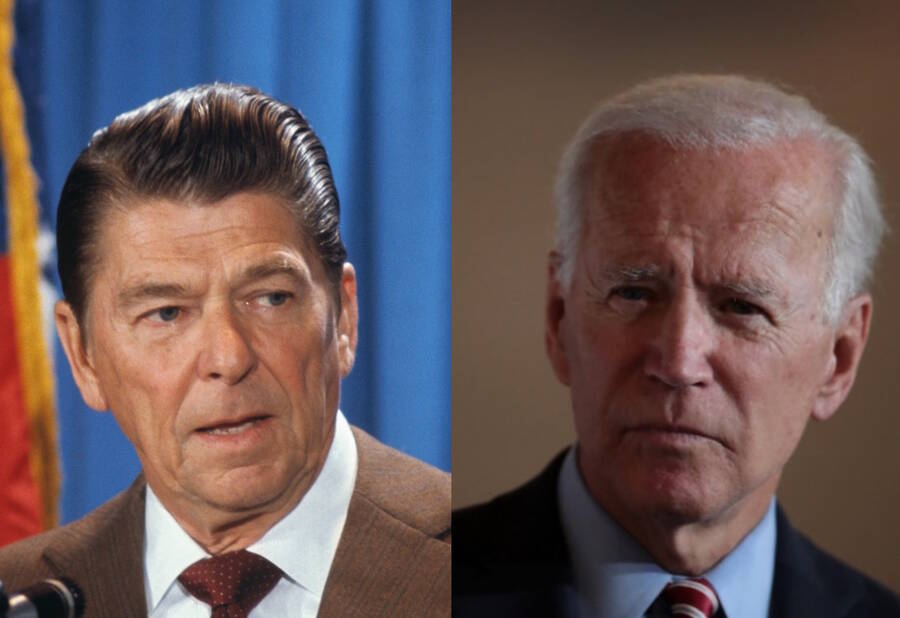 Amid warn­ings of a com­ing glob­al reces­sion, it's worth ask­ing what the 2020 pres­i­den­tial aspi­rants would do dur­ing an eco­nom­ic down­turn. When it comes to Joe Biden, we may already know.
Biden fended off Republican challenges to his seat by embracing right-wing economic doctrine.
Biden's for­ma­tive polit­i­cal years were spent in the shad­ow of eco­nom­ic cri­sis. After more than a decade of eco­nom­ic expan­sion and bliss­ful, care­free con­sumerism, reces­sion hit in 1973, the same year Biden entered the Sen­ate. Two years lat­er, 2.3 mil­lion jobs had dis­ap­peared. Amer­i­cans also had to con­tend with run­away infla­tion that reached dou­ble dig­its by 1974. The Unit­ed States had bare­ly exit­ed that reces­sion when it plunged into anoth­er one in the ear­ly 1980s, with unem­ploy­ment climb­ing past 10% by 1982.
Dur­ing this eco­nom­i­cal­ly tur­bu­lent decade, Biden fend­ed off Repub­li­can chal­lenges to his seat by embrac­ing right-wing doc­trine — specif­i­cal­ly, that restrain­ing fed­er­al spend­ing is more impor­tant dur­ing eco­nom­ic down­turns than prim­ing the pump.
This fis­cal aus­ter­i­ty would become a core con­vic­tion of Biden's and help ani­mate a life­long belief that com­pro­mise and reach­ing across the aisle are the peren­ni­al solu­tion to what ails America.
Biden had always been a some­what ambiva­lent New Deal lib­er­al—fret­ting about gov­ern­ment spend­ing as ear­ly as 1975, even as he gar­nered pos­i­tive scores from lib­er­al groups for his vot­ing record — but the reces­sion and his time in the halls of pow­er nudged him in a more con­ser­v­a­tive direction.
"I must acknowl­edge that when I first came to the U.S. Sen­ate at age 29, not too long out of col­lege, many econ­o­mists had been telling me why deficit spend­ing was not all that bad," he told the Sen­ate in 1981.
"So I was not very con­vinced of the argu­ments made by my friends here, who I must acknowl­edge, were most­ly on the Repub­li­can side of the aisle." But, he went on, ​"as I lis­tened over the years in this body, I became more and more a believ­er in bal­anced budgets."
By the close of the 1970s, Biden began call­ing him­self a fis­cal con­ser­v­a­tive and intro­duced what he called his ​"spend­ing con­trol leg­is­la­tion": a bill requir­ing all fed­er­al pro­grams to be reau­tho­rized every four years or auto­mat­i­cal­ly expire. He also vot­ed for a large but unsuc­cess­ful tax cut intro­duced by Sen. William Roth, his Repub­li­can counterpart.
Ronald Rea­gan took office in 1981, pio­neer­ing the eco­nom­ic pro­gram of gen­eros­i­ty to the rich and stingi­ness to the poor that became known as Reaganomics. Biden was right there with him.
Biden, Rea­gan and oth­er con­ser­v­a­tives pushed the flawed idea that the gov­ern­ment is like a house­hold and must take dras­tic mea­sures to pay off debt to stay sol­vent. Six months into Reagan's first term, Biden called the reduc­tion of deficit spend­ing ​"the sin­gle most impor­tant" path toward ​"an eco­nom­i­cal­ly sound future."
To cur­tail gov­ern­ment spend­ing, Rea­gan severe­ly scaled back or elim­i­nat­ed fed­er­al pro­grams — even as he slashed tax rates for the rich. Biden vot­ed for both (includ­ing an updat­ed ver­sion of Roth's failed tax cut). When the pres­i­dent pro­posed a bud­get freeze in 1983 — to cut the enor­mous deficits that, iron­i­cal­ly, his tax cut helped pro­duce — Biden one-upped him, work­ing with two Repub­li­can sen­a­tors to pro­pose an even more aggres­sive bud­get freeze doing away with sched­uled cost-of-liv­ing increas­es for Medicare and Social Security.
This idea is con­trary to what econ­o­mists and expe­ri­ence tell us is the prop­er course of action in times of eco­nom­ic down­turn. Econ­o­mist Joseph Stiglitz cred­its Obama's 2009 big-spend­ing stim­u­lus for ame­lio­rat­ing the reces­sion (crit­i­ciz­ing it only for being too small) and crit­i­cized aus­ter­i­ty pol­i­tics for under­min­ing it. Mean­while, coun­tries like the Unit­ed King­dom and Greece stand as liv­ing mon­u­ments to the eco­nom­ic rav­ages of bud­get cut­ting dur­ing a reces­sion, some­thing even the Inter­na­tion­al Mon­e­tary Fund belat­ed­ly acknowl­edged.
The econ­o­my under Rea­gan did recov­er — even as he slashed pro­grams for the poor and vul­ner­a­ble, he ramped up defense spend­ing, in effect cre­at­ing an eco­nom­ic stim­u­lus much larg­er than what would come in the wake of the Great Recession.
Mean­while, Biden vot­ed three years in a row for a con­sti­tu­tion­al amend­ment requir­ing a bal­anced bud­get. When the 2008 finan­cial cri­sis plunged the world into reces­sion, Repub­li­cans again called for cuts to enti­tle­ment pro­grams. As ever, Biden stretched out a bipar­ti­san hand. As Obama's lead nego­tia­tor dur­ing the ​"grand bar­gain" nego­ti­a­tions, Biden — to his Demo­c­ra­t­ic col­leagues' hor­ror—capit­u­lat­ed to every one of Repub­li­can Sen. Mitch McConnell's demands, includ­ing cuts to Medicare, Social Secu­ri­ty and food stamps, and warned in 2013 that, left untouched, deficits ​"may become a nation­al secu­ri­ty issue."
While that effort col­lapsed due to Tea Par­ty obsti­na­cy, a Pres­i­dent Biden could get one last shot. Fol­low­ing the Rea­gan play­book, the Trump tax cuts have sent the nation­al debt soar­ing, and Repub­li­cans and con­ser­v­a­tive groups are now push­ing for strin­gent bud­get cuts. Biden stands alone among the lead­ing Demo­c­ra­t­ic pres­i­den­tial can­di­dates in his insis­tence that Democ­rats can work with McConnell's GOP. Add a reces­sion into the mix and the temp­ta­tion to resume what he and Rea­gan began may be too great. Who says the era of bipar­ti­san­ship is dead?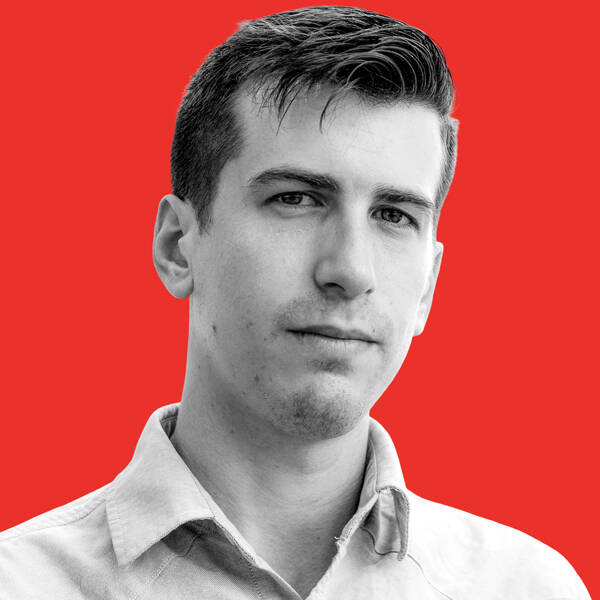 Branko Marcetic
is a staff writer at Jacobin mag­a­zine and a
2019
 – 
2020
Leonard C. Good­man Insti­tute for Inves­tiga­tive Report­ing fel­low. He is work­ing on a forth­com­ing book about Joe Biden.