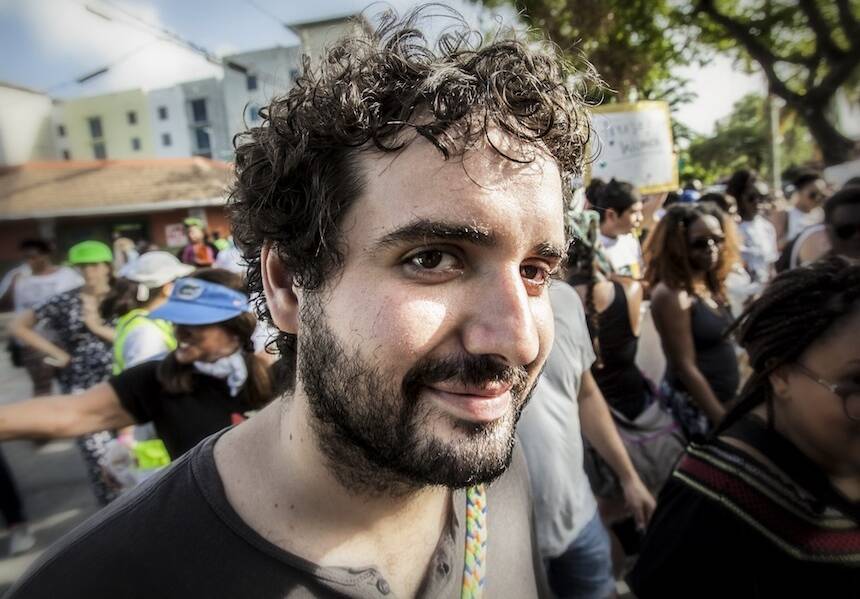 MIAMI—Tomas Kennedy almost didn't make it to Homestead, Fla. The 26-year-old, who serves as the deputy political director of the immigrant rights group Florida Immigrant Coalition (FLIC) Votes, had spent the past week on Irma relief, driving nonstop throughout South Florida in his 1999 Kia delivering thousands of cans of food and, this Sunday, overseeing the delivery of ice. His Kia finally overheated, he says. Luckily, dumping a bottle of water on the engine did the trick.
A total shift in Miami politics is going to manifest itself in the next 10 to 15 years.
Homestead was the final delivery of the day. Earlier, he'd coordinated ice pallet dropoffs out of a refrigerated truck—210 bags each—for a Make the Homeless Smile outdoor breakfast BBQ in downtown Miami, a building without power in Coral Way; and a church relief group in West Grove.
Kennedy, whose soft-spoken manner among friends belies a blistering intensity in public meetings and protests, has developed a reputation as one of the leading voices of South Florida's burgeoning new Left. It's a burst of progressivism that even Kennedy finds surprising in a region famously associated with Cuban-immigrant-led Republicanism.
In addition, Democratic Socialists of America (DSA) is growing in South Florida, with 100 members in Miami and another 100 in Broward and Palm Beach counties. They, too, jumped into action after Irma, organizing fundraisers and volunteer efforts. Kennedy is a DSA member.
Perhaps most significant is the advent of the Miami-Dade Democratic Party Progressive Caucus, formed by former Bernie Sanders supporters who sensed an opening after the 2016 election. Kennedy was one of the main organizers for Sanders in South Florida; his evident leadership and his activism made him the easy choice to chair the new caucus. It now has 80 members.
"There needed to be a surge of fresh energy [in the county Democratic Party]," Kennedy says. "I'm not a strong partisan person, but it was like, 'Okay, this side is clearly the best vehicle for change that we've got.' "
Kennedy's personal background is closer to the more heterodox half of the current wave of South Florida immigrants—in other words, the ones more liberal than the largely conservative Venezuelan tidal wave that is also arriving in the Magic City.
He came to the United States with his parents from Argentina at the age of 10, fleeing that country's 1998-2002 economic crisis. With his precarious immigration status and his parents' interest in politics, Kennedy grew up attuned to political discourse, and became part of the Dream Act movement (and gained his citizenship last year). But he was launched into activism in earnest in 2015, after his father developed crippling arthritis in his legs. Lacking insurance, an operation was performed only thanks to a Kickstarter campaign and a kind doctor.
The experience was searing enough that Kennedy says he decided to devote himself to improving the lives of the marginalized in South Florida. He started in an official capacity at FLIC earlier this year after spending several years as an organizer with SEIU and working for progressive democratic state senator José Javier Rodríguez.
Kennedy balances his duties at FLIC with running the Miami-Dade Democratic Party Progressive Caucus. After Miami-Dade State Attorney Katherine Fernandez Rundle decided not to bring charges against corrections officers in the death of Darren Rainey, a developmentally challenged inmate who was burned alive in a shower, the caucus demanded the party censure her. After waiting months to get a quorum to vote, they easily won it.
"We literally made their lives miserable every time they had a meeting—we showed up with signs like, 'No, you're not going to get away with it, if you're going to pull these shenanigans you have to clean it up afterward.' "
The caucus was also instrumental in Democrat Annette Taddeo's victory in a special election to fill a state House seat vacated by a three-term Republican.
"We felt that Annette was very open minded, willing to listen to the grassroots, and very receptive to our concerns," he says.
The caucus also worked with the party to draft a resolution supporting the extension of the government's Temporary Protected Status (TPS) program for qualified immigrants and creating a permanent legislative solution for TPS recipients.
The TPS resolution is emblematic of the effort South Florida progressives are making to focus on long-term goals, such as restoring voting rights to felons, rather than on the next election cycle.
"We have had this six-month mentality of, 'Which election do we have ahead?' " Kennedy says.
Knowing South Florida's political history, Kennedy understands that the Left's progress won't reach a critical mass in the short term, but he has no doubt which way the city will ultimately swing. "A total shift in Miami politics is going to manifest itself in the next 10 to 15 years."