Yes, the Federal Government Can Just Print Money
The U.S. government can dramatically increase spending without raising taxes.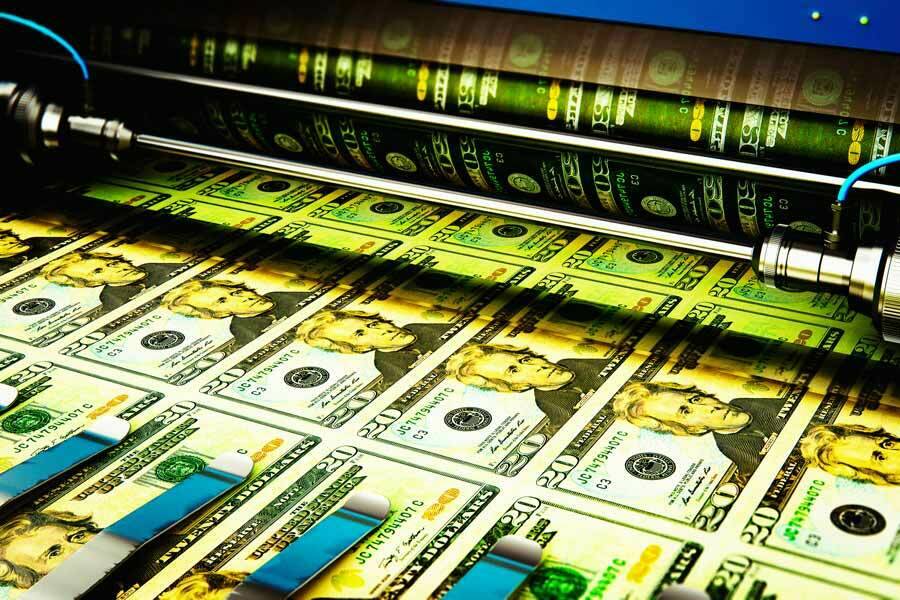 There is noth­ing more crip­pling to a bold pol­i­cy agen­da than the myth that the gov­ern­ment can run out of mon­ey. This myth is behind every But how will you pay for it? objec­tion to pro­pos­als such as a Green New Deal and Medicare for All. New House Major­i­ty Leader Nan­cy Pelosi (D‑Calif.) has even pro­posed insti­tut­ing self-defeat­ing PAY­GO (pay as you go) rules, which would require all new gov­ern­ment spend­ing to be matched with increased rev­enue, wrong­ly pri­or­i­tiz­ing the bal­anc­ing of the bud­get over the well-being of the public.
No government checks bounce. Ever.
Dis­pelling this myth is at the heart of an eco­nom­ic approach that is rapid­ly gain­ing a glob­al fol­low­ing, known as mod­ern mon­e­tary the­o­ry (MMT). MMT stress­es that, in the mod­ern world, where gov­ern­ment-backed cur­ren­cies are no longer backed by gold or oth­er com­modi­ties, fed­er­al gov­ern­ments can't run out of finan­cial resources. Unlike states and munic­i­pal­i­ties (which have hard con­straints on spend­ing), for the fed­er­al gov­ern­ment, all fund­ing short­ages are arti­fi­cial­ly cre­at­ed. Under­stand­ing this changes every­thing — from the eco­nom­ic pos­si­bil­i­ties before us to what the pub­lic can demand from our government.
Every­one knows that only gov­ern­ments can issue cur­ren­cies (dol­lars, yen, pesos). If house­holds tried to do it, we'd be called coun­ter­feit­ers. It should be obvi­ous, then, that the sole issuer of a cur­ren­cy can­not pos­si­bly run out of it. But, as Sher­lock Holmes once observed, ​"There is noth­ing more decep­tive than an obvi­ous fact."
The pub­lic under­stand­ing of gov­ern­ment spend­ing is a clas­sic case of cog­ni­tive dis­so­nance. We reg­u­lar­ly wit­ness how the gov­ern­ment imme­di­ate­ly ​"finds the mon­ey" when the pol­i­cy pri­or­i­ty is an end­less war, finan­cial bailouts, bil­lion­aire tax cuts. And yet the pub­lic is gen­er­al­ly con­vinced that, like a house­hold, the gov­ern­ment can go broke, if not today maybe tomor­row, if it does not raise enough tax rev­enue to pay its bills.
Debt lim­its set by Con­gress cre­ate the appear­ance that tax­es and bonds finance the gov­ern­ment. But if we ​"fol­low the mon­ey," as MMT econ­o­mists have done, we find that the fed­er­al gov­ern­ment does not spend tax rev­enue (just lis­ten to Fed­er­al Reserve offi­cials here, here and here) and it can­not pos­si­bly default.
So where does the mon­ey come from? In prac­tice, gov­ern­ment fund­ing is vot­ed into exis­tence every time Con­gress appro­pri­ates a bud­get for a giv­en pro­gram. After­ward, the Fed­er­al Reserve (the monop­oly issuer of dol­lar reserves) and the Trea­sury (the monop­oly issuer of coins and bonds) coor­di­nate to clear all pay­ments. No gov­ern­ment checks bounce. Ever.
What this also means is that when the gov­ern­ment runs a deficit and spends more than it takes in through tax­es, it is adding dol­lars to the economy.
And while politi­cians vil­i­fy the deficits (when polit­i­cal­ly con­ve­nient), the pub­lic fails to spot that all the mon­ey spent by gov­ern­ment — except for that which is lat­er taxed—lives in some per­son or firm's bank account or wal­let. If we bal­anced the bud­get, we would also remove those funds.
Even those who under­stand this often resist bold gov­ern­ment action for fear of infla­tion. And while MMT agrees that infla­tion is a rel­e­vant wor­ry, we can avoid the infla­tion trap by focus­ing on how the gov­ern­ment spends rather than how much. So long as mon­ey put into the econ­o­my is mobi­liz­ing unem­ployed resources and satisyf­ing unmet basic needs, gov­ern­ment spend­ing can be done with­out caus­ing infla­tion — and is, in fact, des­per­ate­ly needed.
By high­light­ing the flex­i­ble and vast spend­ing pow­ers of the state, MMT opens new pos­si­bil­i­ties for solv­ing our most press­ing eco­nom­ic prob­lems. The U.S. gov­ern­ment debt and deficit are not among them. A clean envi­ron­ment, good jobs and afford­able edu­ca­tion are in short sup­ply; green pieces of paper or dig­its in a bank are not.
The bot­tom line: How will you pay for it? is the wrong ques­tion to obsess over. The right ques­tion is the more dif­fi­cult and impor­tant one about the impact of gov­ern­ment spend­ing on the econ­o­my. Did it gen­er­ate income inequal­i­ty? Did it cause infla­tion? Or did it help build an econ­o­my that works for all? MMT econ­o­mists favor poli­cies for shared pros­per­i­ty, like a fed­er­al job guar­an­tee, a Green New Deal, tuition-free col­lege and Medicare for All. What are the real effects of these and oth­er poli­cies on the econ­o­my? Let's have that debate.
For a response to this piece, see ​"There Are Lim­its to Gov­ern­ment Spend­ing, But We Haven't Reached Them Yet."
Pavli­na R. Tch­erne­va
is pro­gram direc­tor and asso­ciate pro­fes­sor of eco­nom­ics at Bard Col­lege and research asso­ciate at the Levy Eco­nom­ics Institute.