The West Virginia Strike Points a Path Forward for the Labor Movement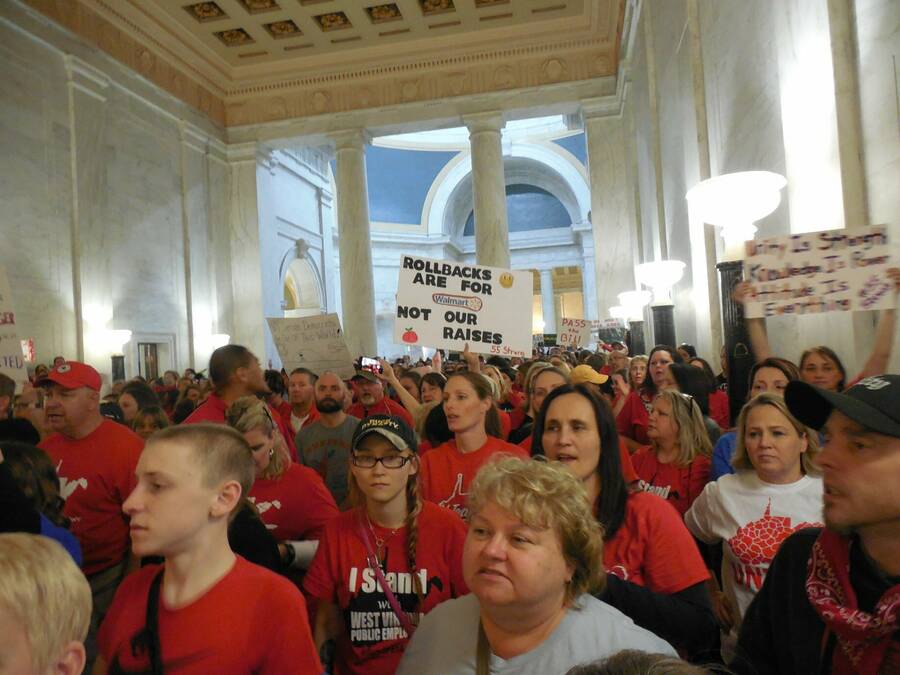 ​Yes­ter­day, West Virginia's edu­ca­tors pro­duced an incred­i­ble les­son plan on pow­er. The tim­ing and out­come of their strug­gle is epic. Before and dur­ing their strike — an unprece­dent­ed statewide walk­out that shut­tered doors to every school in the state's 55 coun­ties — the nation­al media was writ­ing the obit­u­ary of pub­lic-ser­vice unions, a nar­ra­tive dri­ven by the oral argu­ments in the Supreme Court case Janus vs AFSCME. As Trump's solic­i­tor gen­er­al blovi­at­ed bad things about gov­ern­ment work­ers' unions, it was day three in West Virginia's unau­tho­rized, ille­gal strike in a state that already has the trap­pings of the laws that the right wing hopes to nation­al­ize in the Janus case (no work­er has to pay dues, fair share or agency fees to his or her union).
The West Vir­ginia strike points the way for­ward for the work­ing class and serves as an urgent memo to the lead­ers of what's left of today's unions. As Ade­na Bar­nette, a strik­ing teacher and pres­i­dent of the Jack­son Coun­ty Edu­ca­tion Asso­ci­a­tion, told In These Times: ​"We under­stand this was a do-or-die moment. If we didn't do it, there might not be a tomor­row to fix it. If we didn't do it, we would have failed our kids, our schools and our community."
While some have opined about what makes the strike unique to West Vir­ginia — focus­ing on the his­to­ry of coal and steel-work­ers and their last-cen­tu­ry unions — it behooves us to extract cru­cial lessons that apply to every state. Those lessons would like­ly make the same kind of vic­to­ry well with­in the pow­er of today's unions and the broad­er pro­gres­sive movement.
Today's Strate­gic Sec­tors: Edu­ca­tion and Healthcare
Even among pro­gres­sive jour­nal­ists, too many peo­ple speak about the days in West Vir­ginia when coal min­ers car­ried weapons into bat­tle against coal oper­a­tors. It's past time for the move­ment to under­stand that the pow­er today lies in the heav­i­ly female strate­gic sec­tors of edu­ca­tion and health­care. After all, rough­ly 75 per­cent of West Virginia's teach­ers are women.
Schools and hos­pi­tals are today's fac­to­ries, filled with work­ers who have the skill and inge­nu­ity of their fathers and grand­fa­thers, as well as extra­or­di­nary organ­ic rela­tion­ships with the broad­er com­mu­ni­ty. In an era when union mem­ber­ship has plum­met­ed, rebuild­ing it will require mis­sion-dri­ven work­ers who are deeply root­ed in and trust­ed by their com­mu­ni­ties. Accord­ing to Russ Jor­don, a min­is­ter at Grand­view Chris­t­ian Church who held a prayer break­fast to sup­port the strike in West Vir­ginia, ​"The com­mu­ni­ty sees their edu­ca­tors as their lead­ers. Some­times their kid's teacher is the only pos­i­tive force they have in their lives, and the com­mu­ni­ty sup­ports the strike because they under­stand this."
It is no sur­prise that the largest nurs­es' strike in Mass­a­chu­setts his­to­ry last sum­mer, led by 1,200 reg­is­tered nurs­es who walked out of Tufts Uni­ver­si­ty Hos­pi­tal, pre­ced­ed the West Vir­ginia teach­ers' strike. After Gov. Jim Jus­tice called the teach­ers ​"dumb bun­nies" in Jan­u­ary, women and chil­dren armed with bun­ny-ear hats defeat­ed the men of the state's pow­er struc­ture with­in days.
All Work­ers Fight­ing as One: The Indus­tri­al Mod­el of Trade Unionism
Chris Toney, a school-bus dri­ver from Clear Forks, West Vir­ginia, and pres­i­dent of the Raleigh Coun­ty School Ser­vice Per­son­nel Asso­ci­a­tion, said that before the strike, the school super­in­ten­dent asked whether the bus dri­vers, cooks and jan­i­tors planned to work on Feb. 22, the first day of the strike. The answer was no. Toney explained to In These Times, ​"He checked in with me, main­ly about the bus oper­a­tors. If there wasn't going to be bus oper­a­tors, he wasn't going to have chil­dren strand­ed all over the coun­ty, wait­ing for a bus that nev­er comes. That's a basic safe­ty issue."
The uni­ty between teach­ers — and the rest of the school's work­ers — was cru­cial to the fight. Accord­ing to Brad McEl­hin­ny of WV MetroNews, who cov­ered the walk­out in depth, the lack of a legal injunc­tion can be attrib­uted to polit­i­cal as well as prac­ti­cal rea­sons: It's an elec­tion year, and the state attor­ney gen­er­al is run­ning for the U.S. Sen­ate. McEl­hin­ny told In These Times, ​"You real­ly can't open schools in a rur­al state with­out being able to get the kids to a school with­out cooks, so you'd be in a real bind if you tried to force them to open."
Accord­ing to Wendy Peters, a teacher and local union pres­i­dent in Raleigh Coun­ty who works close­ly with Toney, when the strike votes were tak­en, ​"We opened up the vot­ing to all work­ers, teach­ers and all oth­er work­ers. We also invit­ed work­ers who were not union mem­bers to vote because we knew we'd be stronger that way." The strike votes Peters described were a struc­ture test, a mech­a­nism to assess strike readiness.
Pres­sure and Pow­er from Below: The Offi­cial Union ​"Lead­er­ship" Fol­lowed, Rather Than Led
There have been sev­er­al arti­cles in Jacobin and Dis­sent telling the sto­ry of organ­ic lead­ers in the rank and file who began to seri­ous­ly orga­nize back in Octo­ber. By all accounts, there's an impor­tant swell from below, what teacher-union schol­ar Lois Wein­er calls the ​"Sanders effect" on the grass­roots. She notes that there's a new gen­er­a­tion of teach­ers fired up from the Sanders cam­paign: They are young and under­stand that their work­places are a key are­na for mak­ing last­ing change.
It is cru­cial that unions enable — and don't con­strain — the intu­ition and actions of the rank and file. It is cru­cial that the most quot­ed union spokes­peo­ple — Chris­tine Camp­bell from the West Vir­ginia Amer­i­can Fed­er­a­tion of Teach­ers and Dale Lee of the West Vir­ginia Edu­ca­tion Asso­ci­a­tion — sup­port­ed the move­ment from below. Sure, their rank and file con­sis­tent­ly vot­ed with their feet, reject­ing the rec­om­men­da­tion to return to work after the gov­er­nor announced a set­tle­ment offer. But the lead­er­ship could have messed things up a lot. Instead, they lis­tened to the smart edu­ca­tors who we­­re actu­al­ly lead­ing. Note to elect­ed lead­er­ship: do this.
Jane McAlevey
is an orga­niz­er, author and schol­ar, and she's cur­rent­ly writ­ing a book about unions slat­ed for release this fall from Ecco/​HarperCollins.