How To Elect Democrats Who Actually Answer To Workers
Why strikes and workplace power build electoral power.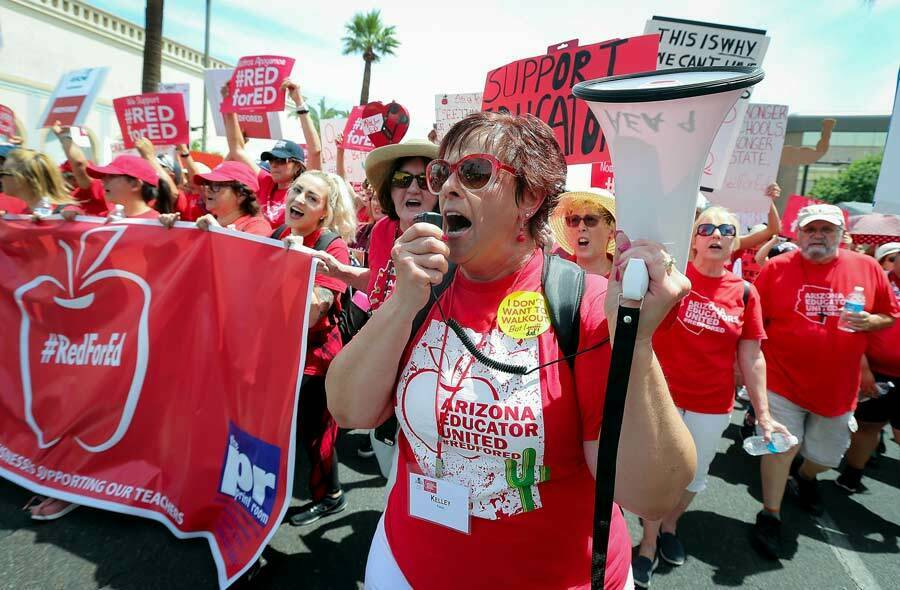 Over the past decade in par­tic­u­lar, right-wing forces have dou­bled down on their mul­ti­fac­eted effort to rig the rules of gov­ern­men­tal elec­tions. Exam­ples include unlim­it­ed and unac­count­able spend­ing by the employ­er class, restric­tions on who is eli­gi­ble to be on the vot­er list itself, and ger­ry­man­der­ing galore.
The employer class has eviscerated workplace democracy over the past 40 years.They've got their sights set on civic elections.
Many of these tac­tics will feel famil­iar to work­ers, whose pow­er has been under­mined for decades by boss­es manip­u­lat­ing the sys­tem. Employ­ers rou­tine­ly ​"ger­ry­man­der" work­places before union elec­tions, remov­ing pro-union work­ers from the eli­gi­ble vot­er pool with gim­micks that include dras­ti­cal­ly reduc­ing their hours or alleg­ing they have new­found man­age­ment duties.
At times it's bla­tant­ly obvi­ous that the right-wing elec­tion­eers are bor­row­ing straight from the union-bust­ing play­book. In blue-state Mass­a­chu­setts, vot­ers statewide got a taste of one of the most effec­tive tools in the union avoid­ance indus­try, cap­tive audi­ence meet­ings, where work­ers are forced to sit through anti-union pre­sen­ta­tions as a con­di­tion of work. Hos­pi­tal boss­es went to such extremes to defeat a Novem­ber 2018 bal­lot ini­tia­tive to secure safe patient lim­its for nurs­es that they forced patients and fam­i­lies enter­ing emer­gency rooms, check­ing in for surgery, or under­go­ing any pro­ce­dure to sit through brief­ing ses­sions where they were told that vot­ing ​"no" on the ini­tia­tive was the only way to ensure the hos­pi­tal or clin­ic would remain open. (The boss­es won.)
The employ­er class has evis­cer­at­ed work­place democ­ra­cy over the past 40 years. Using many of the same weapons, they've got their sights set on civic elec­tions. To pre­serve democ­ra­cy and rebuild work­ing-class pow­er requires a key tac­tic revived in 2018, in the nick of time: the all-out strike.
Strikes are a unique­ly pow­er­ful form of the polit­i­cal edu­ca­tion required to pre­pare work­ers to pull the levers in the vot­ing booth because they clar­i­fy the most impor­tant polit­i­cal les­son urgent­ly need­ed today: There are only two sides, the own­ers and the rest of us. Unions that still win great con­tracts — which gen­er­al­ly requires their hav­ing a cred­i­ble strike threat — can point the way, as edu­ca­tors did ear­li­er in 2018 from West Vir­ginia to Okla­homa to Ari­zona and beyond. The #Red4Ed move­ment led to unprece­dent­ed num­bers of edu­ca­tors run­ning for office and win­ning, and made sup­port for pub­lic edu­ca­tion a key issue up and down the bal­lot. In Ari­zona, the move­ment sound­ly defeat­ed a Koch Broth­ers-backed ini­tia­tive to expand pri­vate-school vouch­ers. This sug­gests that to build effec­tive polit­i­cal oper­a­tions, unions should under­stand that more strikes are key to win­ning elec­tions, not just good contracts.
Unions will also need to get them­selves out of the mire of var­i­ous dead-end debates around elec­tions. For one, we can sim­ply ignore the false bina­ry of whether we need to focus either on reg­is­ter­ing and turn­ing out the new demo­graph­ic majori­ties — mil­len­ni­als and peo­ple of col­or — or on recov­er­ing the vot­ers we've lost. We can — and, to win real pol­i­cy changes post-elec­tion, must—do both.
Then there's the debate about what kind of can­di­dates labor should endorse. Most unions do the exact oppo­site of what the work­ing class needs, by sit­ting out the pri­maries and endors­ing in the gen­er­al elec­tion, leav­ing work­ers to vote between the less­er of two gen­er­al­ly use­less can­di­dates (decreas­ing rather than increas­ing turnout). This is because there's a revolv­ing door between the polit­i­cal staff of unions and the con­sul­tant indus­tri­al com­plex that runs Demo­c­ra­t­ic Par­ty elec­toral strat­e­gy, result­ing in out­sized influ­ence by par­ty lead­ers whose incli­na­tion is always to defend their own in elec­tive office. If unions do par­tic­i­pate in the pri­maries, they endorse the incum­bent. To name one obvi­ous exam­ple, Alexan­dria Oca­sio-Cortez received zero union endorse­ments against estab­lish­ment Demo­c­rat Joe Crow­ley. ​'Nuff said.
Endors­ing can­di­dates who raise work­ers' expec­ta­tions can best be accom­plished by democ­ra­tiz­ing the elec­toral endorse­ment process in every union. Once you sur­mount the chal­lenge of get­ting those in con­trol to share pow­er, open­ing the endorse­ment process isn't dif­fi­cult on a tech­ni­cal lev­el — you just hold a vote. It's also cru­cial to unions sur­viv­ing in the post-Janus cli­mate: The more work­ers are engaged in mak­ing real deci­sions in their unions, the more own­er­ship they take, and the high­er the per­cent­age of work­ers who under­stand why mem­ber­ship matters.
When I ran the elec­toral endorse­ment process of the Neva­da SEIU (where, inci­den­tal­ly, unions have direct­ly led to the state turn­ing blue), we let can­di­dates know that to even be con­sid­ered, they must do far more than have a lack­ey in their offices fill in a union ques­tion­naire. At the least, they had to attend a forum open to all work­ers. Mak­ing it a con­di­tion of endorse­ment that can­di­dates take part in pro-union actions would go even fur­ther to assess whether they will actu­al­ly pub­licly stand with work­ers in strug­gle, not pri­vate­ly promise and for­get the com­mit­ment after Elec­tion Day.
To hold pol­i­cy mak­ers account­able, work­ers must be able to build fight­ing orga­ni­za­tions in which work­ers, not full-time staffs in sealed-off polit­i­cal depart­ments, call the endorse­ment shots. For the work­ing class to get out from under decades of aus­ter­i­ty, cli­mate change, union-bust­ing and more, work­ers need to have the pow­er to force politi­cians to make the pol­i­cy changes need­ed at work and in their com­mu­ni­ties. That requires build­ing super­ma­jor­i­ty par­tic­i­pa­tion, forg­ing high uni­ty and sol­i­dar­i­ty among the ranks — in short, devel­op­ing the same capac­i­ty required for an effec­tive strike. The soon­er we estab­lish union democ­ra­cy, the soon­er work­ers will get to pull the lever for politi­cians com­mit­ted to pro-work­ing-class poli­cies, not mere­ly win­ning their election.
Jane McAlevey
is an orga­niz­er, author and schol­ar, and she's cur­rent­ly writ­ing a book about unions slat­ed for release this fall from Ecco/​HarperCollins.