In a Historic Move, Los Angeles Educators Vote To Strike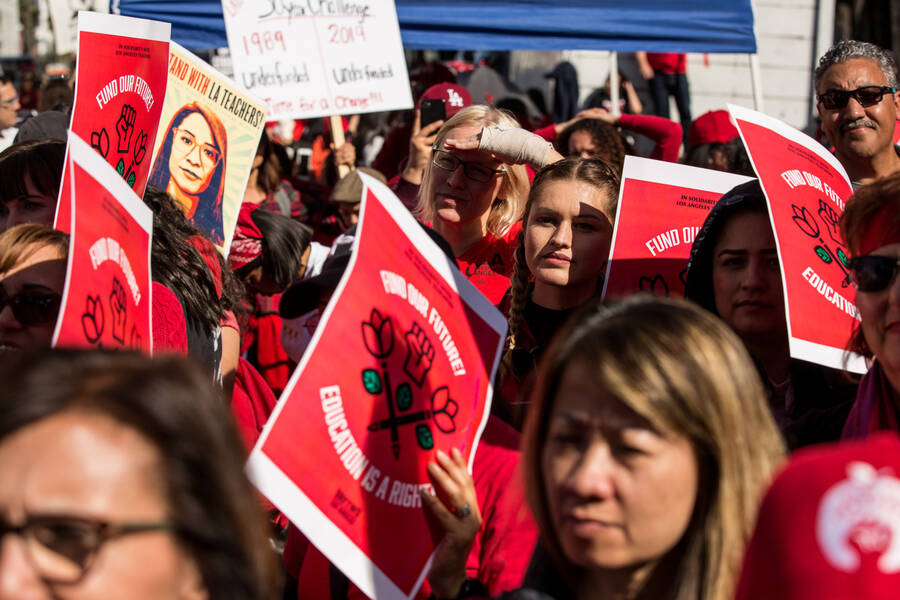 Today teach­ers and edu­ca­tion work­ers in Los Ange­les, the sec­ond largest school dis­trict in the coun­try (after New York), vot­ed 98 per­cent to 2 per­cent to autho­rize their first strike in near­ly 30 years.
Last spring's strikes and school walk­outs by edu­ca­tors from West Vir­ginia to Okla­homa, Ari­zona and more, took place in so-called red states. This school year, the strikes have moved to blue states, with teach­ers in Wash­ing­ton state school dis­tricts already on strike and Seat­tle teach­ers approv­ing a strike vote ear­li­er this week. The LA edu­ca­tors will like­ly go on strike, if they can't nego­ti­ate a set­tle­ment through medi­a­tion, in mid-to-late October.
They have been work­ing under an expired con­tract for over a year, since June 30, 2017. At the top of the edu­ca­tors' list of demands are reduc­ing class size; less test­ing and more teach­ing time; basics such as new text­books, and restor­ing essen­tial sup­port struc­tures that stu­dents need, includ­ing school nurs­es and guid­ance counselors.
Cal­i­for­nia, despite being one of the wealth­i­est states in the nation, ranks 43 out of 50 in fund­ing per pupil, accord­ing to the union. Julia Lath­in, an art his­to­ry teacher at Hamil­ton High, says, ​"Our school has over 2,000 stu­dents and one nurse, but she was only hired to be here part time. Because of this, I let my stu­dents know that I have a cab­i­net in my class­room that's always stocked with pads and tam­pons. I need these kids focused on their edu­ca­tion and not wor­ry­ing about if they're going to bleed through their pants at school because there isn't always a nurse on campus."
Out of dozens of teach­ers inter­viewed for this arti­cle, not one placed wages at the top of their pri­or­i­ties list. When asked, ​"If man­age­ment offered to meet your salary demands and noth­ing else, would you still plan to strike?", all said yes. Among the top con­cern voiced by teach­ers is the need to elim­i­nate Sec­tion 1.5 of their con­tract, which allows teacher-to-stu­dent ratios of 1 teacher — alone in their class with­out assis­tance — to up to 46 stu­dents. That's right: one teacher respon­si­ble for up to 46 students.
Bran­don Abra­ham, an Eng­lish teacher with 18 years of teach­ing expe­ri­ence, says, ​"When I start­ed teach­ing in 1999, the teacher to stu­dent ratio was 1:20. I had twen­ty stu­dents in my class. These days, because of all the cuts, we don't even have school librar­i­ans any­more, we are teach­ing basic lit­er­a­cy. They keep cut­ting and cut­ting and cut­ting essen­tial ser­vices that stu­dents need to learn. To do a good job — which we do — is hard enough when con­di­tions are per­fect, but when the con­di­tions get this chal­leng­ing, it's hard to moti­vate and inspire stu­dents. The prob­lem is, real­ly good teach­ers are leav­ing the pro­fes­sion because the con­di­tions have become so difficult."
Unit­ed Teach­ers of Los Ange­les (UTLA) is one of sev­er­al big-city edu­ca­tion unions where pro­gres­sive, for­ward-think­ing teach­ers have won inter­nal elec­tions with a com­mit­ment to seri­ous­ly rebuild pub­lic edu­ca­tion. They under­stand that in order to take on the pow­er­ful pro-cor­po­rate, pro-pri­va­ti­za­tion agen­da of Bet­sy DeVos and the cor­po­rate char­ter big-mon­ey inter­ests, their union has to be strong and strike-ready. In the open­ing page of the strike hand­book book­let they've been hand­ing out to teach­ers, Alex Caputo-Pearl, the union's pres­i­dent, states, ​"Being strike-ready is an essen­tial com­po­nent of our strat­e­gy to win a great con­tract for the Schools LA Stu­dents Deserve."
The strength of this strike vote comes on the heels of sev­er­al years of strength­en­ing the union inter­nal­ly. Cen­tral to the shift was hir­ing an orga­niz­ing direc­tor, Bri­an McNa­ma­ra, who under­stood the cen­tral role of the rank-and-file. In the spring of 2018, when it was already clear that the man­age­ment team wasn't seri­ous about com­mit­ting the resources need­ed to restore Los Ange­les schools that have been cut to the bone, the union con­duct­ed its first struc­ture test in the lead up to the strike autho­riza­tion vote. A struc­ture test is when a union care­ful­ly mea­sures, through work­er-to-work­er assess­ments, what per­cent­age of mem­bers per struc­ture, in this case per school, are active­ly par­tic­i­pat­ing in each activ­i­ty of any giv­en cam­paign, for exam­ple, a con­tract fight. Across 950 schools, a major­i­ty of teach­ers signed a peti­tion sup­port­ing the UTLA's nego­ti­a­tion demands. The peti­tion also asked sev­er­al oth­er ques­tions, includ­ing whether mem­bers sup­port­ed a Sep­tem­ber strike vote if nec­es­sary. It's this kind of strate­gic, method­i­cal work — engag­ing the rank and file mem­ber­ship — that actu­al­ly helps the lead­er­ship gage and assess the actu­al strike-readi­ness. And in a city where the school board recent­ly appoint­ed a Wall Street bil­lion­aire with zero edu­ca­tion expe­ri­ence as the super­in­ten­dent of schools, know­ing the rank-and-file are strike ready is key to defeat­ing austerity.
In addi­tion to build­ing a union strong enough to strike, this work is also cru­cial for sus­tain­ing high mem­ber­ship now that the U.S. Supreme Court has ruled in Janus that pub­lic-sec­tor union mem­ber­ship is vol­un­tary. At each strike vote sta­tion, in addi­tion to fact sheets about what has and hasn't hap­pened in nego­ti­a­tions, there were mem­ber­ship forms, enabling teach­ers to recom­mit to the union at a cru­cial juncture.
With cor­po­ra­tions on a warpath to pri­va­tize schools, the future of pub­lic edu­ca­tion is at stake across the coun­try, and Los Ange­les is ground zero for this strug­gle. It's time the entire pro­gres­sive move­ment under­stands and appre­ci­ates that the strongest force fight­ing to save and improve pub­lic edu­ca­tion are teach­ers unions. The soon­er we embrace their strug­gle as our own, no mat­ter our pro­fes­sion, the better.
Jane McAlevey
is an orga­niz­er, author and schol­ar, and she's cur­rent­ly writ­ing a book about unions slat­ed for release this fall from Ecco/​HarperCollins.